Flat rate shipping is an excellent approach to saving costs in your eCommerce store. The term "flat rate" refers to shipping charges that are not based on the weight, shape, or size of the product being sent. It's calculated by how much you can fit into the FedEx-provided box and the shipping zone. Customers will pay a set shipping cost for domestic orders, regardless of order quantity. If you sell products of a specific size, flat rate shipping is ideal as it makes sure your shipping costs are predictable. Major shipping companies such as FedEx, UPS, and USPS all provide flat rate shipping options. FedEx One Rate is a flat-rate shipping service offered by FedEx. In this article, we will discuss all about FedEx One rates and how to display FedEx One Rates on the cart & checkout Page of your WooCommerce store. 
What is FedEx One Rate?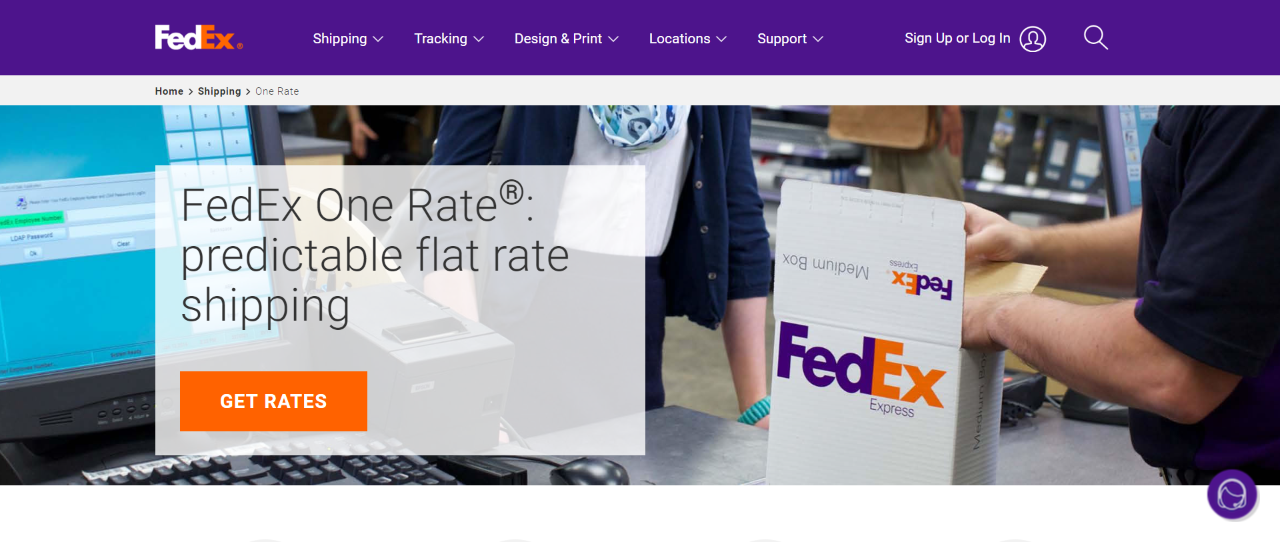 FedEx launched FedEx One Rate in 2013 to stay competitive with USPS's Priority Mail flat rate programs. One Rate is a flat-rate delivery option available for qualified FedEx Express shipments in the United States. FedEx One Rate is a straightforward, flat-rate pricing option that eliminates the need to weigh or measure shipments weighing less than 50 pounds. The cost predictability of One Rate pricing is one of its most important benefits. Businesses have the option of adding to the box without increasing the price, as long as it fits into the  FedEx packaging. Envelope, Large & Small Paks, Large & Small Box, Medium Box, Large Box, Extra Large Box, and Tube are among the FedEx-provided packing sizes offered by One Rate.
What are the Benefits of FedEx One Rate?
FedEx One Rate shipping benefits from the FedEx Express network's dependability, tracking services, guaranteed arrival times, and high levels of customer support. FedEx One Rate packages are also protected by FedEx Express' money-back guarantee. Customers of FedEx Express can benefit from FedEx One Rate, which includes the following benefits:
Multiple packaging choices: FedEx currently provides 12 different packing options for all priority shipping services. Customers can now select from a variety of cube-shaped packaging for their purchases. If your product fits in one of the 12 flat rate boxes, you can send it and decide if you want your product delivered in one, two, or three days.
Predictable Charges: You don't have to waste time weighing shipments to figure out your shipping expenses. You're fine as long as your items weigh less than 50 pounds and your envelopes weigh less than 10 pounds. Customers benefit from FedEx One Pricing since the base rate is not affected by volume, fuel surcharges, or delivery location surcharge fees. Rather than weighing a product or calculating its weight and being surprised by unexpected expenses, later on, you'll know the exact shipping costs in advance.
Money-Back Guarantee: FedEx Money-Back Guarantee covers FedEx One shipments. You could file for a postage refund if a shipment was late.
The Cost of FedEx One Rate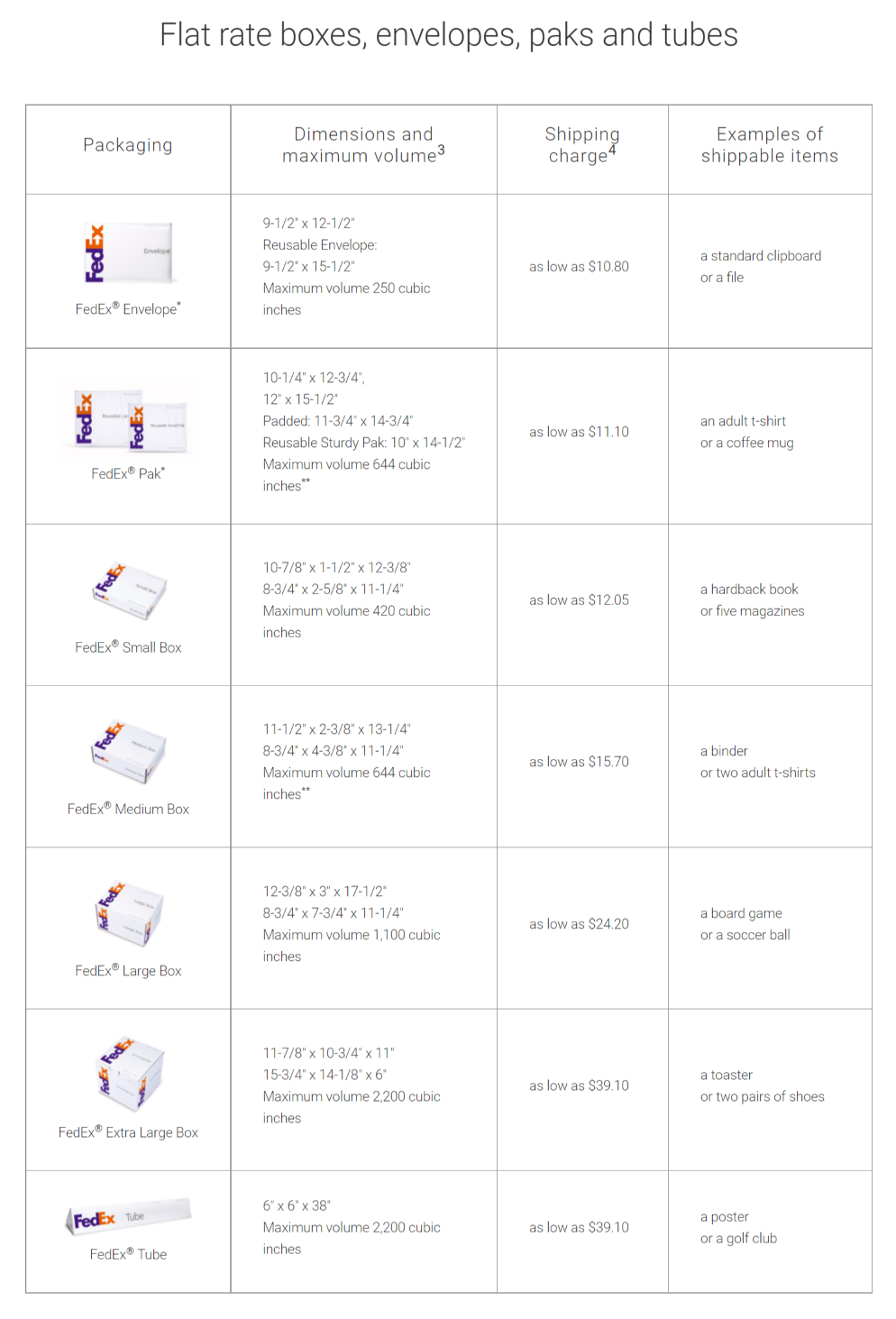 To price its services, FedEx One Rate employs a delivery zone structure. Essentially, shipping to each zone is priced differently dependent on distance:
Shipments traveling between 0 and 150 miles are classified as local zone (1-2).

Deliveries traveling between 151 and 600 miles are classified as regional zone (3-4) shipments.

Shipments traveling beyond 601 miles are in the National Zone (5-9)
Flat rate boxes, envelopes, paks, and tubes prices based on packaging type and dimensions:
For the complete pricing for FedEx One Rate, check out this guide.
What Are the Services Available With FedEx One Rate?
FedEx One Rate currently offers the following shipping services:
First Overnight

Priority Overnight

Standard Overnight

2Day

2Day A.M.

Express Saver
How to display FedEx One Rates on the Cart & Checkout page of your WooCommerce Store?
The ELEX EasyPost (FedEx, UPS, Canada Post, and USPS) Shipping & Label Printing Plugin for WooCommerce makes it simple to integrate FedEx One Rate Shipping with your WooCommerce store. This plugin allows you to show real-time FedEx One Rate shipping rates on the cart and checkout page. It also allows you to generate shipping labels from major shipping carriers such as FedEx, USPS, UPS, and Canada Post. You can choose to pay postage automatically and create shipping labels from the admin panel, track packages, and send the tracking details to your customer's registered email id.
Top Features
Shipping costs from FedEx, USPS, UPS, and Canada Post are displayed in real-time.

Display the expected delivery date on the cart and checkout pages.

The admin panel can be used to pay for postage and generate mailing labels.

An inbuilt tracking mechanism allows you to keep track of the package's current state. You can also email the tracking information to the customer's email address.

Products can be packed into pre-defined boxes by selecting from one of the three available package options.

Using the built-in settings, add insurance to the shipments.

Labels and packaging can be customized to meet your company's needs.

Because this plugin is an authorized EasyPost partner, you can rely on its dependability.
To download the ELEX EasyPost Shipping & Label Printing Plugin plugin, click here. 
By reading this article, you will understand how to complete the ELEX checkout procedure. You can also find instructions on how to download, install, and activate ELEX plugins.
Once you have downloaded and installed the plugin go to WooCommerce > Settings > Shipping > EasyPost > General.
Under the general settings, enable Realtime Rates. This will give the plugin the permission to display the real-time rates on the cart and checkout pages. If you prefer to display the rates only on the checkout page, you can do so by enabling the Disable rates on cart checkbox.
Next, under Generic API settings, choose the API mode between Test and Live and enter your API Key. You will receive your API key upon registering with EasyPost. Once done, click Save Changes.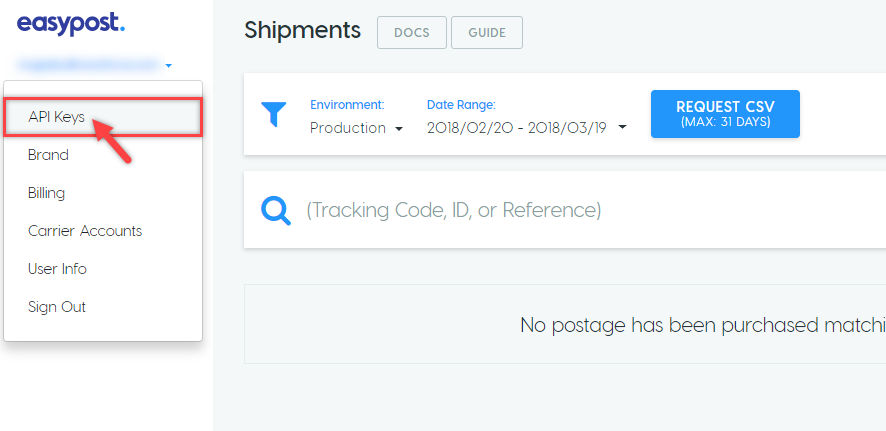 Under the Rates and Services tab, scroll down to Domestic Flat Rate Settings.
Add the FedEx One Rate option to the EasyPost Flat Rate Service(s). Upon doing so, you'll be able to see FedEx One Rate shipping rates on the cart and checkout pages. You can add several FedEx box options for shipping in the Flat Rate Boxes. Simply click and select as many as you want from the options available.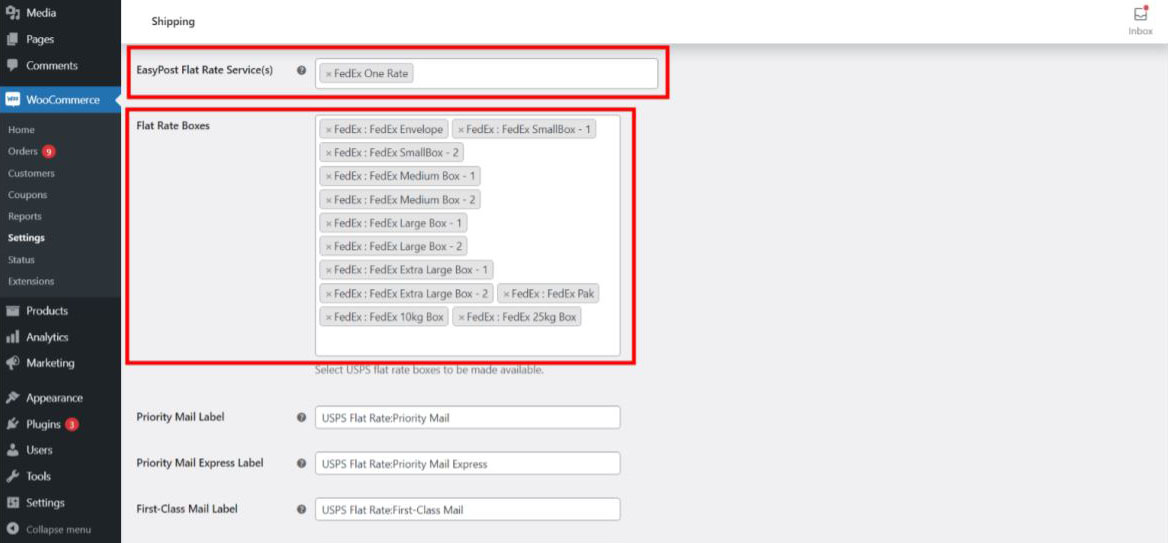 Next, in the EasyPost Carrier(s), scroll down to Carrier & Rate Settings and select FedEx as your preferred delivery carrier. You can also choose from a variety of FedEx shipping options under the Services tab. You can enter a custom name or change the pricing in terms of number or percentage. However, if you only want to see Flat Rate shipping providers, you may untick all of these boxes.
After you've saved your settings, you'll be able to see FedEx One Rates on your WooCommerce cart and checkout pages. This plugin will display FedEx One flat rate as seen below when a customer selects a product and proceeds to their cart and checkout page.
To know how to set up the ELEX EasyPost (FedEx, UPS, Canada Post, and USPS) Shipping & Label Printing Plugin from scratch, read this article.
To Conclude
This is how you can easily display FedEx One Rate on the cart and checkout pages of your WooCommerce store. If you have any questions regarding flat rate shipping or FedEx One Rate, please let us know in the comments section below.
Further Reading