Do you want your WooCommerce store to get more visibility? If that's the case, you must connect your WooCommerce store to Google Shopping Ads. The WooCommerce and Google Shopping advertising combination is perfect for generating traffic and sales in your store. When someone searches for relevant terms, your Google products will appear above the search results in the form of ads. You must have come across these ads while looking for a specific product. To put it in another way, the integration gives your WooCommerce store various new advertising outlets. This article will provide you with a complete overview of WooCommerce Google Shopping Ads and how to set them up.
WooCommerce Google Shopping Ads: What Are They?
Google Shopping is a comparative shopping platform, it is an instrument that enables eCommerce businesses to push their products to potential customers in a visually appealing format. This implies that if a customer is looking for a product you offer, Google will display relevant Shopping advertisements for your products. When a customer clicks on your ad, Google takes them directly to the company website. Put yourself in your customer's shoes. If you want to buy something, say, a t-shirt, wouldn't you prefer to select one of the several top results than browse down the entire page to see what else is available? This is what makes WooCommerce Google shopping ads so successful.
If you offer the exact product that the customer is looking for at a reasonable price, they are most likely going to make a purchase right then and there. WooCommerce Google Shopping advertisements account for nearly 80 percent of retail search advertising costs, according to data. Google Shopping advertisements can appear on partner websites, including the designated Shopping tab in search engine results, across the Google Network, and can be used in conjunction with Google Analytics.
How does the Integration of WooCommerce with Google Shopping Ads benefit eCommerce businesses?
You might ask, I already have an eCommerce website that is doing well. Why should I integrate my WooCommerce store with Google Shopping ads? Let us look at the many benefits of integration.
Increase the number of interested customers – WooCommerce Google Shopping advertising connection allows you to reach more customers. Google is used by millions of people daily. When they use keywords relevant to your items in a search engine, those products may appear at the top of the search result. Your business and products can be discovered by tons of new consumers. Plus the best feature of Google Shopping Ads is that they are only shown to the customers that are proactively searching for the products that you have to offer.
Increase Site Traffic – As more people become aware of your shop, store traffic will undoubtedly increase. For even more visibility and traffic to your store, you may launch a campaign across all Google services including Google Search, Shopping, YouTube, Gmail, and the Google Display Network. Think about going through your WooCommerce product pages and making sure they're optimized for conversion rate as your traffic increases. 
Increased Sales – You may expect a rise in sales as a result of the increased visibility and customers, which increases the revenue and profitability of your business.
Paid Ads are used less frequently – The WooCommerce and Google Shopping advertising integration provide you with free product listings for your business. This implies you may save advertising dollars and use it to recruit more people, improve customer service, update your servers, or modernize your store's infrastructure.
How to set up Google Shopping Ads from your WooCommerce Store?
It's not as difficult as it may appear to set up WooCommerce Google Shopping advertisements. To get started, you need to create a Google Merchant Center account, link your WooCommerce store with it, and then start creating your Shopping ads.
For this article, we'll assume that your WooCommerce store already has products and is ready to be integrated with Google Shopping. We will be using the ELEX WooCommerce Google Shopping plugin to make the setup process a lot easier and quicker. Let's have a look at how to link your WooCommerce store to Google Merchant Center.
Step 1: Sign up for a Google Merchant Center account
The very first thing you'll need if you want to use Google Shopping ads and WooCommerce integration is a Google Merchant Center account. This is the platform that will allow you to have your products appear as Google advertisements. If you already have a Google account which we assume you do, creating your Google Merchant Center account will be a piece of cake. To get started, go to the Google Merchant Center website and click 'Get Started'. You'll next be asked to give information about your company, as well as verify and claim your website. You need to add basic information like Country of Sale and Language on the following screen and click 'Continue'. You can give the product feed a name and specify how you wish to submit product data. Next, select free listings and Shopping Ads as the destination you want to enroll in, and you're finished configuring your Google Merchant Center account.
Step 2: Import WooCommerce Google Shopping product information into Google Merchant Center.
There are several options when it comes to adding your products:
Google Sheets – To assist you in creating a google sheet, you can submit the feed using an existing Google Sheet or by reusing the template with auto-filled data in one row. Please keep in mind that the template is prepared based on the target country that you have picked.
Scheduled fetch – With scheduled fetch, you will define a schedule for Google Merchant Center to fetch changes from a product feed file that you maintain on your website.
Upload – You can save the product data file on your computer and upload it to your Google Merchant Center account using FTP, SFTP, Google Cloud storage, or manually using the Upload option.
Content API – Apps can use the Content API to transmit product data directly to the Merchant Center. 
To import our products, we will use the ELEX WooCommerce Google Shopping Plugin. 
You must first purchase, install, and activate the plugin. Check out our post on how to install and configure an ELEX plugin if you're unfamiliar with the procedure.
Basic Settings
From the WordPress admin page, you can set up the plugin settings. The settings for entering the basic information for the feed are located under the 'Create Feed' tab. In this section, you can provide the project a name, set the country of sale, file type, refresh schedule, and so on.
Map Categories
The following step is to map your product categories to Google categories. All of your store's categories will be presented, along with a box for you to enter the corresponding Google category. Recommendations will show if you click the box next to a product category and then begin typing the name of the category into the Google categories area. You can select a relevant Google category from the list of suggestions. After you've chosen all of the categories, click Save & Continue.
Map Products
You can also map individual products using Google categories if necessary. You can do this by selecting the Map product option, then entering a product into the search box, and then finding a relevant Google category. You can add additional products to the map using Google categories by clicking the Add More Rows button.
Map Attributes
Product attributes help to effectively organize the feed and make it easier for customers to find your products. The plugin makes this procedure easier by providing an automatic option for mapping needed attributes. On this page, you can double-check them and make any necessary modifications. You can use the plugin to append or prepend items, as well as to add conditions.
Filter products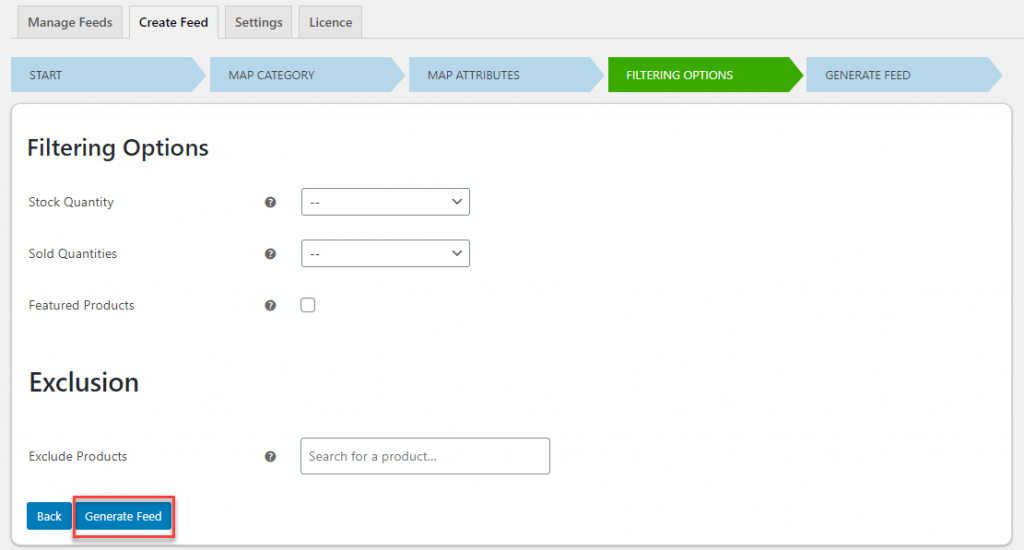 You can then choose which products to include in the product feed in this step. Stock quantity, Sold quantity, and Featured products are the three filtering options available. Additionally, by searching for the product name, you can exclude specific products from being added to the product feed.
To generate your product feed, click 'Generate Feed' once the filtering options have been customized according to your needs. The plugin will create the feed, which you can then view and manage from the dashboard.
Click the Display Feed button to view the feed.
To view and manage all of your feeds, click the Manage Feed button.
The URL of the feed can be found in the Manage Feeds area, and you can use it to upload it to Google Merchant Center.
Upload the product feed to Google Merchant Center
You must set the input method to 'Scheduled fetch' and then provide the feed URL in the File URL field when configuring the feed in the Merchant Center.
Step 3: Create a Shopping Ad Campaign
You can start a paid ad campaign once you've imported all of your products. Log in to your Google Merchant Center account and check under Pending tasks, then click 'Continue' to start creating a campaign after Google has reviewed your products.  On the following screen, you'll be able to select the products you'd want to display. You'll also be able to configure tax and delivery information, as well as other important product ad details.  You can specify the budget and duration of your Smart Shopping campaign after you've chosen your products.  Carefully read the standards and guidelines to ensure you don't overlook anything critical.
To Conclude
WooCommerce is an excellent platform for running an eCommerce store. However, you won't be making much of a profit unless you can get interested customers to look at and buy your products. Google Shopping advertisements make it simple to promote your products in front of as many people as possible. These super-charged eCommerce advertisements, when used with traditional text or display ads, have been shown to increase conversions and bring more relevant customers to your site. You can get a lot of publicity for your business, which can lead to additional purchases. You should be well on your way to increasing sales and profits if you follow the methods mentioned in our guide. If you have any questions regarding WooCommerce integration with Google Shopping Ads, please let us know in the comments section below.
Further Reading