In this article, we take a look at how you can quickly enable WooCommerce Shipment tracking using WooCommerce Canada Post Shipping. For this, we make use of the  ELEX WooCommerce EasyPost Shipping plugin to enable WooCommerce Canada Post shipping on your WooCommerce store.
Introduction
Canada Post is one of the prime postal operators in Canada, originally known as Royal Mail Canada. It also comprises several products like Courier express services, Freight forwarding services, and Logistics services. Being reputed as one of the major postal services, with prompt deliveries as well as quality delivery of products, Canada Post is always recommended by many businesses. With happy clients, who are satisfied with the Canada Post services, the overall WooCommerce businesses flourishes. It also assures safe and reliable deliveries. With the ELEX WooCommerce EasyPost Shipping plugin, it is now easy to integrate Canada Post to your WooCommerce store effectively. The plugin helps to integrate mainly four shipping services, UPS, USPS, FedEx, and Canada Post.
On your store with one plugin, you can integrate four shipping carriers, which will give you a multitude of options to provide shipping assistance to your customers across locations. Shipping is crucial for any business, and with EasyPost offering a plethora of options, it becomes easy for your business to offer shipping services to various locations without much hassles. The plugin not only helps to fetch the real time shipping rates of all the services, but it also helps to generate shipping labels. With its seamless integration with WooCommerce, the EasyPost plugin makes it work quickly. 
Advantages of Tracking  WooCommerce Canada Post Shipping
Shipment tracking is very important when considering eCommerce. Customers will be much more relaxed, when they know the whereabouts of their shipment. Whenever a customer purchases an item, they are quite apprehensive about the order in transit, as there are no ways to know exactly where their package is. Moreover, due to this anonymity, the pressure on the customer support team also augments.
With the actual tracking details provided, it becomes easy for customers to know where their order is arriving from, and also where it is currently in transit. It mitigates the pressure that is put on the customer support team too, letting them focus on greater goals and providing business assistance. 
Another advantage worth mentioning about tracking is the transparency you maintain in your business, which will gain you many more customers. Offering transparency will reward you with goodwill from your customers, which is quite essential for your business. It also keeps you atop all the competitors paving your way to attaining success in your business. With an efficient plugin that can assist you in integrating all the Canada Post services to your WooCommerce store, your success is guaranteed with happy customers who will enjoy the quality shipping services. 
How to Generate WooCommerce Canada Post Shipping Tracking Numbers?
Once you integrate the ELEX WooCommerce EasyPost Shipping plugin with your WooCommerce store, you can enable the basic settings required to enable the shipping services. You can choose Canada Post as the EasyPost shipping carrier and then save the settings. Once the customer places an order in your store, they can see the Canada Post real-time rates that are displayed on your store in the cart and checkout page.
Your customer can choose one of the services and check out from the cart. Upon doing this, the Customer gets an order id for the corresponding order. As a store owner, you can process the order and generate the tracking information on the order processing page. When you open the order, you can first generate the order packages.
After generating order packages, you can generate a shipment for the same.
On generating the shipment, you get a tracking number from Canada Post as well as a label to print and affix on the package.
You can print the label by clicking on the print label.
The WooCommerce CanadaPost shipping label looks like this.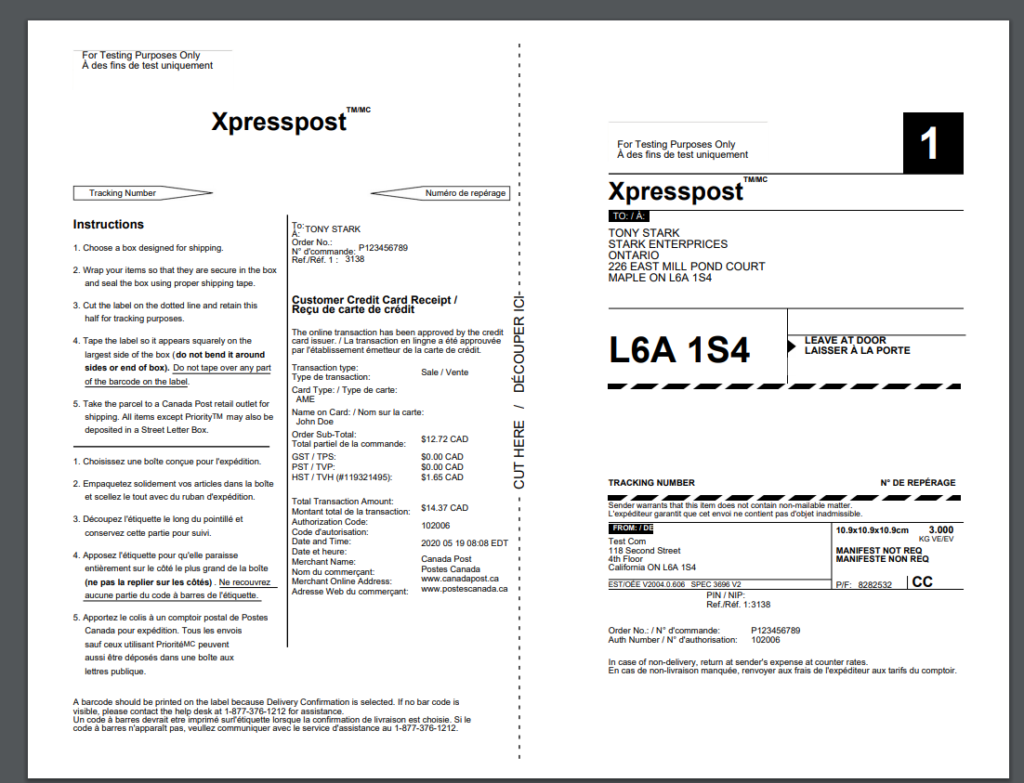 The customers will get the information on the tracking number on their 'My Account' page, which makes it easy to track the order for them.
Upon clicking on view, you can see the tracking details of the order.
The details will have the tracking number and the order status.
Printing Bulk Labels for your WooCommerce Canada Post Shipping
If in case your business deals with multiple orders, then you will have to print multiple labels for your orders, You can do this efficiently using the bulk label printing add-on, for your bulk shipments.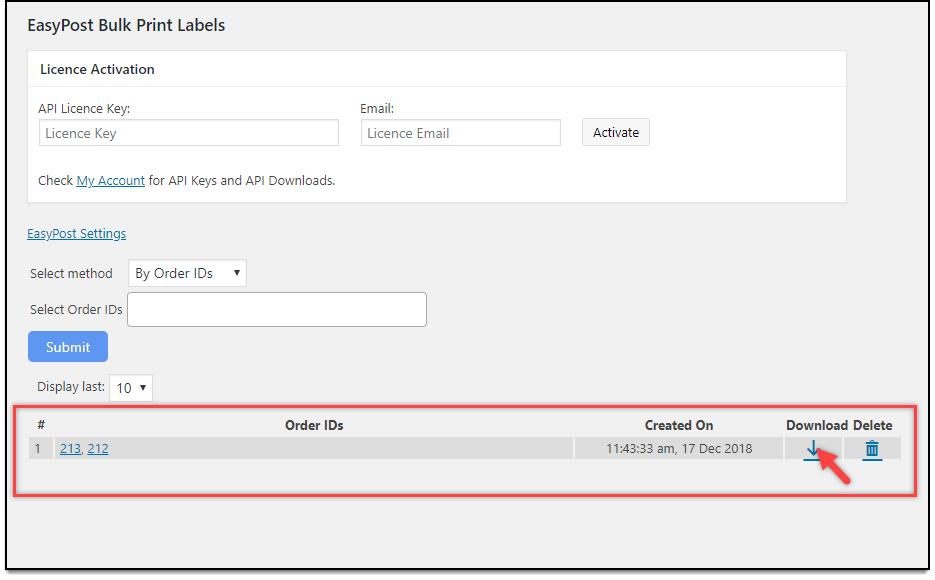 You can simply generate multiple shipments, and generate labels for your orders and affix your packages.
Auto Generate Emails with Tracking information for your WooCommerce Canada Post Shipping
Generating tracking numbers in your store alone will not be advantageous for the customers. When you can intimate the customers about the order tracking status through mails, the customers will be much more pleased. In order to gain customer confidence, you can email the tracking details as well as labels to your customers from your store directly.
Make use of the  ELEX EasyPost Auto-Generate & Email Labels Add-On which helps to ease the job, by auto-generating emails upon generating the Canada Post shipping labels for your order.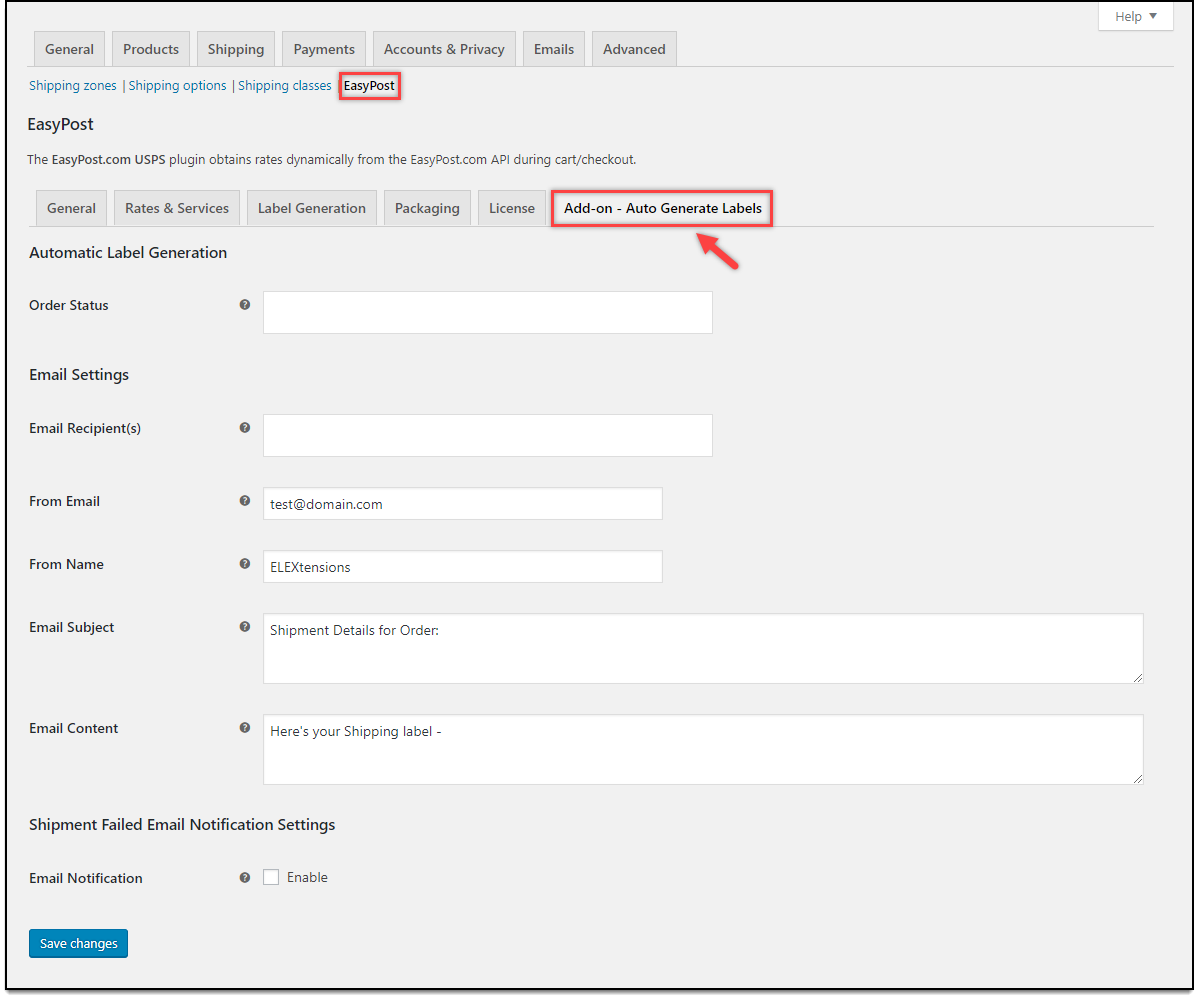 This service is available for any of the EasyPost Shipping carriers(USPS, UPS, FedEx, and Canada Post) and can effortlessly generate emails for your customers with shipping labels. You can simply keep tracking settings to generate emails to the customers, the shipper as well as the store owner to keep all the entities on the same page of tracking.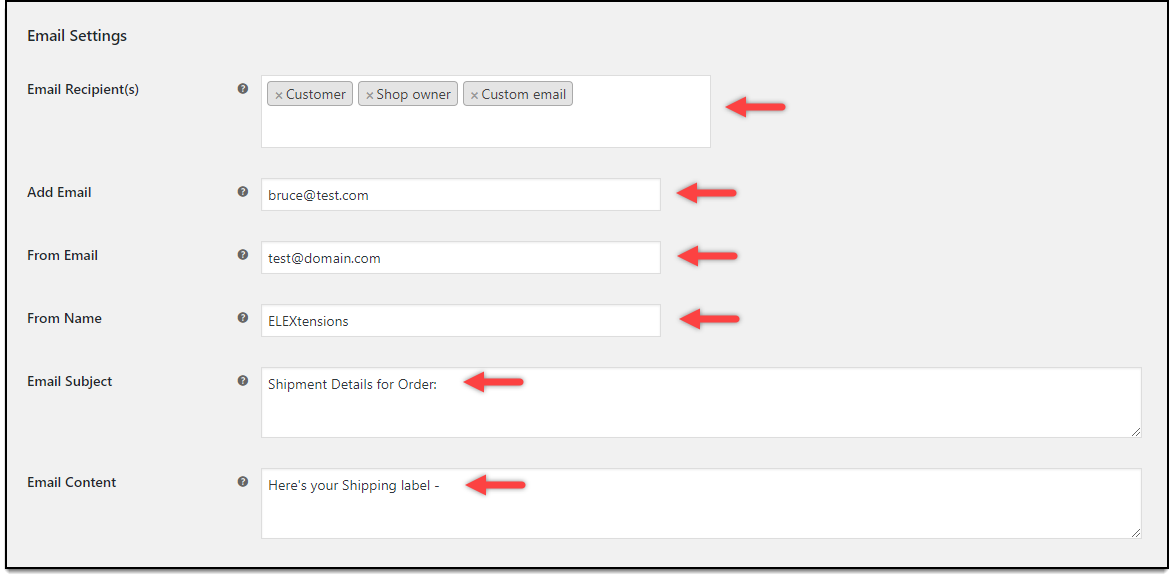 With these settings, the customers and the required entities receive emails.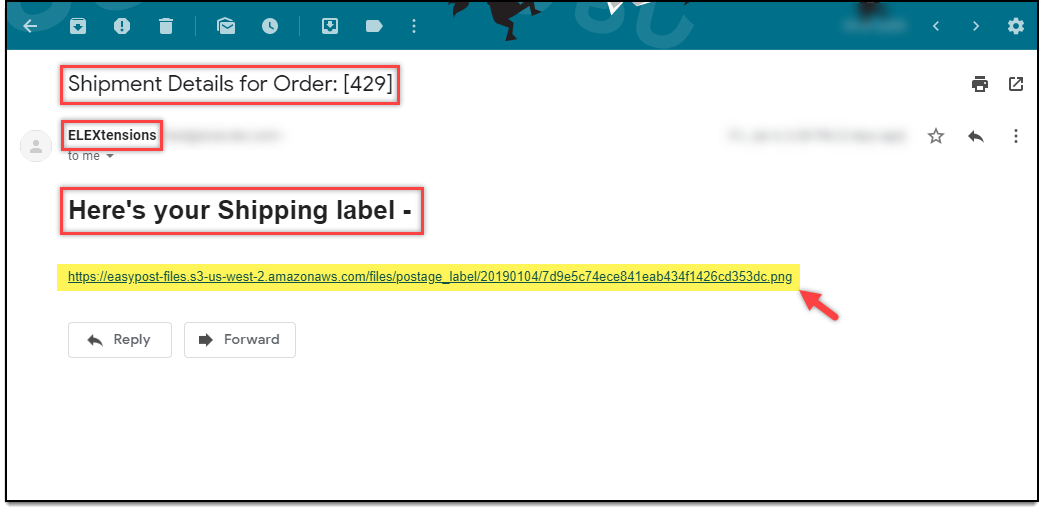 You can also effortlessly manage notification regarding failed orders too with these settings.
To Conclude
The ELEX EasyPost Shipping plugin is one of the finest solutions to embed rates of multiple shipping carriers to enhance your mobility among locations. It also offers a wide range of shipping options to offer your customers.
Read More :