The Commercial Pricing of the Postal Service led to a breakthrough in the shipping industry. UPS created the Digital Access Program to make shipping accessible to the wider audience by partnering with various shipping software. Let's learn what is UPS Digital Access Program, 3 reasons to ship with it, and how you can integrate it on WooCommerce using EasyPost.
What is UPS Digital Access Program (DAP)?
The UPS Digital Access Program (DAP) is a platform that aids e-commerce initiatives by providing them with a one-stop solution for major concerns like order management, delivery and tracking along with simplifying various logistical complexity. DAP aims at providing SMBs a high-quality experience to their customers similar to what is experienced by established e-commerce organizations. SMBs are equipped to level the playing fields by being able to offer the same shipping services at competitive prices.
The UPS Digital Access Program is also involved in additional collaborations with in-demand companies that spearhead order management, web store hosting, and delivery executions. The focus of the program is to reiterate UPS's commitment which is based on the platform movement and works upon demand generation along with shipping processes. With the Digital Access Program, UPS wants to broaden their range and continue to indulge in their pursuit of innovation and collaboration with leading platforms that are involved in all the aspects of the e-commerce ecosystem.
The usage of shipping software enables individual shippers and SMBs to access UPS discounts at pre-negotiated rates. There is a possibility of saving upto 75 percent of total charges by using UPS services as it curbs the need to pay retail rates at local UPS.
If you are looking for an efficient way to integrate your shipping rates with your WooCommerce store, then opt for ELEX EasyPost Shipping Method Plugin which helps in automating WooCommerce UPS by calculating the shipping rates on the Cart and the Checkout page.
Why should you opt for UPS DAP? 3 Reasons To Ship With It
Attractive Rates:
Most often discounts are accessible by only high volume shippers. However, with UPS DAP, whether you are a regular shipper with 10+ deliveries a month or 50+deliveries a week, the rates remain perfect for you. You can ship any number of packages without being stressed about the rates affecting your budget and be rest assured that they will be delivered safely. There is no minimum or maximum cap, no sign-up fees or additional commitments which make this a perfect shipping partner.
Uniform and Speedy Service:
If it's cheap, how can it provide quality service? UPS DAP is here to challenge that line of thought. For all the users who assume that shipping 100+ packages at an affordable price implies degradation and compromise in service, DAP's policy is all about ensuring that the same familiar and reliable UPS standard service would be provided.
DAP leverages the UPS networks efficiently to provide choice, convenience and speed in its processes, from ground shipping products to overnight delivery, DAP executes them all perfectly. With its huge database listing the wide-ranged drop-off locations, it ensures that customers are comfortable in shipping any size of package. It caters to more than 200 countries and allows the business to expand on an international level with improved time-in-transits compared to other air service carriers in major markets spread across the globe.
Smooth Start:
EasyPost has integrated UPS DAP in network carriers which allows the users to access rotates and start shipping at the earliest. The only thing you need to access these rates is create an EasyPost account and navigate towards the Carrier Accounts page visible under the email username to "Create" your account.
You will be provided with the USPS account during the sign-up process which leads to an early Christmas! You gain access to a discounted set of rates from two of the biggest carriers in the world. There is absolutely no commitment in getting started however, you are encouraged to email the companies and ask for their promos before starting where you can find some lucrative offers lined up for you.
The offers have been designed so efficiently so as to allow you to build your money. Saving 10 leads to saving hundreds which in turn leads to shipping thousands and saving a lot more! UPS DAP is extremely SMB-friendly with its attractive features and one-stop solution executions. 
How to Integrate the UPS Digital Access Program For Your WooCommerce Store?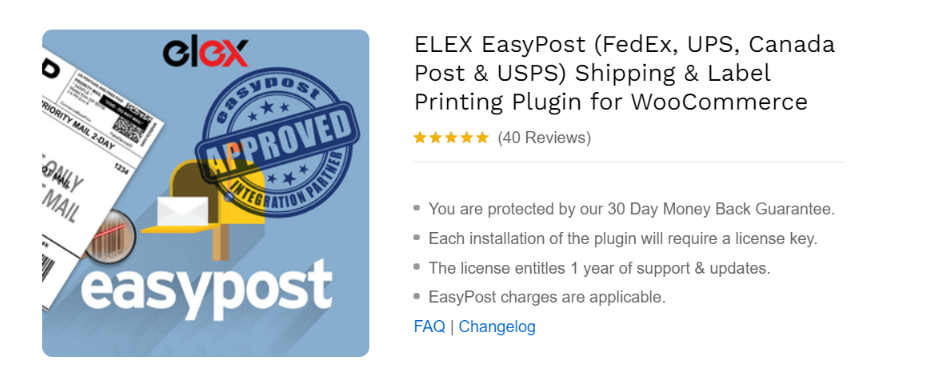 Install the Plugin:

ELEX EasyPost (FedEx, UPS, Canada Post & USPS) Shipping & Label Printing Plugin for WooCommerce

Enter EasyPost Account details. You can easily register with EasyPost

here

.

Explore and Enable Real time rates along with shopping labels and insurance.

The Customer is able to take a look at the UPS Post shipping rates, calculated using the items in the cart before placing an order.

Print Label and Pay Postage information using the information within the WooCommerce order page.

The plugin can be customized using various setting options. Check our support section for any specific customization required for your business.
You can download the plugin using this link and follow this guide to get an insight into all of its available options: How to set up ELEX EasyPost Shipping Method Plugin for WooCommerce? (with Video)
What are the features of the ELEX EasyPost Shipping Plugin?
The ELEX EasyPost shipping plugin provides a business owner with a customer-oriented platform for integrating shipping rates and services.
Displaying live shipping rates from USPS and UPS DAP.

Allows printing of the USPS and UPS DAP labels.

Various billing options offer flexibility to customers. It enables charging the bill upon a third party which must have a valid UPS account number and has consented to the incurring charges.

The customers are intimated on the approximate number of days in which the package will be delivered to them. After enabling this, the customers will be able to see the estimated delivery days on the Checkout page.

The UPS DAP tracking number and labels can be generated from the order page and tracking status can be sent to the customer's email address. This will allow the customers and shop owners to track the shipment status.
Now, you know what is UPS Digital Access Program and how you can integrate it into your online store. If you still have any questions related to the topic don't forget to mention them in the comments below. We would really appreciate, if you can provide your ideas related to the topic or our plugin.
Further reading