If you are a small business owner and believe in customer satisfaction, then including a help desk software on your website is necessary. Just follow this article step by step to learn how to set up a free help desk software using a free plugin, learn about its features, and see how it works on the live website. 
What is a Help Desk Software?
A help desk software provides a query generating feature on your website. If customers have any query or need support that can be technical, shipment problems, orders or account related issues, you can use a simple plugin to provide consistent support. It can also ensure a regular management of queries and timely resolutions.
How to Set Up Free Help Desk Software For Small Business Owners?
To implement help desk support for your small business we will use a free plugin: ELEX WordPress HelpDesk & Customer Ticketing System (WSDesk | Free Version)
This plugin offers all the necessary features to set up an online support desk including ticket creation, management of tickets, email features, creating agent profiles, email customization, viewing reports, file attachment, etc. Lets learn more about this plugin and its features.
Features of ELEX WSDesk Free Plugin
Add Unlimited Tickets and Agents: You can create multiple agent profiles for handling tickets. This plugin does not restrict you on how many agent profiles can be created or number of tickets can be raised.
Simple & Intuitive Interface: WSDesk plugin uses the AJAX-based design for intuitive and user friendly interface for agents. You can easily search for tickets or use quick setting options.
Essential Triggers & Automation: You can use the automation feature and set desired conditions. Use trigger option to send automatic emails to notify ticket assignee. 
Detailed Visual Reports: Use performance reports to get insights on agent performance and improve overall customer experience. 
Agent Satisfaction Score: Use the trigger feature to carry out a satisfaction survey and analyze every agent's performance. 
Attachment Support: This plugin allows you to attach photos (jpg, jpeg, gif, png), document related files (.doc, .docx, .csv, .pdf, .xls, .xlsx, .txt) and zip files. The basic version currently supports only a single attachment file.
Backup & Restore: Use the backup feature to secure all your tickets and setting information in an XML file. If you are planning to move your website to a different domain then you can easily restore this data and use all your previous settings. 
Integrate With WooCommerce: WSDesk completely integrates with WooCommerce to retrieve the total number of orders, order numbers, purchase price and other information. The existing products in your WooCommerce store will be automatically populated for creating ticket fields and creating triggers. 
Also, there is a separate tab for viewing WooCommerce ticket reports which can be filtered based on products or categories. 
How to set up Free help desk software using ELEX Helpdesk Free Plugin ?
Let's see how you can install and set up this free plugin on your website. In this article we will use the basic installation and set up options. We recommend that you read this detailed guide to learn each and every feature provided by WSDesk: Get your WordPress HelpDesk ready in Less Than 5 Minutes using WSDesk Quick Setup Wizard
Simply visit this link and download the ELEX Helpdesk Free Plugin. 
Now go to your WordPress dashboard and upload it. After you click the Activate button you will see a screen like below.
In the quick setup wizard click the button: Let's Setup Now!
Support Setup
Support Email:

Type an email ID that you want to use for customer support responses.

Starting Ticket ID:

Set a custom ticket number to get started. Default starting ticket ID is "1".

Support Page Title:

Use a custom title to display at the top of your support page.

Individual Ticket Page Title:

You can type a custom ticket page title to display on top of the individual ticket pages.

Existing Ticket Page Title:

Use a custom title to display on top of the existing tickets page.
The WSDesk plugin automatically creates 3 pages; support page, individual ticket page and existing ticket page. When you are done, click the Save & Continue button to proceed to the next step. 
Ticket Fields
Here, you can create a form where customers can easily raise a ticket in case of queries. 
By default form will contain 3 active fields, 
Email

: Where customers can type their email address to raise a ticket.

Subject

: Subject for ticket raise.

Description

: To provide a detailed description of the ticket or query. 
You can also use the ADD FIELD button to create new fields according to your preferences. I have created an Upload File Field for your reference. Proceed forward to the next tab: Email Client.
Email Client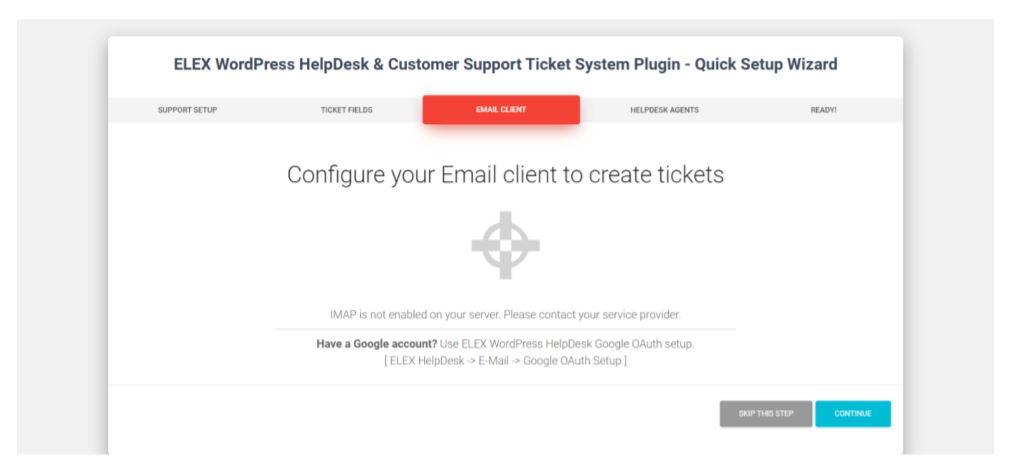 Your emails will be automatically converted to WSDesk support tickets once your email integration through IMAP is completed. 
Read more about IMAP integration here: How to configure IMAP support in WSDesk? 
If you want to use Google GSuite account for integration read: how to set up Google OAuth for G Suite. 
To use a personal Gmail account you can visit this article: How to set up Google OAuth for Personal Gmail Account? And how to configure Google OAuth credentials in WSDesk?
Helpdesk Agents
In the Helpdesk Agents Tab you can Add Agents or Supervisors for resolving tickets. You can also assign their roles from the drop down option. 
Ready!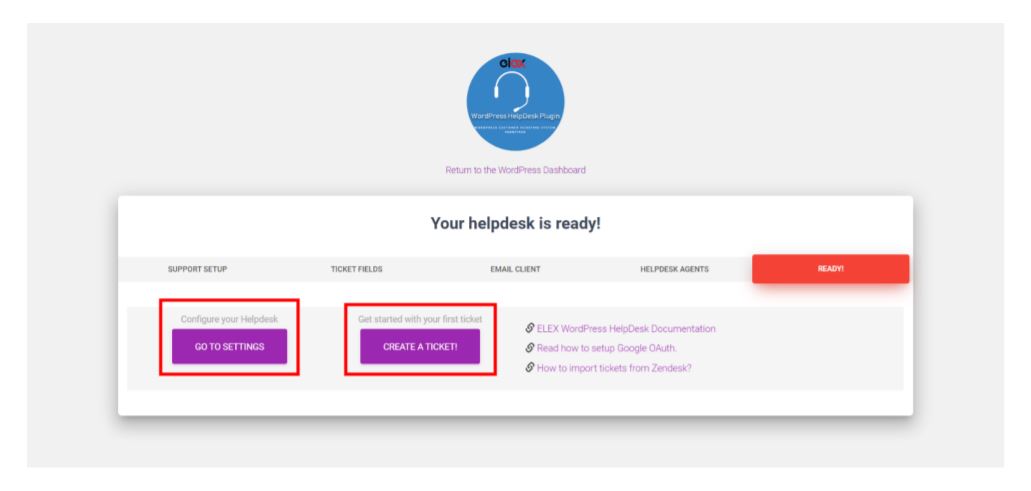 Your quick setup guide is complete. Now, let's see how to use the WSDesk software on your website. Click Create a Ticket option.
You can also Go To Settings and check more options provided by the plugin. 
How To Use WSDesk Free Helpdesk Software on Your Website? 
When you click the button Get Started you will be redirected to a new page like above. Customers can fill this form and raise a ticket. This ticket will be accessible through the dashboard provided by the plugin and also sent to the Support Email id.
Now go to your WordPress dashboard and click ELEX WordPress HelpDesk > Tickets. Here, you can access all the raised tickets. You can easily assign tickets to different agents or supervisors, reply to customers, change the status of the tickets etc. 
Just follow these steps and set up a free help desk software for your small business. There is also a premium version available for this plugin, which includes additional features. If you still have any doubts you can contact us or write your queries and feedback below. 
Further reading