If you are planning to use a trusted US-based shipping service on your WooCommerce store then UPS is a great option. This article will guide on how to add UPS shipping to WooCommerce for free using an ELEX plugin. Later we will also explain how to set up UPS on your WooCommerce store and discuss the premium features of the plugin.
What is UPS?
UPS stands for United Parcel Service which is based in America and founded in 1907. UPS has a long history of specializing in telegraphs and now has grown to become one among the Fortune 500 companies. It is famous for ground shipping services, UPS stores, air shipping to PO boxes etc. Features of UPS
UPS uses technically sophisticated tools to manage your shipments which you  can integrate on your website and streamline processes across your online store. 

Monitor and manage complex global supply chain solutions for enterprises and individuals.

Easily track and monitor your UPS shipment online using a secure interface.

Experts at optimizing your supply chain from a global perspective and managing warehousing and returned items.

Work with sustainable goals keeping environmental responsibility in mind. 
Let's see how you can use all the above services and features of UPS and integrate it on your website. 
How to Add UPS Shipping to WooCommerce for Free?
To integrate UPS on your WooCommerce we will use a free plugin ELEX EasyPost (FedEx, UPS & USPS) Shipping Method Plugin for WooCommerce (Free Version). Using this plugin you can display UPS shipping on your online store. 
Benefits of Using UPS Free Plugin
Using the product's weight and package dimensions display shipping rates on the Cart and the Checkout page for both international and domestic deliveries.

Fallback rate option will allow customers to checkout with a custom rate in case UPS does not return any rates.

Choose desired shipping services among FedEx, UPS, and USPS.

ELEX EasyPost is an

officially partner with EasyPost

and is trusted as one of the most sought-after WooCommerce plugins.
How to set up UPS Shipping to WooCommerce for Free?
Just visit this link and download the plugin. Use the Plugin Add New option on WordPress to upload the plugin zip file. Once it's done, click the Activate button. 
To configure settings and add UPS shipping to WooCommerce for free you can go to WooCommerce > Setting > Shipping > EasyPost > General.
In this guide will discuss the basics of how to integrate UPS shipping. If you need detailed information on the premium version of EasyPost plugin you can checkout this article: How to set up ELEX EasyPost Shipping Method Plugin for WooCommerce? (with Video)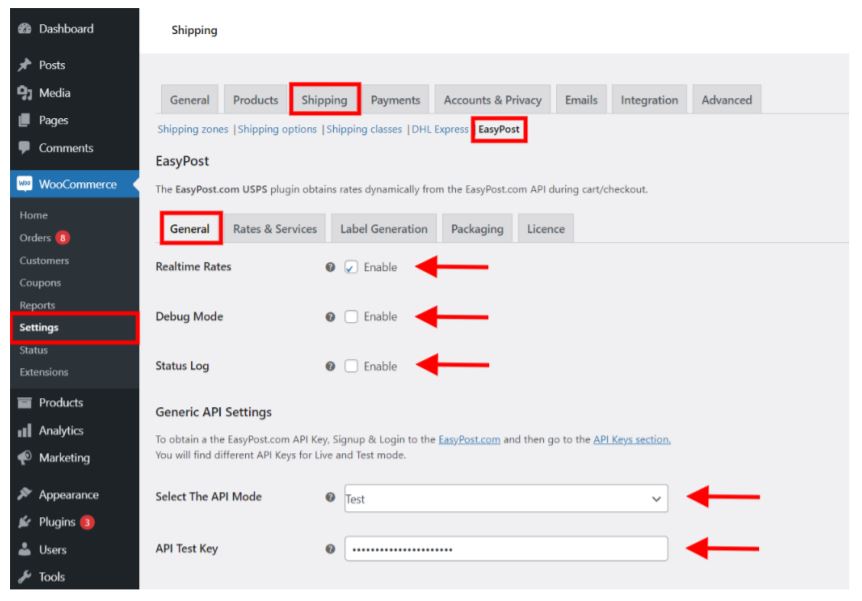 General
After you enable the Realtime Rates option it will display the UPS shipping rates on your Checkout and Cart pages on your WooCommerce store.
Enable the Debug Mode and Status Log options to check and fix technical issues on your website. 
Use the Test Mode to customize your WooCommerce store and later change or Select The API Mode to the Live Mode to display it to customers. To get started, you need API keys for test and live modes; you can easily register with EasyPost and get it.
Rates & Services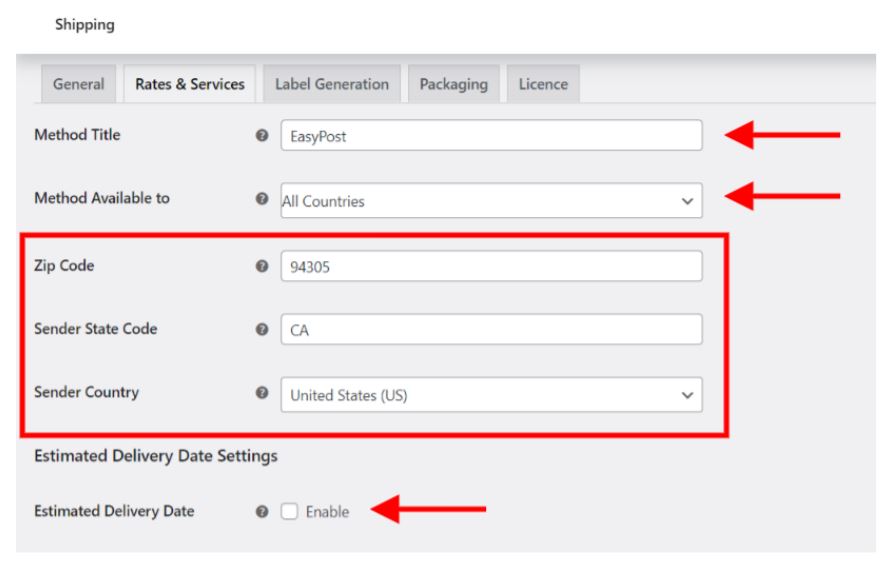 In the Method Title, you can type a custom title for this plugin which will be displayed on the Cart and the Checkout page. 
Method Available to option allows you to assign countries for shipping services. You can select the option All Countries or just Specific Countries and provide their names.
If your store is based in the United States use the same address in the Zip Code, Sender State Code and Sender Country name.
Enable the Estimated Delivery Date option to display estimated time of delivery on the Cart and the Checkout page.
In case EasyPost is unable to generate any real time rates, you can type a custom amount in the Fallback option this amount will be visible to customers and they can checkout using the same amount.
Rates Type: You can select between two available options: Commercial or Residential rates to display on your WooCommerce store.
EasyPost Carrier(s): Select UPS among the available shipping couriers.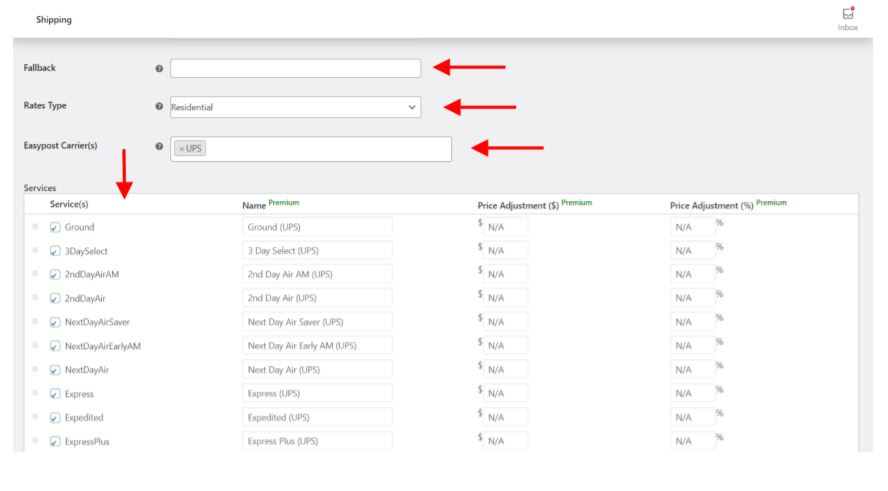 When you select the above option it will display shipping services provided by UPS. You can also customize their name or adjust their prices in the premium version.
Click the Save Changes button once done. Let's see how this plugin will be displayed on UPS shipping rates on the Checkout page of your WooCommerce store.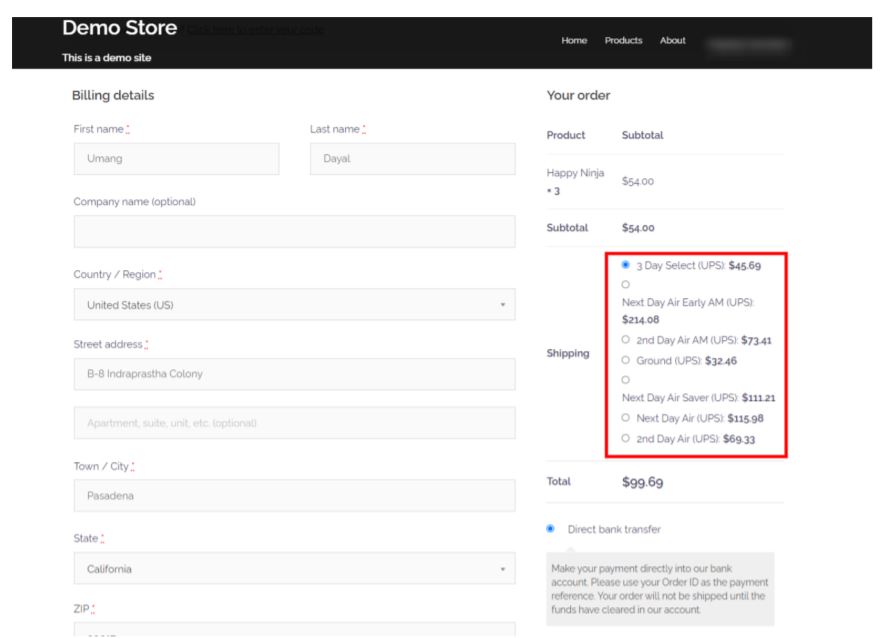 Customers can easily navigate to the checkout page and enter their delivery address, this plugin will automatically start displaying the real-time shipping rates for UPS. Customers can select among the available UPS shipping options and place their order.
If you want to improve the customer experience, manage data, enable real-time tracking and you can opt for the premium version of this plugin – ELEX EasyPost (FedEx, UPS, Canada Post & USPS) Shipping & Label Printing Plugin for WooCommerce.
Premium Features of the UPS EasyPost Plugin
Print Shipping Labels: Access order details where you can easily create the shipment. Now using the create shipment label option you can print labels and use them on packages. Postage is automatically applied on these shipping labels from your EasyPost account. 
Track Shipment: After generating a tracking number you can conveniently track the current status of your packages. It also allows you to send the tracking details to the customers through email. 
Parcel Packaging Options: In the settings panel of this plugin you can apply automatic packing of items into configured boxes. There are 3 available packaging options. 
Pack items individually.

Arrange and pack items according to weights and dimensions (Volume Based Packing)

Pack items on the basis of weight.
Select separate services for each package: You can select separate shipping services for each package in case of multiple items.
Importer Tax Registration Details for Barrier Free Shipments: Include shipper tax registration details in the shipping labels to make the custom process easier. 
Plugin Compatibility: The premium plugin ELEX EasyPost (FedEx, UPS, Canada Post & USPS) Shipping & Label Printing Plugin for WooCommerce is compatible with other ELEX plugins such as WooCommerce Multi-Vendor Support for ELEX Shipping Plugins, WooCommerce Mix and Match Products, and All ELEXtensions Plugins.
You can activate the premium features inside the free plugin settings or buy the premium version from here.
Just follow the above steps to add UPS shipping to WooCommerce for free. If you have any doubts or ideas that you want to share use the comment box below.
Further reading