Google hunts for uniqueness in everything to include in the results. In the case of WooCommerce Google Shopping, it is again important to keep your product attributes simple and unique to get them included in the Google Shopping Results. Here we are discussing the major product attributes -GTIN and MPN. Ever since Google made it mandatory for all products, which should be having a GTIN and MPN number to include in the product category, retailers are toiling around the same.
Here we are discussing :
What is GTIN & MPN?
Why are they unique product Ids?
How can you find them?
How can we include GTIN & MPN in WooCommerce?
What is GTIN?
Global Trade Identification Number (GTIN)  is a 14 digit unique code to identify trade items. It helps to identify the trade items, services and products. Basically, GTIN is mostly used in Barcodes.
The subsets of GTIN are UPC, EAN, ITF-14, UCC/EAN Code 128 and GS1Databar.   According to Merchant Center guidelines, a GTIN includes:

Format for GTIN number is :
Take a look at the guidelines set by Google Merchant Center  to include GTIN

Validate your  GTIN using GS1 Check Digit Calculator.
You can check in detail whether your product or country has certain requirements to follow here.
Where do you find GTIN number on a product?
GTIN is a part of the barcode number.  Here's the anatomy followed in GTIN  :
Read further on GTIN click here.
What is MPN?
Manufacturer Part Number  (MPN) is the number that lets you identify products from the same manufacturer among all other products. MPN is required for products that have no manufacturer-assigned GTIN. Also, it is optional for custom-made products like handmade products, art, novelty products.
The format followed by MPN according to Google Merchant Center is :
MPN is used to give a better understanding of what a search engine can find on the page. Despite the popularity of GTIN, MPN is also a requisite factor for any product. Learn more about MPN here.
How to find MPN of a product?
In most cases, MPN is given on the product itself or you can ask the manufacturer for the same.
Check out the examples cited in the Google Merchant Center on where to find MPN on products.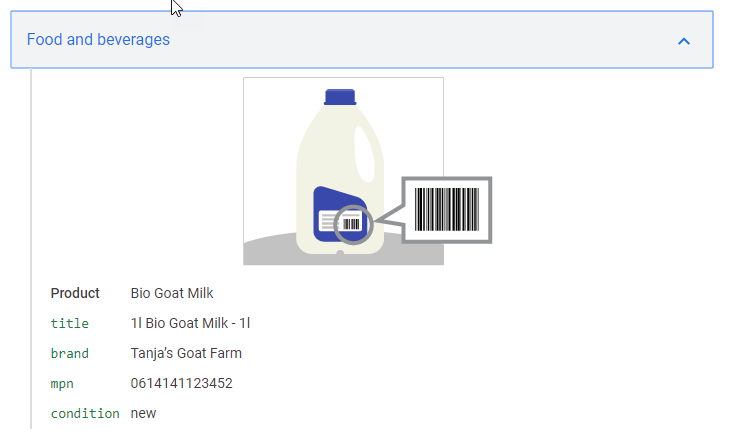 Why do you need a GTIN and MPN number for your product?
Google Shopping basically works on a simple principle of searching and displaying the results correctly. In order to search and point to a particular product, Google requires a certain identifier associated with the product. When a product is searched for, Google Shopping  will
Verify and match the product to the search query.
Compare the product with other competitors having the same product.
For example, you are selling a toy, and Google Shopping has to display your product on the search results. Google also requires certain approved product identifiers in the product feed. Learn about the product identifiers that are mandatory here.
GTIN and MPN are unique identifiers for your product. A Google Shopping Product feed is approved by Google Merchant Center, only when the mandatory fields are present in the feed.
Here are the strong reasons for using GTIN and MPN:
Unique identifiers make it easy for your products to be fetched.
It becomes easier to compare products.
Various platforms find it easier to display relevant products on the basis of search results.
What if your product does not have GTIN?
It would be ideal if your product has GTIN,  but it would be good not to assume that it doesn't have one. Google database has all the valid GTIN of products worldwide. You need to ensure that your product does not have a GTIN when you submit your product. Otherwise, your product feed will be rejected.
Here are some products that do not have GTIN.
How do you include GTIN and MPN on to your WooCommerce Google Shopping Feed?
In order to include GTIN and MPN in the Google Product Feed, you need to generate an error-free WooCommerce Google Product Feed first. To generate the perfect Product Feed, it is recommended to use ELEX WooCommerce Google Product Feed.
When you create a product feed using the ELEX WooCommerce Google Product Feed plugin you can see the GTIN and MPN fields in the Map Attributes page.
It would be ideal to add a brand for the product, in its attributes, to give better visibility.
Learn about how to generate a good product feed that promotes the selling of your products on Google Shopping.
It is important to add proper GTIN, MPN for your products in order to get better visibility on Google Shopping.
It is important to realize that your product visibility depends on how you ensure that your  WooCommerce Google Shopping Product feed is unerring. To summarize, if your product has a GTIN number, then you must use it. A band and MPN is not sufficient even when GTIN exits.
Further Reading