What can we help you with?
Integrating WordPress Knowledge Base Plugin with WSDesk
A well-maintained knowledge base is the first form of support when it comes to product queries. If you find a general problem related to your A customer can look into your knowledge base to find articles related to their issues, instead of contacting customer support. That's why a lot of websites push users to see their knowledge base, instead of contacting them. This reduces their workload and the customers will still be able to resolve their problems.
Can your knowledge base and customer support application work together?
In this article, we find out how. But before that, you need to be aware of the ABC of the Customer Support Knowledge Base.
We have already discussed the top WordPress knowledge base plugins to boost your customer support in another blog article. Although WSDesk is capable of integrating with a lot of knowledge base plugins, in this article, we will integrate one such knowledge base plugin developed by Echo Plugins with our premier WordPress Helpdesk Plugin, WSDesk. The knowledge base plugin is a free plugin that can be downloaded from the WordPress plugin repository.
Here are a few highlights of what you can achieve with WSDesk:
With WSDesk, you receive all your customer queries, issues, and suggestions in the form of tickets. The plugin is boosted with unlimited tickets, unlimited agents and has features like supervisor profiles, email piping, auto-tagging tickets, auto-assigning tickets, custom ticket submission form, email filtering, email blocking, triggers & automation, quick reply templates, agents' satisfaction rating, customer feedback, and much more.
A few highlights of Echo Knowledge Base plugin:
The Echo Knowledge Base plugin comes in free as well as premium versions. The free version is enough for you to set up a decent knowledge base. It comes with pre-defined themes, colors, and layouts. There is a lot of customization that the plugin offers. You can check out the product page for more details.
Integrating WordPress Knowledge Base Plugin with WSDesk
Let us break down the entire process into three simple steps.
1. Installing and Configuring WSDesk
Purchase the WSDesk plugin and install it on your WordPress site. The plugin installation is pretty straight-forward. For configuring the plugin with the Quick Setup Wizard, read this article. To configure the plugin in detail, you can read the product documentation.
The knowledge base in WSDesk comes into picture for its auto-suggestion feature. WSDesk provides auto-suggested results for agents in the WSDesk Tickets dashboard. This helps agents provide an already-available solution (in the form of an article) for the customer's problem. Hence, saving a lot of time of the customer support agent.
For customers, the auto-suggested results appear in the Subject line of the support form, while raising a ticket. This would make customers read the knowledge base article, instead of raising the ticket.
2. Installing and configuring the Echo Knowledge Base plugin
You can download or install the free plugin from the WordPress plugin repository. One of the specialties of the plugin is that you can write and maintain knowledge base articles separately. These articles will not be listed in WordPress Posts. Rather they are created and maintained in the plugin's dashboard itself. This makes easy to maintain all your knowledge base articles clutter free.
But what if you need to include your WordPress posts in the auto-suggested results?
Fret not. WSDesk is capable of showing results from both WordPress posts as well as knowledge base plugins.
3. Viewing the Auto-suggested results
a) For Agents
When an agent opens a ticket to reply, he/she can enter start typing in the reply editor. They can then click on the "Suggestions" pop-up on the right to see the related articles, as shown in the screenshot below.
b) For Customers
While raising a ticket in the support form, when customers start typing in the "Subject" field, they can see the auto-suggested results, as shown in the below screenshot.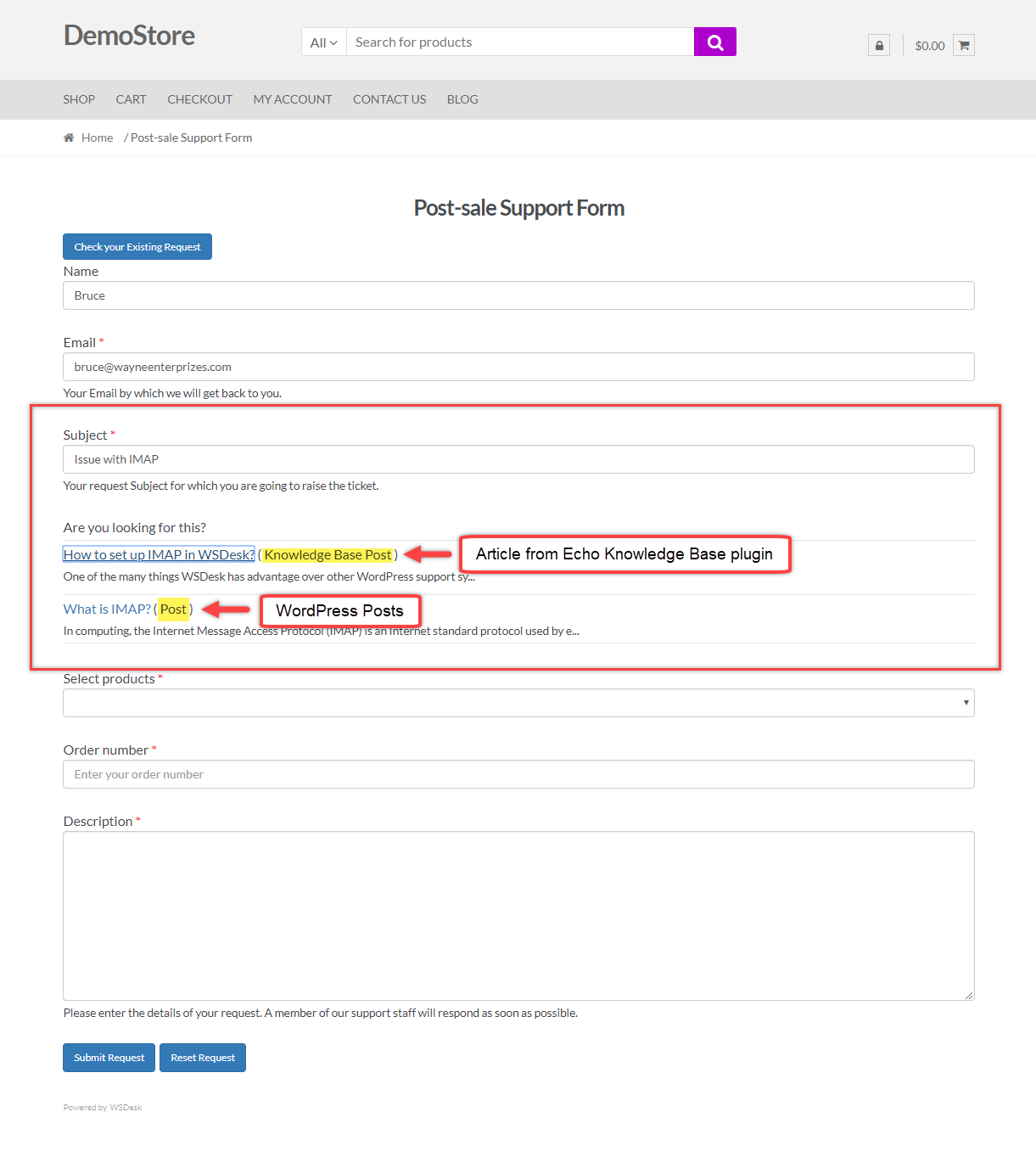 Notice that the article labeled as "Knowledge Base Post" comes from the Echo Knowledge Base plugin. The WordPress post(s) can be identified with the label "Post".
In this way, you can integrate WordPress Knowledge Base plugin with WSDesk.
Conclusion
When you write lots of blog articles and product-related articles, it is important to maintain them properly so that customers can find them easily. There are a lot of free & premium plugins for the knowledge base. You can check their features and reviews to choose the best one for you. A well-maintained knowledge base can help customers solve their problem themselves. It could also help customer support management to worry less about raising tickets and issues from customers.
Coupling a well-structured knowledge base with a customer support plugin can make things faster and easier. Speaking of making things faster. You can use our WSDesk Agent Signature Add-On to add a professional signature to all your agent profiles.
WSDesk has been known to be one of the finest WordPress customer support plugins in the market. Don't take our word, here what our satisfied customers have to say in the product reviews.
---
To explore more details about the plugins, go check out WSDesk – WordPress Helpdesk Plugin.
Read the product setting up article to understand the plugin, in detail. Or check out the product documentation section for more related articles.
You can also check out other WordPress and WooCommerce plugins in ELEX.