There is only one boss. The customer. And he can fire everybody in the company from the chairman on down simply by spending his money somewhere else.
                                  – Sam Walton, Founder of Walmart and Sam's Club
The role of customers in the business world is evident by the above statement. Almost all the business giants are now moving towards a customer-centric approach. As a result business strategies are becoming more like a study of "Likes and Dislikes of Customers".
This is rather important too. As the owner of a customer-obsessed company, I would like to know about both the likes and dislikes of my customer base. This will, in turn, help in improving the quality of customer support.
Self-service has emerged as the most trending concept in customer service. Now customers don't want to wait to get a response from a support agent. Instead, they want to solve their issues faster, on their fingertips.
Customers no longer want a great experience. They demand it..! And they don't demand it through a phone call or an email. They demand it the way everything else is available on the web.
See it…Click it…Do it…
Problem Solved..!
This is where you come across the term knowledge base..!
What is a knowledge base..?
According to the definition in Oxford dictionary,
A store of information or data that is available to draw on.
In short, the knowledge base is documentation. Any documentation, textual or multimedia is a part of the knowledge base.
Consider the manual that you get with your brand new iPhone. That is also a knowledge base. That documentation helps you with the smooth usage of the phone.
In an online business scenario, the knowledge base is a collection of information that helps customers solve their problems themselves. This information may be present in the form of articles, documents, pdf or any other form of documentation.
The information-rich knowledge base not only helps your customers but also allows your website to rank well above others due to the relevant information that your knowledge base provides.
One of the examples of a great knowledge base is Yoast's knowledge base.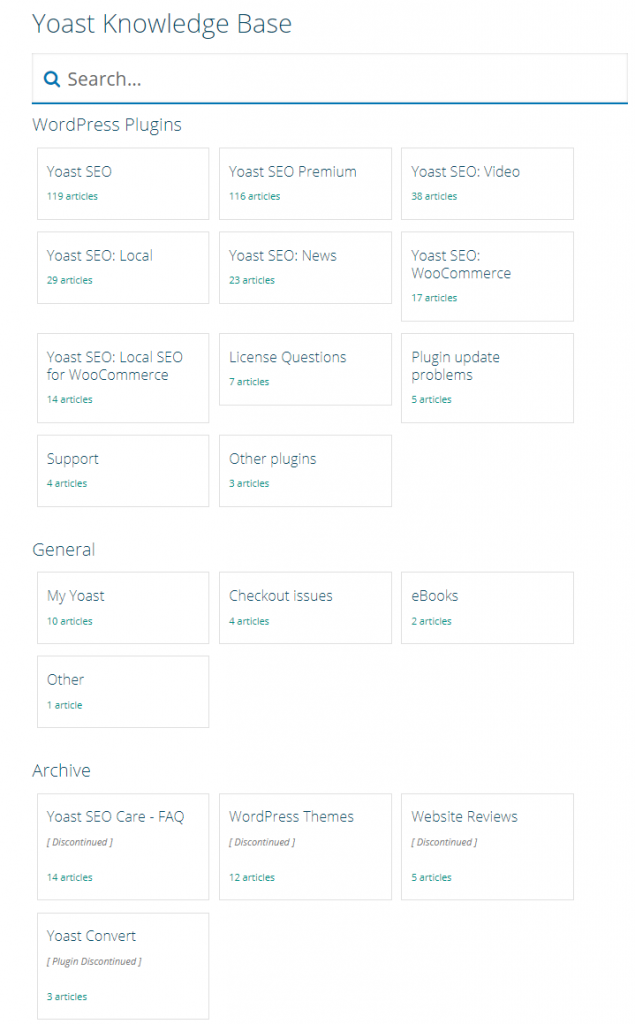 You can clearly see the well-categorized documentation along with a search bar.
Since this article has already covered why customers want a knowledge base. But if you still feel, why to do all this when you can have a support helpdesk where customers can contact you directly..?
Well, the next section will answer this question in a detailed manner.
Why use a knowledge base?
Customers demand online content. Apart from the reasons we discussed earlier, here are some reasons why well-documented knowledge base is the need of the hour.
The knowledge base for customers:
We have been discussing that today customers have the power to demand. And they demand self-service. They demand a one-click solution to their problems.
What better way to provide your customers with an online, 24*7 guide to solve their issues themselves..?
The knowledge base has proved to be the most effective and easy-to-use tool for customer self-service.
Apart from being the most awesome do it yourself tool, it is the most time-saving tool too. By providing solutions to customer queries on the fly, it saves a lot of customer's time.
One more aspect of a knowledge base which is generally not highlighted is that it provides access to the whole content. And if a customer wants, he can access anything in one go without asking (support agents) twice.
Consider a scenario where a customer wants some help with the installation of a software. By accessing the online knowledge base he is not only able to save a lot of time, but he is also able to see the related documentation at the same place.
The knowledge base for Businesses:
Well, customers may have their own perks with the knowledge base but it helps the whole business in a broader aspect. With its help a company gets the following benefits:
Less number of customer requests
Most of the customers like to approach the support team as a last resort. Apart from the time it takes to solve the issue, the whole essence of self-service is absent.
So when customers come across a knowledge base, there is no longer a need to submit a request at customer support. And as a company, fewer customer requests equals happy customers.
Increases the amount of resolved requests before the first contact
The customer satisfaction drives on how fast the support team is able to resolve their issues. With the knowledge base, those requests are resolved mostly before the first contact.
But if some confusion persists, it is sure to be resolved in the first contact.
Developing a new feature or a product, but want to know if people will approve it or not..? Why not write an article and let customers choose..? 
Making smart decisions in business counts a lot. When you want to avoid taking risks, you can reach out to your customers with the help of articles.
It will not only help you analyze what customers want but will also help in creating a buzz about what your company is up to.
Increases your customer's involvement in problem-solving
Customers love to solve their own issues.
What is the harm in letting them solve other's issues too..?
With the knowledge base and the idea behind the comment section, the customers can have a deeper interaction with each other. They may end up solving related issues even in the comment section.
High customer satisfaction and loyalty
With all the above-mentioned benefits, one thing is sure – a high customer satisfaction. Customers get what they expect from you and in return, they remain loyal to your brand.
Word of mouth is by far the most promising means of advertising. When customers are happy they tend to talk about their experiences. This attracts potential customers and helps in maintaining a healthy relationship with customers.
How to make an effective knowledge base?
So far we have discussed the benefits of an organized knowledge base. But how to make it effective in the first place? Here are some tips to make an effective knowledge base:
Decide topics that you want to include…
Documentation can't just include anything and everything. There has to be a content rich knowledgebase that contains meaningful documentation required by the customers.
The best way to decide topics for the knowledge base is through customer requests. The support team can analyze customer requests for topics that their customers want to know about.
After that, you can start by writing both the obvious and the most typical things. The best practice is to first experience the product and the processes yourself and then document the whole process. By doing so, you will come across a lot of questions. These are the same questions that your customers want you to answer. This often leads to finding loop-holes in the functioning of a process or the whole product.
Another way to analyze the queries is by internal search. By analyzing the search terms inside your website can help specify the minute things that customers are looking for.
Plan the structure of the knowledge base…
You can include the content in your website in any format. Mostly, listing questions and writing articles are among the most common practices when it comes to documentation. You can write a detailed description as well as brief step-by-step tutorials based on preference.
In some cases, other multimedia are used as a means to provide documentation to the customers. Take the case of Groove, which uses video tours as content.
Here are some screenshots showing Groove's video tours:
and…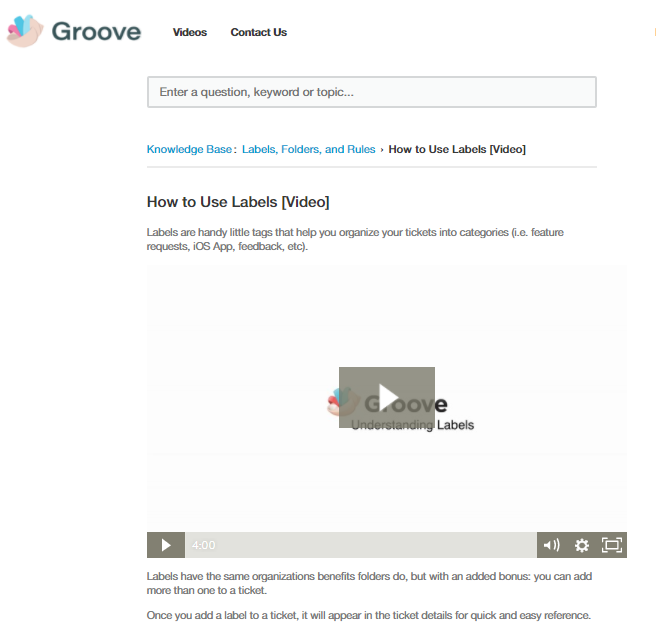 Videos provide a richer experience than articles but you can add a bit more to your articles by allowing customers to download it. Unlike video tutorials, customers can download text documents or Pdf files and can use them anytime. They can even share them easily.
Apart from these, Gifs are becoming increasingly popular in knowledge base articles than still images. The responsiveness of Gifs gives it an edge over the images.
So it is up to you to decide what suits your customers better.
Create content…
Now when you have decided what, and which format to write, you can start creating meaningful content out of that. However, there are some things that you need to keep in mind while creating content.
It should be easy to understand
Make sure, whether you write an article or a tutorial video, it is easy enough to understand for your customers. They generally don't go through the whole content if they find the article or video hard to understand.
Take care or your attitude
While preparing content you are actually representing the ideology of your company. It is a way to let customers know how well you understand and solve their issues.
The writing language or tutorial video should be very carefully monitored and maintained according to the company values. The customer will never come back and complain about such things. Instead, they will simply move on to some other option.
Showing your customers how to install software?
Let them know each and every step involved. Customers don't want to waste their time in thinking what would happen if they skip one step. Make sure to explain each and every step.
Mention the do's and don'ts separately. This will let your customers know that you understand the value of their time and you don't want them to skip a step or go through the unnecessary hassle.
As discussed, there are a lot of options when it comes to file formats of the content that you are preparing. Don't just stick to a single format.
Add video tutorials to your articles or Gifs to the documentation to make it a bit more interesting for your customers.
Make sure to link your content
Linking your content mainly involves avoiding the repetitions. If the same content is posted more than once, things may get a bit messy while updating it. You will have to make multiple changes if you don't link your content properly.
Organize the structure of your knowledge base properly…
One of the most important aspects of a knowledge base is its structure. An ideal structure should have the following things embedded in it:
The extent of a knowledge base can be huge. There can be multiple articles, documentation, video tutorials, etc. For customers, the accessibility of the knowledge base is as important as the relevance of the content.
A search bar allows them to have that accessibility. Customers no longer have to manually search for the specific issue. You can go a step further to make the search smarter with the help of Artificial Intelligence. Using AI the system will automatically detect what the customers were looking for in the past and it will give automatic suggestions from the content.
The Table of Contents is for generalizing the documentation. Based on the scale of your knowledge base you can prepare a table containing all the sections along with images or gifs.
If you don't want to implement Table of Contents you can categorize your documentation in terms of categories and sub-categories.
By doing so, you can separate video tutorials, articles and other sections of your documentation. Moreover, you can separate simpler and non-geeky stuff from the more complex ones.
One of the most important things that the customers want to be listed separately is the Frequently Asked Questions (FAQs).
The Support Staff should analyze questions mostly asked by the customers and keep them updated in a separate section. These questions can help customers to go directly to this section and get their problems solved. Moreover, it can help new customers to know more about the product.
Along with the FAQs, you can have another section that deals with the mostly resolved issues. In the troubleshooting section, you can explain the basic or most commonly dealt processes while using the product.
Proper indexing and linking
Indexing and linking are among those parts which are ignored by most of the companies. A well-indexed documentation gives a great impression of your company. It shows how professional you are and how serious you take customer issues.
Besides indexing, linking in a knowledge base, as we discussed earlier helps during updating the content.
Surface your knowledge base…
Customers will only visit those pages in your website which are easily accessible to them. They will not dig deep and open every page on your website.
So it matters a lot to make sure that your knowledge base is well-surfaced to the customers. Most of the customers don't even go past two or three pages from the home page. For such customers, it is very important that some link to knowledge base be present in the navigation bar. Another thing that you can do is put the link on some menu so that it can be accessed by the customers easily.
Apart from this, you can have a Contact Us, Support or Help link available at the home page of your website.
Redirect your customers…
Building a knowledge base doesn't necessarily mean that there will be no customer requests. Sometimes customers will even submit those issues which are well documented in the knowledge base. It is because they are habitual of that practice.
For this thing to go away, they need to have a healthier habit – the habit of referring the knowledge base.
While resolving customer issues you can provide links to the documentation so that the customers will refer the knowledge base for future issues. Or one more thing you can do while updating the knowledge base send the links to the newly written articles to your customers. You can also ask for feedback or suggestions and work on them.
Improvise and Update…
The value of the content written in the knowledge base will degrade with time. Hence the content needs to be updated with time. Also, with the help of analytics tools such as Google Analytics, you can monitor which product or page is being visited by the customers.
Also, it is very important to hear your customers. Ask them about their experience with the documentation or if there is something which doesn't seem to solve their issues. Make the content simpler and easier to understand. Even if you have written a great documentation, there is always room for improvement.
This practice can be very helpful in maintaining the quality of service as well as the performance of the product. It will be a two-way business where you will solve customer issues and customers will list out the things that you can improvise.
So this was all about the customer support knowledge base. Apart from all the benefits building a well-organized knowledge base makes the company way more professional and customer-oriented than just providing the customer support.
We would love to hear your opinions about the knowledge base and its value in the business-to-customer interaction in the comments section below.
You can read more about how you can use WSDesk as an integration with a knowledge base and in turn creating a wonderful helpdesk system for customers.
---
Explore our blog section for more articles.
You can also check out WordPress and WooCommerce plugins in ELEX.