How to track International Packages using USPS Tracking Numbers
Introduction:
Shipment tracking is one facet of the order fulfillment process that small businesses regularly gloss over. If you are a business that ships physical products to customers across various countries, providing information about the status of the shipment in the form of a tracking number can improve the customer experience of your site. International Shipping carriers like USPS apart from being able to handle the shipping needs of any scale, have end-to-end tracking systems that can be used to relay this information to customers and business owners alike.
Shipment tracking is helpful in identifying any lapses in the fulfillment process and locate lost packages quickly. Moreover, giving customers the tracking number on completion of their order inspires confidence in the brand and helps alleviate buyer's anxiety. Customers who are anxious about their products are more likely to cancel their orders than customers who can track their orders. 
What is USPS tracking number? 
USPS Tracking® service provides end-to-end item tracking and is available for most domestic mail products that are large enough and that are addressed to domestic locations, including to limited Army Post Offices (APOs), Fleet Post Offices (FPOs), Diplomatic Post Offices (DPO) destinations and to ZIP Codes in U.S. territories and possessions or Freely Associated States.
Entering the tracking number associated with a mailpiece into the USPS Tracking page gives you the current status of an item along with other tracking information. That info includes, if available, delivery and/or attempted delivery information, including date and time of delivery as well as the delivery location of the item (mailbox, reception desk, neighbor, etc.). There is no additional cost for the tracking mechanism on products that automatically include USPS Tracking. Basically, you pay for that product's postage, and tracking is included unless you are using USPS Marketing Mail® service. Adding USPS Tracking to that commercial mailing service requires paying a fee.
International USPS services that offer Tracking:
While USPS offers an extensive selection of services [ Compare the Shipping Rates & Estimated Delivery Date from Leading Shipping Carriers ] that you can use to ship items with, only a select few International USPS services offer Tracking. However, end-to-end tracking to the destination is limited for some of these services. The various International USPS services that offer shipment tracking are as follows:  
Service Name

Delivery and Tracking Capabilities

Priority Mail International
6-10 day delivery and tracking to many international delivery locations. Tracking to the destination is limited
Priority Mail Express International
Available to more than 180 international countries. Tracking to the destination is limited.
First Class International Package Service
Tracking available to Australia, Belgium, Canada, Croatia, Estonia, Finland, Germany,
Great Britain and Northern Ireland, Hungary, Israel, Latvia, Lithuania, Malaysia, Malta,
Netherlands, New Zealand, Singapore, Spain, and Switzerland.
Global Express Guaranteed
Tracking to all destinations
While end-to-end tracking is not available for First-Class Mail letters, you can purchase an Extra Service and get tracking information.
How does my Tracking Number look like and where to find it? 
It's important to know what a tracking number from a particular USPS service looks like. Here is the sample USPS tracking numbers for the various international USPS shipping services.
| Service Name | Sample USPS Tracking Number |
| --- | --- |
| Priority Mail International | CP 000 000 000 US |
| Priority Mail Express International | EC 000 000 000 US |
| First Class International Package Service | LZ 000 ‍000 000 US |
| Global Express Guaranteed | 82 000 000 00 |
You can find the tracking number to track packages in a number of places. The tracking numbers can be accessed from your USPS account if you have used that service to buy postage and shipping. Or tracking numbers can be found on the mailing receipts from USPS. They can also be found on the shipping label, below the barcode.
How to check the status of your International Package using the USPS tracking number?
USPS provides several ways in which you can track your shipments regardless of whether you're the sender or the receiver.
Online Users can visit the USPS website to use USPS Tracking – https://tools.usps.com/go/TrackConfirmAction_input
By text: Or you can send a text message to 28777 (2USPS) with your tracking number as the content of the message.
By smartphone: Downloading and using the USPS Mobile app for iPhone or Android to get the tracking status of your shipment.
Once the USPS tracking number is entered, you are shown the status of the shipment. Tracking is updated in the USPS servers as soon as they're electronically notified to expect a shipment. The package is scanned multiple times in transit and is updated till it reaches the destination and is handed over to the receiver.
Most asked questions about USPS tracking
Where to find the tracking number on the USPS receipt?
You can find the USPS tracking number on the USPS receipt that you get when shipping or buying postage from the US Post Office. It is the Label Number followed by the #.  
How long for the USPS tracking number to show up?
If you are expecting a package from a seller through USPS, the tracking information takes about 24h for it to get updated. If the seller prints the shipping labels, it is within minutes posted as "shipping info received", but that simply signals USPS to expect a package. They do not have it yet. It is up to that seller to have the package picked up or dropped off at the US Post Office with the shipping label attached.
How to find the USPS tracking number without the receipt?
Unfortunately, it is not possible to track USPS packages without the USPS tracking numbers. If you haven't received your tracking number from the sender, you may contact them for the same. If you are the sender, then you may need to contact USPS for your Missing Mail. Missing Mail is mail that has not been delivered by the expected delivery date. This applies to packages that are undelivered, lost, or late. If it has been lost, late or missing for 7 days or more, you can:
Submit a Missing Mail search request at

MissingMail.USPS.com

File a claim

Contact the USPS® directly by either visiting your local Post Office™ location or calling your local Consumer Affairs office at 1-800-275-8777
How to track packages without a USPS tracking number?
If you are the sender, it is of paramount importance that you keep the receipt with you. When items are being shipped, a sticker with the tracking number and a bar code is stuck on the package.
Does the post office keep a record of USPS tracking numbers?
As far as we read about this USPS maintains records of tracking and confirmation of delivery for a different period of time but maintain the record is based on the different class of mail services used by you all. And also, different records for mails are maintained for a different time period.
Below mention are is the time period of maintaining records:
USPS keeps the tracking record only for 120 days or 4 months.

Certified Mail service, Priority Mail Express service, Registered Mail service, and Numbered International Mail services USPS kept the record only for 2 years, not more than that and it is the same for all the services included in the above line.

Signature confirmation services are maintained only for 1 year not more than that.

Adult Signature Restricted Delivery Mail / Adult Signature Required is maintained for up to 3 years.
This is the time period mentioned above that USPS maintain records, not more than and after time period applicable over then it destroys the records. But customers can request for an archived tracking number as many as a time they but in an applicable time mentioned above.
eCommerce Platforms and USPS tracking
eCommerce stores that use USPS services to ship their products stand to gain a lot by offering USPS tracking to their customers. It will reduce buyer anxiety by letting them check on the status of their packages, by themselves. Customers that know where their packages are, will be less likely to cancel their orders or request a refund. USPS shipping and services are also the most cost-effective way to ship small packages weighing less than 70 pounds, period. So if you're an online store that ships small goods, you can't go wrong with integrating USPS into your shipping methods.
Setting up an eCommerce store with USPS shipping isn't as hard as it probably was earlier. With platforms such as Shopify, WooCommerce, BigCommerce, and others, you are given all the technical support you need to get your eCommerce store up and ready in no time.
How to enable USPS tracking on WooCommerce? 
Enabling USPS tracking on WooCommerce is a super convenient way for you and your customers to stay on top of your order deliveries. This can be done by integrating USPS shipping services and products into WooCommerce. To do this, we will use the ELEX WooCommerce USPS Shipping Plugin with Print Label. This plugin lets you configure USPS international shipping services for your customers.
When they place an order choosing a USPS service, the plugin lets you create a shipment, configure the packaging and print shipping labels for that order, right from WooCommerce. Additionally, USPS is electronically notified to expect a package which means you don't need to visit the USPS website for every order.
A customer visits your store and places an order choosing one of the enabled WooCommerce USPS Shipping options. To generate the tracking details you will first need to create a shipment for that order. Navigate to the Orders page of your WooCommerce and click on the Order that you wish to generate tracking information for. 

In the Order details page, at the bottom, you will find a Generate Packages button under the USPS Shipment Label (eVS) section.
Clicking it will create a shipment for the items in the order and you will be able to see the package configurations for the packaging. This varies according to how the package settings are configured in the plugin. The ELEX WooCommerce USPS Shipping Plugin with Print Label comes with configurable options for how you wish the items in an order are packaged. You can configure items to be packaged according to weight, weight as well as dimensions, and package items individually.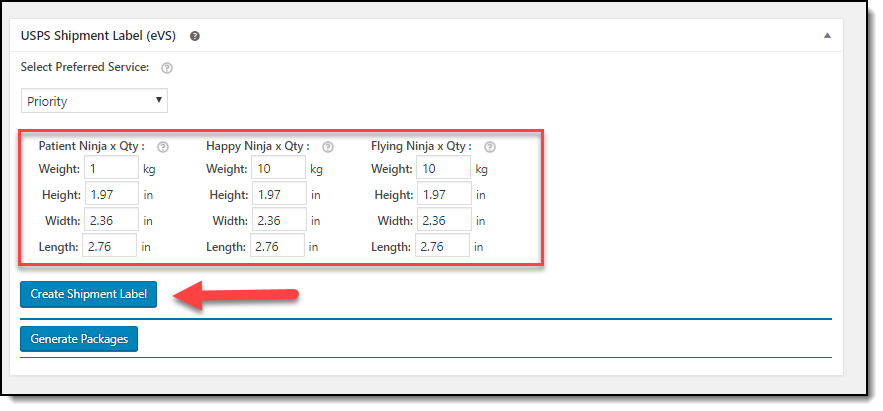 Next, click on the Create Shipment Label button to generate printable labels for the items in your order. For every package that is generated a USPS Tracking Number is generated. 
The plugin also provides the ability to include the tracking information in the WooCommerce USPS Shipping label as well. A sample Shipping label that includes the tracking information looks like this:

You can also use the USPS Shipment Tracking panel in your WooCommerce order details page to show the tracking information. Clicking on the Save/Show Tracking Info shows the tracking information in a WooCommerce notification.

 Clicking on the WooCommerce USPS tracking number will redirect you to the USPS Shipment Tracking page. Here you can find the status of the shipment and the estimated shipment date as well.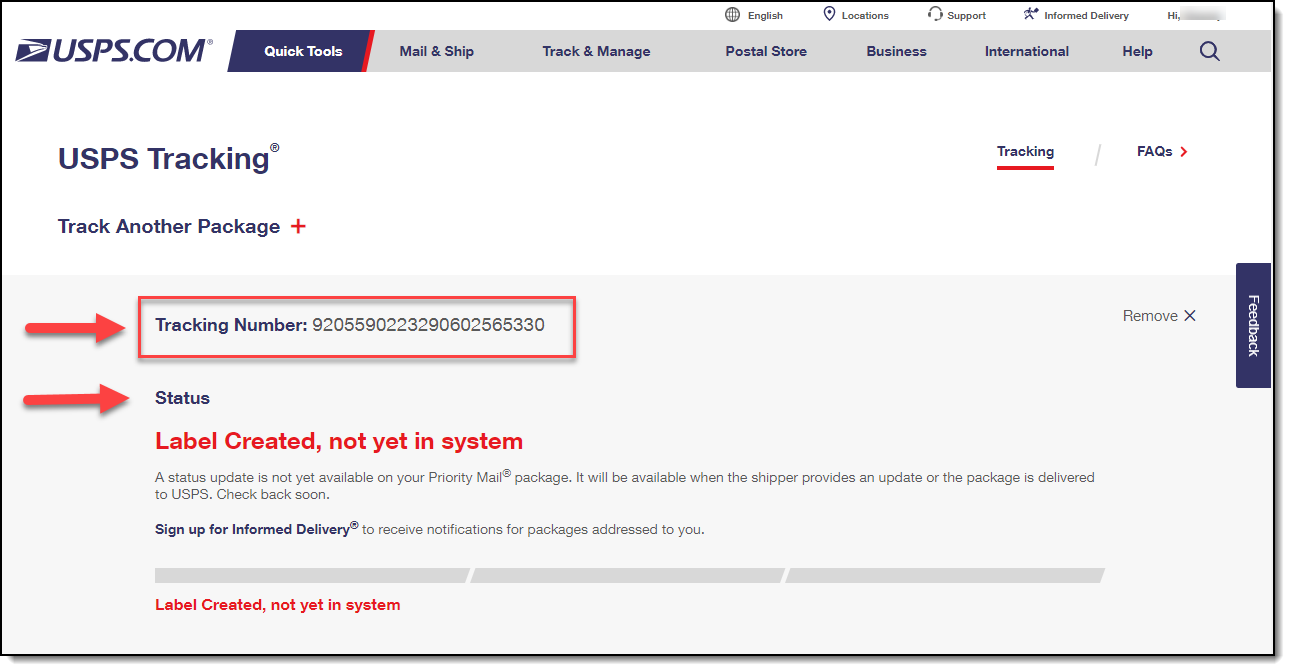 Once you have downloaded, installed and activated the ELEX WooCommerce USPS Shipping Plugin with Print Label, you can find the settings under Dashboard > WooCommerce > Settings > Shipping > USPS(or) Dashboard > Plugins > Installed Plugins > ELEX USPS WooCommerce Shipping > Settings. 
To enable WooCommerce USPS tracking for your customers, simply navigate to the Tracking section of the plugin. Here, set the Shipment Tracking field to Enable. This enables WooCommerce USPS tracking for your customers. Using this field you can also Disable it for Customers meaning only WooCommerce store owners can access the tracking information from the admin panel and your customers can't.

When you enable Shipment Tracking, a panel is added to the Order page that you can access for tracking items shipped in that order. 
Moreover, You can set the Mode to Enter Tracking ID to either Automatic or Manual. Setting it to Automatic will include the WooCommerce USPS tracking number with the generated shipping label for each item in that order. Similarly setting it to Manual will require entering the tracking numbers into the panel by yourself.
 Shipping labels generated with the Mode to Enter Tracking ID set to Automatic will contain the tracking number and a barcode.
The plugin also lets you configure custom emails containing USPS tracking information as well. In the Tracking API Settings, you will find a Custom Shipment Message field. Using the [DATE], [SERVICE] and [ID] filters you can create a custom shipment message to your customers.


When you enable Shipment Tracking in the plugin settings, emails with the WooCommerce USPS tracking information are sent for every generated package in the order. To send the tracking information manually, you can use the Order actions panel in the Order page to Email invoice/ order details to the customer. 

The customer receives an email containing WooCommerce USPS tracking information. The email will contain the USPS Tracking Number and the estimated delivery date as well. 
The orders are listed with the tracking id corresponding to the order.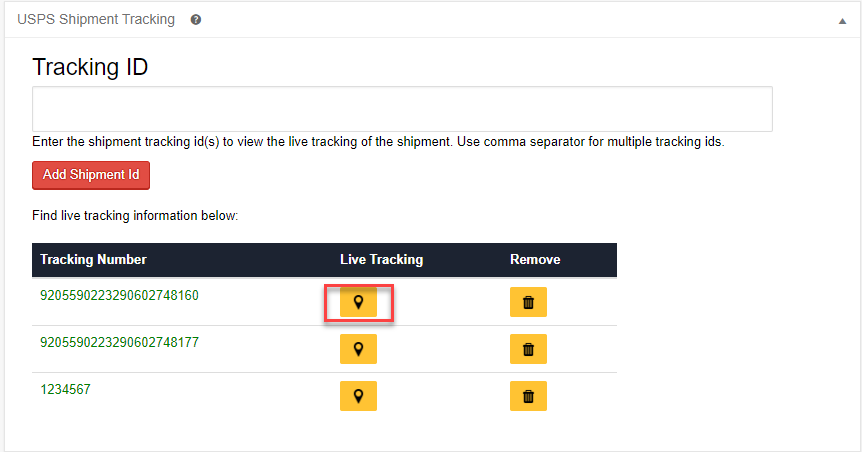 Upon clicking the tracking icon, users can also track the order, from the orders page and then monitor the package in transit until it reaches the delivery address.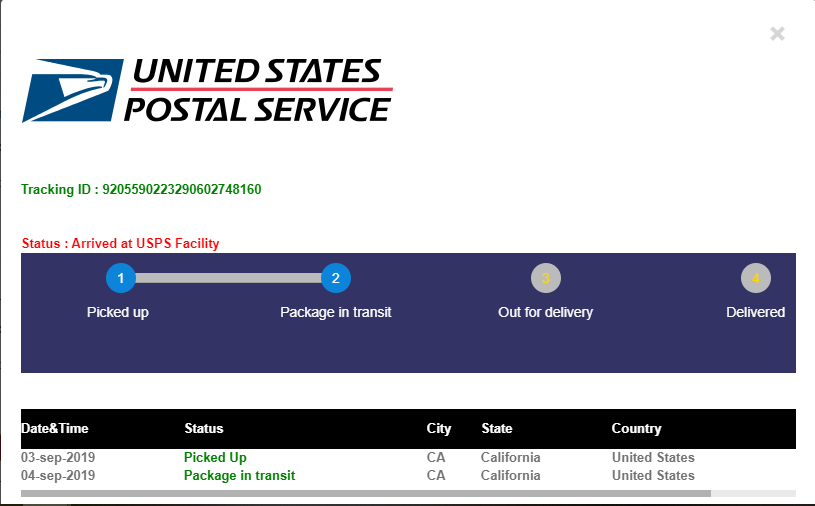 Other Alternatives to enable USPS Tracking on WooCommerce:
If you don't ship regularly in high volume, the e-VS integration provided by ELEX WooCommerce USPS Shipping Plugin with Print Label won't be of much use to you. This plugin allows high-volume package consolidators and mailers to pay postage, special service feed and supports electronic manifest files and SCAN forms
WooCommerce businesses that don't ship in a high enough volume to qualify as e-VS vendors can use either theELEX EasyPost (FedEx, UPS & USPS) Shipping & Label Printing Plugin for WooCommerce or the ELEX Stamps.com Shipping Plugin with USPS Postage for WooCommerce. Both of these plugins can be used to enable WooCommerce USPS tracking for yourself and your customers but do not feature e-VS integration. 
Apart from USPS integration, ELEX EasyPost (FedEx, UPS & USPS) Shipping & Label Printing Plugin for WooCommerce) can be used to enable shipping services from FedEx and UPS as well. So if you're looking for a plugin that can integrate multiple shipping carriers into WooCommerce and access USPS Live shipping rates, Estimated Delivery Dates, printing USPS Shipping labels and use advanced box packaging algorithms, the ELEX Stamps.com Shipping Plugin with USPS Postage for WooCommerce is for you. 
To use this plugin you will need to have a Stamps.com subscription and this costs a small monthly fee to pay for postage and printing shipping labels. The free version of this plugin can be downloaded here.
Conclusion:
Enabling WooCommerce USPS tracking on your store is a great way to improve the customer experience of your WooCommerce store. We have gone over the steps involved in integration USPS shipping products and services including USPS tracking on your WooComerce store using the ELEX WooCommerce USPS Shipping Plugin with Print Label.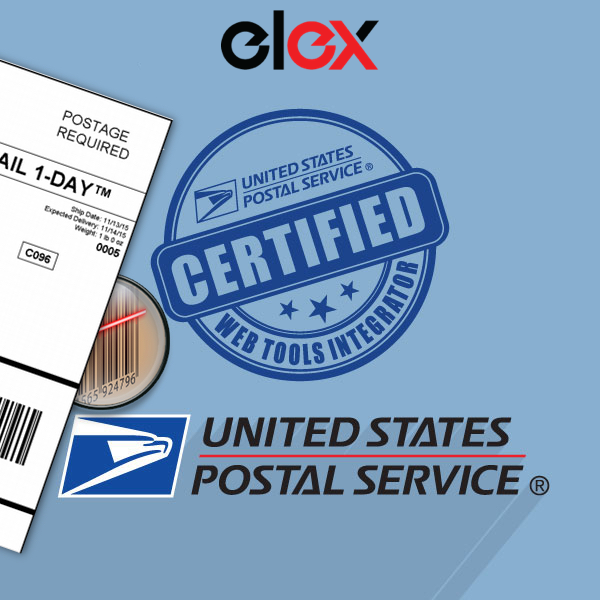 Apart from integrating USPS tracking into WooCommerce, the plugin can be used to
Access real-time shipping rates from USPS
Print USPS e-VS SCAN forms and labels
Integrate USPS Shipment Tracking
Configure USPS Flat Rate services
Configure Bulk Shipments and much more.
You can try out the demo to get a feel of the plugin's capabilities or download the free version here. The ELEX WooCommerce USPS Shipping Plugin with Print Label (Free Version) features
Set a custom method title for USPS shipping method.
Option to choose between Click-N-Ship rates (Online rates) and Post Office rate (Offline rates).
Set a fallback rate to process shipments when USPS fails to return any shipping rate.
Option to shown all returned rates or only the cheapest rates at the Checkout.
Option to offer USPS shipping service all over the world or to specific countries.
Option to Restrict media mails.