For small and medium businesses, responding to standard, frequently asked questions over email can be a significant waste of resources. Whether you've had trouble keeping up with visitor communication requirements or feel like you're losing out on online engagement possibilities, you might be considering conversational marketing tactics available for free. You have clicked on the right article! We will discuss the meaning of chatbots and their importance and find out the right tools to create a chatbot for free on your WordPress website. Your visitors will undoubtedly have queries, no matter how detailed your website is. It's important to respond to those questions as fast as possible, but you won't always be available to do so. This is where the use of WordPress chatbots may help.
You've definitely come across chatbots popping up on the corner of your screen when you visit a website that can conduct basic automated chats and also live chats with the support team. While integrating a chatbot into your website may appear to be a difficult task, it is rather simple. The answer to how to create a chatbot was loaded with software development jargon and loads of coding a few years ago. As a result, the burden of developing a chatbot fell mostly on the shoulders of a small number of talented software developers. However, things have changed since then. Chatbot creation has become more straightforward and, as a result, more attainable to a wider range of businesses and organizations as a result of the advent of no-code drag and drop solutions. Not only can you construct a chatbot nowadays, but you can do it in a matter of minutes. All you need is the correct tool to integrate the chatbot into your website.
What exactly is a chatbot?
A chatbot is a piece of conversational marketing software that allows businesses to engage with their customers in real-time and in a tailored fashion without relying completely on automation. Live chat using a chatbot adds empathy to help interactions, while automated responses improve the support experience by providing instant solutions and automating replies to support requests. Live chat and chatbots combine to give your customers a superior customer service experience.
A chatbot can help you automate a lot of your everyday tasks, such as lead acquisition and customer service. They also support a large number of potential customers at the same time in a coordinated manner, providing great service. By automating repetitive processes, chatbots can help you save a lot of money.
What are the advantages of having a chatbot?
Here are some of the advantages of chatbots for both your company and your customers:
Efficient Live Interaction
As a rule, people do not enjoy or have the patience to wait for an answer. If a consumer has a problem or a question regarding one of your products or services, they'll instantly lose patience if your business doesn't fix the issue or clarify the questions immediately. Visitors and customers don't have to waste precious time attempting to contact you because you have unlimited live chats, agent notifications, and automated responses with the help of a chatbot.
Customers' queries are answered via live chat before they turn into doubts
When a buyer has a query and can't find an immediate response, they're more likely to think twice before buying or simply abandon the cart. Even if your customer support team responds to an email inquiry within a few hours, the consumer has already lost interest in the product. It will take a huge amount of effort to persuade that customer to come back to your store than if those queries could have been addressed in a timely manner. Customers can get responses quickly via live chat, allowing them to continue purchasing without any doubt.
Customer service is available around the clock
Chatbots, unlike your customer support team, do not rest. Your chatbot can be available for a customer when they need assistance, even if it's outside of normal business hours. Your consumers will always be kept up to date with the automated responses. A good chatbot will also enable you to show the availability status of your support team for live interactions. This improves customer satisfaction because customers may get assistance without having to wait for hours for an email response. The most efficient strategy to value your customers' time is to provide live chat assistance.
Customer interactions are kept on brand when using live chat
Customers will have a more streamlined support experience if live chat is integrated directly into your eCommerce business. Customer support representatives can be advised to use the same conversational tone as the rest of your business. Chatbots save your customer chats in case they need to be referred to again in the future. They also allow for the escalation of questions to a higher-level marketing or sales team.
How to create a chatbot for free on a WordPress website?
Incorporating a chatbot into your WordPress website does not require a lot of technical skills or even financial investment. In reality, you may accomplish this by simply installing a free plugin like WSChat – the ELEX WordPress Live Chat Plugin on your WordPress website. It's a free but powerful plugin that enables you to incorporate live chat on your website to make it easier for your customers to contact you. As all customer interactions are logged in the same chat thread, agents may quickly interact, assist, and resume a chat conversation if a consumer requires support or assistance in the future.
This plugin operates entirely within WordPress and does not require any external API calls. You can run it on your own dedicated server or use the Pusher WebSockets APIs to run it on any server. It contains a number of advanced features, including file attachments, automated responses, an infinite chat history, and so on, that will make your interactions with consumers much more efficient and organized. If you upgrade to the premium version of the plugin, you may use Google's DialogFlow to develop a chatbot that will answer client questions when agents are unavailable.
Top Features
Embed a Live Chat Widget on Your Site

Because there are no external API calls, it is extremely quick

Both customers and agents can attach and send files.

Displaying your availability informs your consumers if you are online or offline

Automatically response messages can be configured

Save unlimited chat history for future reference

Agents will receive a notification each time a new chat is received

Options for customizing the Live Chat Widget
To begin creating the chatbot, download and install WSChat into your WordPress plugins page. To know how to download, install and activate the plugin, click here.
There are two ways to access the plugin settings after you've installed and activated it:
Dashboard > Plugins > Installed Plugins > ELEX WordPress Live Chat > Settings
Dashboard > WooCommerce > WSChat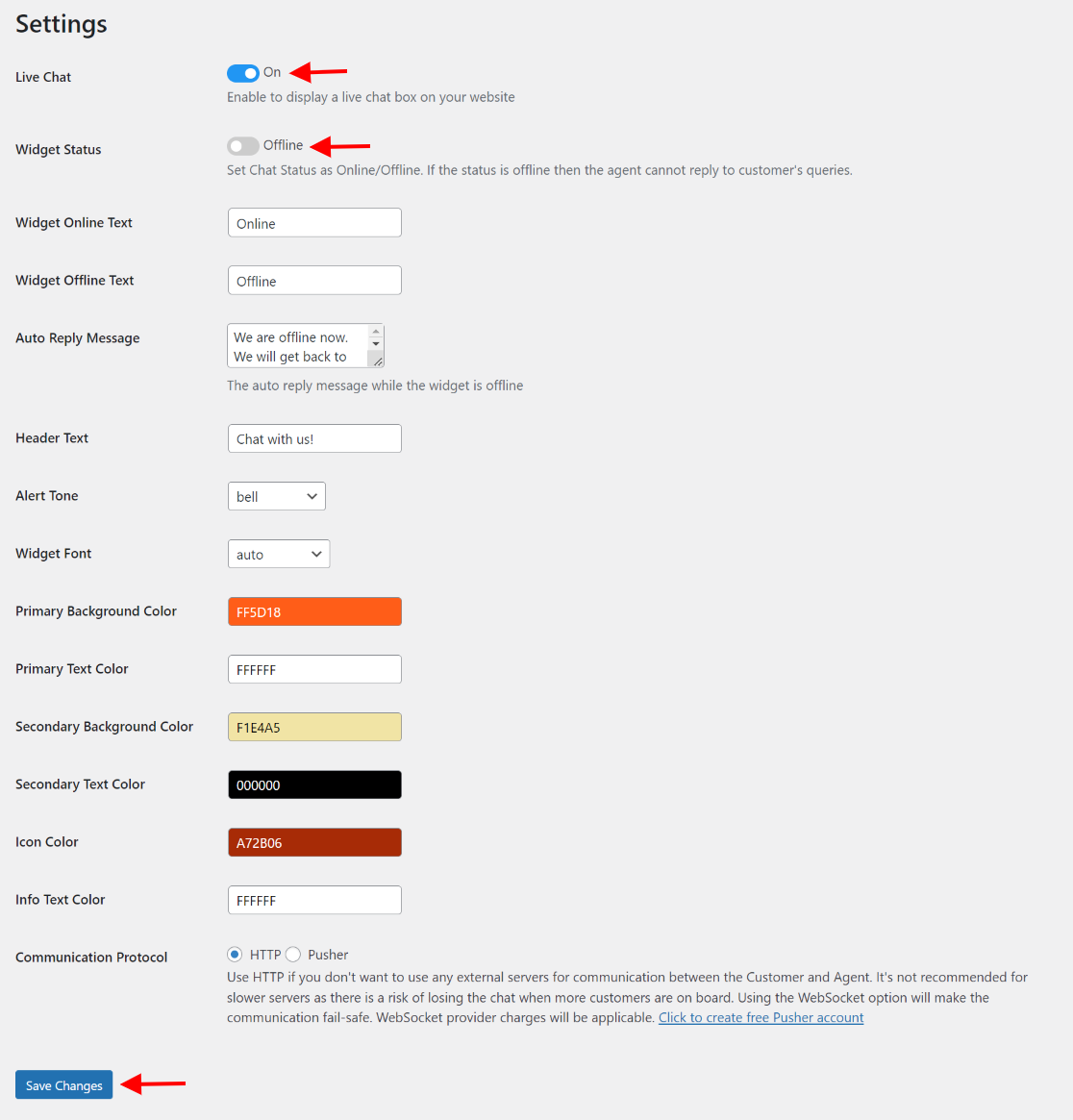 To display a live chatbox on your website, enable the live chat button. You can toggle the chat's Widget status from online to offline as needed. If the agent's status is offline, he or she will not be able to reply to chats. Set a custom text in the widget online text box that will be displayed to your customers when they click on the chatbox when your agents are online. In the widget offline text box, set a personalized message that will be displayed to your customers when they click on the chatbox when your support agents are not online. Set a personalized auto reply message that will be sent to your visitors automatically if they send a message while the widget is offline and no support staff is available.
The header text that appears at the top of the chatbox can be customized. When a new chat from a customer comes, set an alert tone for the agents. Choose a widget font that complements your company's brand identity. Select the primary and secondary background and text colors, as well as the icon and info text colors. Choose between HTTP and Pusher in the communication protocol section based on your needs. More information regarding this can be found on the product documentation page.
When you're finished, click Save Changes and the chatbot will appear on your website. This is what it will look like:

Wrapping up
Chatbots have almost endless potential, making them an excellent addition to any business website. Chatbots not only provide smooth service and support, but they also assist you in selling even quicker. You don't have to be a coder to set them up; as you can see, the ELEX WSChat chatbot can be up and running in minutes. For any eCommerce store, WSChat is a simple, efficient, and cost-effective solution. If you appreciate the capabilities of the free version, your business will undoubtedly benefit from the premium version of the chatbot, which will allow you to fully automate conversations. If you have any questions regarding chatbots or WSChat please let us know in the comments section below.
Further Reading