One element that has had to adapt swiftly as the fields of communication and e-commerce went through a rapid digital revolution is how we engage with our potential customers. Email correspondence and telephonic customer support were the primary contact solutions just a few years ago. Customers nowadays want better customer service and faster replies and resolutions. People choose live chat above Facebook, Instagram, Twitter, email correspondence, and even voice calls when polled about their choice of customer support mediums. Customers in different time zones might be unable to make phone calls during the regular working hours of your business. The response time on emails is far too long. Although beneficial, self-service options such as automated AI-based chatbots lack personalization and cannot handle all potential issues and cases. But have you ever wondered how does live chat work or if it will benefit your business? You are at the right place as we will discuss all you need to know about live chat.
What is live chat?
Live chat is a real-time communication tool that allows you and your website visitors to communicate and share information instantly. It's a business communication service that appears as a pop-up chat widget on your website. In certain circumstances, the customer must take some action and certain requirements must be met for the live chat to be activated; in other cases, the chat window might pop up automatically as a proactive strategy to communicate with visitors. You're fulfilling your customers' requests and assisting them in receiving a better customer support experience by providing a quick and easy way of asking questions or following up on information on your website.
How does live chat work?
A small chat widget will show at the bottom of your website once it has been installed and configured. You have complete control over how it looks and customize it to match your branding. Customers can communicate with your support team using the live chat widget, which can be launched with a single click. In terms of capability, it's no different from conventional chats; it's simply a platform for real-time conversation. If a site's live business chat is proactive, you might get a pop-up message that reads something like "Are you looking for assistance? Talk to a customer service agent right away!". All visitors need to do is click on the chat box and address their questions.
There are two views in every live chat plugin: the agent side and the customer side. Customers would be able to see the live chat widget on your website after you install and activate the live chat plugin, and your customer support agents can see the agent side dashboard. Your support staff will have the ability to view and respond to the chats. Customers can get in touch with you at any time and from any location. The use of live chat increases customer engagement. You can connect with more visitors proactively, resolve your customers' issues, and provide them with the latest promotions and deals.
Benefits of live chat for your website
Let's take a look at some of the most important reasons why your website needs live chat:
Immediate turnarounds
People appreciate live chat because it allows them to get their concerns addressed quickly.  You give clients a means to contact you right when they have a query or an issue without having to wait at all. This is far more convenient than sending an email to a customer service representative; with email, you never know when you'll hear back.  Customers are more likely to be satisfied with live chat than other methods of support because of the speed with which they can get assistance. A quick turnaround rate contributes to improved lead generation as your website visitors are your most valuable leads, and the amount of time you take in helping them out and addressing their concerns determines whether or not they will convert.
Live chat aids in the acquisition of new customers
Live chat is an excellent approach to communicate with potential and new consumers by offering them the assurance they need to try your product or service or make the right purchase for their specific needs. Even if your visitors may not need to chat right away, being ready to assist them develops trust. A quick turnaround rate contributes to improved lead generation as your website visitors are your most valuable leads, and the amount of time you take in helping them out and addressing their concerns determines whether or not they will convert.
Increased productivity
Live chat can also assist your customer service representatives to be more productive. Even though a support agent can only have one phone call or respond to one email at a time, they can multitask while handling the live chat. Managing many queries at once is usually manageable if they're working with a chat queue full of small and easy questions.
Lead generation
Your live chat plugin is more than just a way to communicate with potential customers. It is also a method of accumulating contact data for future promotional activities. When you collect information from customers who use your live chat feature, you create a list of all the people who are already aware of the brand or services and may be used to generate and convert leads.
Build stronger customer relationships
Building long-term relationships with customers are critical for the longevity of your business because it boosts customer happiness and improves the overall experience for customers. Customers who are pleased with your product or service are less likely to switch to a competitor's product or service. Live chat is an effective strategy to establish long-term connections with customers. Bonds are simpler to build when customers believe you are attentive and responsive, and loyalty follows. If you provide excellent customer service through live chat on their very first visit, you are significantly more likely to gain a loyal customer.
How to add live chat to your website?
There are several WooCommerce plugins available in the market that can help you integrate live chat into your website. We would recommend WSChat – the ELEX WordPress Live Chat Plugin. It's a simple, straightforward, AI-powered automated chat solution that makes it simple to communicate with customers and clarify their queries in real time. WSChat makes it simple to interact with Google's Dialogflow, allowing you to set up and trigger conditioned responses to customers' questions.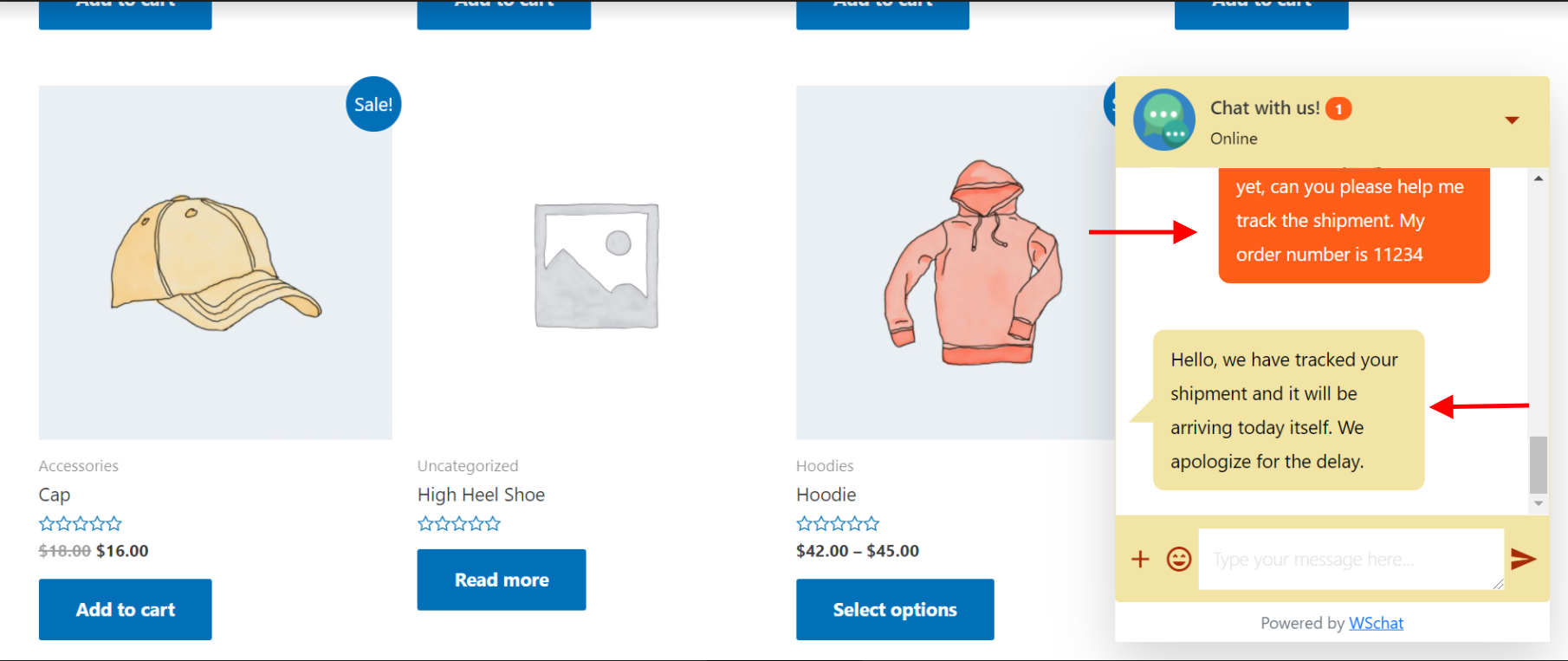 It includes more complex capabilities such as the ability to record and share videos from the chat widget, attach and share files, send the complete chat history to a given email ID, and the ability for customers to rate your support services. You can see who is currently browsing your website and proactively start a conversation with them to help them understand your products or services and respond to any questions that they might have. WSChat is self-contained and decentralized, which sets it apart from other live chat plugins. This means there are no external API calls and you have absolute control over your data, unlike many other SaaS-based live chat plugins, because everything is hosted on your own server.
Top Features of the WSChat plugin:
Proactive chat initiation

Unlimited support agents and chats

No external API calls guarantee the protection of data

Make Product Recommendations to Customers to improve conversions

Real-Time Monitoring of Active Visitors

Unlimited chat history

Agent alert notifications

The ability to start a chat conversation from the agent's side

Customize the Live Chat Widget to Match Your Website's design

Send and receive file attachments

Receive video recordings from customers

Send full chat history to email IDs

Gain instant feedback with support rating features

Detailed performance reports

Pre chat form

Customer data records and order history

Chatbot AI Integration via Google's

Dialogflow

Chats can be converted into trackable tickets if you use WSChat along with

WSDesk – WordPress Helpdesk & Customer Support Ticket System Plugin

. This helps in case there is a bigger issue that needs prolonged assistance.
To know more about the plugin visit the product page.
To know how to install and configure the chat widget using WSChat, go through the product documentation for a step-by-step guide.
Wrapping up
All of these advantages, as you may have noticed, lead to customer loyalty. A  live chat plugin can be a real game-changer for your eCommerce business. It is the best way to stay in touch with your customers in the long run. Apart from improving the user experience, the potential to boost agent productivity, paired with the customer information you'll acquire, will lead to increased profitability with live chat as part of your customer service strategy. If you have any questions regarding live chat, please let us know in the comments section below.
Further Reading