If you are a store owner based in Australia or want to deliver your products in the Australian region, Australia Post is the right delivery partner for you. To conveniently manage your shipment and delivery details you need to integrate WooCommerce Australia Post shipping calculator on your online store. Let's see how you can integrate.
What is Australia Post and what are its benefits?
Australia Post provides postal services in Australia and overseas. It collects, processes, and then distributes letters, parcels, packages, and products all around the world. You can easily track your packages by simply sending UPS an SMS to get the current status of your shipment.
Australia Post is trusted to be reliable and even when postage is missing they always make sure that your parcels are well hidden. You can easily use all the Australia Post services using a simple plugin like ELEX WooCommerce Australia Post Shipping Plugin with Print Label & Tracking.
As an official partner, this plugin allows you to efficiently integrate Australia Post services with WooCommerce. You can automate Australia Post shipping by choosing a reliable postal service, display shipping rates on your store's cart and checkout pages, and track shipment from within WooCommerce. This plugin also allows you to print shipping labels and is notably known as one of the most convenient shipping calculators. After you have purchased the plugin from the official ELEXtensions website you can easily integrate it on WordPress.
How to set up ELEX WooCommerce Australia Post Shipping Calculator Plugin
Open your WordPress dashboard and go to Plugins > Add new. Upload the plugin and Activate it.
Now go to WooCommerce > Settings > Shipping > Australia Post. You will see a screen like below. Let's explore each of these options briefly. 
General 
In the general tab, you can add your API Key, API Password, and Account number that you can get after registering with Australia Post. You can use the Test Mode to see how it works on your store and activate Live Mode when you are all set. Next, you can Enable Real time Rates to show current shipping rates on your cart and checkout page. If you want to display rates including GST you can choose the option Show Rates Included GST.
Enable Shipping Label to generate a shipping label when your package is fully ready to be delivered. Default currency should be AUD. Enter the correct Australian address for the shipper and also include other details. Click the Save Changes button when you are done.
Rates and Services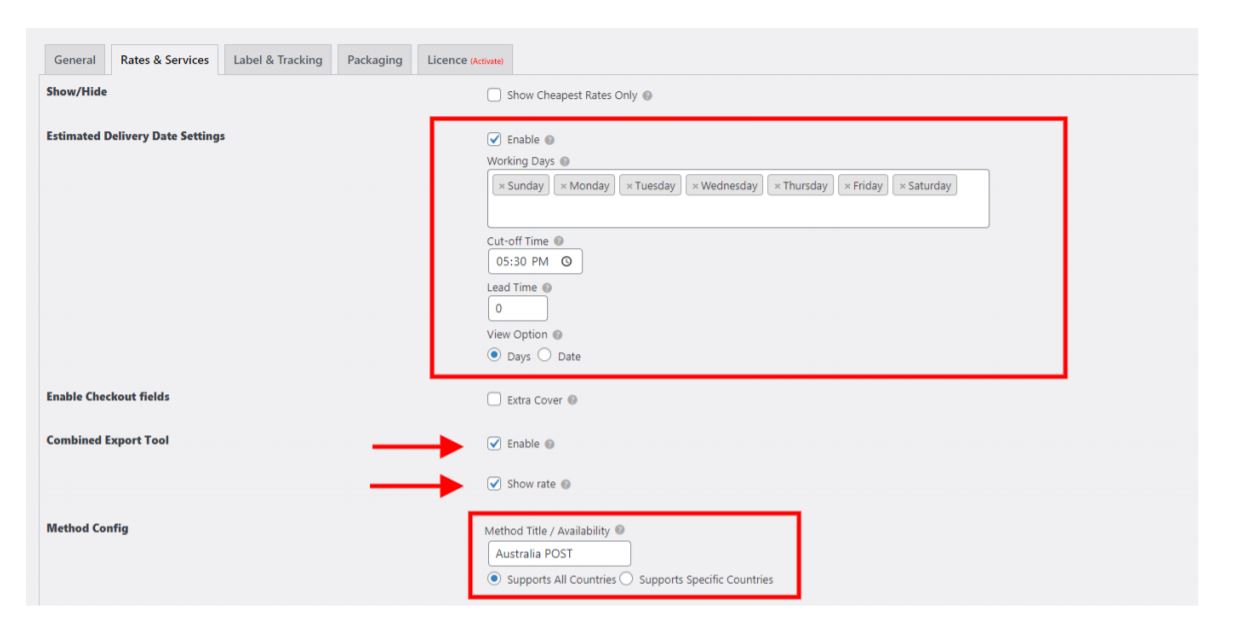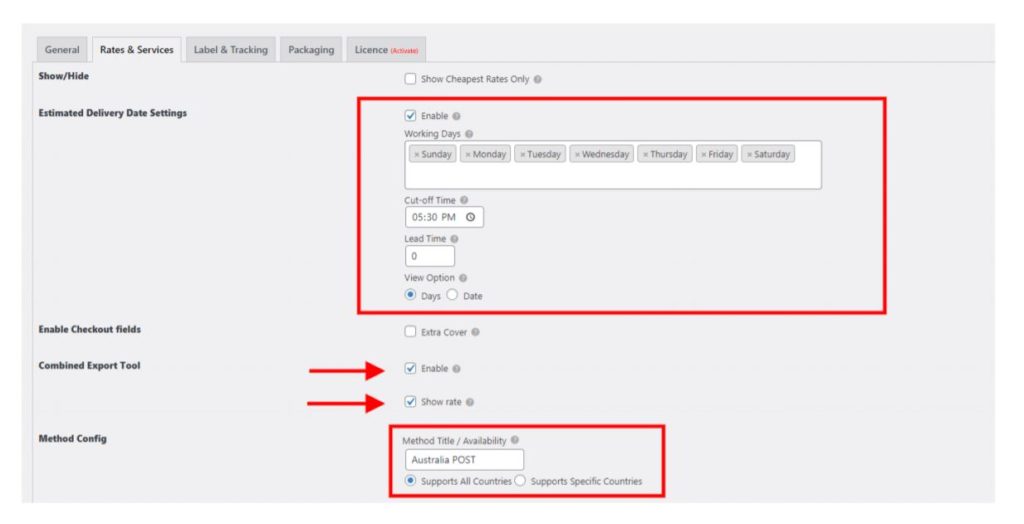 To show the estimated delivery date you can Enable Estimated Delivery Date Settings and include your store's wording days, you can also assign a Cut-off Time and Load Time. You can Enable Combined Export Tool; it will automatically estimate the duties and imports for the shipment. Enable Show rate to display duties and imports on cart and checkout pages. Keep Australia Post as default in Method title and select support all countries to allow delivery to any country. 
When you scroll down, you will see Australia Post Services, you can enable these services according to your package type. 
When you are done click the Save Changes button.
Label & Tracking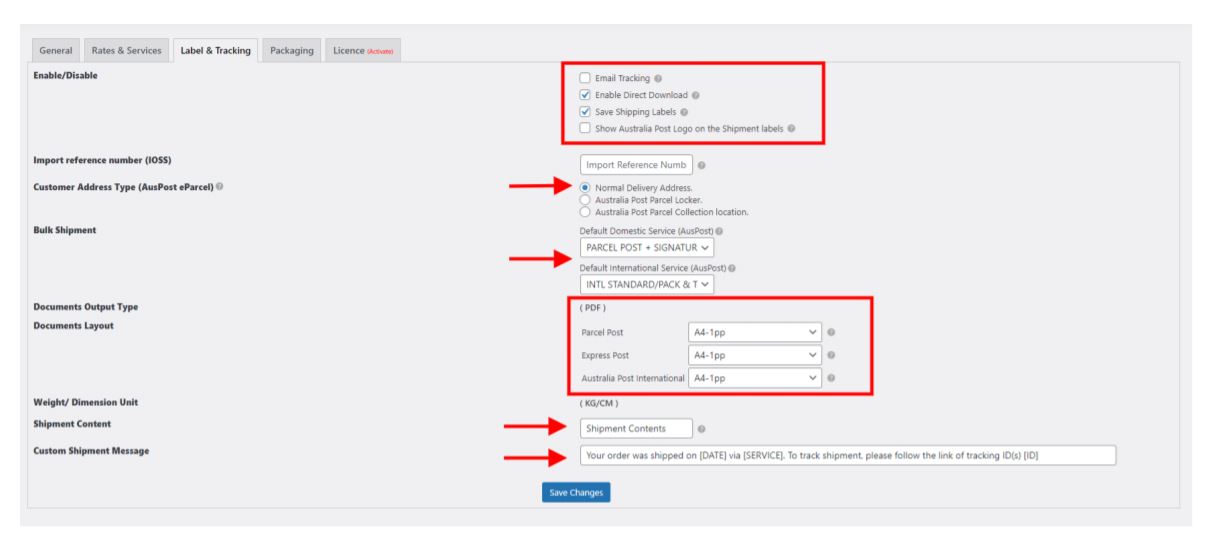 Enable Direct Download option this will allow you to directly download the label and order summary. Save Shipping Labels options will save the generated label in the wp-content folder to access it for future reference. Choose the Normal Delivery Address to deliver the package directly to the customer's address. Select a default Bulk Shipment service for domestic and international delivery from the available options.
In Document Output Type and Documents Layout you can choose any available size for printing labels. In Shipping Content, you can provide a description for your shipment and type a Custom Shipment Message for customers in the next box. When you are done click the Save Changes button.
Packaging
In this tab, you can select how you want to pack your product. There are 3 available options.
Default: Pack items individually – Here each item will be packed separately in an individual box. It means multiple items will be packed in multiple boxes.
Recommended: Pack into boxes with weights and dimensions – This option will allow you to pack items in boxes of different shapes and sizes.
Weight Based: Calculate shipping on the basis of order total weight – Select this option if you want to pack your items according to their weight.  When you are done click the Save Changes button.
Licence 
Activating using the API Licence Key and Licene Email id would allow you to get constant support and updates from the team of ELEXtensions.
How WooCommerce Australia Post Shipping Calculator works
After you have successfully set up the plugin settings, go to your WooCommerce store and order a product. You will see real-time shipping rates on both cart and the checkout pages. A customer can select from the available shipping services as shown below, and place an order.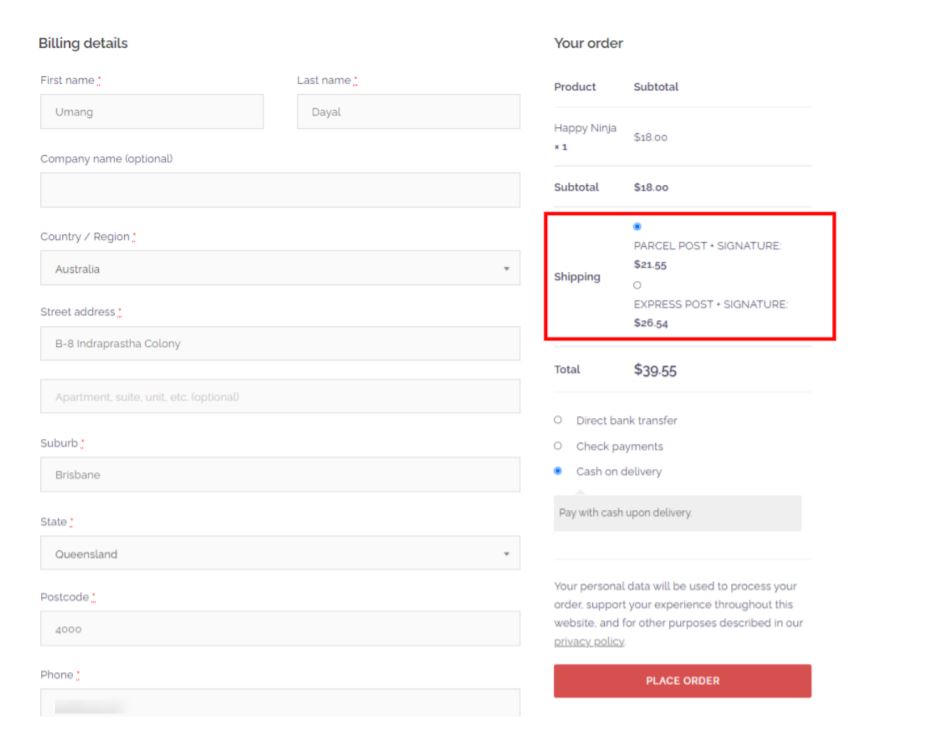 When you receive an order, you can head over to your WordPress dashboard and go to WooCommerce > Orders. Click on the latest order. You will see a screen like below. Let's see how to check this information.
At the top left corner, you will see the order number and the payment method selected by the customer. In the middle, you will see the Billing and Shipping Address, and the customer's contact details. The right bar tab titled as AusPost Shipment Tracking will display your tracking id and shipment date when the shipment is successfully generated. Let's see how to generate a package. Scroll down to the bottom and click the Generate Packages button.
Now, you will see a new tab with additional details in the Australia Post tab. Cross-check all the package dimensions and service provider then click the Create Shipment button.
Your package is successfully generated. You can see the additional details in the tab AusPost Shipment Tracking. Your Tracking id is generated and also the shipment date.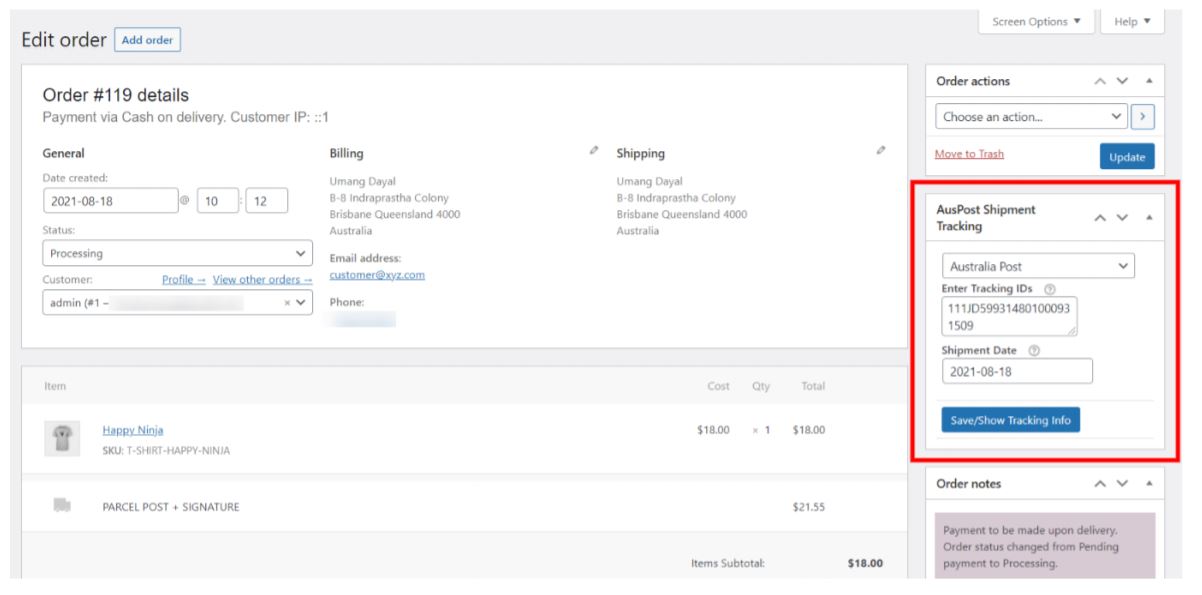 When you click the Save/Show Tracking Info button you will see a new notification at the top. After you click the tracking id code this hyperlink will redirect you to the official Australia Post website where you can easily track your shipment.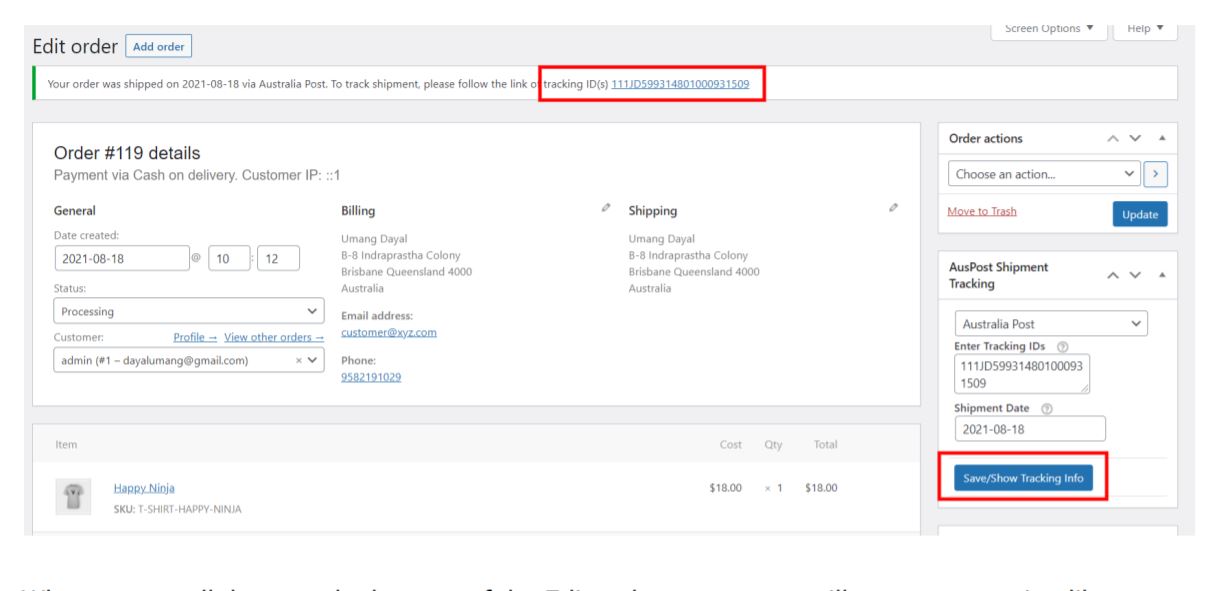 When you scroll down to the bottom of the Edit order screen you will see a new option like below. Click the Download Label button to download your order details and package print label.
You are all set! Just use the above steps to integrate this WooCommerce Australia Post Shipping Calculator for your eCommerce Store. If you still have any questions or want to suggest ideas you can leave a comment below. 
Further reading