Dropshipping is an ideal way to start a business with minimal investment. As you can see more and more people depending on online stores to buy products, there is a rise in the number of online stores. If you watch Google Trends results, the numbers pertaining to the search for dropshipping sellers are augmenting and not dipping. That might be the reason that many are interested in dropshipping. Let us uncover some details regarding dropshipping with WooCommerce Google Shopping. So here we take a look at how a WooCommerce Dropshipping store can be set up for Google Shopping.
Let's take a look at :
What is Dropshipping?
If you want to start a business with minimal investment and total hassle-free, then dropshipping is the ultimate answer to it. Dropshipping is a business that does not require you to own an inventory. Instead of owning the products, you make an agreement with the third-party or a seller, who will give you permission to sell their products. Here, a third party or a supplier handle the shipping and inventory storage. So, in a better way you can sell easily without bothering about your inventory and the shipping complications.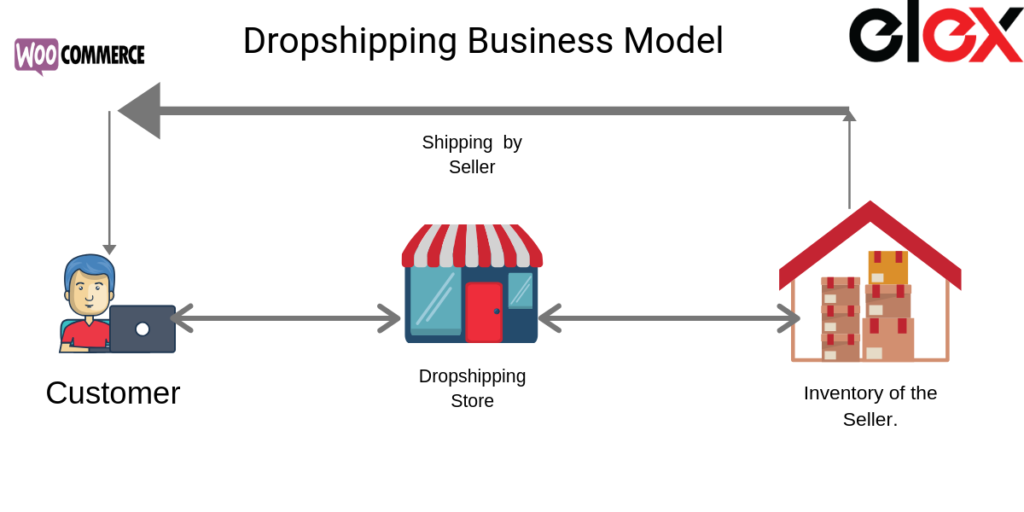 All you need to build a dropshipping store
Even though dropshipping requires minimal risk or investment to start with, a hell lot of research works behind it.
Select a niche product: It is important for a dropshipper to analyse the market and find a product that sells well in the market. It can be a product that is not readily available in a particular market, or it can be one that is quite impelling to the customer.
Target your competition: Mark your products that are in competition as well as those in high demand.
Focus on a safe Supplier – Your reputation completely depends on the product sold by your supplier as well as good shipping. Hence it is important to focus on a supplier, who is genuinely into selling and maintaining his product's reputation in the market.
Get your own eCommerce website: To sell your dropshipping products, it is important to own an eCommerce website. It is recommended to use WooCommerce for your dropshipping store platform. (we are discussing it further in the article)
Create a customer base: There is no point in selling when you don't have a customer to buy. Make sure you create campaigns on powerful social media platforms to attract potential customers.
Optimize and Analyse your customers and purchase patterns: It is important to keep a check on how your products are sold as well as the potential customers demand. Keep your customers closer always.
 Use a Google Shopping Product Feed plugin: To sell your products on Google Shopping, use a Woocommece Google Product Feed plugin. It helps to create a product feed to streamline your product sales on Google Shopping. It would be ideal to use ELEX WooCommerce Google Product Feed plugin to generate product Feed.
Link your Google Ads account with the Google Merchant Center to optimize the sales of your products.
Keep a check on Google Analytics and analyse the shopping patterns and optimize your results accordingly.
Pros and Cons of DropShipping
Though Dropshipping is a popular way to make money, there are some ifs and buts to look into. Dropshipping has its own pros and cons to ponder.
Pros :
Low investment in space – No worries about inventory storage and management.
Location Independent – Seller handles all shipping formalities, hence it is not dependent on your location. So you need not be in China to sell China-made products.
Easy to kick start – with dropshipping you need not worry about the product inventory, shipment or any other formalities dealing with the normal eCommerce startups.
Scalability – It eliminates all the complexities regarding inventory and other hurdles in an eCommerce business. What you have to invest is your time in enduring excellent customer support.
Minimal Risk involved – When your product doesn't sell well, you can switch to another one which is performing excellently.
Diversity – You can choose to sell various products, or whatever new comes to the market, drop shipping is not product dependent.
Set your margin – It is easier to set a margin for your products that you sell from your store. Hence one can make a huge profit from the same.
Cons :
Since order fulfilment is upon the third party who owns the inventory, the margin on shipping etc. will be lost. This happens when they might charge higher prices on the shipment.
Competition is high – Your products are also sold by many other dropshippers for every reason you began it. Hence the competition is higher.
The stock details are hidden – The inventory is handled by the Seller. It reduces the information flow on the stock availability when you deal with the customer.
You are single-point-of-contact – for the supplier's mistakes, you become answerable to your customers
Dropshipping suppliers and Products
With an ever growing demand to begin dropshipping stores, you can see a wide range of suppliers. If you look out for suppliers there are various of them who sell the products to the dropshippers. Connecting with popular suppliers will automatically enhance your brand. Some of the successful dropshipping suppliers are :
AliExpress is one of the most popular dropshipping suppliers. With a wide range of categories available to sell a dropshipper has umpteen opportunities to deal with. AliExpress lets the dropshipper set up their own pricing for the products they sell. They also have plugins to support newbies in drop shipping as well.
Worldwide Brands helps to identify wholesale sellers in all categories and facilitate selling at ease. It gives you the whole directory of wholesale sellers who can offer you products. Promotes small home-based retailers equally like big retailers.
Doba is a complete drop shipping service, where the drop shipper can easily add a number of products to the list and then immediately start selling with their customers. Once a sale happens the seller is communicated and the shipping details are transferred to them. There is a proactive inventory alert that makes the refunds hassle-free.
Oberlo is also one of the most popular dropshipping supplier exclusive for Shopify platform. It supports the Shopify eCommerce platforms with one click import of all the products the dropshipper wants to sell.
SaleHoo contains an organised directory of products and wholesale sellers which ease finding profitable sellers and products. It also contains a powerful research tool to identify the target market.
Remember: Not all wholesalers offer a dropship.
When you have dropship suppliers, you can use certain plugins available in the market to make dropshipping look easy. The major benefits of using dropship plugins are :
 Assist you in importing products.
Help you sync the prices and inventory.
Easy fulfilment of orders.
Popular Dropshipping plugins
In order to help you with dropshipping, there are several dropshipping plugins supporting eCommerce platforms. Here are the top dropshipping plugins available in the market that make the order fulfilment and import process easy.
Know more about choosing the right  Dropshipping sellers and plugins here.

WooCommerce
WooCommerce is a widely accepted eCommerce platform which is easy to use. You might find most of the popular platforms use WooCommerce to set up their eStore as it makes it hassle-free to manage. WooCommerce offers certain plugins that ease the setting up of the drop shipping stores. It also lets order fulfilment with expertise. If you check out the data, it says WooCommerce is a popular platform to build an eCommerce store.
Why is the WooCommerce platform ideal for your dropshipping store?
WooCommerce is a popular drop shipping platform for the following reasons :
Low price-WooCommerce is mostly a free hosting platform, which makes it all the more desirable and the most popular eCommerce platform to begin with. All you invest in is the hosting charges.
No product restrictions – Unless you are selling some dangerous items, look for the selling guidelines beforehand.
Flexibility – With WooCommerce you have complete flexibility over your website and it is easy to handle everything from scratch. WooCommerce has many free plugins to add-on for drop shipping and other features.


Steps to set Up a WooCommerce Dropshipping Store
Here is how you set up a WooCommerce dropshipping store :
Firstly you need a web hosting service and a domain name to start with an eStore. Choose a domain which is relevant from popular domain registrars like BlueHost, Godaddy, domain.com etc. Select an apt hosting service that suits your requirement from the popular ones like Bluehost, Siteground etc.
Install WordPress.org
Set up a WooCommerce store by adding WooCommerce to it.
Choose a theme that suits your eStore from the umpteen collection. It is important to choose a theme that glues your audience to your store as well as augments your conversion rate. Hence an optmized theme is vital. (find out more about the conversion rates and how you can enhance your website for the same)
 Choose a popular drop shipping seller in the market who has good products for you to sell. Also, ensure that the seller does not issue any hidden charges and has an outperforming reputation.
Once WooCommerce is set up, fill in the General settings.
These settings are to focus on location-specific details like currency, coupons, taxes etc.
Add products to your shopping page either manually or using a drop shipping plugin with respect to categories. (Explained further in the article.) You can either opt for a drop shipping plugin or manually add products using WooCommerce to your cart. It would be ideal to use a plugin for the product upload only when you have bulk products to sell. Download the drop shipping plugin like DropshipMe to help you get the products to sell on your estore
Set up free shipping options for your selected products as your seller is dealing with the shipments.
Set up taxes and other currency details with respect to the location you are selling. Make sure you are transparent in all the details.
Once the products are ready to sell, push them into the estore for purchase.
Add products to your WooCommerce Shop
Method 1
When you plan to sell fewer products it is easier to add them using WooCommerce.
First, in WooCommerce go to Products >> Add New
 Fill in the necessary details like the Product name, image, description, title, and the product data as asked.

Fill in all product details like attributes, supplier info, linked products etc.
Once you are done, add the product to your shop.
Optional Method 2
Yet another option is to use the  CSV upload option in the import section.
When you click on Import, then you are provided with a window where you can upload a CSV file containing the product details.
Here are some dropshipping sellers who can provide you with .csv files for product data to upload to your WooCommerce platform.Wholesale2B , Knwat  etc are some popular drop shipping sellers who offer the same.
Method 3
Another method to do the same is using the drop shipping plugin, which will help you import. Install the plugin to your WooCommerce and then import the products from your drop shipping seller.
First, you select the products you want to sell from dropshipping sellers like AliExpress.
Use the plugin to import products. Most products help to even import images and customize accordingly.
Customers get to see a normal interface to purchase your products listed.
Order fulfilment will be completed by the dropshipping plugin along with the seller.
You can choose your method suiting your need and investment plan. Once your products are fed into the estore, it acts like a normal eCommerce platform. If you have invested your time in setting up your estore, it is time for some marketing strategies to look into. To sell the products online is not easy at times as you are dealing with numerous competitors. To get your products to sell well, you can use Google Shopping.

What is Google Shopping?
Google Shopping is a service by Google to help shoppers search for a product and shop easily. When you are shopping for a product you can easily get google results of products that are highly selling in the market and even compare them with their competitors. Google Shopping ads appear as Sponsered results in the Google search results. Much more can be found in Google Shopping page, which lists products in various filter categories like price, vendor, product variation and much more.
Google Shopping looks more organized like this:
Every retailer aims to get their products on the Google Shopping page. Google Shopping gives much more opportunity to sell products right.

Advantages of Google Shopping
Make your products standout.
Helps to grab attention.
Good Quality Leads
Better conversion rates
Attain Broader reach.
Google Shopping has become an ideal platform for selling when you use good quality images and product details that are catchy. In order to sell your products on Google Shopping, Google provides you with products which help you do the same.

Find out how to promote your drop shipping products to sell on Google Shopping
Once the WooCommerce dropshipping store is set up, it functions as a normal eStore. Only the shipment and inventory are dealt with the seller. Google Shopping basically needs data to work on. The data is provided by WooCommerce Google Shopping Product Feed from the eCommerce platform. To promote your product selling on Google Shopping you need the following:
Google Merchant Center account – To house your Google Product feed generated from your WooCommerce platform.
To optimize the market you need a Google Ads account, linked to the Google Merchant Center.
An error-free WooCommerce Google Shopping Product Feed generator like the ELEX WooCommerce Google Product Feed Plugin.
Read about how you can successfully set up a WooCommerce Google Shopping Product Feed using ELEX WooCommerce Google Product Feed plugin here.

How to create a WooCommerce Google Shopping Product Feed using a Plugin?
Let us look into how to generate a product feed.
At first, Install the ELEX WooCommerce Google Product Feed Plugin.
Create the feed. 
Set the Refresh Schedule to let the auto-fetch of products happen in the estore to keep all your product data in sync.You can set the Refresh to Daily, Weekly and Monthly.

Map Categories with respect to products.
You can also add multiple mapping for products.
 Now you need to match the Google attributes with the Product attributes. It is important to do so, as these attributes distinguish your products from the rest. Whenever a shopper looks for a product in Google Shopping, these attributes make your product stand out from the other results.

You can also exclude certain products from your product listing.

Now the WooCommerce Google Shopping feed is generated with an XML page with a URL link. You can perform various actions like copy, view, download, delete etc.  on the Manage Feeds page.
Link to Google Merchant Center and Google Ads
WooCommerce Google Shopping Product Feed generated is then used by the Google Merchant Center. To create a Google Merchant Center login, you need to visit Google Merchant Center .
First, create feed information.

 Fill in the Feed information.
Where you provide your Google Product Feed XML file for the Filer URL.
Provide input methods for feed. Google Merchant Centre offers various methods to incorporate the Product feed into it. You can choose the Schedule Fetch.
 The feed is ready to be used.

Once the Google Merchant Center is set up, it is important to optimize your ads and analyse the target location with the help of Google Ads. Google Ads lets you link with the Google Merchant Center account. Once it is done, your product is Google Shopping ready. Whenever a shopper searches for a product , Google Shopping will fetch the data from the Google Merchant Center which is linked to your WooCommerce Google Shopping feed.
Remember :
To upkeep your product page intact and impelling.
Provide Refresh schedule for products from the eStore, to ensure your products are updated from time-to-time.
Product details like image, price, description etc. must be shown perfectly to show up in Google Shopping.
Important things to focus on when you are dropshipping
Make sure you do not sell any trademark products, otherwise you are liable for it. Take a look at some of the banned products worldwide.
Ensure fewer refunds and damage to products happen to retain clients.
Keep a check on the quality of the products.
Abide by the laws of the country where you sell your products.
Understand the basic policies of Google shopping before selling your products.
Conclusion
You can reap huge profits when you start a dropshipping business. To run a successful dropshipping business, all you need is to focus on your end-user who are the real masters behind your successfully running dropshipping store.