Nowadays businesses are evolving quite rapidly. All are in the race of fulfilling the demands and needs of their customers. All customers need instant solutions. Live Chat has hence become the prime need for evolving businesses to establish an unbreakable connection with the customers. Here we are taking a look at the most popular WordPress live chat plugins :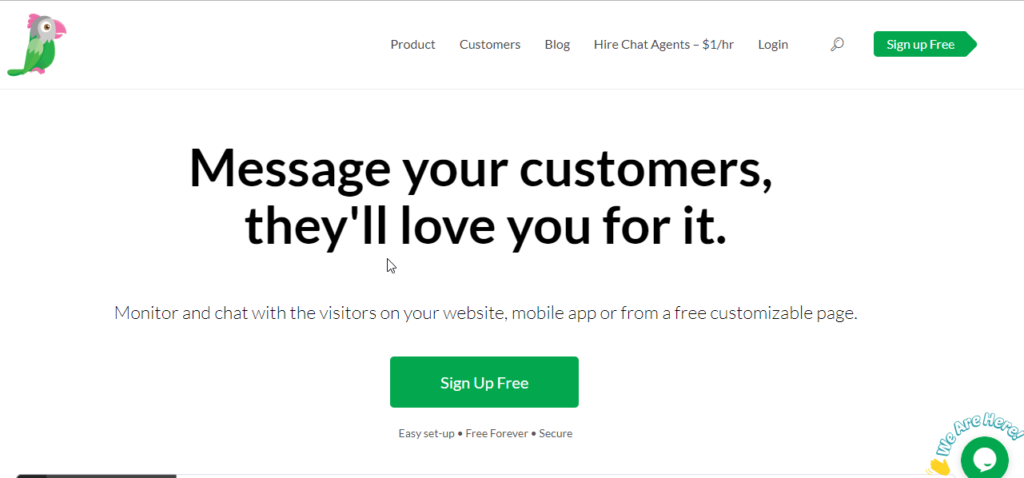 Tawk to is a completely free plugin to use for easy interaction with your customers on your website. You can easily monitor and track your customers using a mobile app or your website or even from a  customizable webpage. The major factors that make Tawk to live chat plugin popular are: it is free, secure and easy to set up. Tawk to is popular for its easy set-up as it is quite hassle-free.
Features of Tawk to :
Monitor and track users, visiting the website.
Quick response from a mobile device using the chat.
Triggers to proactively engage users.
Customization to suit the website design.
Support multiple languages.
Predefined shortcuts to quickly respond to chats.
Easy integration with WordPress, Joomla, Magento, etc.
Unlimited agents.
Easy Report Generation.
Ticketing system to assist with support queries.
Unlimited chat history storage.
Aliasing for agents.
Agent to agent messaging.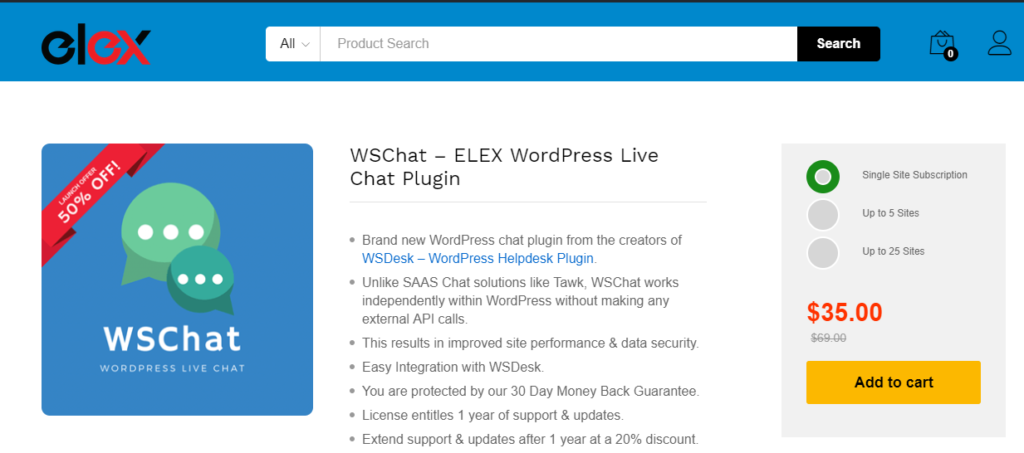 An independent live chat plugin, this one works well with your WordPress website. WSChat makes your live chat system look easy to use and work on. It's responsive and offers an intuitive design with AJAX-based design that makes it much more compelling. Live time monitoring and responding to the customer becomes quicker with a self-managed server for the plugin. WSChat is completely managed on your own server, which makes it completely secure to use.
Features of WSChat WordPress live chat plugin:
Real-time conversation with the users.

Extensively customizable chat widget.

Live monitoring of active users.

Agent side initiated conversation is possible.

Mobile responsive and intuitive design.

PreChat form to support the customer when the support team is offline.

Unlimited agent profiles.

Easy to convert conversations into active tickets with WSDesk integration.
Detailed reporting of chat performance.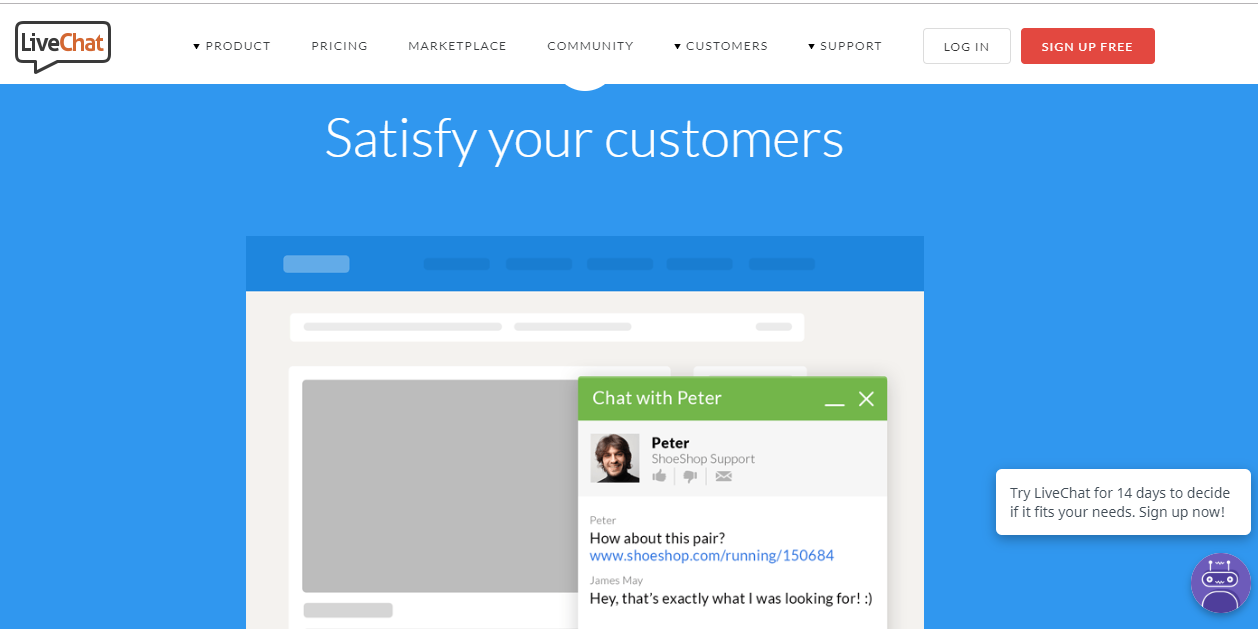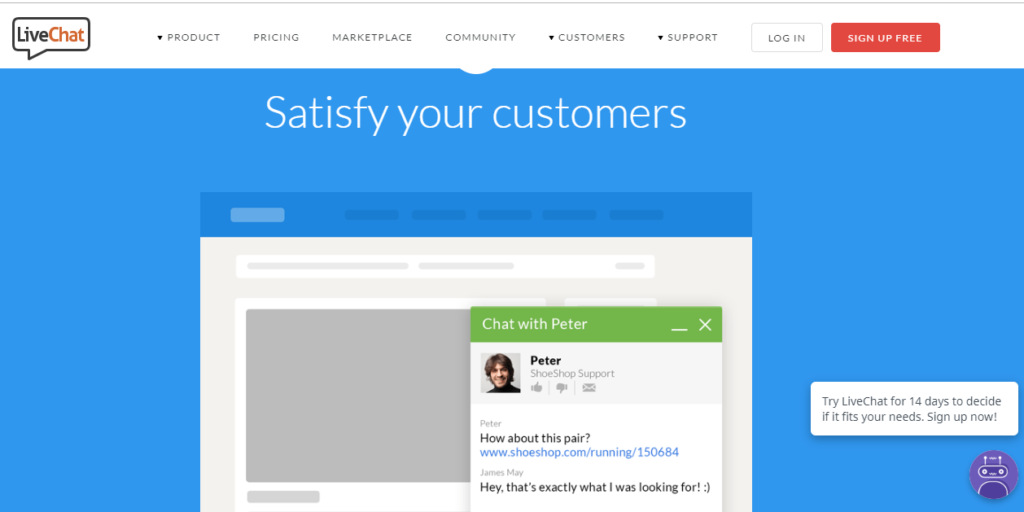 LiveChat interface gives you a single platform to interact with your clients seamlessly, make payments, manage your orders and even accept payments in the same live chat interface. Easily understandable and a clutter-free interface makes it easy to use.LiveChat plugin also has a 14-day trial plan, which lets you use and understand the plugin.
Features of a LiveChat plugin:
Simple interface.

Quick installation and easy to use.

Extensive customization of messages and widget.

The company logo can be added to the chat window to personalize.

Embedded and pop up chat windows.

Live chat on multiple websites.

Extensive chat reports and ticket reports as well as summaries.

E-commerce integrations are made simple.

Seamless integration with Google Analytics, Facebook, Salesforce, MailChimp, WordPress, etc.

Ticketing system which helps to solve extensive problems.

Agent task allocation, supervision and define roles to manage the team.

Complete encryption of data with access restrictions.
You will be able to deliver a totally engaging experience with Olark live chat software on your website. Track, monitor and interact with your customers live on your website and provide a definite experience with the help of this tool. It will also help you leverage your customer inputs and optimize your sales by delivering quality service to your potential customers.
The features of Olark are :
Track online customers.
Create Pre-chat forms to keep the conversation steady even when offline.
Triggers to keep customer engagement active.
Quick saving of the conversation into the database.
Unlimited integrations work seamlessly.
Real-time dashboard to track performance.
Report generation is easy.
Pricing starts with $17 per agent per month.
File sharing is possible.
Chats can be transferred to deliver a precise solution.
Free trial plan for 2 weeks available.
This one provides a single dashboard to manage all your customer queries from email, chat, and messenger. Efficient use of chatbots, which are artificial intelligence-enabled makes it easy to respond to customer queries with proper analysis. It provides excellent lead generation and helps you save your abandoned carts as well as keep your customers engaged even when you are offline.
Features of Tidio
Get it for free for $0 for a lifetime for just 3 users.

Live Chat

Email Integration.

Has iOs and Android apps.

Artificial intelligence-enabled chatbots.

Quick third-party integrations.

Completely secure.
This one provides a single dashboard to manage all your customer queries from email, chat, and messenger. Efficient use of chatbots, which are artificial intelligence-enabled makes it easy to respond to customer queries with proper analysis. It provides excellent lead generation and helps you save your abandoned carts as well as keep your customers engaged even when you are offline.
Features of Zendesk include:
Monitoring visitors lists.
PreChat forms to support visitors when the team is offline.
Triggers to send messages to customers.
Chat rating feedback is integrated into assessing performance.
File attachments are possible.
AI-powered chatbots for quick assistance.
Better analysis and reporting.
WP Live Chat support is a  simple WordPress live chat plugin to uphold all your business customer engagement needs. It provides quick assistance provided with lively live chat support to all the visitors landing on the website.
Features of WP Live Chat support include:
Initiate chat with visitors appearing online on the webpage.
Fully customizable chat widgets as well as allow a personalized logo to appear in the chat widget.
Unlimited agents can be added to the list.
Almost 23 language translation is possible.
Faster response to the customer's queries.
Easy WordPress integration is also possible.
One of the finest AI-driven chatbots used to initiate and assist your prospects in real-time with prompt assistance, Drifts helps you with quick responses to your users. And you gain their confidence rather effortlessly. Prices are based on individual, team and enterprise needs. For the team, the price is $400 billed annually at $40 per chat seat per month. Drift also ensures to provide 30-day onboarding assistance to help you get used to the application.
Features of Drift :
AI-powered Chatbots for prompt assistance.
Slack integration is possible.
Chat routing is possible.
Calendar integration to improve promptness.
Complete reporting and analysis provided.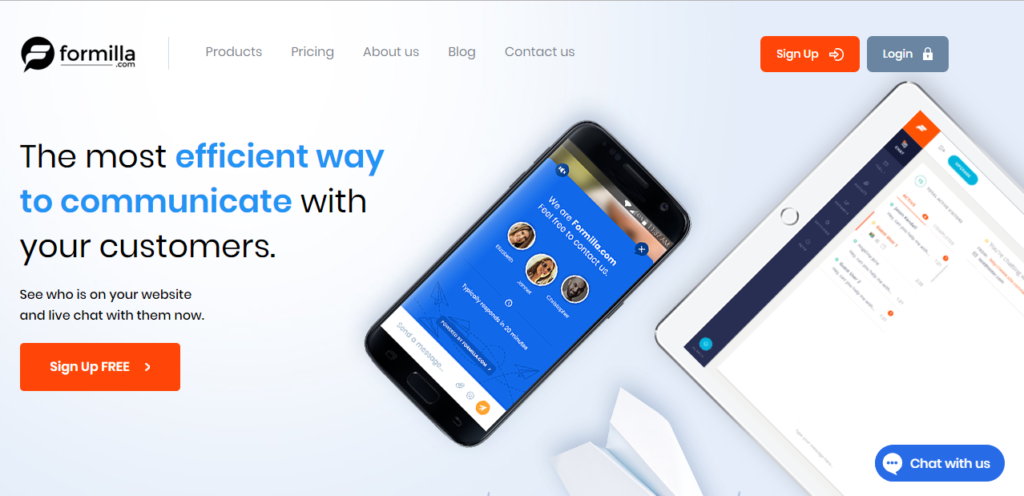 Conversion of visitors to potential customers is easier using live chat by Formilla. Using live chat by Formilla strengthens your conversation with your website visitors and turns them into potential valuable customers.
Features of Live Chat by Formilla :
Real-time visitors monitoring.
Proactive responses using chat on

web pages

.
A smart messaging system based on new or returning visitors, location basis and target using languages.
Chat from anywhere on your mobile or even your webpage which never let you lose your customers.
Customization and personalization with pictures and colors and themes to suit the need.
Simple shortcuts to access pre-saved responses.
Transfer chats within the agents to make the support faster.
Integration with 500+ popular apps like Zendesk, MailChimp, etc.
Google Analytics integration for powerful tracking.
Using Pure chat live chat plugin which has free and premium versions, you will be able to keep your customer engagement active. Bringing in complete transparency, integrated solutions, and improved real-time sales-support, it will significantly enhance customer satisfaction.
Features of Pure Chat
Unlimited chats.
Advanced widget customization.
Unlimited chat history transcripts storage.
Canned responses for quick interactions.
Reports and contacts can be imported as CSV files.
Real-time analytics.
Priced premium versions begin at $39 per month.
All of the above WordPress live chat plugins serve the purpose of providing powerful engagement to customers who are visiting the website. Live chat plugins leverage significant insights and data from meaningful conversations and enhance the business by channelizing sales in a way helping businesses to grow.
Further Reading