More and more businesses are preferring live chat plugins to understand customer needs as well as to support customers. Live chat is easier to generate leads and as well as to bring in genuine potential customers for your business. Whenever a business plans to use a live chat plugin, two things are of major importance to consider – one is Performance and the other is Security.
If you look out for live chat plugins, you can find a number of them which can offer you a wide range of functions that will let you live chat with your customers bringing in a proactive approach to business.
Does live chat slow down website performance?
With live chat plugin, you are tracking live visitors on your website, which will cause the page load to increase as compared to the other websites. Tracking multiple users registered or unregistered logged in from various locations and browsers is quite a cumbersome task and it takes up a lot of server space. If you do not track live users on your website, then you might risk losing a potential customer. Avoid the bottleneck situation by using live chat plugins that will be quickly loaded without hampering the overall page-load.
If you really want your page to be lightning-fast to improve the instant gratification of your users, then it is ideal to use an independent live chat plugin like WSChat.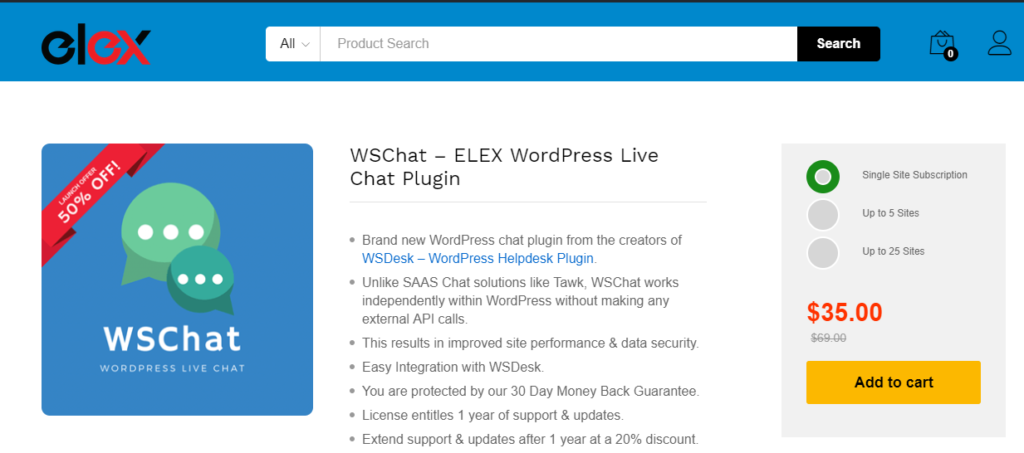 WSChat is an intuitive live chat plugin that is easy to install and work with. It can be easily integrated with WordPress. WSChat is completely independently managed and does not make any API calls. The live chat plugin is completely lightweight and contains all the important functionalities required for a normal live chat plugin. With mobile-responsive designs and AJAX-enabled, WSChat has a simple interface and is easy to set up. It is a complete live chat plugin with all the requisite and ideal features to befit a live chat plugin. WSChat is a lightweight plugin that can be easily integrated with a WordPress site.
Features of WSChat live chat plugin
WSChat is an ideal live chat plugin for any WordPress site. The following feature makes it perfect for any small to big business.
Easy to start a real-time conversation with the users visiting the website.

Agents can initiate a conversation with the users, making it a proactive conversation to keep the users engaged to the website.

Attractive widget themes and customization to suit the appearance of the website.

Easy to locate active users in various browsers and locations.

Intuitive and mobile responsive design.

 A pre-chat form is included in the chat plugin to keep customer engagement active even when the support team is offline.

No limitation on the number of agents to be added to the plugin.

Quick report on analyzing the agent's performance.

Easy to integrate with WSDesk – a helpdesk plugin which lets you convert the conversation into active tickets for support purposes.

Read more about why WSChat is the best chat plugin to keep your customers engaged.
How does WSChat ensure security and performance for your business?
WSChat is a completely independent live chat plugin, which can be easily installed on your server and managed. Unlike other SaaS-based plugins, WSChat is easily managed on your server, hence you never have to worry about your data security. For most of the SaaS-based tools, the data is completely held on their servers, which is not under your control. WSChat is installed and managed on your local server and all the data that is appearing will be under your control. With other SaaS-based plugins, when their server is down, you have to wait for it to be up and running to keep the conversation on with your users. In such cases, you lose your optimal time with your users and there are likely chances of losing such potential customers. Hence you can see that the uptime will have a heavy impact on your sales.
In the case of an independent live chat plugin like WSChat, you can store all your data in your own server, compared to the other live chat plugins. You need not seek any external assistance in downloading your data for reports and analysis purposes. You own your data effectively. WSChat hence offers complete security for your business-related data. If there is an internet problem, power outages or even periodic maintenance of their servers, your business is affected badly.
No external API calls are made to connect any other external servers with WSChat. It is a lightweight and AJAX-based intuitive plugin which is easy to use. Managed on your server, the performance of your website is also enhanced. With no external API calls enabled on your plugins. Hence it will not slow down your website and the performance is not hampered.
To Conclude
WSChat is a complete live chat plugin with innumerable features to help your business to generate new leads and also maintain the customer satisfaction level at the highest level.
Further Reading