We all need support if we buy a new product especially software, some other machines or devices. In every business, it is necessary to offer support to their customers after the sale. Many companies already provide some FAQs and documentation to help their customers. But what if they need your assistance when they could not find the answers from these sources? They need to contact you and seek help from you. So you need a help desk to support your customers.
Different companies may use different mediums to get connected with customers such as phone calls, e-mail, chatbots, etc. As we have wide options for communications, we can choose any convenient source of medium. Most of the company websites have contact forms, using which the customers can enter their details and send the query using the form. 
The queries from the customers are often called 'tickets'. If you are managing the tickets received by yourself, it will be time-consuming and a bit confusing as you receive hundreds of tickets in a day. In such cases, you may recruit analysts or agents to solve the tickets by distributing among them. But all these processes should be in an organized way such as receiving the tickets, assigning to the agents, solving them and getting back to the customer. You can make the flow of this process using some advanced plugins if your business website is a  WordPress site. 
In this article, let us discuss a leading helpdesk plugin that offers the best customer support experience for your business. WSDesk – ELEX WordPress Helpdesk & Customer Support Ticket System Plugin is a top-notch helpdesk and customer ticket management plugin which will help you to provide your assistance to your every customer without any confusions. It is a freemium plugin and offers many advanced features such as unlimited tickets and agent management, email piping, filtering & blocking and auto-assigning of tasks, etc. 
Now, let us go through its advanced features to get a clear idea about this plugin.
WSDesk – Why It Is The Best WordPress HelpDesk Plugin?
As we have discussed it, let us go through its features one by one. They are,
Create and manage unlimited tickets & agents

Email piping

Email filtering & blocking

Simple interface

Triggers & automation

Create agent signatures & reply templates

Performance analysis report

Integration with WooCommerce, Pay for Support and EDD

SMS notifications

Backup & Restore
Create And Manage Unlimited Tickets & Agents
One of the main advantages of WSDesk is, you have no restrictions to create unlimited tickets and agent profiles. And you can easily manage all these tickets and agents without any confusion and complications. The organized interface of WSDesk will help you to manage them perfectly.  
The query that the user-submitted will be important information to let you know that they are facing an issue and need your assistance. So it is necessary to add important information to the ticket fields by the administrator. This handy plugin offers various features for the administrator to customize the ticket forms to upload it to your system without any confusion.
Once the user raises a ticket to your system, you can view it on the 'Tickets' tab. In this tab, you can see the listed tickets which contain the problem faced by your customers, and you have to diagnose the problem, assign it to an agent to solve the issue and get back to the customer with a solution for his or her problem.
You can see the statuses of the tickets, all agents, tags, and users in this tab. You can create the ticket status in the 'Settings', by adding a status name and assigning a color to it. And you can enable the status to filter the tickets if needed. Similarly, you can create the agent profiles and tags.
Here, you can see the status of each ticket as 'view', name of the requestor, subject, requested date & time, assignee and feedback. This will help you to understand the statuses of each ticket, which are solved, pending and not solved. You can also filter the tickets for your convenience and change the selected tickets statuses to other statuses based on whether you solved it or not. This overview will help the administrator as well as the agents to get a clear idea of the tickets.
Email Piping
WSDesk allows you to convert your unread emails to tickets with the help of IMAP or Google OAuth. Once the ticket is raised by the customer, an email will be sent to the customer and it will make the customer interaction easier by letting the users to send the reply to the email directly without logging into your website or using your support form. And after the emails are imported to the WSDesk you can delete them.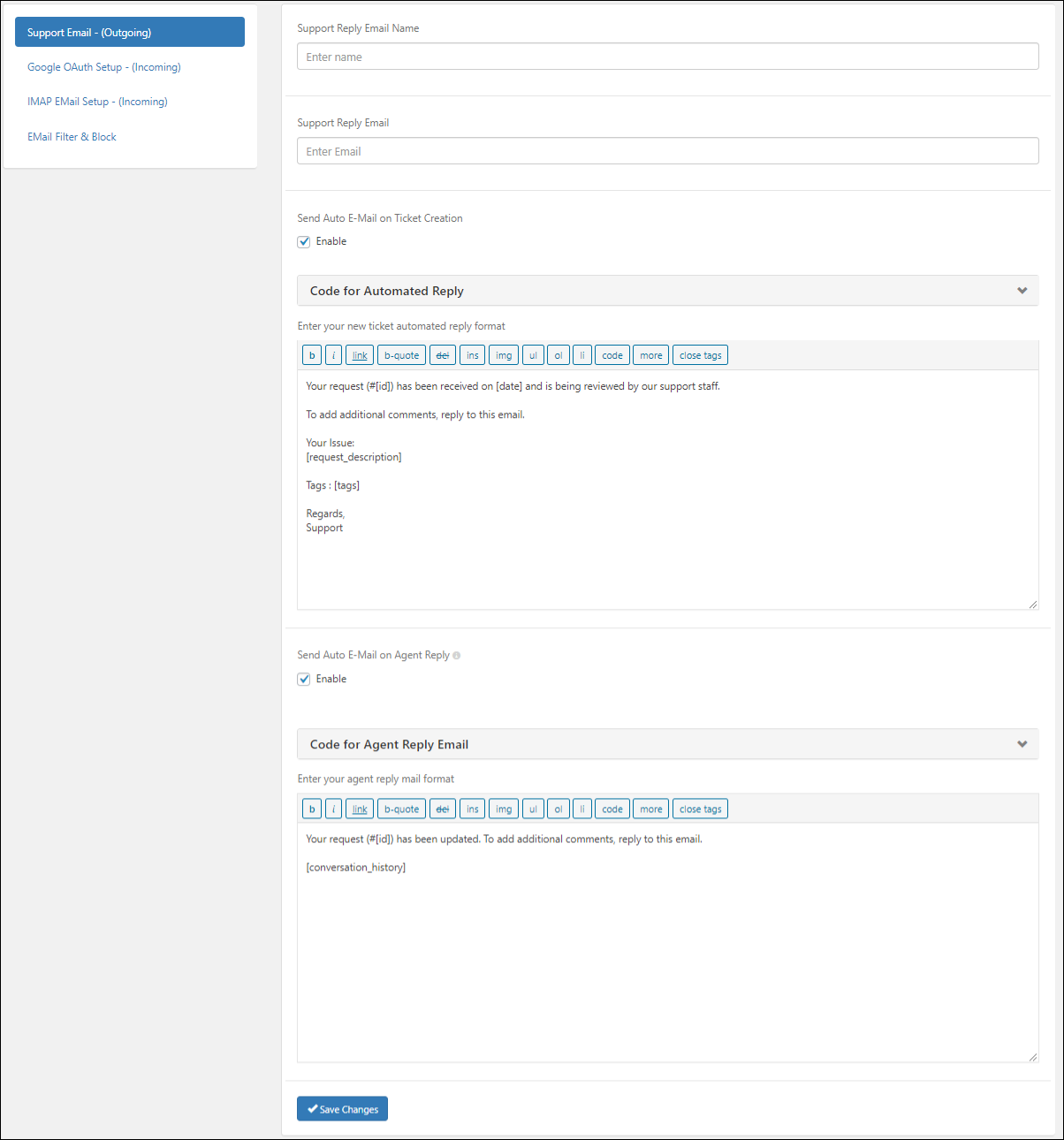 Email Filtering & Blocking
Cluttering unnecessary and unwanted emails into your inbox is a common thing we all face. In order to filter the emails and block them to sort the relevant emails, you can use the feature by entering a string to filter them. If that string found in the email subject it will be blocked as well as you can block emails by entering specific email addresses. By doing this you can sort the emails with high priority.
Simple Interface
As you will receive multiple queries at the same time, it is important to manage them without any confusion. Being AJAX based, the interface of the WSDesk ticket management system is simple and handy for the agents to deal with the tickets. You can make bulk changes of ticket statuses, search and filter them, merge tickets and custom ticket views will make your customer support experience faster and smoother. You can also make some additional settings on the tickets with its user-friendly interface.
Triggers & Automation
Triggers & automation feature helps you to run automated actions based on a number of conditions. This automation will really helpful for the agents as you can set a condition to send a notification to the agents when a ticket is received as well as send another notification if the agent did not reply to the tickets within a number of days. Similarly, you can set conditions for triggering actions according to your requirements. You can assign the tickets to an agent in a particular department automatically and can solve the tickets according to the priority, etc. 
Create Agent Signatures & Reply Templates
Add the custom signature of the agents or supervisors in HTML format using WSDesk's agent signature add-on. This will reflect in all your sending emails as well as its a way to establish your company brand through the mails. You can also add links to your company website in this signature.
Setting a reply template will be very helpful for the agents to reply faster to the customers. In WSDesk, we have an option to create and save such templates for replying to common queries. These templates are usually known as 'canned responses'.
Performance Analysis Report
For analyzing the whole performance of your support system, you can check the analysis report. It generates date wise reports of the tickets, satisfaction survey report, custom agent reports, reports based on ticket tags and ticket resolution report. A separate report tab will be generated to show the ticket reports based on your WooCommerce products and its categories if you are integrating your WSDesk with WooCommerce.
Integration With WooCommerce, Pay For Support And EDD
Integration With WooCommerce
WSDesk offers high compatibility with WooCommerce stores. If you own a WooCommerce business, you can easily integrate the support ticketing with the orders of products in your WooCommerce store. You can retrieve the order number, the total number of orders and total purchase price details of an individual customer who raised the ticket. After the integration, the products in your online store will have an option for creating ticket fields. As we have discussed, after activating this, a report section for the tickets raised on your WooCommerce products and categories will be displayed in the analysis report.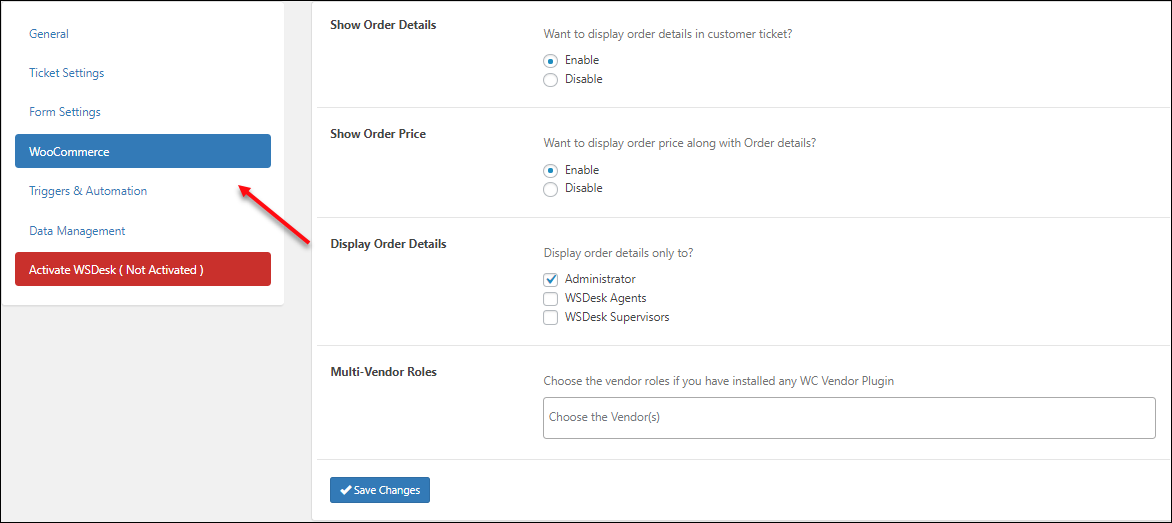 Integration With Pay for Support
If you are planning to charge for your support, you can implement that on your WordPress site using an add-on of WSDesk. Pay For Support Add-On for WSDesk – ELEX WordPress Helpdesk Plugin will help you to charge for each support on a credit basis. Customers can purchase different subscription options that contain credit points. For each ticket, the credit points will be deducted from the customer's account as well as points will be added to the agent's account who solved the ticket. You can charge for your support, consultation, and guidance, etc according to your domain of business.
Integration With Easy Digital Downloads(EDD)
WSDesk can easily integrate with Easy Digital Downloads, as the products from your EDD store can be automatically populated for creating ticket fields.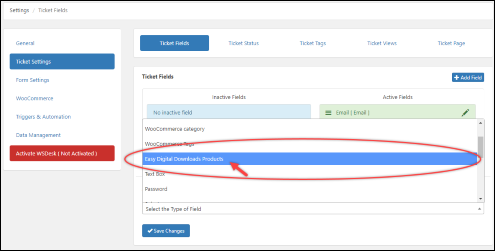 SMS notifications
You can send SMS notifications to your customers, ticket assignees and agents with the help of the SMS Notification Add-On. For automating the process, you can set it using the 'Triggers' option to send the SMS notifications to the customers and agents regarding the tickets.
Backup & Restore
Secure and save your tickets and their information by using the backup option available in data management. You can backup and restore the details on an XML file for future references.
Wrap Up
This handy plugin will help you to make your entire customer supporting process perfectly without any confusion with its advanced features. You can handle multiple tickets in an organized manner and set up triggers for some automated actions to make the job of agents much more efficient. Its higher compatibility with WooCommerce will help to solve problems on individual products in an online store. For more advanced options, you can use add-ons in addition to the plugin.
Further Reading: