In the realm of eCommerce, the power of seamless integration cannot be underestimated. As online businesses strive to enhance their reach and customer engagement, the integration of platforms becomes a game-changer. One such crucial integration is between WooCommerce, the renowned eCommerce platform, and Google Merchant Center, the powerhouse for showcasing products to a wider audience.
Imagine a world where your WooCommerce products effortlessly synchronize with Google Merchant Center, offering your products the visibility they deserve across Google platforms. This integration isn't just a convenience; it's a strategic move that can elevate your eCommerce venture to new heights. In this article, we embark on a journey to demystify the process of auto-syncing WooCommerce products with Google Merchant Center.
By the end of this article, you'll be equipped with the knowledge and skills to automate the synchronization process, ensuring that your products are presented to potential customers in a way that maximizes their impact. 
Let's get started!
Introduction to Google Merchant Center
In the expansive realm of eCommerce, where competition is fierce and consumer demands are ever-evolving, the ability to showcase your products effectively can make all the difference. Enter Google Merchant Center, a digital hub that empowers businesses to display their products on Google's various platforms, reaching millions of potential customers with tailored product listings.
Google Merchant Center acts as a conduit between your eCommerce store and Google's vast ecosystem. It's a strategic gateway to amplify your products' visibility, offering an opportunity to connect with users actively seeking the very items you offer.
Google Merchant Center is more than just a platform; it's a bridge that connects your eCommerce offerings to millions of potential customers who are actively searching for products like yours. From Google Shopping to dynamic remarketing ads, Google's reach is vast, and this integration allows you to seamlessly tap into that audience.
Benefits of Auto-Syncing WooCommerce Products with Google Merchant Center
Efficiency and precision are the cornerstones of successful eCommerce operations, and auto-syncing WooCommerce products with Google Merchant Center is a strategic leap towards achieving both. In this section, we delve into the array of benefits that stem from automating the synchronization process, propelling your online business to new heights.
Time-saving
Manual product feed updates are time-consuming, and in the fast-paced eCommerce landscape, every second counts. Auto-syncing eliminates the need for laborious manual product uploads and updates. By eliminating repetitive tasks, you free up valuable time that can be reinvested into growing your business, devising innovative strategies, and enhancing customer experiences.
Accuracy
In the realm of eCommerce, even the slightest inconsistency can have a ripple effect on customer trust and satisfaction. Imagine having paid Google ads displayed for out-of-stock products— a complete waste of money. Auto-syncing ensures accuracy by minimizing the risk of errors and discrepancies. The meticulous automation guarantees that your product information remains consistent across platforms, fostering credibility and trust among your audience.
Real-time Updates
E-commerce is dynamic, and product information must reflect the latest developments. Auto-syncing delivers real-time updates, ensuring that your product listings are always up-to-date. Whether it's price changes, availability updates, or new arrivals, your customers receive accurate information at all times, reducing the chances of disappointment due to outdated details.
Improved Visibility
Google's platforms are bustling hubs where customers actively search for products. Auto-syncing bolsters your products' visibility on Google platforms, increasing the chances of your listings being discovered by potential buyers. The seamless integration ensures your products seamlessly flow into Google's ecosystem, positioning them for heightened visibility and better customer engagement.
Preparing Your WooCommerce Store for Seamless Auto Sync
Before you begin the journey of auto-syncing your WooCommerce products with Google Merchant Center, it's essential to ensure that your foundation is solid. This section serves as a checklist to help you get everything in place, ensuring a smooth setup and hassle-free synchronization.
Active WooCommerce Store with Products

A Verified

Google Merchant Center Account

The

ELEX WooCommerce Google Shopping Plugin

Installed and Activated 
Let's dive into the activation process and the method to configure the ELEX plugin in the following section.
Setting Up Auto-Sync between WooCommerce and Google Merchant Center
Automating the synchronization between your WooCommerce store and Google Merchant Center can revolutionize your eCommerce game. To achieve this seamlessly, we'll guide you through the process step by step using the ELEX WooCommerce Google Shopping Plugin. This plugin simplifies the integration, ensuring your products are effortlessly showcased on Google platforms. Let's dive into the setup:
Step 1: Install the ELEX WooCommerce Google Shopping Plugin:
Find out how to finish your ELEX purchase by reading this article. Instructions to download ELEX plugins and activate them are also available here.
After the plugin is downloaded, navigate to the "Plugins" section and click Add New > Install Now > Activate.
Step 2: Configure Basic Settings
During the plugin's installation process, you'll be asked for key details that will be used to personalize your product feed. To make it easier to identify your feed, you can give it a name that's exclusive to your project. The project description is optional; if left blank, the project name will serve as the description.
If you're selling internationally using Google Merchant Center, choose the country where your target customers are located. Make sure that the "Include Variations" option is activated so that all of the variants that are available for your WooCommerce products will be added to the feed. To import product feeds without GTIN, MPN, or Brand IDs, opt for "Auto-set identifier_exists."
Select the appropriate Google category for your products; you can always change it in the "Map Category" tab. The plugin now supports CSV, TSV, and XML file formats for product feeds. You can select the format you wish to go ahead with.
Next, the refresh schedule can be configured to set up auto-sync for the product feed. Cron tasks can be scheduled to run at specific intervals to update the feed that is created. You can set the feed to update once per day, once per week, or once per month based on the time and date you originally set when you set up the feed. (This needs to be done to keep the feed regularly updated; we will set up auto sync in the following steps while submitting the feed to Google Merchant Center)
Enter the currency code for the country where the sale is being made. You can generate the feed in any currency by specifying a currency conversion rate, which will be applied to current product prices.
Once you're satisfied with the plugin's configuration, click "Save & Continue" to finish the setup process.
Step 3: Google Category and Attribute Mapping for Products
Mapping at least one WooCommerce product category to a Google category during plugin setup is required. A user can set the default Google product category in the settings' general tab. If you open the Google Categories box and begin typing a category name, suggestions will appear as you type.
You can add and map as many categories of products as you want with Google product categories. When you start mapping categories, a list of all the product categories that are currently available in your shop, along with the opportunity to add the corresponding Google Product category, will appear.
Following the mapping of product categories comes the mapping of product attributes. The range of attributes that are available in this step is dependent on the country of sale that was defined in the generic settings. Mapping WooCommerce default and custom attributes to Google attributes is required. This makes sure that your products show up when customers run a Google search for similar products.
Step 4: Filtering and Exclusion
Products can be filtered in this tab according to their stock and sales totals. To filter products, you can choose a condition from Equal to, Greater than, or Less than, and then enter a value. You can also exclude products from the feed if needed.
Step 5: Generating the Product Feed
When you're ready, click the Generate Feed option to complete the creation of your product feed. Once a feed has been generated, it can be accessed and downloaded from the Manage Feed tab. Here, the next scheduled refresh date and time will be displayed. This will make sure your product feed is regularly updated.
Step 6: Submitting the Feed to Google Merchant Center and Setting Up Auto Sync
To submit the generated product feed to Google Merchant Center, sign in to your

Google Merchant Center account

> Navigate to Products > Feeds > Click the '+' button.
The fields labeled "Feed Name," "Fetch Frequency," "Fetch Time," "Time Zone," and "File URL" must be filled up. The file URL can be found in the 'Manage Feeds' tab in the ELEX plugin. 
The following must be checked off before the scheduled fetch can be set in motion:
It's important that the name of the feed and the file be identical.

The frequency of the fetches (auto-sync) can be adjusted to suit your needs, from once per day to once per week to once per month.

When configuring a scheduled fetch, it is necessary to specify a fetch time.

Verify that the file's URL is correct so that the feed may be retrieved.

In the event that Google needs a username and password to access your feed file, please input those details below.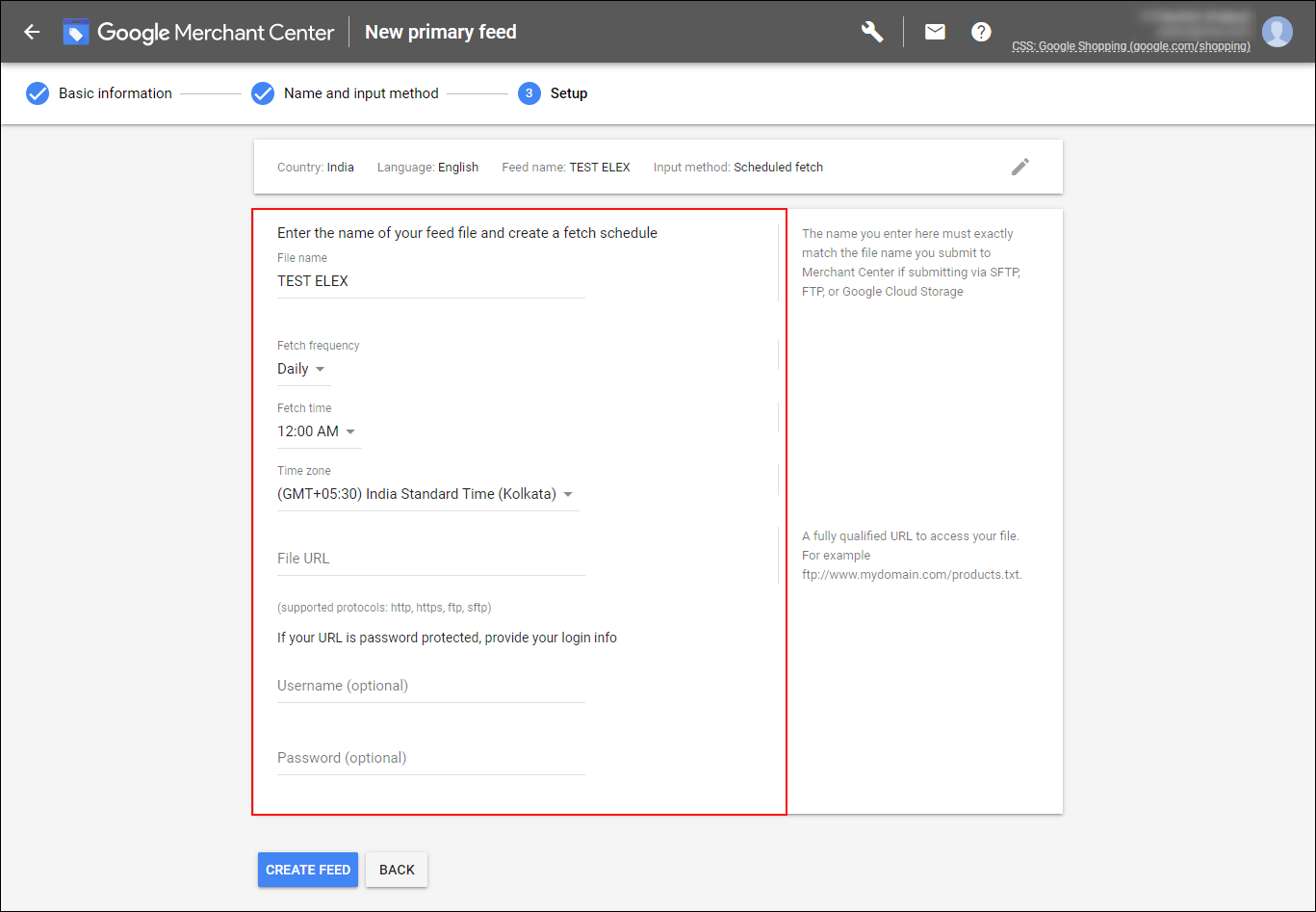 Click Create Feed. Once the fetching schedule has been established, the feed will appear in the Google Merchant Center as an uploaded feed. If you set the feed's fetch frequency to "Daily," it will be updated once per day at the time you designate in the "fetch time" field.
That's it! You've successfully set up auto-sync between your WooCommerce store and Google Merchant Center using the ELEX WooCommerce Google Shopping Plugin. This streamlined integration ensures that your product information is always up-to-date, boosting your products' visibility on Google platforms and enhancing your eCommerce presence.
With the power of automation at your fingertips, you're now equipped to navigate the world of eCommerce with efficiency and effectiveness. If you need a step-by-step guide on how to set up the ELEX WooCommerce Google Shopping Plugin, check out the documentation.
Conclusion
Auto-syncing isn't merely about convenience; it's a game-changer that streamlines the process of showcasing your products to a global audience. By eliminating manual tasks, ensuring accuracy, and offering real-time updates, auto-syncing empowers your products to shine on Google platforms, where millions actively seek what you offer.
Auto-syncing revolutionizes the way eCommerce businesses manage their online presence. It liberates your time from mundane tasks, ensuring that your products are always presented with precision and relevance. As the digital landscape evolves, embracing automation ensures you stay competitive, engage customers effectively, and enhance your brand's visibility.
The eCommerce arena rewards those who innovate and adapt. By harnessing the power of auto-sync, you're embracing a future where your products are seamlessly showcased on platforms that matter. It's time to elevate your eCommerce game, seize the potential of auto-sync, and embark on a journey where efficiency, accuracy, and growth become your new realities. 
If you have any questions regarding setting up auto-sync using the ELEX WooCommerce Google Shopping Plugin, please let us know in the comments section below.
Further Reading