You are more likely to make a purchase when social media sites like Facebook and Instagram offer you adverts that are tailored to your interests. Consider this situation now from the standpoint of your brand. Social media may be used by a business to display its products and services to prospective buyers as well as engage an existing customer base using various tools and tactics.
The most substantial demographic of potential customers can be found on Facebook and Instagram. Integrating your WooCommerce store with Facebook is a smart business decision as it helps sell your products to a customer base of over 2 billion. Additionally, the same integration may also be used to create Facebook advertising. 
In this article, we will go through the benefits of syncing your WooCommerce store with Facebook and Instagram, along with the process of establishing the same. Let's dive in!
Benefits of Integrating WooCommerce with Facebook & Instagram
A great way to expand the customer base of your store is to integrate your WooCommerce business with Facebook and Instagram. By combining the platforms, you may increase your sales while utilizing the features that each site has to offer.
Integrating WooCommerce with these social media giants may provide the following benefits:
Potential customers will be more likely to see your products as they are available on multiple platforms such as Facebook, Instagram, and WooCommerce.

By linking both platforms, automated syncs will be feasible, making tasks like adjusting price and product information more convenient.

Facebook Marketplace offers loyalty programs that reward customers for buying from merchants on their network, which may be beneficial to your business.

The platform's personalized adverts will allow you to easily target potential customers.
Connecting your WooCommerce business to Facebook and Instagram will help you reach a wider audience while also making product administration easier in one central location.
Integrating with Facebook & Instagram
A plugin simplifies the integration of WooCommerce with Facebook and Instagram. Additionally, using a plugin allows you to upload and sync all of your items at once in the form of a product catalog file. We will lead you through the process step by step.

The ELEX WooCommerce Catalog Feed For Facebook & Instagram plugin will be used. This plugin is ideal for synchronizing with Facebook for creating and automatically updating your products.
Step 1: Create the Required Accounts
To get started with catalog creation, you'll need a Facebook business page, an Instagram business profile, and an active Facebook ad account. If you don't already have them, they're simple to set up. 
The Commerce Manager allows you to configure and control all of your Facebook and Instagram sales. 
Step 2: Install the Plugin
After you've installed and activated the plugin, you can access the settings by navigating to WordPress Dashboard > Facebook Shopping Feed.
Step 3: Link WooCommerce to Facebook
Under the Settings tab, you may link your WooCommerce account to Facebook and change the language used for Google Product Categories.
Depending on the requirements of your business, the Google Product Category Language can be changed from English to any other language. Your Facebook and Instagram accounts will be linked to your WooCommerce store after you click Connect FB.  
The Connected Account box displays both the Facebook Business account you used to connect and all product catalogs you create.
Step 4: Customize the Plugin's Features
To begin changing the plugin's default settings, navigate to the Create Feed option in the Start menu.
The Sync to Facebook option must be enabled, along with giving your project a good name and a distinct project description.
You may pick a refresh schedule and time once you've enabled Facebook auto-sync to manage how frequently the selected catalog feed is updated. This step must be performed before your feeds may be synced automatically. 
You may also provide the country of sale and the product feed file type. If you wish to add variations such as sizes, colors, etc. in the product feed, you may also choose to Include Variations. 
You may then choose a default category, designate specific countries of sale, and customize currency conversion and currency code under Advanced Settings. 
Then, click on the Map Category tab to connect product categories to the appropriate Google categories.
If you want your products to show up when customers search for them on Facebook or Instagram, you must connect them to Google's default category. Start entering the desired category into the Google Categories textbox and choose it from the list of auto-suggestions that appear.
If you don't want to map whole product categories, you may map individual products by going to the Map Category tab and selecting the Map Product sub-tab. By including the product names, you can instantly connect the product names to the appropriate Google categories.
The next step is to map the attributes of the product under the Map Attributes tab.
You may connect the qualities of your items to the list of Facebook attributes. Some of the main characteristics will be automatically mapped by the plugin. You may manually adjust the findings to obtain more precise results by adding or removing data and defining criteria. 
Finally, navigate to the Filtering Options tab.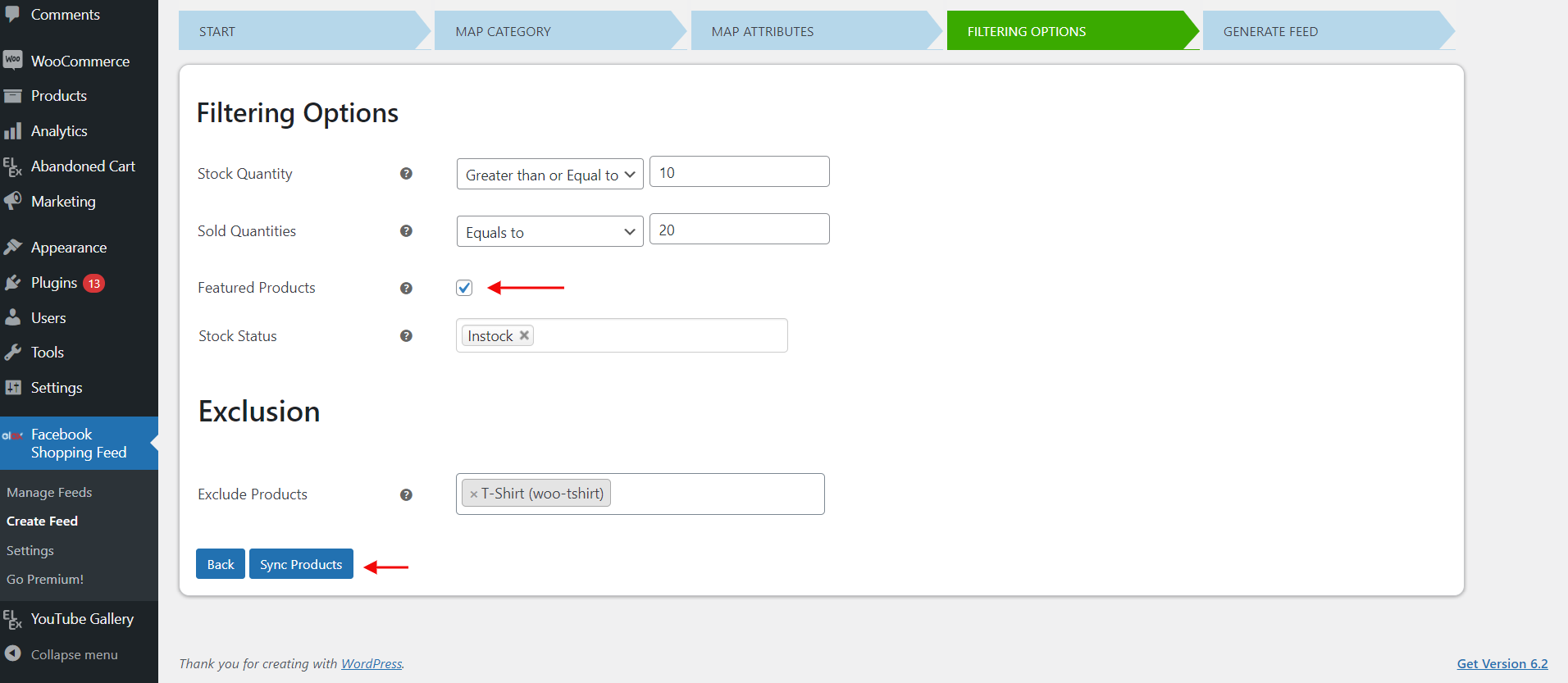 On this page, filter out the stock and sold quantities of the products needed in your product feed.
You may construct feeds that only contain particular products by filtering items based on their Stock Quantity and Sold Quantity. Custom feeds with Featured Products can also be created while excluding specific products. 
Click the Sync Products button once the settings have been fully specified. You'll then be directed to the Generate Feed tab.
Step 5: Upload the Product Feed to Commerce Manager
Utilize Commerce Manager to control your Facebook and Instagram product catalogs and sales. You must upload the product feed file to the Commerce Manager, which contains details on each entry in your product catalog.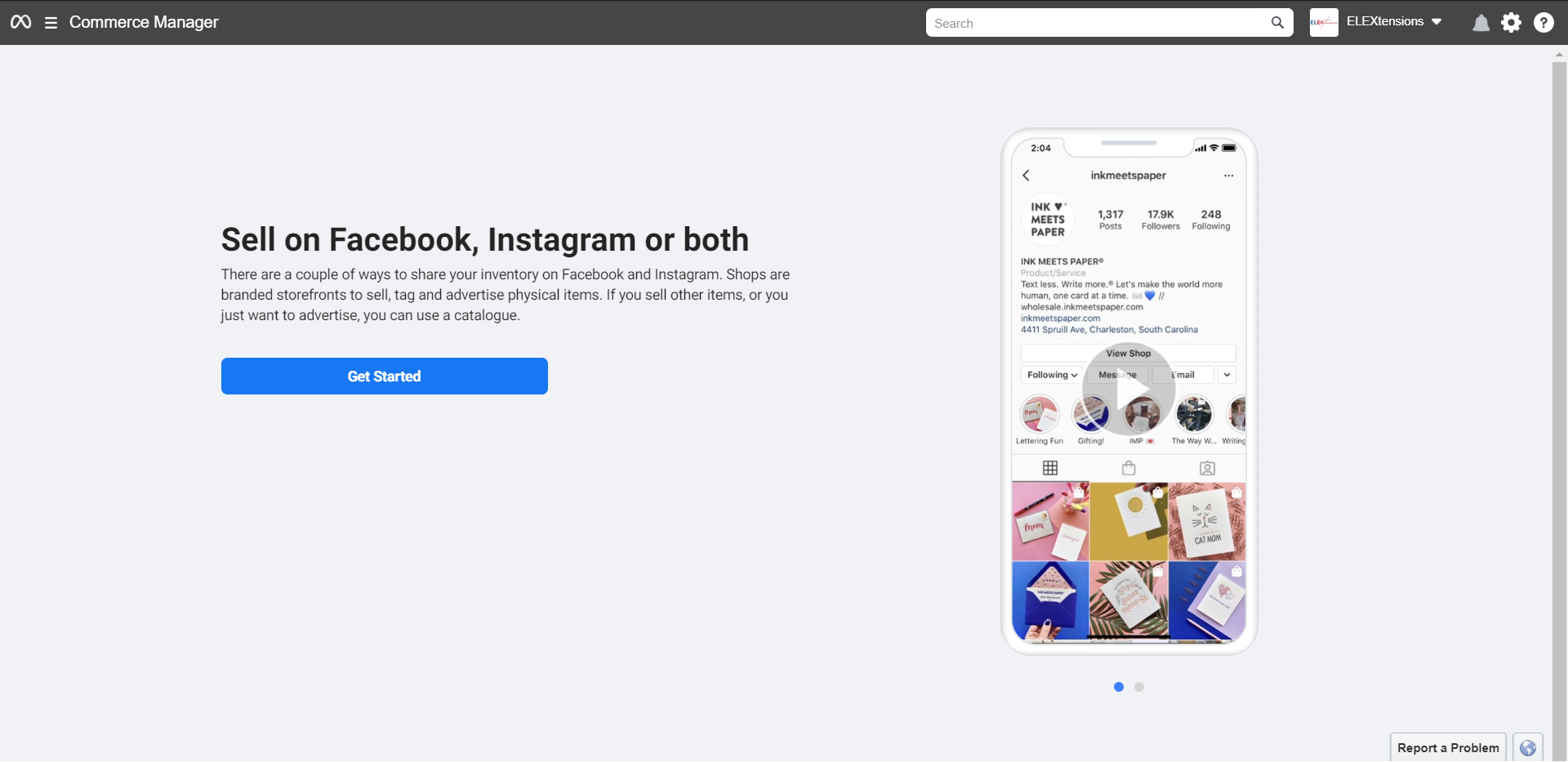 Log in to your Commerce Manager and select Get Started.
Click Create A Catalogue to start building your catalog.
Decide on a catalog type. 
By choosing Upload Product Info, inputting a catalog name, and clicking the Create button, you may add product information.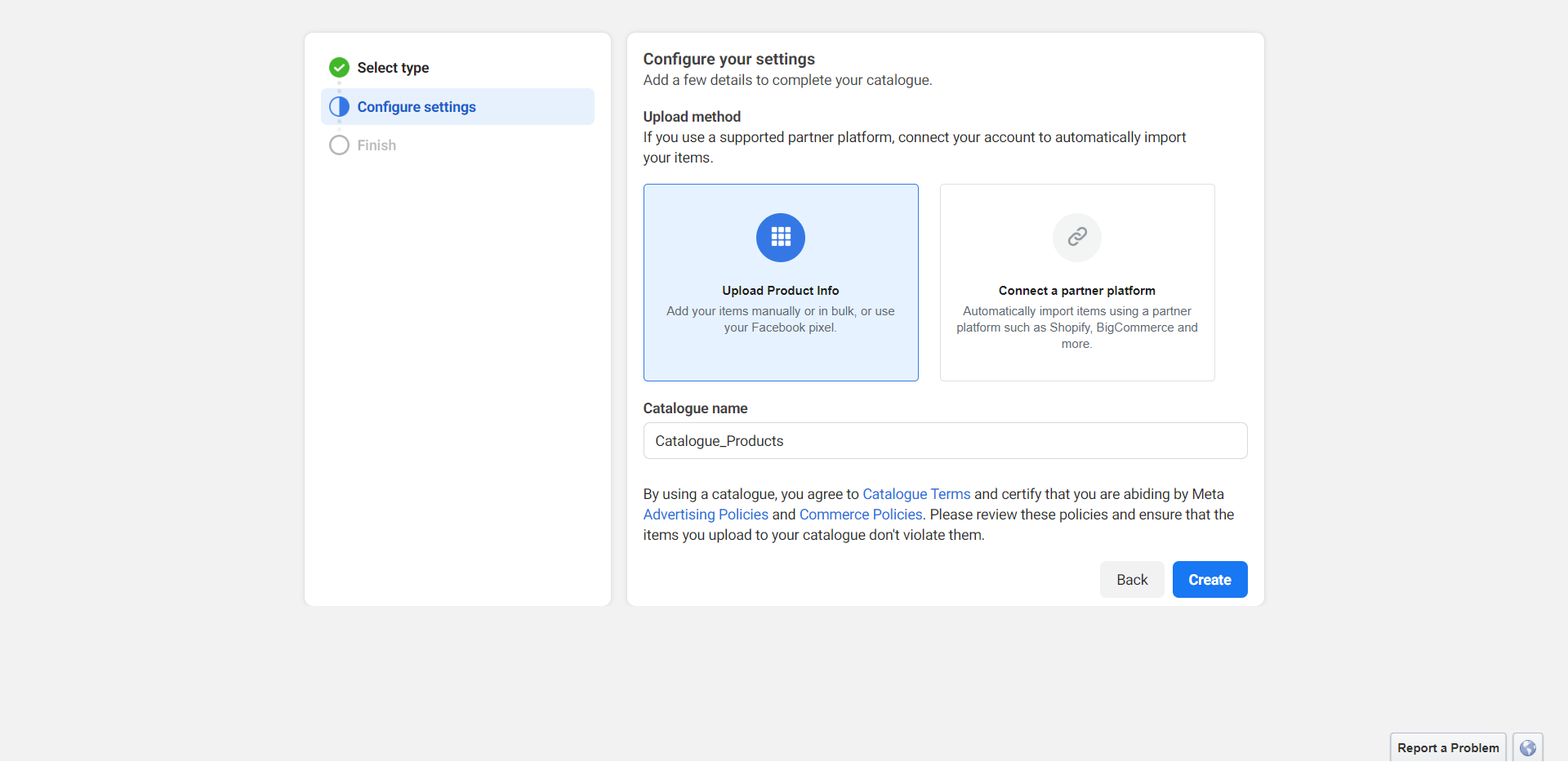 To view the catalog, click View Catalog. The Catalog tab will have a Data Source option on the left of it.
Click on Data Feed from the Add Items menu.
Facebook and Instagram accept product information in three distinct ways. In the following tab, you have the choice of using Google Sheets, entering a URL, or uploading from your PC.
Once you click Upload after choosing your product feed file, the process is finished.
You must connect your Instagram account to the Commerce Manager after the product feed has been added. This will immediately sync the same catalog with Instagram.
And there you go! We have successfully integrated our WooCommerce store with Facebook and Instagram and uploaded a newly created product feed file to the same.
Conclusion
A Facebook & Instagram catalog is an excellent way to maximize your sales. You can simply showcase all of your items in one location by keeping both platforms in sync, up-to-date, with new material and a tidy, organized layout. 
Step-by-step instructions make the setup quick and simple to perform, and it only takes a few minutes. Furthermore, the procedure is made much simpler with the ELEX WooCommerce Catalog Feed for Facebook & Instagram plugin.
We hope that setting up and integrating Facebook and Instagram with your WooCommerce business was helpful.
Further Reading