Are you looking for an easy way to sync all the products from your WooCommerce store to Facebook and Instagram? If so, then you've come to the right place!
What makes merging your WooCommerce store with Facebook and Instagram so important? Well, if you want to reach more potential customers, there's no better way than to expand your reach with social media platforms. But the traditional process of setting up a connection between your store and these platforms can be time-consuming.
This is why today we are going to show you a free Facebook for WooCommerce alternative that can help you easily sync all of your products with Facebook & Instagram. Not only is it efficient, but it also allows you to use an array of advanced features, which can help you maximize your sales. So if you're looking for a fast, free, and versatile solution for connecting your WooCommerce store with Facebook and Instagram, this article is for you!
Why You Need to Sync Your WooCommerce Store With Facebook and Instagram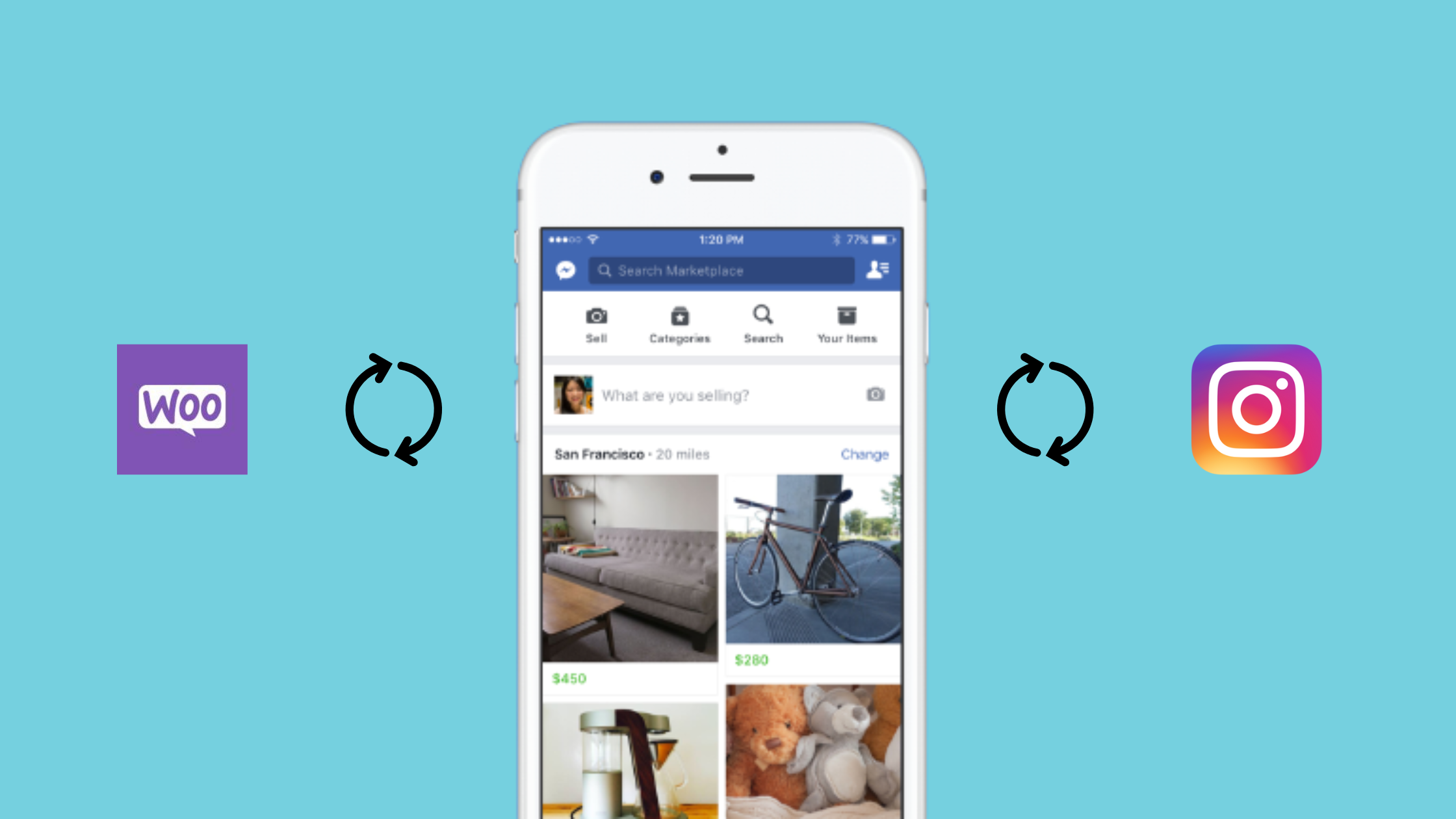 If you want to grow your eCommerce business, you need to make sure that your products can reach the right people. And one of the best ways to do this is to sync your WooCommerce store with Facebook and Instagram. After all, these two social media giants have billions of users, which means billions of potential customers for your business!
You may either be dissatisfied with the Facebook for WooCommerce plugin or may just want to try a different plugin. Thankfully, there are plenty of free alternatives that you can use to sync your store with Facebook and Instagram. These tools let you list products on social media quickly and easily, allowing you to reach a much wider audience.
These plugins come with tons of useful features. For example, they allow you to manage orders from your customers on both platforms, automatically share new products as they are listed in-store, and even send automatic notifications about special offers or discounts when triggered by certain events or behaviors. With these features at your fingertips, it's easy to get the most out of Facebook and Instagram for your eCommerce business.
Benefits of syncing products with Facebook and WooCommerce
Syncing your products with Facebook and Instagram gives you access to a wealth of features and opportunities – including automatic product updates, customer targeting, and easy integration with both platforms. With these features, you can increase your conversion rate and reach more potential customers.
Simply put, syncing products with Facebook and WooCommerce means that all your product updates are automated. This saves you time so you can focus on other tasks like marketing and customer service. Furthermore, this automatic update feature will help keep your customers informed about any changes or developments in the products they're interested in.
Finally, it's easy to integrate Facebook into WooCommerce, all you need is a good plugin and a little time to spare. Once integrated, it's simple to add product images, manage orders and track user activity on both platforms. This makes running both platforms at once much smoother since everything is connected in one place.
Tips for Selecting the Appropriate Plugin
Are you looking for the best free Facebook for WooCommerce alternative to easily sync products with Facebook and Instagram? It's not hard to find one, but that doesn't mean you should just settle for any old solution.
Here are some tips to help you select the right plugin for your business needs:
Consider Your Platforms
Before you start searching for a free alternative, you'll want to consider which platforms you need to sync your products with. If you already have a presence on Facebook, Instagram, or both, then be sure to double-check that they are supported by the app or integration you choose.
Prioritize Features
When considering an alternative, it's also important to understand what features are supported. For instance, make sure it supports automatic product updates so that your customers always have access to the latest products in your store. Additionally, look out for features such as customizable product pages and cross-channel sales tracking.
Seek Out User Reviews
It's always good practice to seek out user reviews prior to investing in a solution—even if it's free! Make sure the feedback is generally positive and that there aren't any major complaints about the software or its customer service team.
Following these tips can help you select the best free Facebook for WooCommerce alternative so that syncing products with Facebook and Instagram is seamless and stress-free, allowing you to focus more on selling great products!
Facebook for WooCommerce: What It Does and Limitations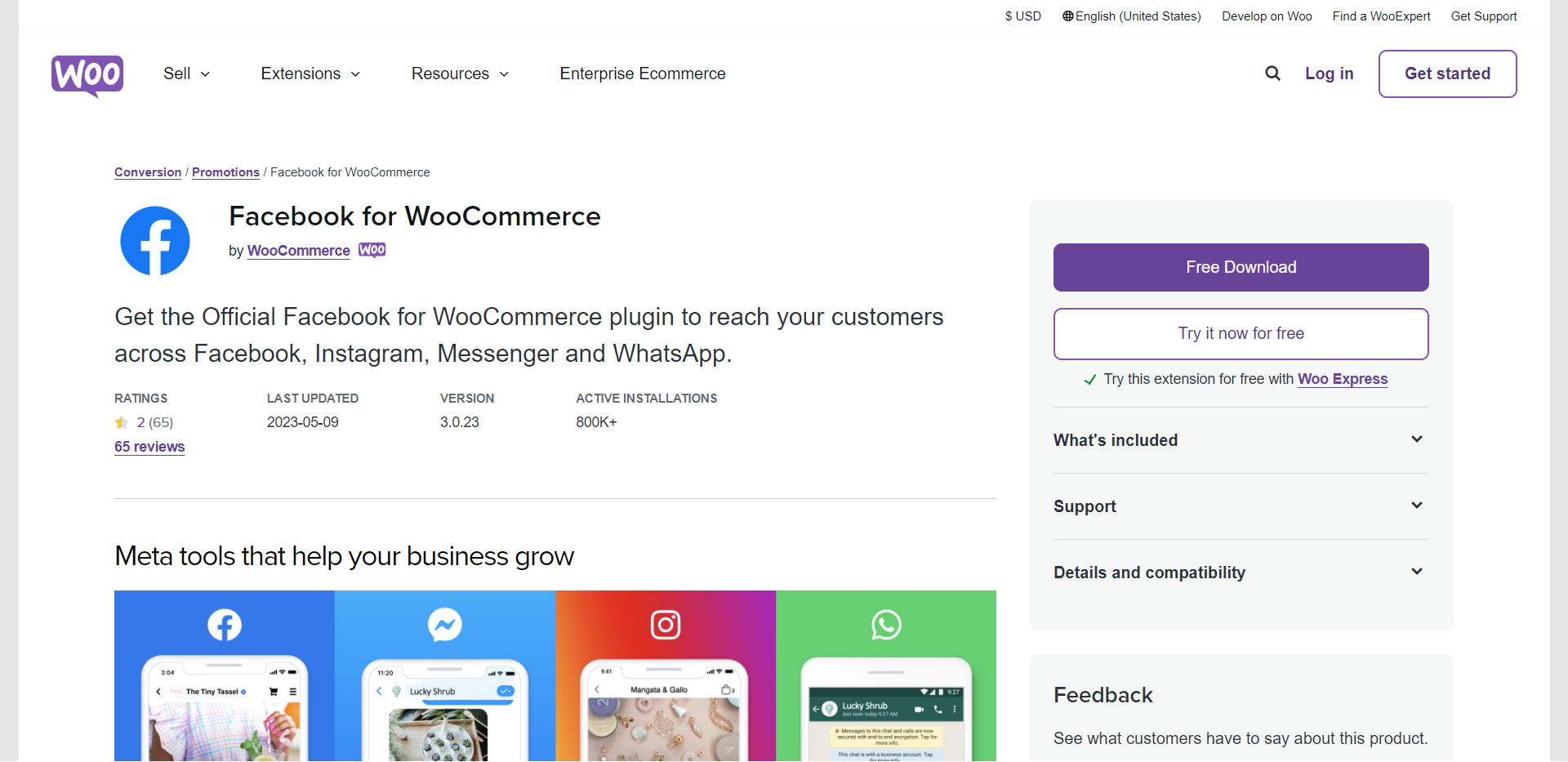 Facebook for WooCommerce is a free plugin that helps you connect your WooCommerce store to Facebook and Instagram. It saves you the hassle of manually updating inventory, product info, orders, and more. Plus, you can make custom product catalogs and create ads right in the app. But there are some limitations with it such as:
User reviews and ratings are not up to mark.

Need to manually adjust prices for different currencies.

No support for cross-sells or up-sells.

Difficult to manage multiple stores from one account.
So what's the best free alternative? The ELEX WooCommerce Product Feed Social for Facebook & Instagram is the solution. This top-of-the-line tool allows you to easily sync products, create catalogs, and more from your WooCommerce store directly with Facebook and Instagram in a few clicks, making it effortless to keep everything up to date across platforms. 
ELEX WooCommerce Product Feed Social for Facebook & Instagram: The Best Alternative

If you're looking for a free alternative to sync your WooCommerce products with Facebook and Instagram, then you should take a look at this plugin from ELEXtensions. It is the perfect solution to help you easily generate product feeds in the right format and get your products displayed in Facebook Marketplace, and Instagram Shopping.
This plugin provides an easy way to generate product catalogs and optimize them for social media integration. Here are some of its key features:
Automatically generates product feeds of WooCommerce store inventory and uploads them to Facebook & Instagram

Offers advanced filters to customize the product feed based on the target audience.

Simple dashboard for managing several feeds.

Several countries and file formats are supported.

Utilize Google product categories to map your product categories.

Product feeds for featured products can be generated.

Use vendors, stock, and sold quantities to filter products.

Specific products can be excluded from the product feed.
The ELEX WooCommerce Product Feed Social for Facebook & Instagram is completely free and easy to use! It will save you time and make sure your products are always synced are ready to sell!
Customizing the ELEXtensions Plugin to Create a Product Catalog
Now that we have gone through the features of the plugin and understood the reasons behind finding an alternative to the Facebook for WooCommerce plugin, let us go through the steps of customizing the ELEX WooCommerce Product Feed Social for Facebook & Instagram plugin.
Once the plugin is installed and activated, you can begin building your product feed. You may access the plugin settings by going to your WordPress Dashboard > ELEX Facebook Shopping Feed.
Settings Tab
You may link your business to the Facebook Marketplace and alter the language used for Google Product Categories on the Settings page.
The Google Product Category Language can be changed from English to any other language based on your company's needs. If you want consumers in that nation to find your items, utilize the Google Product Category Taxonomy in that language.
Your Facebook and Instagram profiles will be linked to your company when you click Connect FB. Upon doing so, your Facebook store and WooCommerce will be successfully integrated.
Start Tab
In the Start tab area, provide the project's name, description, country of sale, variations, categories, refresh schedule, currency conversion, and any other pertinent data.
Enable Sync to Facebook before moving on to the following step to automatically sync your WooCommerce items with the Facebook Catalog. Once the sync feature has been activated, you can choose a library from the Select Catalog drop-down menu and schedule the sync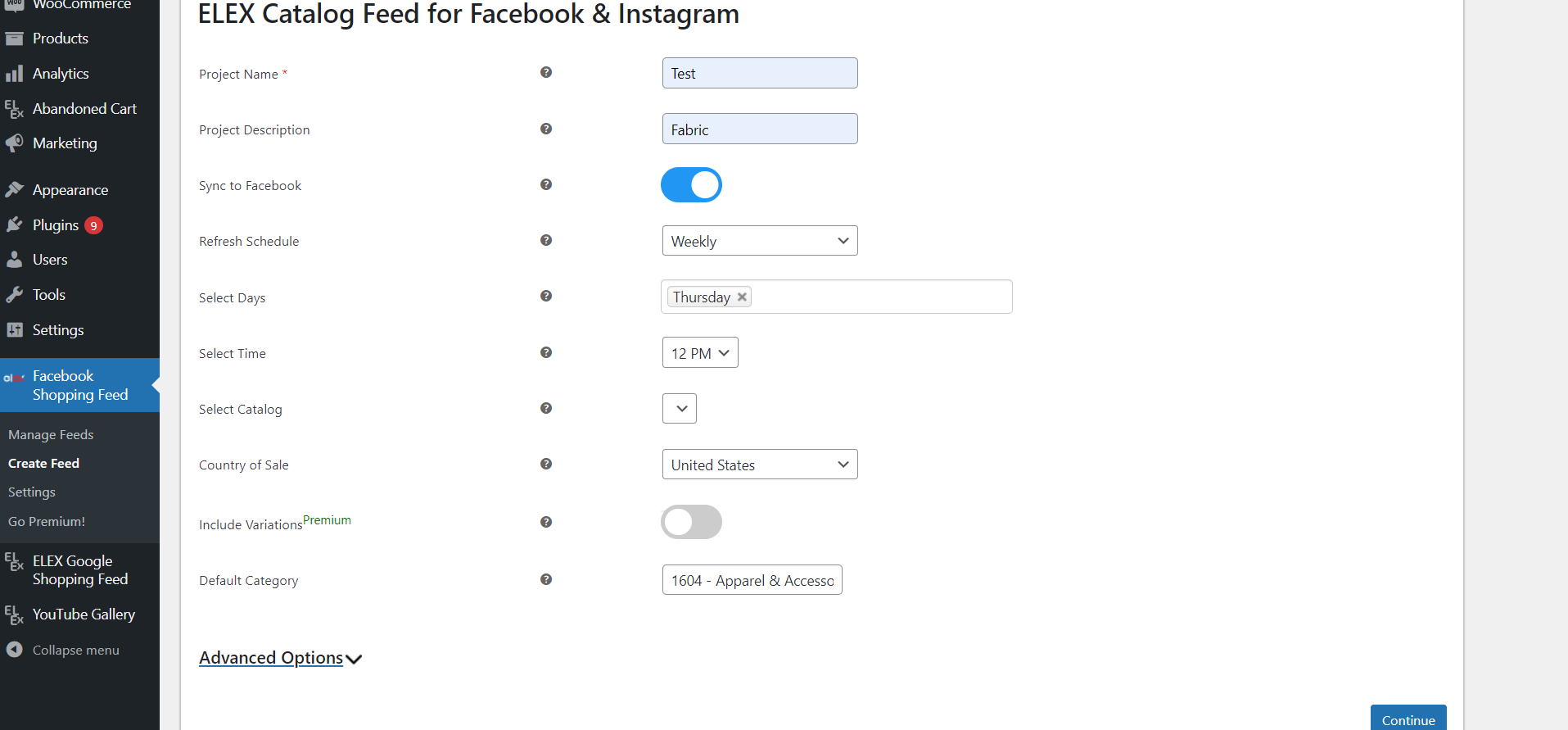 If your products feature variations, keep in mind that the Include Variations option will be helpful. Once you buy the premium version of this plugin, this can be activated.
Move on to the Map Category tab.
Map Category Tab
You may utilize Google's product categories when categorizing your products for sale into various categories. When creating the feed, only the mapped categories will be taken into account. This makes it easier for customers to quickly search for items without having to navigate through several pages.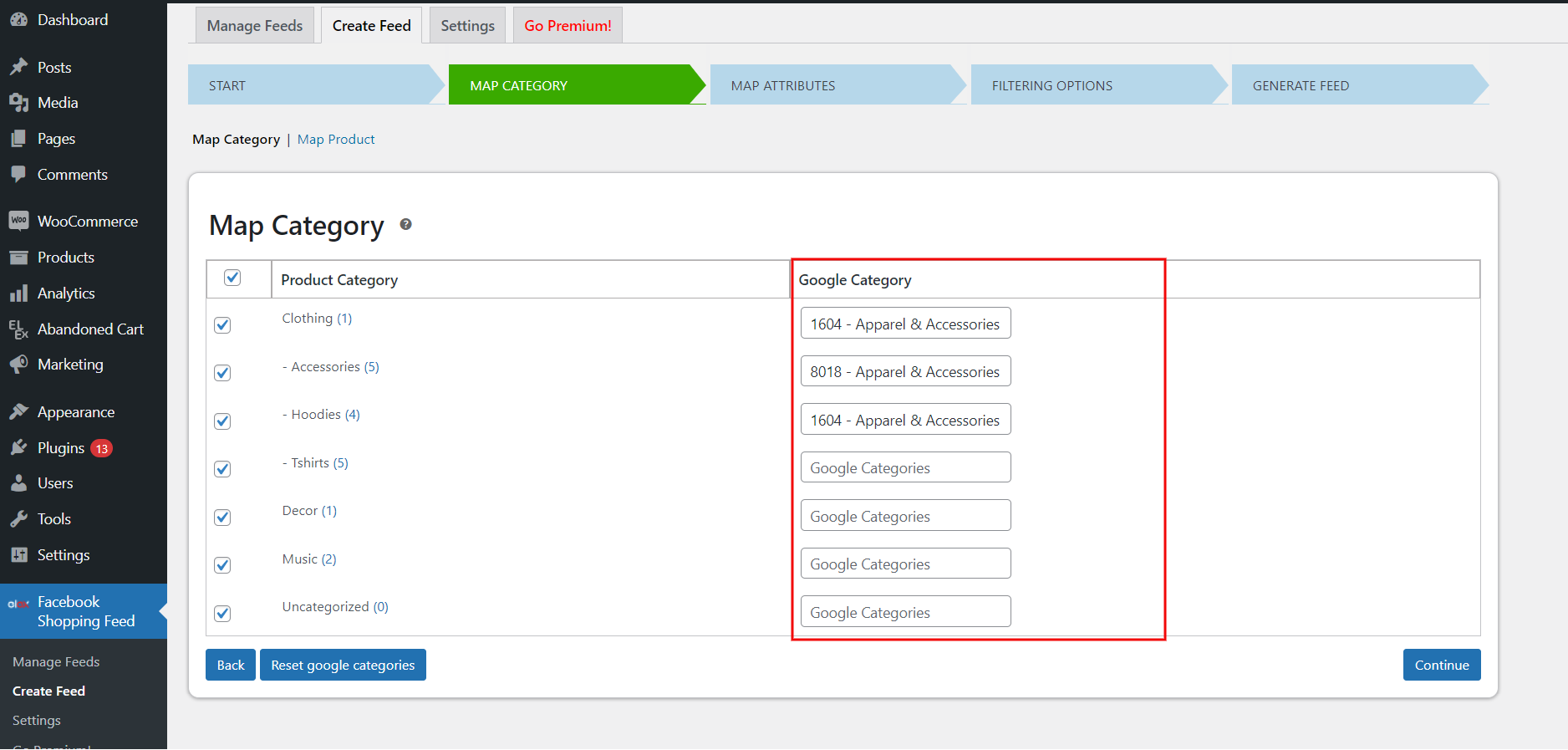 Remember that product categories should be assigned to the proper Google categories. If you give a category that appears similar but is somewhat different from your product, the buyer may come across your product even if they were looking for something else.
If you don't want to map whole product categories, you may map specific products by going to the Map Category tab and selecting the Map Product sub-tab. 
Now, move on to the Mapping Attributes tab.
Map Attributes Tab
The attributes of your product must correlate to Google attributes. By default, the Recommended Attributes tab displays all of the relevant Facebook marketplace attributes. The set of default parameters is directly affected by the sales region you select in the Start Tab.
You may customize how your product data shows on the Facebook Marketplace feed by utilizing the product attribute customization options. The plugin allows you to alter and define rules. The Add Field button may also be used to add values to the attributes.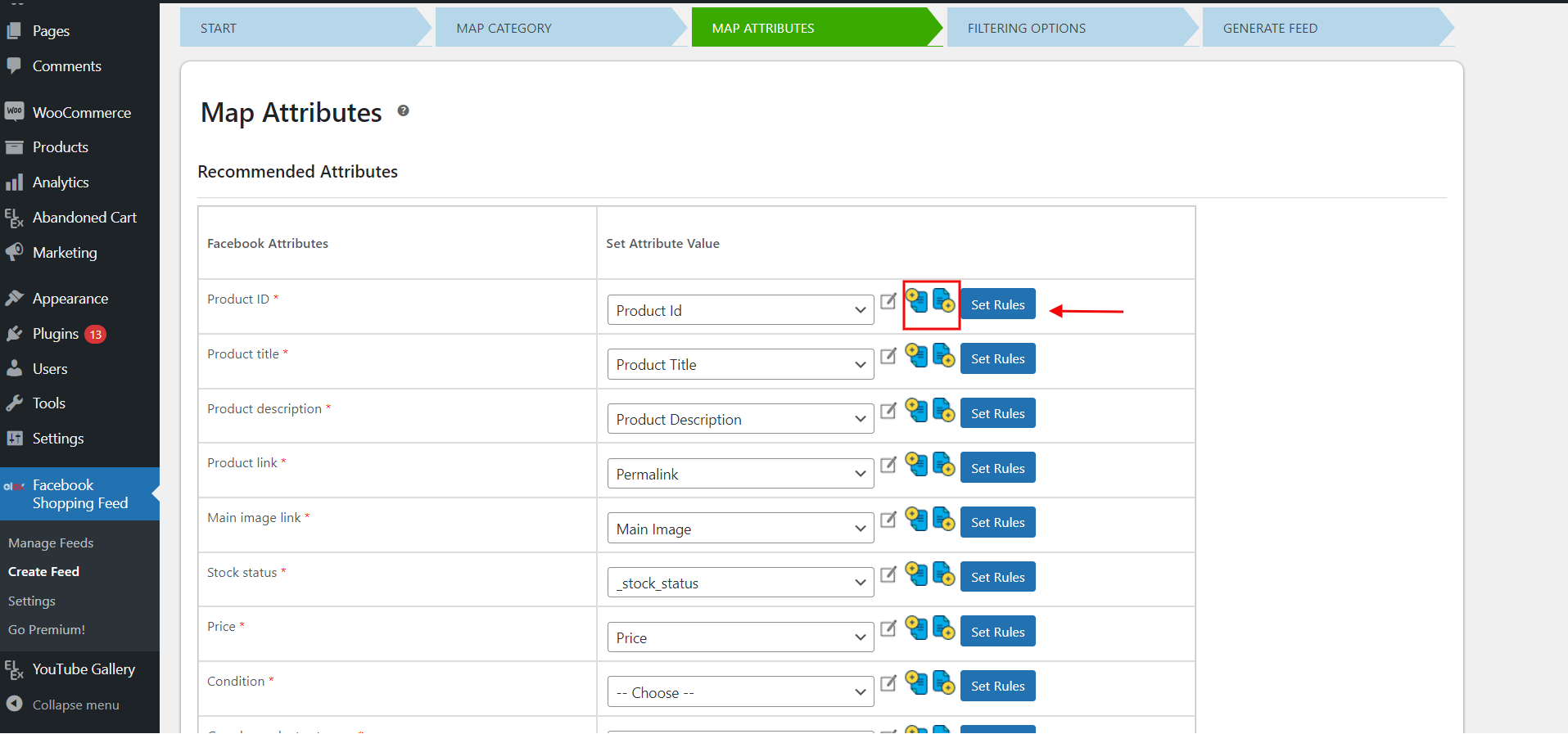 If your products do not already have a predefined attribute that corresponds to a Google attribute, you may use the Enter a Text Value option to generate a unique value. By choosing Set Rules, you may also add other values to the rules.
When you're satisfied with the mapping, move on to the Filtering Options tab.
Filtering Options Tab
Before creating the product feeds with the necessary products, filter the items in this tab depending on their Stock Quantity and Sold Quantity. You may also create your own feeds with featured products in them. Additionally, individual products can be excluded from the feed by entering their names in the relevant text area.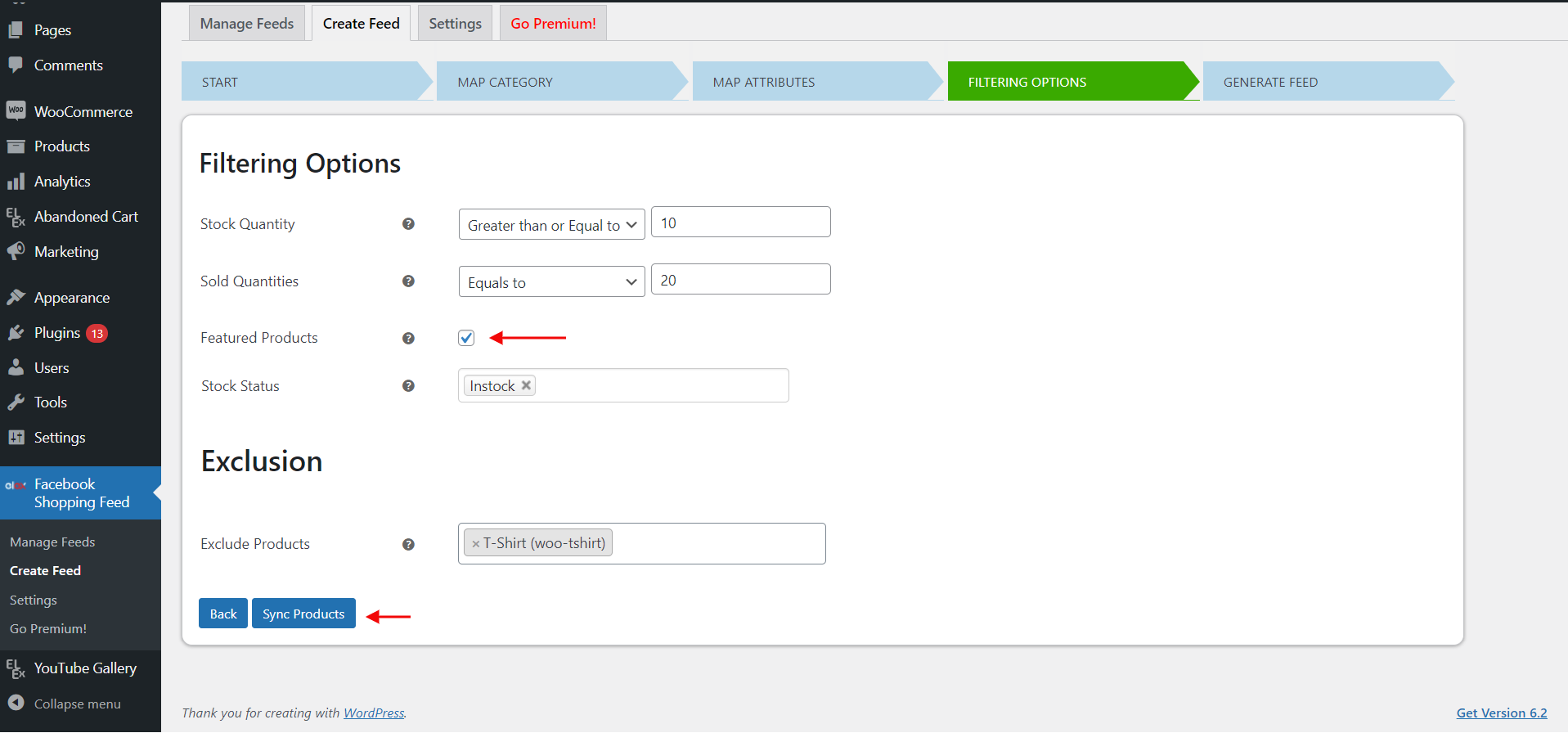 Finally, click the Sync Products button to finish creating your product catalog feed. If the feed generation was successful, you will be sent to the Generate Feed tab.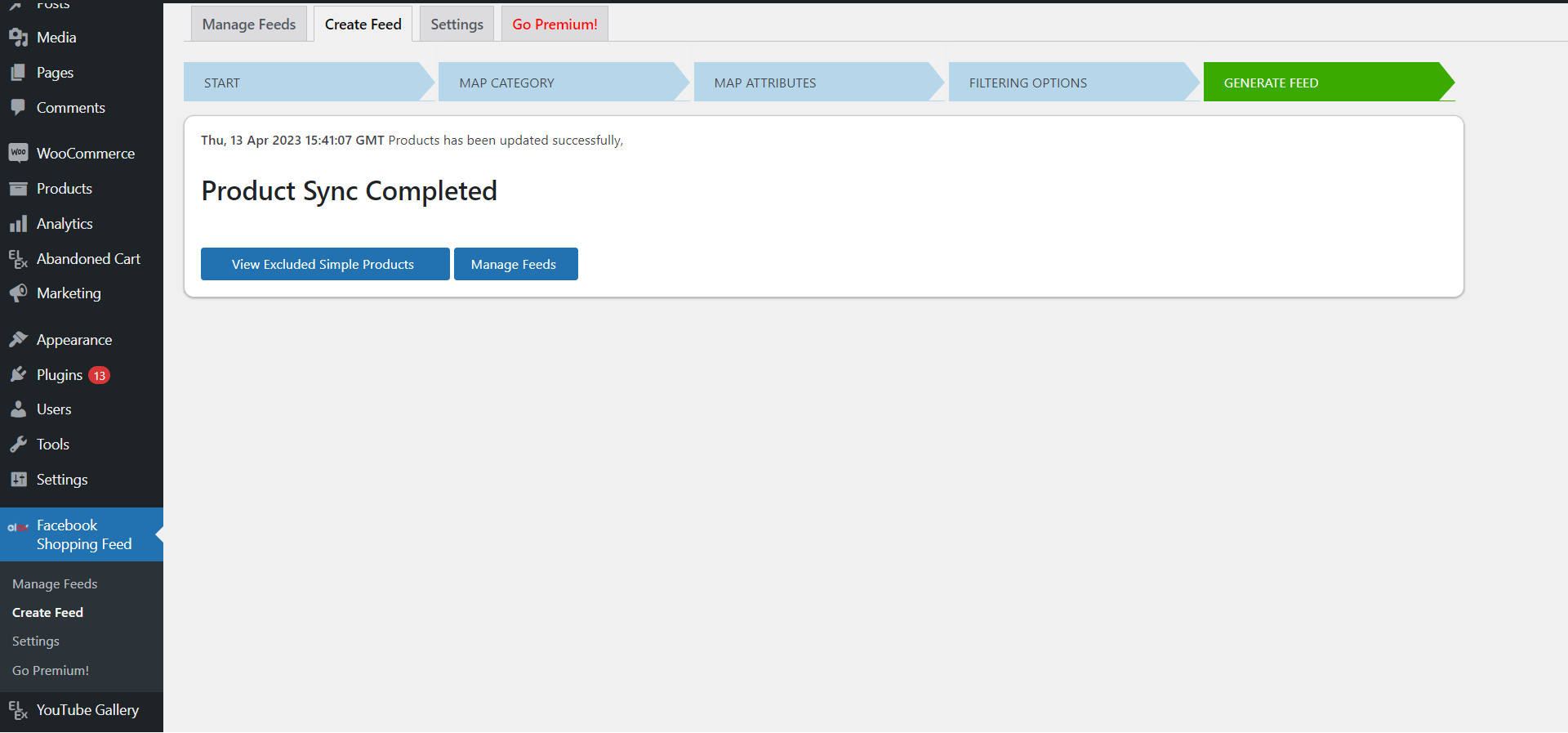 Now that we've created a suitable WooCommerce product feed, let's take a look at the straightforward process of syncing that feed with Facebook and Instagram.
Syncing the Product Catalog with Facebook & Instagram
The Commerce Manager is a platform for managing your catalogs and sales on Facebook and Instagram. You must upload the previously created product feed file containing information on all of your product catalog entries to the Commerce Manager. 
Sign in to your Commerce Manager and click the Get Started button.
Click Create A Catalog to begin the process.
Choose a catalog type. eCommerce is a great option for businesses. 
Upload Product Info, specify a catalog name, and then click the Create button. 
To view the catalog, click View Catalog. 
Under the Catalog tab, click on the Data Source option. This will open the Add Items page.
From the Add Items menu, choose Data Feed.
There are three methods to share product information on Facebook and Instagram. You may choose between uploading from your PC, inputting a URL, and utilizing Google Sheets on the next tab.
When you click Upload after selecting your product feed file, the process is complete.
After uploading the product feed to your Commerce Manager, you must connect your Instagram account to the Commerce Manager. This will immediately sync the same catalog with Instagram.
There you go! It's that easy to create and sync your products with Facebook and Instagram.
Conclusion
In conclusion, whether you're a big business or a small business, you can easily sync your WooCommerce products with Facebook and Instagram. With this ELEXtensions plugin, you can create customized feeds and get detailed insights, so you can track the performance of each product and ad. Plus, the feed updates in real-time, making sure that you always have the latest product info. 
We hope this post has helped you find the best alternative to the Facebook for WooCommerce plugin!
Further Reading