What can we help you with?
How to Offer Cheapest Shipping Rate with ELEX WooCommerce Australia Post Shipping Plugin?
Shipping rates are important factors when it comes to cart abandonment. A higher than normal shipping rates or lesser options leads to a higher percentage of cart abandonment. And even if a customer goes on to checkout with a higher shipping rate, he or she may never be your customer again.
So presenting customers with the lowest shipping rate available for all shipping options can help you reduce the rate of abandonment. There are different ways by which you can show shipping rates to your customers. Some common ways of doing so are:
Using a Shipping Plugin- All important shipping services have their API's for WooCommerce. These API's help in integrating the shipping services to WooCommerce. Most of them provide live shipping rates, packing services,  tracking, and other services. Since the article focuses on the Australian continent, the ELEX WooCommerce Australia Post Shipping plugin is the Australia Post Integration for WooCommerce stores based in Australia. Other global services like DHL, FedEx, UPS, and EasyPost shipping Plugins can be for shipping purposes from the Australian Continent. You can click on the respective links to discover more on each of these shipping plugins.
Using Flat Rate- You can use the core WooCommerce functions for shipping rates and offer flat rates for shipping.
WooCommerce Australia Post Shipping Plugin
ELEX WooCommerce Australis Post Shipping plugin is the mode of integrating Australia Post shipping services to your WooCommerce store. Australia Post has been the most widely used shipping services by Australians in both Domestic and International shipping needs. With the growth of eCommerce businesses in the continent, 33% of these businesses now do international shipping of their products. The numbers are certain to grow in the future.
Setting up the plugin
Follow the string to go to WooCommerce Australia Post Shipping plugin settings.
Dashboard> WooCommerce> Settings> Shipping > Australia Post
First, enable live shipping rates in the General Settings tab to get the real-time shipping rates. Make sure to have the Contracted Account, so that you can get more benefits from Australia Post. Rates are based on the services selected, box dimensions and weight of the product. If you want insurance cover and signature on delivery you can enable them by checking the respective boxes.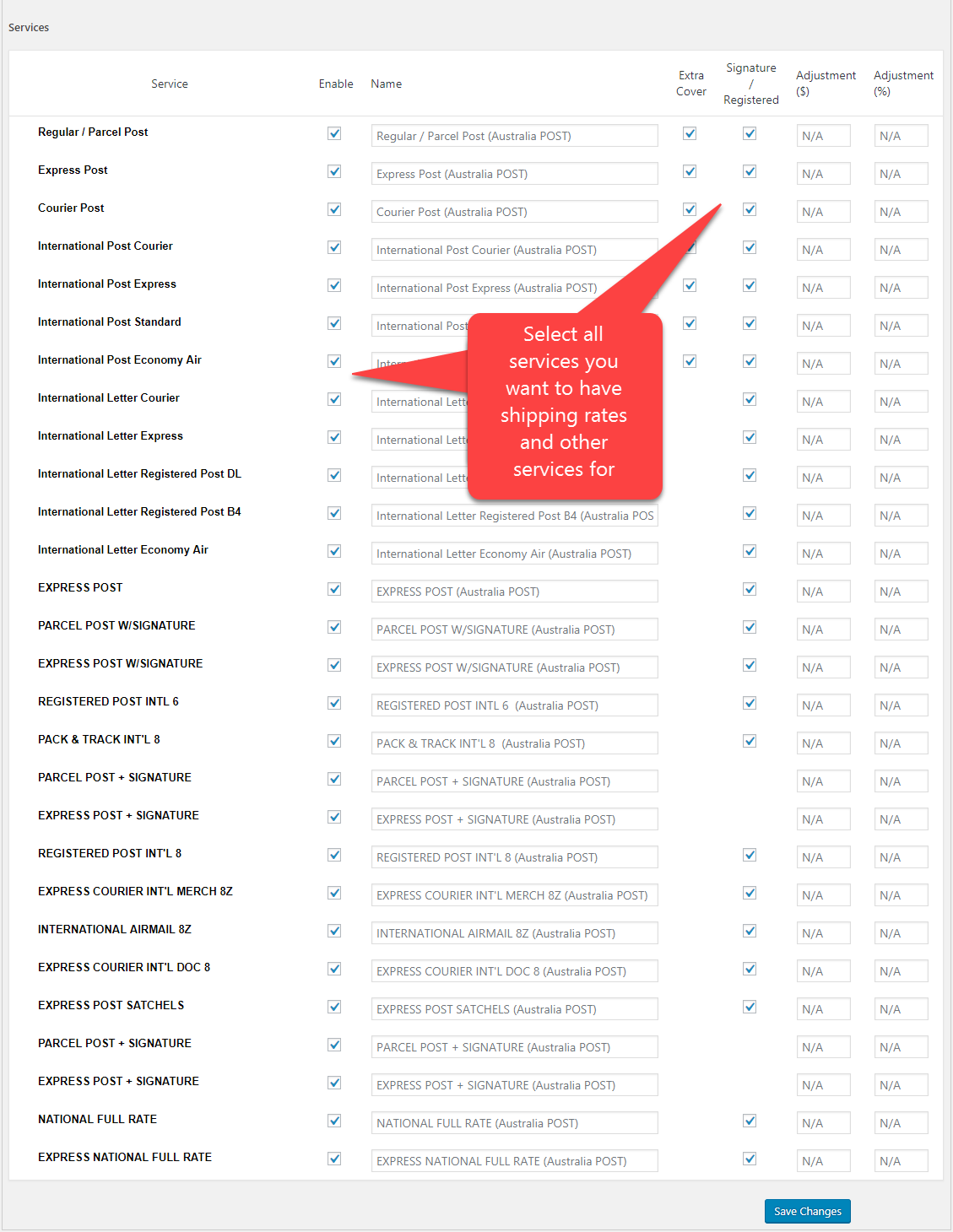 Next up you have to enable the option of Show Cheapest Rate Only. This will consider all the possible shipping rates returned by Australia Post and show the cheapest of them to your customers. Since you can rename all the services, you can name it as the "Least Available Shipping Cost" for customer satisfaction.
Australia Post has a wide variety of alternate services under few services. If you don't want to consider those services, choose 'Disable Alternative Services' to opt-out of those services.

Results at Cart/Checkout Pages
We'll see two scenarios where first we'll see all the possible rates returned by Australia Post and in the other, we'll enable show cheapest rate only. Let's see the outcomes.
Case 1: All rates returned.
Case 2: Showing only the cheapest rate.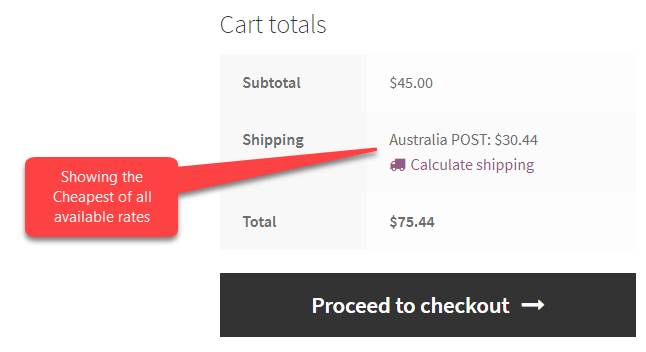 You can notice the default selection of the shipping rate. When there is more than one shipping option, it may cause confusion in the minds of your customers. They may end up choosing a less desirable shipping option.  Also, as you can see, it is really convenient to show the cheapest shipping rate to your customers with the plugin. You just need to select the given option and it is activated. Not only this there are other cool features with WooCommerce Australia Post Shipping Plugin that make your logistics smooth and you can concentrate more on doing business. The plugin lets you choose the customer,s address type, which makes it convenient for the customers to receive their packages. The available customer address types are:
Normal Delivery Address
Australia Post Parcel Locker
Australia Post Parcel Collection location
Winding Up
For any queries related to WooCommerce Australia Post Shipping Plugin and its setup visit the product page and the documentation. In case you need manual support contact our online support or leave comments below.
---
To explore more details about the plugins, go check out ELEX WooCommerce Australia Post Shipping Plugin with Print Label & Tracking.
Read the product setting up the article to understand the plugin, in detail. Or check out the product documentation section for more related articles.
You can also check out other WooCommerce and WordPress plugins in ELEX.