How to Ship Alcohol with ELEX WooCommerce Australia Post Shipping Plugin?
How to Ship Alcohol with ELEX WooCommerce Australia Post Shipping Plugin?
The wine has a huge demand in Australia as well as in the global markets. And WooCommerce helps you reach to your customers online. To ship an alcoholic beverage like wine from within WooCommerce you need to the have the WooCommerce Australia Post Shipping integration. Australia Post legally delivers dangerous goods and alcohol is one of such goods. But there are few guidelines that have to be followed before you can send alcohol via Australia Post.
To summarize the terms and conditions for shipping dangerous goods, Australia Post doesn't ship:
Products that the Commonwealth, a state or territory prohibits.
If the packing is not up to the standards.
If the product is tough to pack, like perishable items and products having sharp edges without a guard.
Poisons, narcotic drugs, live creature.
If there is no appropriate label and deceleration form shined by the shipper.
Australia post permits shipping of alcoholic beverages if:
The alcohol content is 24% or less by volume of the beverage.
If you ship more than 20 cartoons of such eligible beverages. It has been providing the dangerous goods shipping services for both Businesses to Business and Business to Customers.
you have eParcel Business Account.
Services Provided by Australia Post
With Australia Post handling of packages becomes less of a problem for the shipper. This is because Australia Post has a dedicated team that handles the packing process along with you. With them, you get special container or boxes which are specially designed for the purpose of shipping such items the with the safety of the product. This means that your package and the product remains safe in the boxes reducing any unwanted loss.
With the Australia Post eParcel account you can track your package and ensure that the product reaches to the right business or customer. Australia Post has a specialized Wine Delivery Service(for eParcel) and offers services which require a signature from the receiver, and the plugin has that option too. Signature on Delivery is available with eParcel with few services and can be enabled with payment of extra charges.
It also has a full proof logistics service which can be customizes based on your requirements. The services include pickup of the package and return label for the cartoon. Finally, Australia Post has a responsive customer service for this section and they are known for their support.
Special Services with Australia Post
Australia Post offers replacement of stock that gets damaged during the shipping. You've got to notify them of the damage. Usually, the bottle is replaced and either sent to the receiver or sent back to the customer. This helps in reducing any financial loss or your time. And to add peace of mind you can turn on insurance or cover for the package and save up to 50%. This is a sort of cover for the product and you can obtain this by paying extra charges. These charges are mostly fixed per package.
Regulations By Australia Post
Guidelines for the Receiver's Address
The shipping address must adhere to the guidelines of Australia Post Shipping Plugin. The screenshot mentions the requirement for a shipping address.
Guidelines for Packing
The container has to be leak-proof. It can be made up of glass, metal or plastic.
The container should be placed in an equally durable box of metal, wood, plastic or cardboard. It should be padded with a substance that can absorb the liquid in case the container breaks.
The box should have a lid and should not loosen easily.
International Delivery Services
It must be excepted by the destination country.
Available for packages less than 20kg in weight.
Few forms
You can save yourself from a lot of conveniences if you have a written contract for parcel delivery services with Australia Post. Below is the complete list of countries where imports of alcohol are not restricted and Australia Post delivers alcohol.
Setting up WooCommerce Australia Post
The labels printed by the WooCommerce satisfies all standardizations by Australia Post. So once you set the plugin properly, all compliance from your side is almost complete. But before you proceed and start shipping alcoholic beverages, ensure you register for an Australia Post eParcel Account.
The plugin settings mention it as 'Contracted Account'. To start with, navigate to WooCommerce -> Settings -> Shipping -> Australia Post -> General to enable the Contracted Account. Then you'll need to enter the API password and your eParcel account number. These two credentials are to be obtained from Australia Post.
The contracted account has a list of special services available to eParcel Account holders. When you enable the contracted rate, all additional services are nulled. These additional services are those which are available for private accounts and don't require online printing of labels.
After you enable the contracted rate, which enables Shipping Label (Contracted), you can print an eParcel label. But you have to enable Shipping Label (Contracted) to print eParcel Labels. Printing of labels is not available without a contracted account. So you can consider that an eParcel account is necessary for shipping alcohol to your domestic and international customers.
Besides this, you need to do a product level setting which is specific to Australia Post. This is where you enter the Tariff Code of the product. This also allows setting the country of origin of the product. And the most important of them all, you can input customized text or instructions that will appear on the order summary or the commercial invoice that you can print from the order page.
All of the above settings are enough to print shipping labels and an order summary. As a reminder, the label and the commercial invoices that you print using the WooCommerce Australia Post Shipping API is in compliance with the regulations by Australia Post.
Creating Shipment & Printing of Label
Shipment is created from the orders section after an order is placed. The orders page has an option as shown below, where you click on 'create shipment' button. Before creating the shipment, there are three things that you can specify here:
Choose the type of service that you want to use to ship the parcel. Two of the services mentioned here has delivery+signature available which ensures accurate delivery. This proves to be handy in case of shipping alcohol as in some countries is mandatory to confirm age before delivering alcohol.
Make changes to the size of the box to be used for packing.
Choose to show Australia Post Logo on the eParcel Label.
So you can go for generating the label if you chose the correct shipping service from the drop-down. The creation of shipment leads to the generation of the shipment number and the order number. These appear after the successful creation of shipment. Now you are ready to print a label and a commercial invoice for your shipment that contains alcohol.
Labels and Commercial Invoice
As you can see in the above screenshot that Printing of Label and an Order summary is one click away. The click of the buttons generate the label and the commercial invoices as shown below. As you can see the Australia Post logo on the label, it is added after you select add Australia Post Logo in Shipment Label. The logo contains a declaration from the sender's side, confirming that he/she is sending dangerous goods and false declaration will lead to legal actions. Below that, you have space to write customized instructions. To add customized text information in the label you have to navigate to Australia Post -> Label and Tracking settings to find 'Shipment Content'. You can write about the content of the parcel and few necessary disclosures too.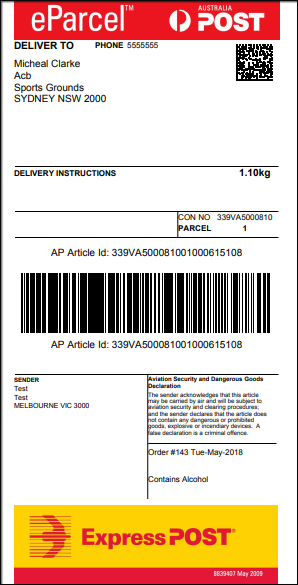 Commercial Invoices
The person signing this is responsible for claiming any fact mentioned. So it is his/her duty to ensure documentation, packing, and other guidelines are followed.
Winding Up
As you could find that shipping wine/alcohol has to go through a lot of checks that relates to the safety of others more than just economic gains. It is also prohibited from imports in a lot of markets like India and the USA, but there are countries which welcome its imports. So ship alcohol you need a follow official guidelines, the Australia Post guidelines and then the safety and security guidelines of packing the shipments.
ELEX WooCommerce Australia Post Shipping Plugin ensures the competence of the guidelines required for the label and the commercial invoice from within WooCommerce. It saves you from a lot of hardships related to manual printing of labels or offline labels. If you are looking for more information on Australia Post, get a comprehensive Beginner's guide that explains each aspect of the service and how the plugin helps to use the services effectively. You can also contact our Online Support for you pre-sales inquiries. Happy selling!
---
To explore more details about the plugins, go check out ELEX WooCommerce Australia Post Shipping Plugin with Print Label & Tracking.
Read the product setting up article to understand the plugin, in detail. Or check out the product documentation section for more related articles.
You can also check out other WooCommerce and WordPress plugins in ELEX.