This article will explain how you can integrate the WordPress Live chat plugin WSChat – ELEX WordPress Live Chat Plugin with Dialogflow to generate AI and NLP based automated responses to the customers' queries. Check it out to integrate WordPress Live Chat with AI chatbot powered by Google Assistant. 
WSChat offers several advanced features to send attachments, record and send video, an option to mail the entire chat history to an emailID, and an option to give customer feedback to you through a like and dislike button. You can easily convert a chat to ticket as well using this plugin. 
Google's Dialogflow is a tool to generate automated chat responses by incorporating Artificial Intelligence and Natural Language Processing. It will help to trigger automated responses as text, images, audio and video according to the response from the customers. 
Install and Activate WSChat Plugin
Go to WSChat -> Settings -> Chatbot AI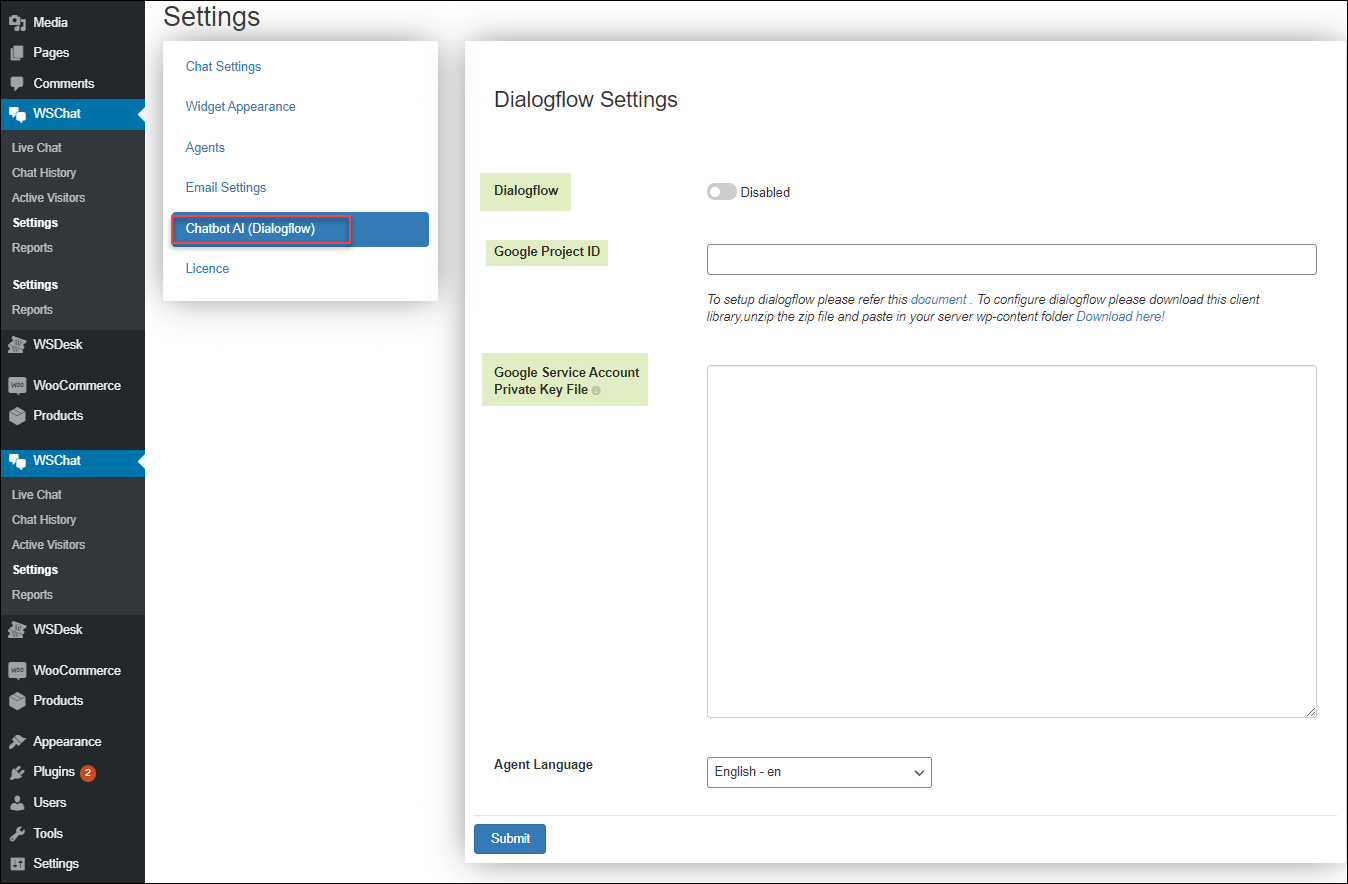 Dialogflow:

You have to enable it to get linked with your Dialogflow account.

Google Project ID:

After setting up your Dialogflow account, you will get this ID and can enter here.

Google Service Account Private Key File:

After the Dialogflow set up, you can download a JSON file from Google Cloud Platform and you can paste here.

Agent Language:

Choose a language according to your convenience.
Next step is to set up your Dialogflow account.
Set Up Your Dialogflow Account
Go to https://dialogflow.com/ -> Click Sign up for free.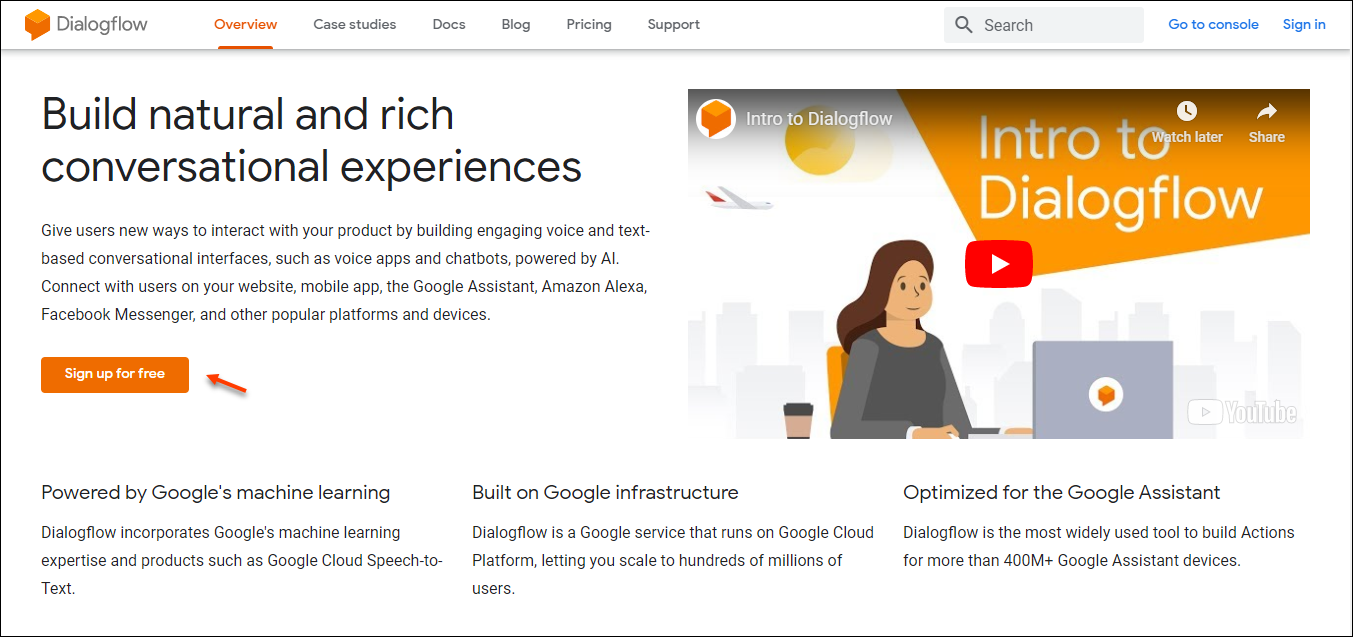 Create your Dialogflow account using your Gmail ID. 
Create Agents
Enter the agent name, default language, and default time zone, and click on 'Create'.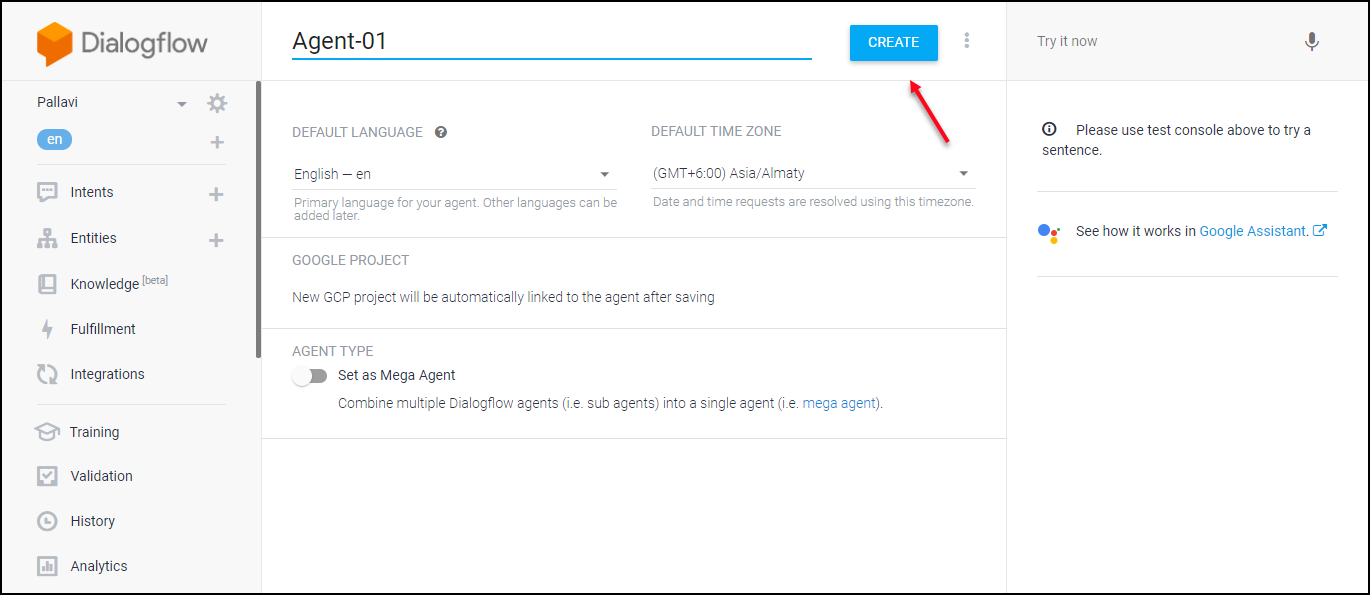 Create Intents
Then you can create the 'Intents'. You can find it on the left side of the tab.
Intents helps to set up the automated responses based on the customer responses. Here you can add training phrases to be compared with the customer responses to trigger automated responses.
For a detailed guide to set up the intents go through the article Detailed Guide on Setting up Dialogflow – Artificial Intelligence Based, NLP Optimized for the Google Assistant and Chatbot Development.
You can create training phrases by assuming all possible queries and responses from the customers and add them here.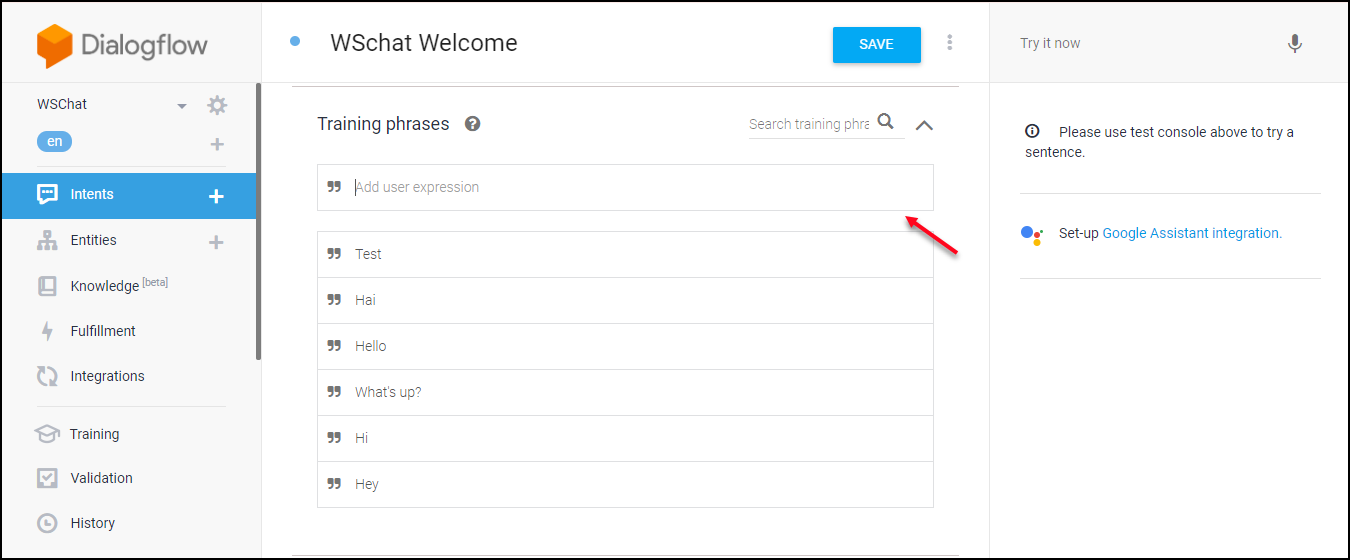 When you get a query with these training phrases, you have to trigger replies for them by adding the responses in the 'Responses' section.

You can add text responses as well as custom payloads for sending images, audio and video.
Example: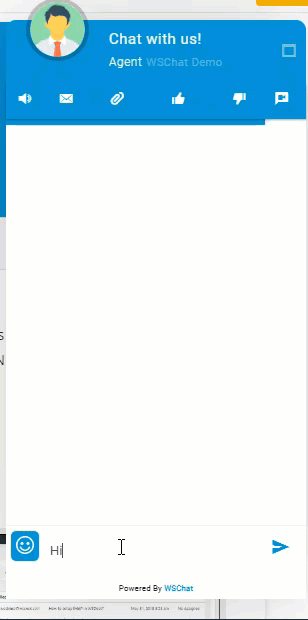 For taking parameter values from customers and include it in the reply can also be done with Dialogflow by prompting. Check how it will work,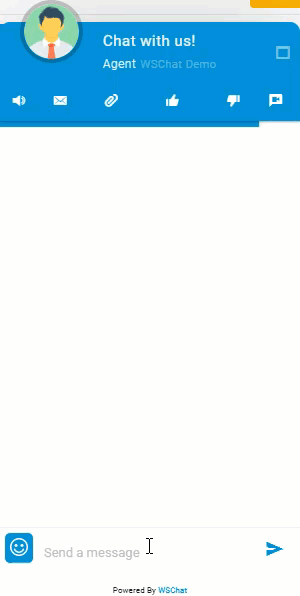 If you need to give advanced visual impact, button actions and more advanced actions, you can choose Facebook Messenger, Google Assistant, Slack etc frameworks to generate responses in more advanced ways.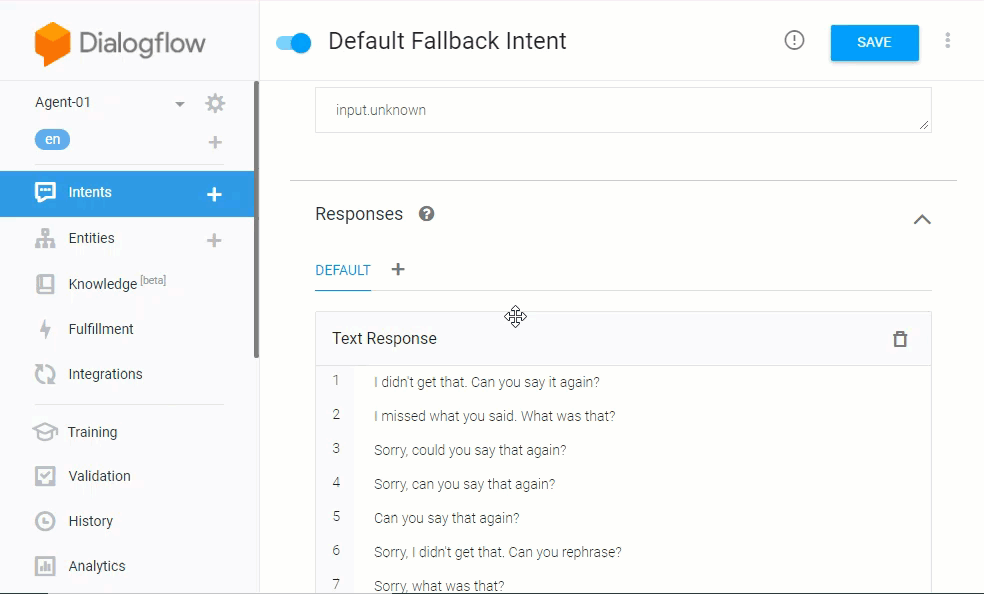 Example for Facebook messenger based responses:
Store Your Images, Videos and Audios in Firebase
For configuring to send images, audio and video as responses, you have to upload and store it in the Firebase platform. And you can take the link and add it to the responses. 

Integration with WSChat
 Go to Dialogflow -> Settings
There you can find the project ID and service account.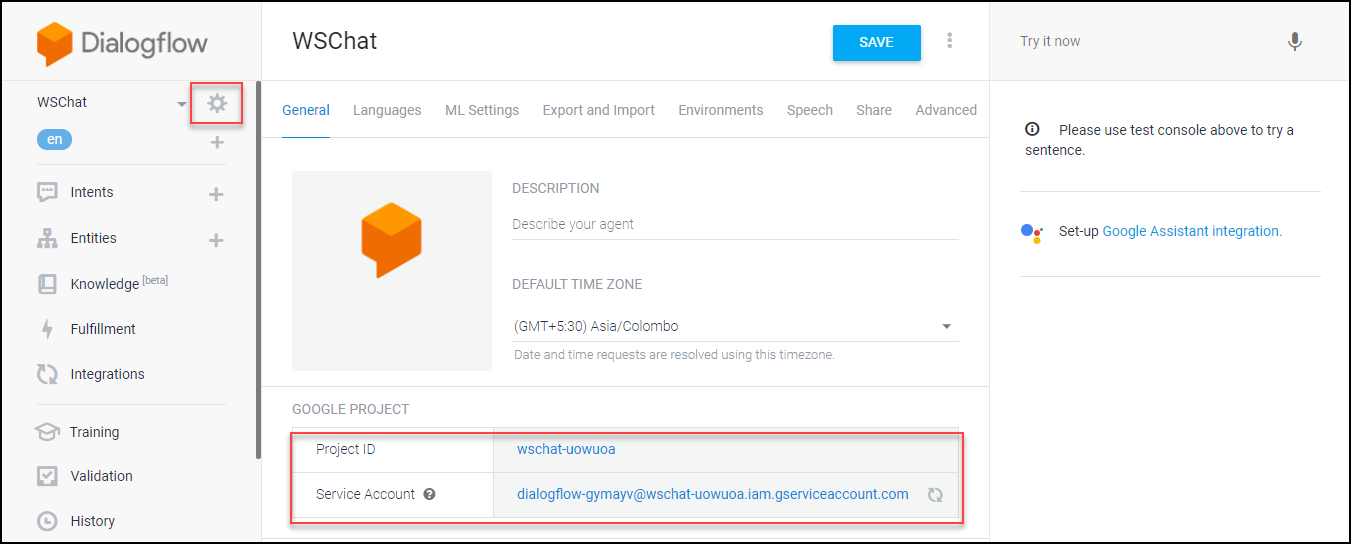 You can copy the project ID and click on the link of 'Service Account'. It will be redirected to Google Cloud Platform. Click on the 'Actions' corresponding to the email Id. Then click on Create Key.
Choose JSON format and click on Create.
A file will be downloaded. 
Example of a JSON file:
Then get back to WSChat and add the fields to it by activating Dialogflow.
Enter the project ID and paste the JSON file format Google service account private key file in the respected fields. Choose an agent language if required.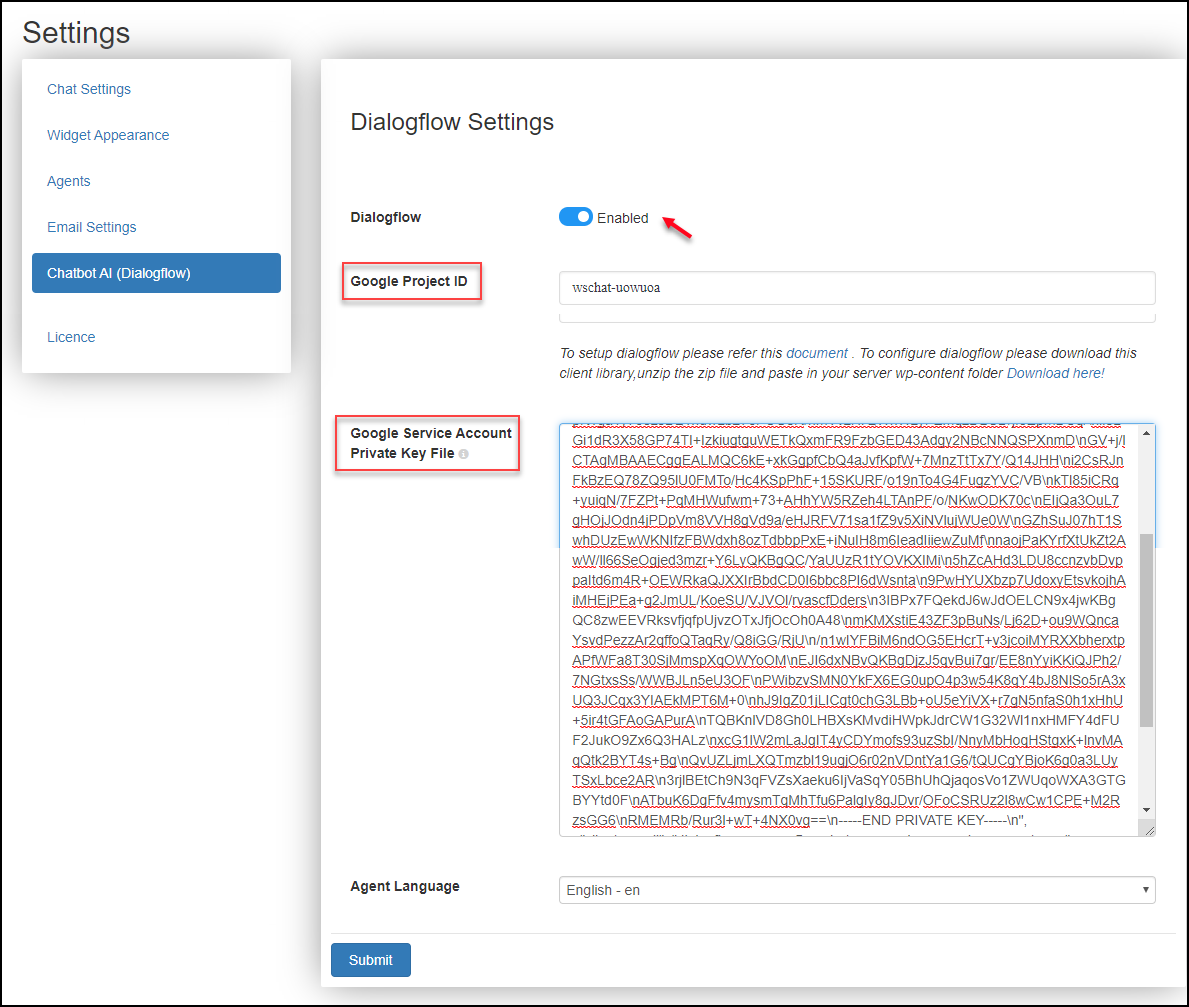 Click on submit.
For the complete guide to set up WSChat, go through How to set up WSChat – ELEX WordPress Live Chat Plugin?.