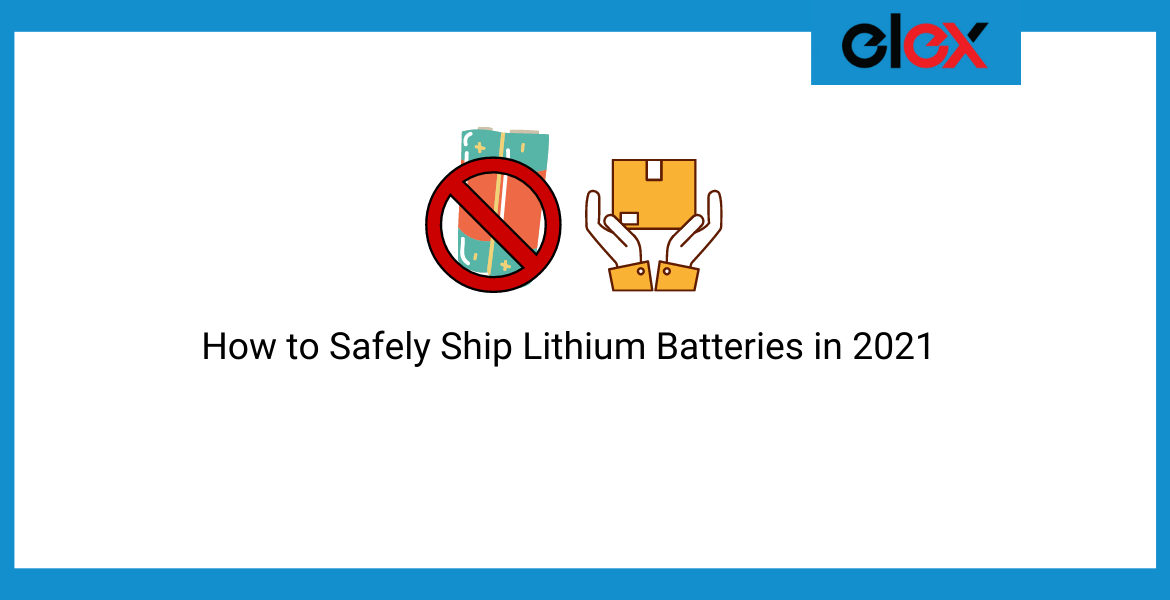 With many battery-operated products being shipped, it is essential to know how to safely ship lithium batteries. With many products that are powered by batteries, which are shipped around the world it is ideal to know how to ship these lithium batteries. These batteries, when not properly packed and shipped, are likely to be a risk factor. Here in this article, we take a look at how you can ship lithium batteries without severe risks.
Which Products have Lithium batteries?
You may not realize it though that most of the products you use every day have batteries that contain lithium. And since most of the shopping is done online now, these products containing lithium batteries are also shipped more frequently. So it is important to know how to ship these items containing lithium batteries. Some products that use these lithium batteries are laptops, medical devices, iPhones, iPads, drones, measuring instruments, power tools etc.
The lithium batteries are classified as dangerous goods because they are:
highly flammable, and can cause fires when wrongly packed.

highly sensitive to environmental facts.

there are greater chances of short-circuiting.
Due to all these reasons, an eCommerce store needs to ensure that the shipper does pack, label and store these lithium batteries efficiently, so they do not pose any risk to anyone.
Can you mail lithium batteries?
The shortest answer will be yes. But again mailing lithium batteries doesn't mean you just put them in an envelope and then mail it. There are several things to be done before mailing them. It is always better to go for reputable shipping carriers like FedEx, UPS, USPS, etc, who have their own specific packaging rules while shipping these lithium batteries safely.
Ideally, these popular shipping couriers are experts in handling these types of shipping. They have laid rules regarding how to pack the lithium batteries so they are not exposed and cause any damage due to environmental factors. Also, they know all about the rules and regulations that need to be followed while shipping lithium batteries by air/land or water.
What are the Requirements to Mail These Devices?
When you are planning to ship lithium batteries, then you must follow certain guidelines. Some of them are:
Lithium batteries that weigh more than 35kgs must be approved by the national authority before shipment.

Defective or damaged lithium batteries should not be shipped.

Waste lithium batteries, which are meant for recycling, shouldn't be shipped by air unless they've been approved by the national authority and airline service.

Batteries must be packaged to prevent any short-circuiting while in transit.

Any package displaying a lithium battery shipping label should be marked as dangerous goods and have the necessary documentation along with it to avoid any issues.

It would be ideal to use specialized packaging to ensure safety.
How to Mail Lithium Batteries?
Let us take a look at the various lithium batteries available and how to mail them.
Lithium Metal Batteries: These batteries use lithium as the anode, and have a long life. It produces almost 1.5V-3.7V. These are not accepted by most of the couriers like DHL, which does not permit shipping the lithium metal batteries via their time-definite services.
Lithium Ion Batteries: Mainly these are the rechargeable batteries, hence they are always used in portable consumer electronic devices. These batteries can't be checked in with your luggage in the flight. Since these batteries are prevalent, most couriers accept these batteries when packaged properly. DHL does accept this kind of lithium ion batteries for mailing.
The Importance of Non-Compliance
It is important to know that these courier services do not just randomly apply certain restrictions in terms of shipping these lithium batteries. They are laid to ensure proper safety and avoid risks while shipping the same. IATA has laid specific rules and restriction when it comes to shipping the lithium batteries anywhere. These are dangerous when not handled properly. If you are not complying with these guidelines, then your package will be rejected by the corresponding courier you choose to ship the same. Again, if you are not declaring the package with appropriate labels regarding the contents, and get caught in the middle, you need to suffer the consequences that come with it. You can be even blacklisted and charged a fine of a huge amount. If not appropriately packed and shipped with shipping labels marking the items as dangerous, goods can result in severe problems like an explosion, fire etc. Hence it is quite essential to know how to properly label and ship lithium batteries.
10 Tips for Safely Sending Batteries By Mail
First and foremost, you need to ensure that your shipment is inline with the battery shipping regulations. Here are some popularly used tips to ship lithium batteries safely by mail.
Ensure that the batteries and the terminals are protected to avoid any kind of short-circuiting.

Make sure you cover the terminals with insulating and non-conductive materials.

Do not keep heavy items on the packaged batteries.

Always pack each battery in a fully enclosed interior packaging to protect the terminals.

Make sure you keep the batteries away from the metal objects to avoid any short-circuiting.

Never turn on the products that have batteries in them while shipping.

To ensure no accidental activation of the product which has batteries installed, seal the switches safely as well as pad the device correctly.

Never store the batteries in extreme heat.

Make sure that the batteries are not defective and placed incorrectly in the device.

Always label the shipment specially mentioning that it contains lithium batteries.
Shipping Batteries Installed in Consumer Products
If you are managing an eCommerce business, then you ought to know a lot more while shipping such consumer products with lithium batteries. They are way more complicated than shipping normally. You need to comply with several regulations both from government agencies, world organizations, as well as couriers; such as:
Having the national authority or courier approval for the shipment of your product.

Ensuring the shipment is labelled properly (it might need a "Dangerous Goods" label affixed).

Packing the shipment according to explicit guidelines

(this requires specific boxes or insulating material).

Someone with a current HazMat certification should pack the items.
Even certain couriers do ask for more certificates and documents before accepting the shipment. Here is some of the paperwork you need to work with before shipping your consumers products with lithium batteries.
Dangerous Good Contract: Some carriers like UPS, ask for dangerous goods contracts to be signed to declare that the shipment contains lithium batteries. It again varies from case-to-case, so you can ask beforehand if it is required or not.
UN38.3 Certificate: This is to ensure that your batteries shipped are tested according to the UN guidelines and are safe to ship the same.
Material Safety Data Sheet (MSDS): This document is essential when you are shipping potentially dangerous items. Most airlines and shipping couriers ask for this specific certificate before accepting your shipment.
All these approvals are time consuming, but to successfully ship the items with lithium batteries, you need to be patient enough to get it done. Some documents are valid throughout a year only and might expire gradually. It is important to be up-to-date in such certificates to ensure that your consumers are not having trouble receiving these items without much delay.
How to Ship Dangerous Goods such as Lithium batteries for Consumer Products from your WooCommerce store?
When you are selling consumer products for which lithium batteries are to be shipped along, then ensure that you mark the product contains dangerous goods as well as the UN number along with the same in the individual product settings on your store.
DHL does allow you to ship certain kinds of lithium batteries via their special services. In the case of courier services like DHL, you can also choose special services option from the plugin settings. For example, when you are using the ELEX WooCommerce DHL Plugin, for shipping from your WooCommerce store, you can choose the specific special services from the plugin.
Even using the plugin, you can ensure that you label the package correctly and affix the package in a way complying with the rules and regulation.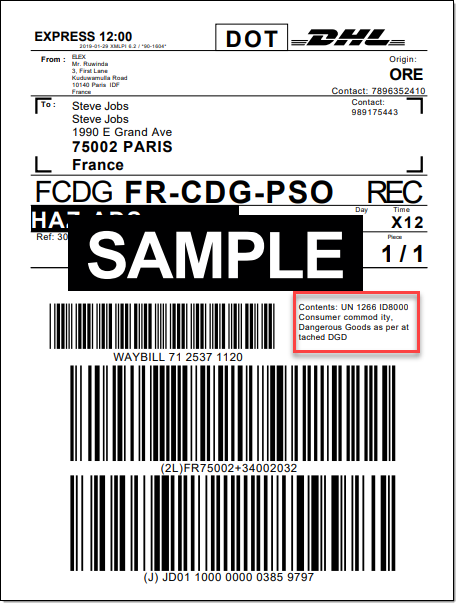 Read more: How to Ship Dangerous Goods/Hazardous Materials like Perfumes using DHL on your WooCommerce Store
Ship your lithium battery operated items safely
Shipping becomes hassle-free when you are following the rules and regulations issued by the government and the courier agencies. Following the above-said guidelines, you can smoothly ship your consumer goods with lithium batteries successfully. Adhering to the shipping regulations of each country is important for shipping these lithium battery operated items safely.
Further Reading: