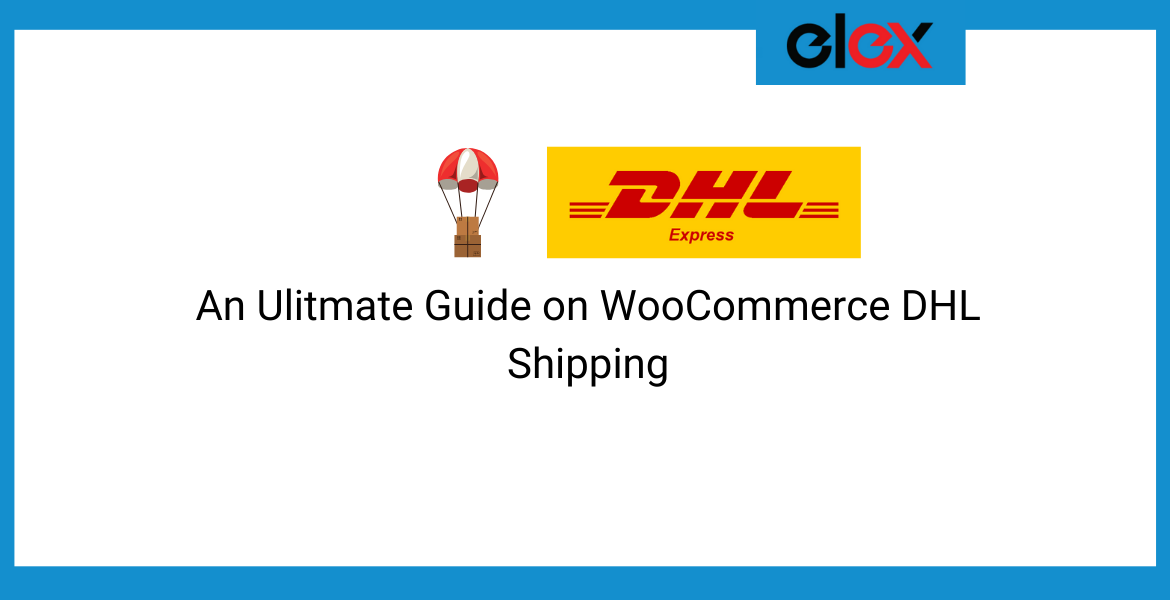 An Ultimate Guide on WooCommerce DHL Shipping
Introduction
Want to ship your packages hassle-free to anywhere in the world? DHL is one of the pioneering shipping carriers across the globe. Their impressive delivery services and cost-effective shipping methods make them one of the primarily chosen ones in the market. In eCommerce platforms like WooCommerce, DHL is just a quick solution to hassle-free shipping and yes, it is easy to incorporate with WooCommerce. Let us now find out more about DHL Shipping and how you can make use of WooCommerce DHL Shipping to streamline all your Shipping related activities on a WooCommerce store in the upcoming portions.
Before we begin, let us take a look back on DHL :
DHL- History
Founded in 1969.
Founders: Adrian Dalsey, Larry Hillblom, & Robert Lynn
Headquartered: Bonn, Germany.
DHL ( Dalsey, Hillblom, and Lynn ) International is a parcel and courier based international express mail service. It is a division of Deutsche Post DHL, which is one of the largest logistics companies in the World. It offers services across 220 countries via sea and airmail.
Be it parcel deliveries or express deliveries, freight transportation or any mail deliveries, DHL is a perfect choice. DHL has several business units like DHL Express, DHL eCommerce, DHL Parcel, DHL Freight, DHL Global Forwarding, and DHL Supply chain, which all-together forms the leading logistics company.
DHL Express
When you ship with DHL Express, you are actually shipping with the most efficient international and domestic shipping experts who can guarantee immaculate and prompt delivery to any location worldwide. The shipping and tracking solutions offered by DHL is also quite accurate and impressive, which keeps them one of the prime choices for any business to deliver promptly.
Why DHL Express is the best shipping service provider?
Here are some major advantages that prove DHL is the best in shipping providers
Network expanse over 220 countries and regions with a strong workforce to support.
Quick to handle express demand with more than 250 aircraft and also a fleet of 40,000 plus vehicles.
Company has good leadership to manage efficiently with an innovation ready team to strengthen the processes.
A good reach with efficient door-to-door delivery.
Stable transit time for all shipments.
Trustworthy Shipping gateways to prepare packages.
IT integration is stronger and effective. DHL provides dedicated support for IT.
Professionally trained delivery persons, build an image for the company.
Impeccable customer service with 24-hour branches.
Clear notifications on delivery attempts.
Insurance provided for parcels.
For eCommerce an optimal weight and dimension are used, to provide economical rates.
Packaging options for DHL
At DHL, it is always important to pack your items rightly to get them shipped. In order to ship the packages across locations, it is important to pack it right. Hence packing it in the appropriate manner is important. Again the rules for packaging is much more stringent in the case of international shipping.
Here are some major tips, which are shared in the DHL Shipping Guide for reference while packing your items to ship. Let us take a look at them in a crisp format :
Quick Tips for DHL Shipping Guide
Step 1:
Firstly assess your packages, like the weight and the fragility of the contents to ship. Value of the contents and the prescribed packaging instructions.
Step 2 :
Packing the item is the next step. It is ideal to use double-walled boxes and ensure there is a distance of 6cm between the content and the box walls. Also, space needs filling too.
Step 3 :
Sealing the package is important to make spill-proof. Usually, pressure-sensitive tapes are used to wrap it up. It is recommended to use the H-tapping method to seal all the edges to hold the parcel safe.
Step 4 :
Labeling your packages is equally important. Also, ensure that the label is placed on the top of the package on a single surface for visibility.
Let us now understand each step in detail :
Assessing your DHL Packaging Needs
In order to prevent any kind of damage occurring to your packages, it is important to consider the basic needs and safety measures to pack the items. Here are some basic important points to consider before packaging is done :
Weight – Recognize the strength and sturdiness of the packaging box.
An appropriate box needs to be selected to ship the items securely.
Size and Shape – Ensure that the Items do not touch the outer wall of the box.
Extra careful while using odd-shaped or rounded packaging.
Form of Contents- In the case of special packaging materials special packing techniques are required like for shipping liquids and powders.
Value of Contents – Provide extra cushioning and protection for high-value goods
Fragility- Extra cushioning and protection are also required for fragile items. To keep the delivery person informed, you can apply a special handling label.
Final Use- You need to think – whether the box needs to be retail ready or even Do you want to avoid any kind of markings on the box?
Regulations – When shipping certain items especially some regulated items, require specialist packaging
Choosing the Right Materials for Packing
Don't the parcel look compelling when it arrives in a neatly packed box?
Indeed yes !!
This is where you have to aesthetic and careful enough to pack your items in the most desirable and the safest way. Most of the packing needs to based on the weight and other important factors concerning the item.
In the case of Parcels :
Material: High-quality corrugated cardboard boxes. In the case of fragile or heavy items use double-walled of tri-walled package boxes. It is better not to use the old boxes ( no reusing) as they might be fragile than rigid.
Strength: Understand the capacity of the box you use. Make sure the details are through -read before processing the parcel. You can mention the box specification to choose the right packaging for your package depending upon the weight.
Size: Underfilled and overfilled boxes are not the right fit for your shipping. Hence choose the right size.
Flyer Bag
In the case of flyer bags, the important is :
Strength – : The tensile strength and the seam strength are quite important when we consider Flyers. A minimum elongation for the DHL Expres flyer bag is 35cm and also can hold a 30% more weight seam in it.
Choosing the right box depending on the weight of the shipment
| | | | |
| --- | --- | --- | --- |
| Parcel Weight | Construction | Bursting Test | Edge Crush Test |
| Up to 5kg | Single Wall | 155 | 34 |
| 5-10 kg | Single Wall | 160-200 | 34 |
| 10-15kg | Double Wall | 250-300 | 55 |
| 15-20 kg | Double Wall | 250-300 | 55 |
| 20-25 kg | Double Wall | 250-300 | 55 |
| 25- 30 kg | Double Wall | 350 | 55 |
| Greater than 30Kg | Specialist Packaging methods | Specialist Packaging methods | Specialist Packaging methods |
For Flyers the specifications are :
Weight – Up to 4 kg
Construction – Polythene (60μm)
Seam Strength – 4 kg
Tensile Strength – MD/TD 32.5Mpa & 400% elongation at break.
Burst- Test or Mullen Test- It is the force per pound/square inch that is required to burst or even rupture the package. Here the result shows the box's ability to withstand.
Edge Crush Test (ECT) – It is the measure of the stacking strength of corrugated cardboard boxes.It determines the amount of strength required to crush the box.
Seam Strength – It is the load that is required to break the seam.
Tensile Strength – It is the measure of the maximum stress the material can handle when stretched or pulled etc.
Packaging Range for DHL Shipping
DHL Packaging range has some predefined values for the boxes, though the range differs with regions. DHL offers three types of packaging options :
Free of charge packages that contain the document envelops, DHL flyers, and bags.
Payable premium boxes which meet the requirements of shipping needs.
Temperature controlled packing designed to handle special shipping requirements.
Here is an overview of the basic packaging range:
| | | |
| --- | --- | --- |
| BOXES | External Dimensions | Max. Weight |
| Box 1 | 27,5 x 35 | 0, 2 |
| Box 2 – Shoe | 33,7×18,2×10 | 1 |
| Box 2 -Pizza | 33x31x4,3 | 1,5 |
| Box 3 | 33,8×33,2×10 | 2 |
| Box 4 | 33,7×33,2×18 | 5 |
| Box 5 | 33,7×32,2×34,5 | 10 |
| Box 6 | 41,7×35,9×36,9 | 15 |
| Box 7 | 48,1×40,4×38,9 | 20 |
| Box 8 | 54,1×44,4×40,9 | 25 |
| Tube 3 | 47,5×15,5×13,4 | 2 |
| Laptop Box | 53×41 x10 | – |
Internal Packaging Material
When you pack your DHL box, it is important to understand what kind of material you use for the same. Usually, airbags, foams pellets/ peanuts, bubble wraps, cardboard, etc are the commonly used ones. Here is a basic detail about what material can be used for packaging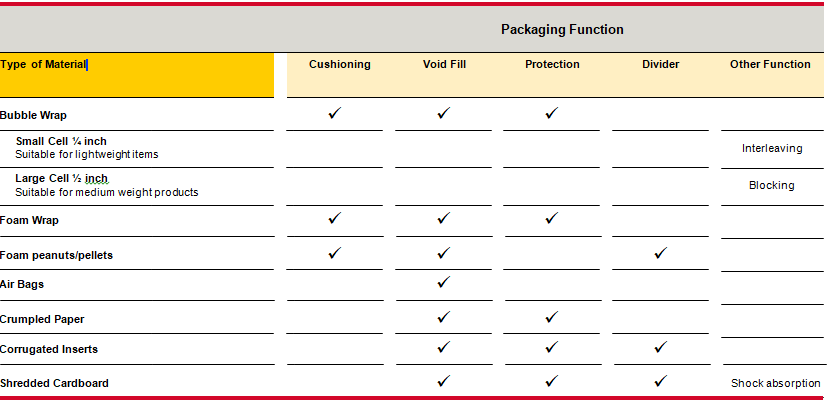 Packing Techniques for DHL
DHL ensures that they follow certain packaging guidelines to ensure the items are delivered safely.
No Empty Spaces: It is important not to leave empty space while packing the boxes. Ensure that you keep void fillers on the base as well as on the top and the sides to ensure the item is intact.
Place the items at 6cm Distance from the walls of the box: The items that are shipped must always be kept in the middle almost 6cm away from the walls of the box.
Use Dividers and wrap the items individually-: If you are shipping multiple items, then pack it individually and then separate with corrugated inserts.
Packing Methods followed by DHL
DHL is strict in packing the items for shipping. It is important to follow the strict guidelines mentioned by DHL while packing your items to ship. Let us take a look at some of them :
Basic Packing Method: This method is suitable for all the non-fragile items to ship. Mostly used is a double-walled box for packing. If items are affected by moisture, then the packing must be in a plastic bag, or a container for protection. The items must be placed at the center and the voids must be filled.
Box-in-box Method: This method is very viable for extra protection, because of the extra box layer. It is perfectly suitable for extra fragile items to ship. Though the inner box is packed using the basic method and the outer box goes with an extra safety layer following the same pattern in basic packing. The outer box has at least 14cm larger dimension, than the smaller inner box. And at least a 6cm void filling is required so that not much movement happens to the inner box.
Liquid and Powder packing method: Though these goods are classified as dangerous goods, DHL has certain guidelines to ship them safely to reach the destination. Even if they are not dangerous, they need to follow certain guidelines while shipping.
Documents: Even for shipping documents, there are certain important guidelines to follow listed by DHL Shipping. The Shipping guidelines are based on the number of pages or total weight of the items.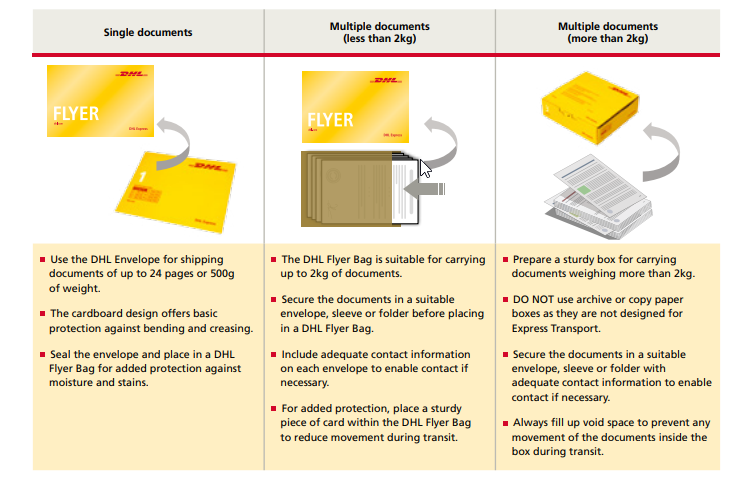 Sealing and Labeling
As packing is important, sealing and labeling are also equally important in Shipping. Good sealing of your packages keeps it intact and good labeling will help you deliver your package at the right location. Here are some basic important guidelines to follow :
Use Pressure Sensitive Tapes: As recommended by DHL a pressure-sensitive tape is the best. Usually, Polypropylene tape (brown plastic tape), Vinyl adhesive tape (electrical tape) and Fiber-reinforced paper tape (duct tape) are used. Avoid using kraft paper tape, cellophane tape, string rope, and masking tape.
H-Taping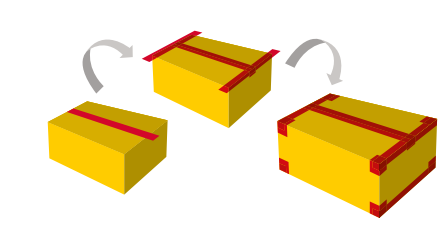 It is important to seal the pocket in the H-taping way, to protect and seal from all sides.
Strapping: DHL does not entertain strapping for the packages for items less than 30kg. But for items weighing greater than 30kg, the strapping is allowed, as it strengthens the packaging.
Special Handling Label: It is important to label the packaged rightly to communicate to the ones who are handling the packages. As the packages when in transit are handled individually by different people, hence these labels help them to understand how to handle the packages.
Applying the Shipment Label: A label must be affixed on top of the package which contains the address and the other details regarding the shipment. Place the label quite visibly, on top of the package.
Following these guidelines will ensure that your package clears the shipping guidelines of DHL.
DHL Shipment Tracking
DHL has an excellent tracking mechanism in use. Once the order is dispatched then you can make use of the tracking number and then track the transit data of the package. There are two popular tracking tools for DHL:
DHL eTrack
This can track up to 50 express shipments at just one time. It also can be operated on any email-enabled device. The shipments statuses are always accurate.
DHL Express SMS
It allows mobile phones to track the transit of each shipment. You can just SMS the waybill number and you get the status of your package.
DHL Paket
Using DHL Paket you can send a parcel across location easily. Fast and secure shipping of packages weighing less than 31.5kg.
Benefits :
Low-cost shipping to any zone (international or domestic)
Includes insurance coverage.
Efficient online tracking.
Free pickup for online franking of minimum 4 parcels per shopping cart.
Dimensions :
Minimum LxWxH – 15x11x 1 cm
Maximum LxWxH- 120 x 60 x 60 cm
Maximum weight – 31.5 kg
DHL eCommerce
DHL eCommerce is one such DHL service advisable for retailers to reach out to the customers across the globe. The major aim is to promote cross-border shipping and make it simple and affordable for expanding the business. They have an efficient tracking mechanism to support any retailers.
DHL eCommerce Tracking number – How it looks like?
Normally the DHL eCommerce tracking number looks like :
It starts with GM, LX, RX, UV, CN, SG, TH, IN, HK, MY. For Example: HKAETA30589534 ,LX000000000DE etc.
The maximum character length is 39 characters.
DHL Parcel
The right way to send parcels across locations is DHL Parcel. Your parcels are handled by professionals and offer a wide range of domestic and international shipping options to ship, deliver and track.
DHL Freight
In order to ship heavy items, DHL freight shipping is the best option via air, sea, nd land. here are various services offered by DHL Freight
By Air
AIR PRIORITY – Urgent Air Freight
AIR CONNECT – Fast & Affordable Air Freight
AIR ECONOMY – Economical Air Freight
AIR CHARTER – Specialist Cargo Handling
AIR THERMONET – Standard Temperature Controlled Air Freight
AIRFREIGHT PLUS – Day Definite Intra European & Intra Asia
LIFECONEX – Freight
SAMEDAY JETLINE – Mission Critical Next Flight Out
SAMEDAY SPEEDLINE – Mission Critical Best Flight Out
AIR COMBINED – Multi-Modal Transportation Solutions
By Ocean
OCEAN DIRECT – Full Container Load (FCL)
OCEAN CONNECT LCL – Less-Than-Container-Load
OCEAN CONTAINER MANAGEMENT – FCL Inland Services
OCEAN SPECIAL – Conventional Load Services
OCEAN ASSEMBLY – Single & Multi Country Consolidation
OCEAN CHARTER – Cargo Vessel Charter
Road and Rail
Consolidated Groupage, Palletized and Non Palletized Cargo (LTL)
FREIGHT EUROCONNECT – Reliable & Cost Effective
FREIGHT EURAPID – Day Definite
FREIGHT HIGHVALUE – Extra Secure
FREIGHT COLDCHAIN – Temperature Controlled
Direct Full Truck Loads (FTL) and Part Loads (PTL)
FREIGHT EUROLINE – Direct Full Truck Load (FTL) & Part Truck Load (PTL)
FREIGHT EURONET – European Managed Ground Transport
Rail and Intermodal Services Non Standard Cargo
RAILLINE – Full Container Load (FCL)
RAILCONNECT- Less Than Container Load (LCL)
ASIACONNECT – Consolidated Groupage (LTL)
ASIALINE – Direct Part and Full Truck Loads (PTL and FTL)
ASIANET – Dedicated Full Truck Load (FTL) Network
Domestic Transportation Services within Asia-Pacific
DHL Global Forwarding
DHL Global Forwarding was known as DHL Danzas Air & Ocean. It is one of the divisions in Deutsche Post DHL that provides air and ocean freight services.
DHL Supply chain
The best to maximize your supply chain business is by using the DHL Supply chain. Most businesses rely on logistics with the DHL supply chain , which strengthen their business and help in expansion.
How does a normal Shipping mechanism work on a WooCommerce store?
If you are planning to own an eStore on WooCommerce, then it has much more flexible options to work with shipping, In WooCommerce Shipping, you can easily get three options :
Flat-rate
Free Shipping
Local Pickup
Each option works effectively depending upon the WooCommerce store set up. If a vendor wants to integrate just free shipping for all his customers, then it is easy to select free shipping for the store. If the store is locally located, then the store owner can also choose to offer a local pickup from their store. Free shipping is also an ideal option for woocommerce stores.
Even though WooCommerce provides all these options, it is better to integrate real-time rates depending upon the location and the service provider is chosen. For this, WooCommerce lets you incorporate various shipping services onto your store using various plugins and add-ons that make it work.
With real-time rates, the prices are quite reasonable and affordable. It makes shipping choices worthwhile as the customers get to choose from various shipping options provided.
On WooCommerce, you can integrate any kind of shipping plugins like UPS, USPS, Australia Post, DHL, etc. using respective plugins that support the shipping on WooCommerce.
Let us understand on how to integrate DHL to your WooCommerce store.
How to integrate DHL to WooCommerce?
On your WooCommerce store, you can easily include the DHL Shipping plugin like the ELEX DHL Express plugin, which will give you real-time rates on your shipping as well as print labels right away. With ELEX DHL plugin , it becomes easy to generate shipping labels and track your DHL order on the screen.
Here are the steps to include ELEX DHL plugin to your WooCommerce store.
Download the ELEX DHL Plugin from Elextensions and then install it.

Once the plugin is installed configure the Shipping options like the real-time rates and the print label configurations to suit the need.
You get the DHL features on your Shipping Settings.


Once the general settings are configured , you can set the Rate and Services:

Then the packaging has to be configured.

When a customer places an order on your store, after your successful DHL configuration, then they get the respective rates displayed on the screen.

You can choose the right service you want to avail of and then process the order.
Once the order is received by the store, then the order in the backend of the store is processed. Firstly you need to generate the packages.

Once the packages are generated, then the shipment is created.

Once the shipment is generated you get a shipment label and the Commercial receipt of the same.

And the Commercial Invoice looks like :

With these easy steps, you can include a DHL Shipping on your WooCommerce store and simplify your hurdles in Shipping and monitoring the packages. Once the order is processed, the order gets a DHL tracking number associated with it , which will give a detailed idea about the items being shipped and the location.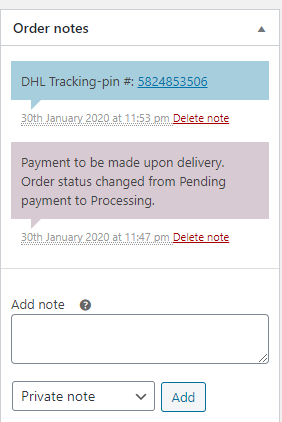 Upon clicking the DHL TRacking Pin, you are redirected to the DHL tracking page, where you get the real-time updates on your package.
Hence with the ELEX DHL plugin, it is easy to blend DHL to WooCommerce and also simplify the process of shipping bringing everything under the same system.
To Conclude :
The above article gives you a better understanding of DHL and its shipping packages as well as how you can manage WooCommerce DHL Shipping effortlessly.
Further Reading: