DHL Locations & Services: How to find DHL locations near you?
Are you looking for a DHL drop off location or a DHL store nearby? Make use of our list to find the closest DHL location & more.
Introduction
DHL is one of the popular shipping options that you can rely on to ship your products worldwide. You can avail DHL services in many ways which are feasible and cost-effective options. You can find the closest DHL location to either drop off your package, or to call for a pickup for your package. Here we have included all the DHL locations, including where you can drop off your packages, the services they offer, and much more.
Types of DHL Locations
Here are some types of DHL locations.
DHL Authorized Shipping Centers


The ideal way to get to know the nearest DHL location is to visit the authorized DHL shipping center. You can find many using the

DHL global service point locator

. Also, you can find many independently owned and operated retail businesses where they can pass you information regarding DHL services. In the US, you can find

UPS Stores

, who also are authorized to partially handle DHL shipments originating from the US.




Remember DHL does have some serious restrictions when it comes to

shipping hazardous materials

and also there are

restricted and prohibited goods

, so ensure whatever you ship falls under the guidelines of DHL.

DHL Service Points


In the US, you can find many DHL Service points, which are supported with efficient staff who can provide you with a complete shipping service to the public. You can also find retail executives who can offer you dedicated services. You can drop off packages and also avail DHL services easily from these service points.

DHL Drop Boxes


You can find plenty of these DHL drop boxes everywhere for sending your express documents and even small packages. You also get access to free shipping supplies. The pickups happen every weekday. Remember the packages larger than 18" x 13" x 4" should be dropped off at a DHL authorized shipping centers or any of the staffed facility centers.
How to find DHL Locations near you?
If you are looking for shipping through DHL, then the ideal way to locate the DHL locations is using the DHL Location finder. You can make use of these websites, given below :
As you can see in the above picture, all you need to do is type in the location and then search. You will be getting the results with respect to the location you choose.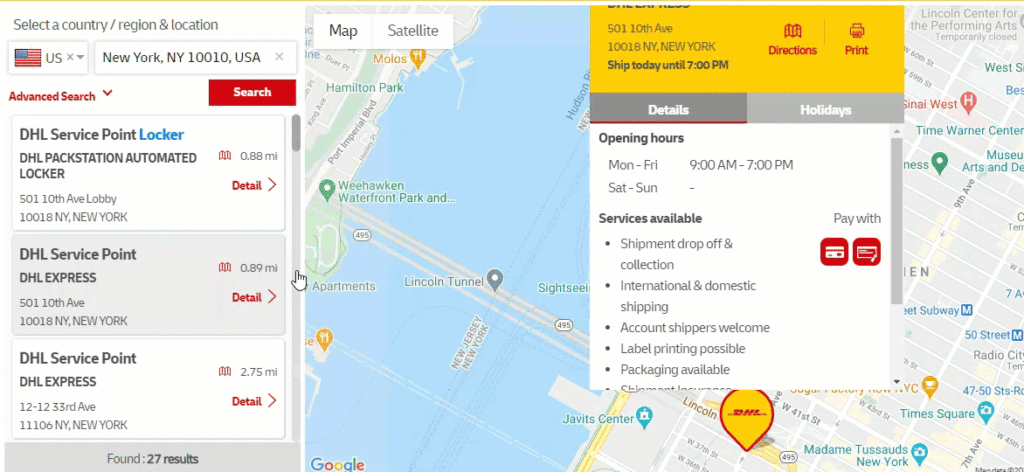 You will also get the results consisting of the locations and their operational time so that you can plan ahead and contact them.
Now get your parcels easily shipped from your nearest DHL location
It's quite easy, isn't it to get your DHL shipping done? All you need to do is find the right location and then get your shipments packed rightly to ship. You can either drop off the package or you can even get it picked up from your location. If you want to include DHL shipping on your WooCommerce store, then you can take a look at the ELEX WooCommerce DHL Express / eCommerce / Paket Shipping Plugin with Print Label.
The plugin has incredible features that make it ideal for your WooCommerce store.
You can check out the below infographic to see an overview of what the plugin has to offer for DHL eCommerce.
To explore more details about the plugins, go check out the plugin ELEX WooCommerce DHL Express / eCommerce / Paket Shipping Plugin with Print Label.
Refer the product documentation to understand the plugin in detail. Or check out the knowledge base for more related articles.
Read More :