How to Ship Frozen Food through USPS, UPS and FedEx?
Shipping food items, especially to ship frozen and cold foods, to various locations without hampering its quality is quite tricky. Read here on how you can ship frozen food and cold foods via shipping carriers like UPS, USPS and FedEx in a cost-effective manner. We give you the tips to pack them well and ship it without much effort.
Understanding about shipping frozen food
Shipping food items is indeed a crucial work as the food items should be well maintained and fresh enough as they were packed when it reaches the desired place. It is important to understand how to ship this frozen food rightfully when you are doing business in the food industry. Whatever food items you are dealing with, you must ensure that the quality is intact until it reaches the intended recipient. It should be fresh and also must be contamination free. When you are shipping food items, and it reaches the customer in a poor condition, it is surely going to damage the reputation of your company and undoubtedly your revenue too.
Let us get into the details of how you need to ship frozen food, and then look into how popular shipping carriers can help you with it. Also, we shall look through the basic packing methods to do the same.
Challenges of Shipping Frozen Food
There are many challenges when it comes to shipping frozen food. Most of the eCommerce store owners need to ensure that these challenges are addressed correctly to ensure that no mishaps occur while shipping. Here are some major challenges faced while shipping frozen food.
Extreme temperatures
When the food packed is not properly packed to withstand the high and low-temperature changes, the food gets spoiled when the weather is hot or cold.
Humidity
Shipping frozen food gets affected with extreme humidity too. It is an equivalent threat like heat.
Spoilage
Spoilage happens when the food is not packed well in an insulated box or without any proper refrigeration. This is one of the major challenges while shipping frozen food. 
Shipping Frozen Food Best Practices
To ship frozen food without compromising the quality of the food is indeed a great challenge for any online merchant. To help merchants successfully ship the frozen food without hampering the quality, here are some best practices to follow :
Time your shipments priorly to ensure the food doesn't get spoiled.

Make use of right shipping boxes and containers.

Contact a reputable shipping company who is best in shipping frozen food.

Avoid using low-quality packaging materials

to make the shipping cost cheaper.

Do make sure that you properly refrigerate and pack the food shipments well enough.

To ship make special courier arrangements like using dry ice etc., if necessary
How to Ship Frozen Food with USPS, UPS and FedEx
Let us take a look at some guidelines to ship frozen food with popular shipping carriers like USPS, UPS and FedEx.
USPS
USPS, as you know, is one of the popular shipping carriers who are prominent in their shipping service. Let us see some of the USPS guidelines to help us ship frozen food items.
They do not offer any specific refrigeration services for shipments.

To keep the items fresh, you can make use of packaging using dry ice.

Ensure that containers must be leak-proof, and also do not cause odours. Also, ensure the packing is not airtight to allow condensation and carbon dioxide gas from the dry ice to escape.

Remember while shipping internationally, dry ice packaging is not allowed.

While packing, a thick polystyrene box is highly recommended over the inexpensive styrofoam coolers.

Ensure you follow the dry ice packaging guidelines like packages must have a Class 9 DOT, which indicates miscellaneous hazardous material warning labels. Also, it must be clearly marked on the box  "Carbon Dioxide Solid, Or Dry Ice". 

Also, remember to attach the shipping of hazardous material over the package with the declaration for dangerous goods on the package.

The package should also clearly mention with the name of the food being cooled and contained along with the net weight of the dry ice
UPS
UPS is yet another popular shipping service. Let's take a look at their basic guidelines for shipping frozen food.
As with longer durations, the frozen food is likely to get spoiled, it is better to keep shipment time under 30 hours. UPS Next Day Air delivery is ideal.

Enclose the food in the plastic bag well enough and use a thick plastic liner for the inside of the package.

It is recommended to use thick insulated foam containers to keep the food as cold as possible.

You can pack using dry ice, but frozen water is not recommended.  

Follow the UPS guidelines and the

restrictions for shipping

when shipped via air.  

To ship with dry ice, ensure you follow the 

IATA regulations.

Also, ensure that you offer proper padded packing to avoid the movement of the items in the box.
Refer UPS guidelines to ship food.
FedEx
FedEx is also a great option when it comes to shipping frozen food. Let's skim through the guidelines for shipping the same.
To send temperature-control items consider using

FedEx Temp-Assure.

FedEx also offers cold shipping packaging options.

When it comes for US shipments, FedEx Express service requires perishable packages to withstand the minimum transit time of 24 hours. which is greater than the delivery commitment proposed.

It is highly recommended to use a minimum of 1-1/2″ (4-cm)-thick walls for insulated foam containers.

The most important part is with labelling your package when shipping with dry ice. Ensure correct identification, classification, markings, and labelling are available on the package.

It is better to place the foam containers inside the sturdy outer containers.
For more information check FedEx guide to shipping perishable items.
Choosing frozen food shipping containers
When you are shipping frozen food, it's ideal to use the following packaging methods to keep foods frozen during transit:
Styrofoam is an ideal foam insulating food shipping container.

Dry ice is ideal for packaging.

To keep temperatures cold, cardboard boxes with insulated box liners must be used.

Always choose a box bigger than the size of the package to allow space for lining the dry ice.
How much does it cost to ship frozen foods?
When you are shipping frozen foods, the shipping cost completely depends on the amount you spend on packaging the item, the weight of the package, and the shipping service charges. Also, you need to invest in dry ice as well as packaging gel for packing. To figure out how much charges you incur while shipping frozen food, ensure you have the right settings on your store, wherein you can clearly specify the cost of the shipping with the extra cost for dry ice. 
Like if you consider shipping any item which contains frozen food, you can make use of the shipping plugins like ELEX EasyPost (FedEx, UPS, Canada Post & USPS) Shipping & Label Printing Plugin for WooCommerce, which lets you enable settings to ship with dry ice separately. The plugin settings let you easily impose the charges for dry ice along with the shipping cost at the same time. Once the plugin is installed, you can see the dry ice option in the product settings as shown in the image below :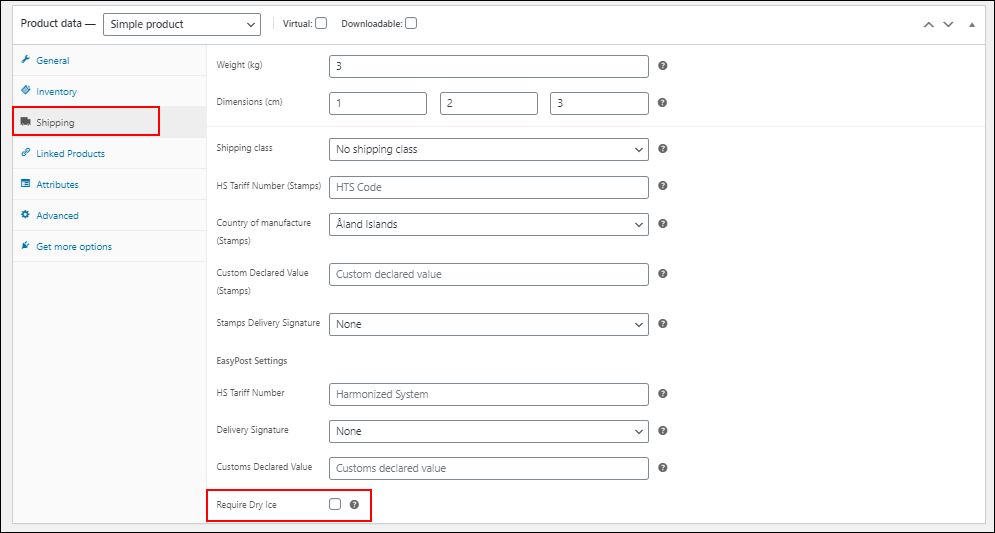 When you check the checkbox for "Require Dry ice" here in the related product settings, the overall price will include the price for dry ice too. Remember this is allowed only in the case of packing the items individually.
Check out the plugin product page to know more about the plugin. 
How to Pack Frozen Foods for Shipping
There are several important guidelines to follow when you are packing the frozen food items for shipping. Here are some of them to enlighten your knowledge on the same. 
Ensure you properly wrap-up the baked goods using an airtight seal, which will reduce the entrance of heat and humidity.

Always use appropriate insulation options while packing the foods that must remain frozen until it is delivered.

If you are shipping anything prone to leaking, then it should be packed in a watertight plastic.

To ship seafood, it should always be double packed to ensure they are protected from extreme weather conditions.

Using sturdy, corrugated cardboard boxes for shipping is ideal. Remember to leave excess space to fill in with dry ice packs, packing peanuts, bubble wrap or craft paper.

When you are using dry ice for shipping, use an adequate amount of dry ice and frozen gel packs to pack the frozen food. Also, leave enough options for ventilation as dry ice emits carbon dioxide which is harmful to contain. 

When you are shipping cookies or biscuits etc, make sure you pack them in wax paper, plastic wrap etc.

Using special cold shipping boxes which have insulated cooling to fit inside a cardboard shipping box are highly recommended. 

Make sure that the chosen shipping carrier has certain feasible options to ship frozen food. 
Whatever you are shipping, be it frozen food or anything other food items, ensure you are packing it with proper padding options.
As said above,
The above-mentioned points are essential when you are considering shipping frozen food. You can ship any food items like frozen food or any other perishable items when you are following the guidelines properly. Shipping food items are to be carefully done to ensure that the quality is not impeded.
Further Reading