How to Ship Products which require Dry Ice using UPS & FedEx on Your WooCommerce WordPress eCommerce Store
In this article, we take a look at shipping with dry ice in UPS and FedEx on your WooCommerce store.
Introduction
Dry ice is mainly exceptionally cold and hence is used to maintain the temperature of the items when they are shipped to various locations to prevent any damage caused by extreme climatic conditions. It is the solid form of carbon dioxide and is a universal cooling agent. It is majorly used in the preservation of food and freezing of the same. Also when you are shipping, ensure that there is full ventilation while you pack the same to ensure that the gaseous elements from the dry ice can escape. 
How to ship products which require dry ice?
When you want to ship products that need to stay in the same way fresh and intact without being harmed by the external factors, then ensure that you use dry ice for shipping. When using dry ice, ensure that you use gloves and goggles as they contain hazardous chemicals, used to preserve the items for long durations. Also, ensure that when they are packed, they are scooped into the box well which is made with an insulating material which is again placed within a cardboard box. Also never seal the box completely to ensure that the gaseous elements emitted from the dry ice can escape into the air else it becomes poisonous.
So here are some things you need to be sure about while packing these products :
Firstly, the packaging must not be tight and should allow for releasing pressure. It is mainly because dry ice releases carbon dioxide, which must not be compressed. Like dry ice should never be placed in sealed plastic bags.

You can either use wooden boxes, or even best quality corrugated cardboard boxes to pack.

You need to place a layer of Styrofoam, which is ideal for insulation. And remember not to seal it. 

The maximum amount of dry ice that you can use in a single package is 200kg.

You can also pack the product with a plastic wrap to make it intact and then use dry ice for packing.
When you are shipping dangerous goods via FedEx or UPS, ensure that your shipment falls under the IATA (International Air Transport Association) rules and regulations. For the same, you need to print shipping labels with UN 1845 declaration on the package, which counts it legible to be shipped.  Also, ensure that you follow the shipping guidelines from the shipping carriers when you are shipping these perishable items. 
How to Ship Products which require Dry Ice using UPS & FedEx on Your WooCommerce WordPress eCommerce Store?
Here are some of the steps you need to follow while shipping products that require dry ice using UPS and FedEx on your WooCommerce store. 
Firstly, when a customer places an order for a product, which requires dry ice, then ensure that you pack the items individually. In the packing section, you can choose the same in the FedEx and UPS shipping plugin integrated on your WooCommerce store. 
Remember you can also enable an option if your package requires dry ice in your product's individual page like this.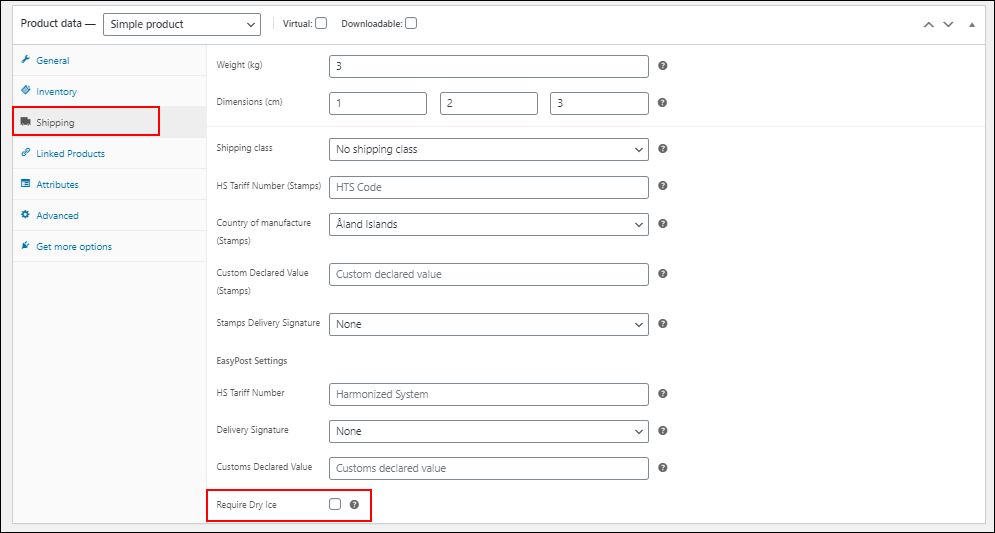 To set the same, go to the individual product page and in shipping settings, you can enable the  Require Dry Ice option. Once done, whenever the customer places an order with the same product, the rates displayed will be the rate including the dry ice price for the packing.
As you see above, the rates obtained while shipping with and without dry ice varies a lot. When you are shipping-certain commodities which require dry ice, the rates displayed will show you the price of the dry ice added to it. 
In the same manner, you also need to be aware that while shipping any items with dry ice packaging, ensure that you also label the package to notify that shipment contains hazardous material. Usually, you can mark it on the package with words like "Dry Ice", or "Carbon dioxide Solid " or use code " UN1845″. Ensure that whatever you ship using dry ice packaging adheres to the guidelines specified for shipping dangerous goods globally. 
Your package also needs to affix a label like this :
Also, the shipping label will contain the details of the shipment too which indicates the package contains hazardous material.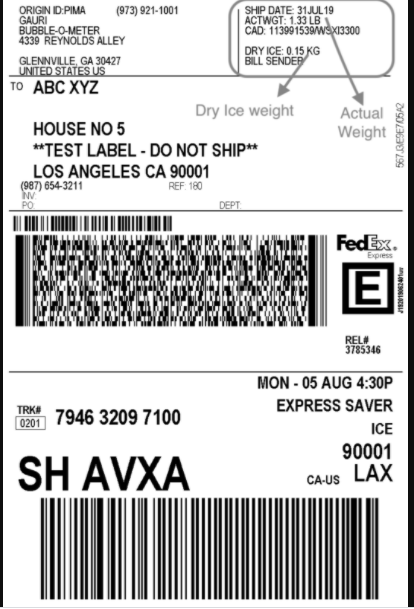 Hence once the order is confirmed, the customer gets the notification from the shipper saying the package will be ready and sent to the provided address without fail. The customer can also easily track the shipment using the tracking number provided in the shipping details using the ELEX EasyPost (FedEx, UPS, Canada Post & USPS) Shipping & Label Printing Plugin for WooCommerce. 
To Wrap up 
When you are into shipping any kind of perishable item or items that need preservation so that they do not lose its value while being shipped under varying weather conditions like medicines, frozen and fresh food items etc, you need to be vigilant. Now with EasyPost FedEx and UPS shipping options, you can simplify the effort by ensuring that you provide the option to use dry ice while shipping and also print the shipping label for the same. Moreover, apart from the dry ice shipping options, there are other features like displaying the shipping rates from FedEx and UPS, with proper estimated shipping delivery dates, print shipping labels and even track the shipments easily. 
ELEX EasyPost Shipping Plugin
Using the plugin you can retrieve real-time rates for the shipping carriers – UPS, FedEx, USPS, as well as CanadaPost. With the plugin, you can also track the shipments, as well as print the FedEx, USPS, UPS and Canada Post shipping labels right from your WooCommerce store. Here are some of the salient features of the plugin:
Helps to access real-time rates from USPS, UPS, FedEx and Canada Post and displays it on your WooCommerce store with an estimated delivery date.
Print  WooCommerce USPS, UPS, FedEx and Canada Post shipping labels as well as return labels for the same.
The plugin helps to track USPS, UPS, FedEx and Canada Post shipments efficiently.
Using the plugin, you can apply price adjustments on shipping options for the chosen carriers like USPS, UPS, FedEx and Canada Post.
Offer exclusive customized Parcel packing options for shipping anything with USPS, UPS, FedEx and Canada Post.
You can also choose different shipping options for packages when multiple packages are present in the cart.
It also offers added security options for the packages using the EasyPost Shipping insurance for all shipping carriers associated.
Also has add-ons to generate bulk shipment and labels for the same.
Automate the process of generating labels and email your shipping labels is also possible.
Further Reading: