This article aims to explain the relevance of catalog mode in an e-commerce store with special reference to WooCommerce and ultimately draws a comparison between the top two woocommerce catalog mode plugins which are currently leading the list
So, you have decided to read this article?
Probably because you own an e-commerce store and are looking for a Catalog mode plugin or probably because you are planning to start one and want to know about some of the necessary plugins!
Or maybe you wish to gain some random knowledge!
Well, in either case, you have come to the right place…please go ahead!
Reports from U.S. Census Bureau says that, in Q3 2017, E-commerce market share increased to 9.1% from being 3.5% just a decade ago.

In spite of its exponential rise, brick and mortar is still the dominant player. However, it's interesting to note that the gap between the two modes of commerce is diminishing day by day. E-commerce is expanding its base and currently, the types of e-commerce businesses include:
Business-to-Business (B2B)
Business-to-Consumer (B2C)
Consumer-to-Consumer (C2C)
Consumer-to-Business (C2B).
Business-to-Administration (B2A)
Consumer-to-Administration (C2A)
Already commanding 37% of the ecommerce market, latest projections — compiled by Sellbrite — estimate that Amazon will be responsible for half of all online sales within three years.
Being a WooCommerce enthusiast, I can't stop myself from linking the rise of e-commerce with the rise of WooCommerce. This robust free plugin has the highest market share which clearly outlines its contribution in uplifting the e-commerce economy.
WooCommerce simplifies every effort requires to set up an e-commerce store in WordPress. One such significant aspect of an e-commerce site is "catalog mode". And just like a number of other awesome features, a WooCommerce extension can do this job too.
What is a catalog mode?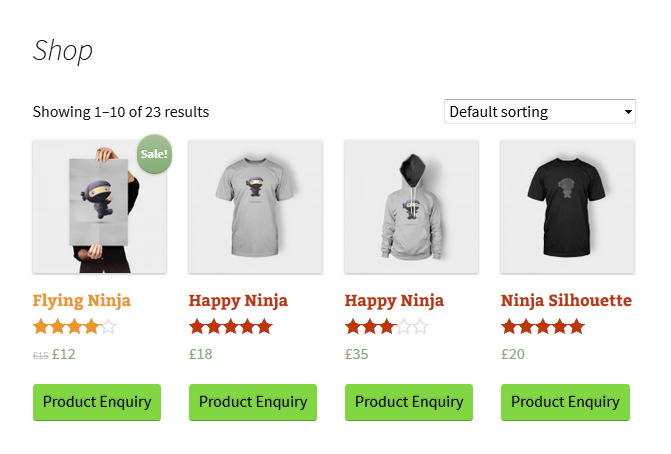 In a nutshell, it removes the e-commerce functionality of your store!
Sometimes you might want to stop selling for a brief period of time. Instead of completely eliminating your online presence, you can turn your shop into a catalog mode whereby only displaying the products with the "Add to Cart" button removed.
Isn't that awesome? While taking a break for maintenance or development activity, you can still assure your customers of the presence of the awesome products available at your store.
With the catalog mode, you can even choose to show or hide the product prices. At times, you might wish to hide the price and tell it to only specific customers who have asked for it.
With a catalog mode plugin, you can also enable your user to inquire about the product.
When would you want your store to be in catalog mode?
Apart from situations when your store is going through some developmental activities and is required to be in maintenance mode, in the following scenarios, a catalog mode would help you serve your customers better.
When running a B2B system, you might wish to have a website to just display your products and not allow the visitors to place orders.
You have an offline store and have been running it well for a few months now. But, you often find your customers giving a confused look while looking at the products your store offers. As an aid to your customers, take your store online and turn the catalog mode on.
Now, your customers would get all the required information online and only if they want the product, they would land up at your store to make the purchase.
This would help your customers have a better perception of your store, before actually deciding to visit your store.
You can even turn on the catalog mode for particular products and keep everything as usual for the others.
You might have customers of different categories and you want to give them different experience based on the category of user role they belong to. Thus, turning the catalog mode on for a particular user role would do the job.
When you want to display your products to your potential customers much earlier than actually start selling. Something like "Coming Soon"!
A marketing strategy of this kind is much common and has yielded good results so far.
Now, that you are well aware of what a catalog mode is, let's compare the top WooCommerce Catalog mode plugins based on the following parameters:
Feature Availability
Ease of Use
Compatibility with other extensions
Cost Effectiveness
Feature Availability
ELEX WooCommerce Catalog Mode, Wholesale & Role Based Pricing is one of the most feature rich plugin available for WooCommerce. You can use the plugin to create a catalog mode, to configure role-based pricing, to float a product/price inquiry form. You can even choose to hide specific products from certain users.
If you want to switch your store into Request a Quote mode, you can also use ELEX WooCommerce Request a Quote Plugin from the same family. You can switch your products to 'Request a Quote'  mode with or without the 'Add to Cart' option. This plugin allows you to set up a custom form into which the customers should be redirected for requesting a quote and makes the 'Add to Quote' option available only for specific user roles. To know more about this plugin, and how to configure it, refer to an article: How to set up ELEX WooCommerce Request a Quote plugin?
What's best about this plugin is that even the free version offers all the premium features. The only difference is that the free version works only for simple products and doesn't offer the feature of "hide product".
YITH Catalog mode free version has a number of limitations in terms of features. It offers the catalog mode features for all users. In the premium version, however, you can choose to make the catalog mode user specific.
Though the YITH premium version is a complete catalog mode plugin, yet, it has some limitations like there's no option to hide the product. YITH Catalog mode plugin would serve best when used with its other extensions like YITH Request A Quote plugin and YITH Role Based Plugin.
So, if you are looking for a feature-rich plugin, I would suggest the WooCommerce Catalog Mode, Wholesale & Role Based Pricing plugin.
Ease of Use
Like every other YITH extensions, this too is an intuitive plugin with a simple, easy to use interface. Their rich documentation further reduces the effort of understanding the plugin. The feature limitation is covered up by straightforwardness of the plugin.
The tabbed view along with the flexibility it offers enhances its usability.
ELEX's catalog mode plugin too, is a simple to the use plugin. Yet, due to the ability of offering catalog mode at the product level as well, the intuitiveness is affected to some extent. And the availability of a great number of features might give rise to some confusion.
YITH Catalog mode has an upper hand when it comes to the ease of use.
Compatibility with other extensions
Both of these plugins are compatible with a number of other extensions.
WooCommerce Catalog Mode, Wholesale & Role Based Pricing plugin is compatible with the following plugins.
YITH Catalog mode plugin is compatible with the following plugins
Cost Effectiveness
ELEX WooCommerce Catalog Mode, Wholesale & Role Based Pricing plugin's basic version would serve you at free of cost. The basic version of this plugin is definitely a better choice over the YITH Catalog mode basic version.
Coming to the cost of the premium version, ELEX WooCommerce Catalog Mode, Wholesale & Role Based Pricing is $59 and offers the features of Catalog mode, Wholesale system, Role Based Pricing.
Basically, you get the features of a 2-3 plugin in one.
On the other hand, the YITH Catalog Mode plugin is $59. But in order to extend its usability, you might have to use it with the Request a Quote plugin which would cost an additional amount of $65.
Thus, we conclude that WooCommerce Catalog Mode, Wholesale & Role Based Pricing is better in terms of cost effectiveness.
Let us know if this helped you in choosing the Catalog Mode plugin for your store!
You can checkout the complete list of the Top WooCommerce Catalog mode plugin in this LearnWoo article.
---
You can explore other WooCommerce and WordPress plugins in ELEX.