The best possible way to provide outstanding customer service and a positive experience for your users with your company is to be available on the internet. Because we live in the age of the internet and new technology, more people are seeking assistance online rather than by phone, and they expect immediate solutions and results. Your customers want to communicate with you on their terms and receive the assistance they require when it is convenient for them. Also, chatting over messages rather than talking on call may be easier and more comfortable for some people. You can provide instant, personalized, and effective support to your customers and potential customers using live chat.
In this article, we'll look at the best free plugins for adding a live chat feature to your website.
The Advantages of Including a Live Chat Option on Your WordPress Site
Superfast Responses and Assistance: Customers expect immediate assistance with everything from shipping to access to your products and services. Live chats are the quickest way to answer and resolve any customer issues.
Efficient Service: Most Live Chat plugins allow for multiple chats at the same time. This way, instead of dealing with one query at a time, you can handle multiple queries at once.
Earn the Trust and Loyalty of Your Customers: Customers will trust your brand more if you have live chat support on your WordPress website. Customers are much more likely to come back and buy more products or services from you if they have a live chat experience on your site and they know that they will be assisted immediately.
WSChat – ELEX WordPress Live Chat is a powerful and user-friendly live chat plugin for WordPress. This plugin can be used if you want to use Artificial Intelligence (AI) to send automated responses to customers. Because all conversations are recorded in the same chat thread, agents can easily reply, assist, and resume a chat conversation if a customer requires assistance in the future. Unlike most other Live Chat plugins, this one operates entirely within WordPress and does not require any external API calls. It allows you to communicate in real-time with your customers. It includes the ability to attach and send files for both customers and agents to improve the precision of the support service via live chat.
Key Features
Respond to customer questions in real-time to improve customer service.

Files can be attached and sent by both customers and agents.

Show your availability on the chat widget header to let your customers know if you're online or not.

For when support agents are unavailable, set up a custom automatic reply message.

Chat History Is Unlimited

Fail-safe customer communication with Pusher integration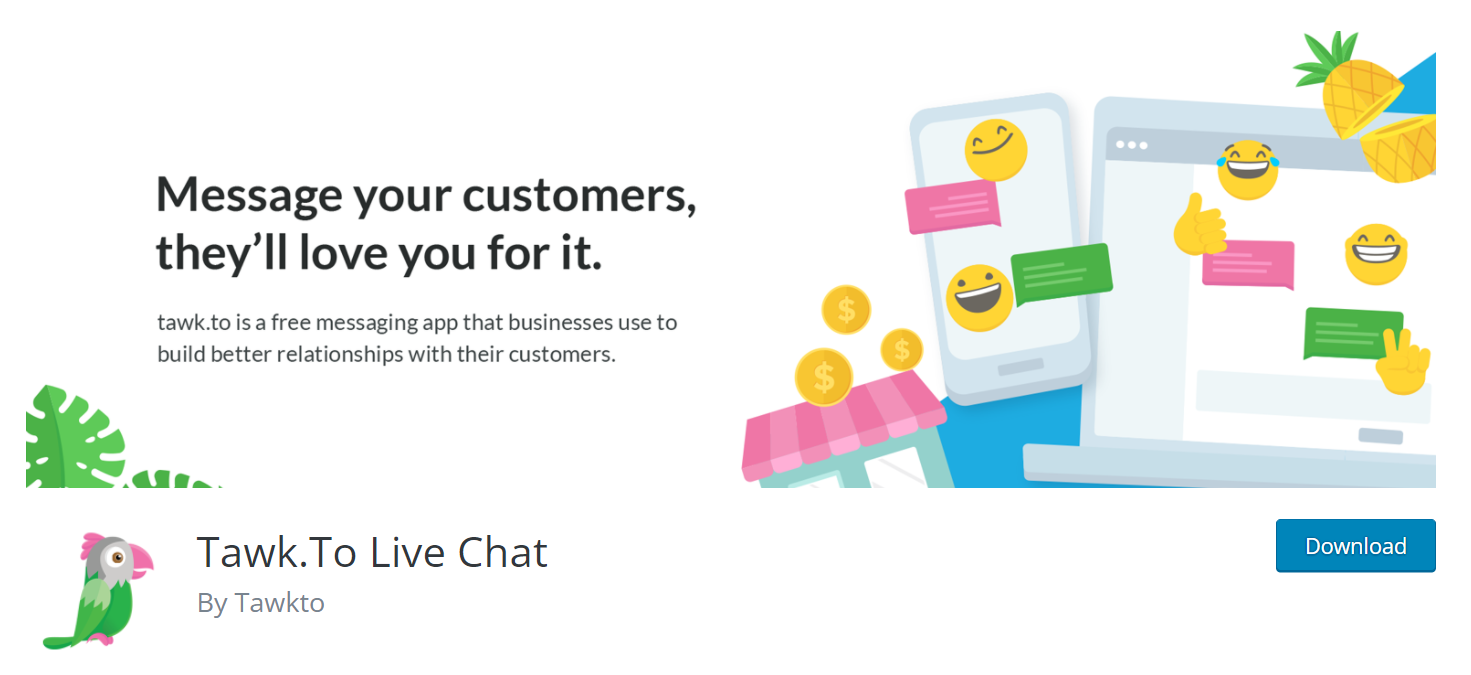 With nearly four million companies already using it, tawk.to is among the most renowned WordPress live chat plugins. You can chat with your website visitors for free using tawk.to. It provides a hassle-free experience with no spam or advertisements. Tawk.to is a highly customizable and adaptable plugin that works across all browsers and allows you to freely assign multiple agents to customer chats. It comes with an advanced widget scheduler for scheduling and managing your Live Chat options. Not only that, but it is highly responsive, retina-ready, and cross-browser compatible. It allows an unlimited number of agents and live chats to be active at the same time, allowing the entire team to focus on the chat.
Key Features
By tracking your website visitors in real-time, you can learn a lot about them.

Stay in touch with your customers from your computer or mobile device.

Increase conversions by providing better customer service.
Formilla is a free WordPress live chat plugin that allows businesses to interact with their customers in the most effective way possible. You can use AI-powered chatbots to manage FAQs that don't require a personal touch in addition to using this plugin for live chat. Users can also create and share saved responses with site visitors to free up your support executives' time to deal with more complicated customer issues. It can handle multiple live chats at the same time and monitors visitors in real-time. Furthermore, this plugin supports a wide range of international languages.
Key Features
Track your website activity in real-time, as well as the countries and regions from which your visitors originate.

Find out which pages they've visited, how long they've spent on your site, and which browser and OS they're using.

Add Custom Chat Bots that operate 24 hours a day, 7 days a week to easily qualify prospects, book meetings, and manage common requests.

Push notifications to your smartphone ensure that you never miss a conversation.
REVE Chat is a feature-rich WordPress live chat plugin with a wide range of features. Using a unified platform, businesses can immediately start engaging with their customers via multiple channels such as Website live chat, voice chat/video chat, Facebook, and Android and IOS apps. Maintain contact with your audience, respond to their questions, and advertise your products. Screen-sharing, auto-triggers, visitor analytics, a customizable chat banner, and other advanced features are among the plugin's advanced features. You can easily style the widget to match your theme design because it is highly customizable.
Key Features
Interaction with multiple customers at the same time via live chat

Customers can engage in interactive voice and video chats.

Department management and assistance from the relevant departments.

Automatic Triggering of chat

Provide live support to a wide range of customers via Facebook messages and other social media services.

Input will be provided by regular visitor analytics.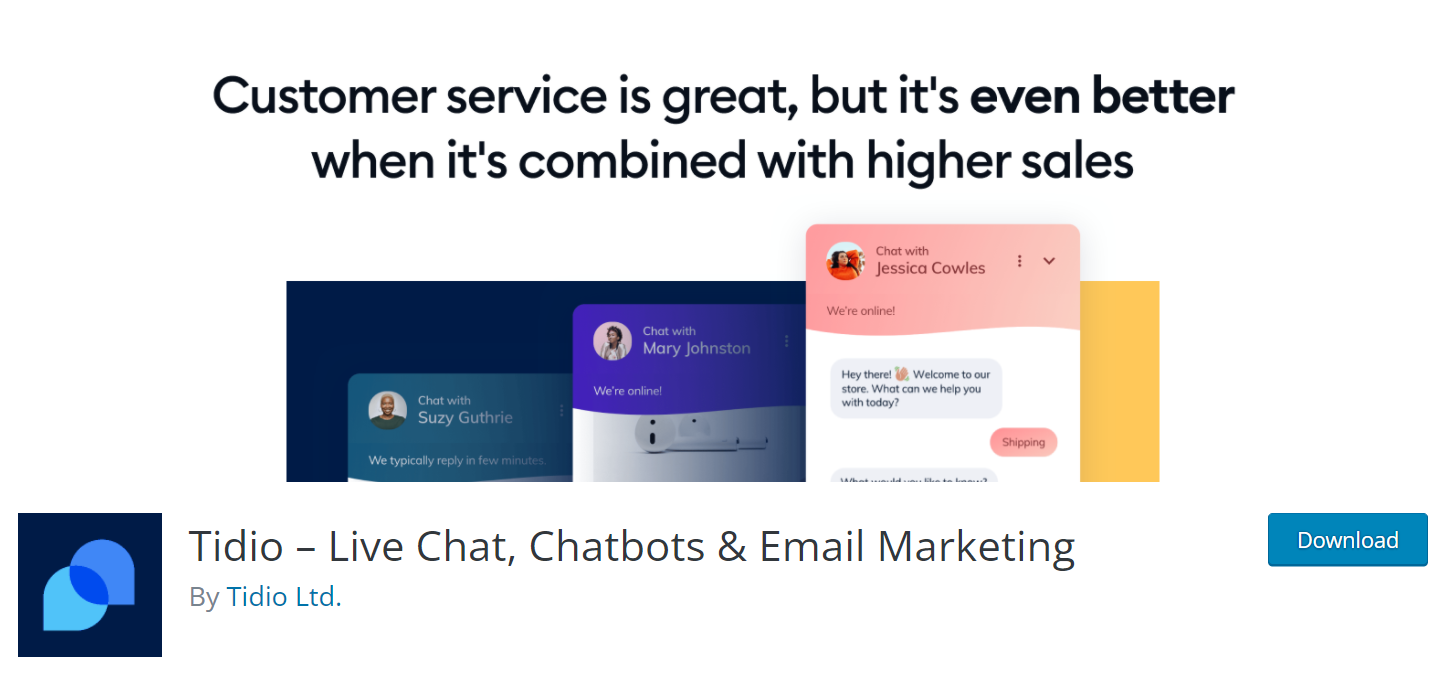 Tidio Live Chat is one of the most user-friendly, simple-to-integrate, feature-rich, and up-to-date WordPress plugins available. The free version allows you to have one support agent and one chat box running at the same time, without any other constraints. By installing the Tidio plugin on your WordPress website, you will gain access to additional channels such as automation, email marketing, and Messenger in addition to live chat. With the Email Automation feature of the plugin, you can email your visitors when they leave your website and/or live chat and send them campaign content. Also, make your widget's appearance consistent with your corporate identity.
Key Features
Visitors opening a new page, visiting the website for the first time, coming back to the site, spending a certain amount of time, or an operator failing to respond to a message are all examples of the available automation triggers.

Before the chat begins, pre-chat surveys can be added to gather visitors' names, contact information, email, and other information.

Simple messages, links to other information, or full articles can be used to create quick responses to commonly asked questions that can be searched for or selected from a list.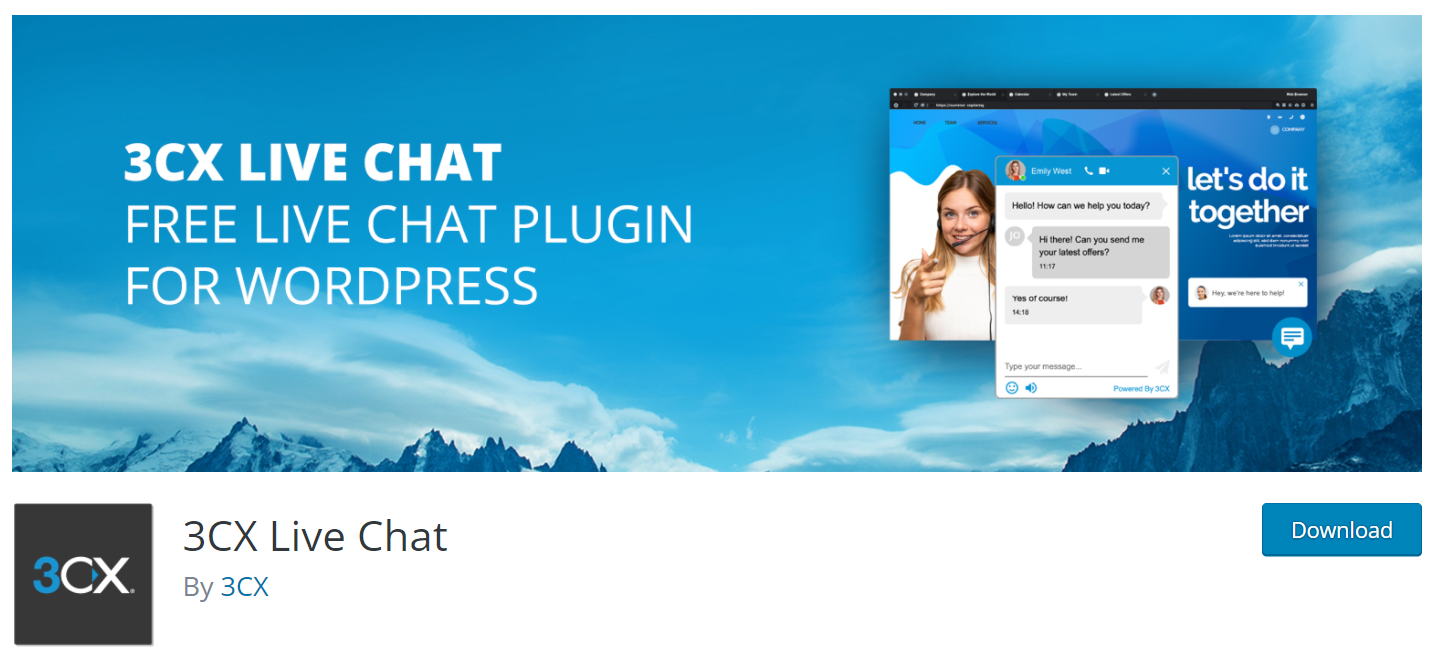 The 3CX Live Chat plugin is simple to set up and configure, and it gives you the ability to chat with website visitors in real-time right away. It is hosted on our Cloud Servers and provides a stable and high-performance live chat setup. Alternatively, 3CX can be used to create a multichannel customer service suite that includes chat, video, and voice. Also, if you want to chat with multiple customers at the same time, this plugin allows you to do so. Before and after a chat session, you can add surveys and polls to your chat box to save your agents time and get feedback on their performance.
Key Features
The ability to convert a live chat into a phone call or video call.

Apps for iOS and Android that allow you to respond to messages via your smartphone are available for free.

Chats can be transferred to other agents.

In the chat history, all conversations are saved.

For all offline messages, there is a dedicated storage system.

Create as many agents as you want to handle live chats and phone calls.

Offline message form that you can customize

You have the option of accepting or declining a chat.
HubSpot All-in-One Marketing is a free live chat plugin for WordPress that helps you coordinate your marketing efforts. More than just live chat is available with HubSpot's WordPress plugin: forms and pop-ups, CRM and customer management, email marketing, automation, and reports and analytics are all available. In addition to the previously mentioned features, the plugin also allows you to add chatbots to your site that operate 24 hours a day, seven days a week. This allows you to automate some of your support (for example, answering FAQs with chatbots rather than support representatives) and assist visitors when your support team is unavailable.
Key Features
Customize the chat widget to reflect your company's identity.

Create personalized welcome messages for each of your website's pages.

Keep track of everything with a centralized inbox for all chats.

Chatbots with CRM integration for personalized messaging.

Integration with Slack

When you aren't available, the chatbox transforms into a contact form.
To conclude
Having a live chat feature is critical for achieving high conversion rates and increased customer satisfaction, both of which are critical for your company's growth. WordPress live chat plugins will work regardless of the size or type of business you run if you select the best solution for your company from the list of free WordPress live chat plugins above. This will allow you to save money in the long run while ensuring a functional and engaging live chat plugin.
If you have any questions regarding live chat plugins, let us know in the comments section below.\
Further Reading