How often have you gone through your WooCommerce store data to find dozens of abandoned carts? It's a disheartening sight and makes you second-guess your store's success.
Abandoned carts are a regular occurrence that every e-commerce business experiences. When a client adds products to their shopping cart but does not finish the transaction, money is lost and conversion rates are reduced. Fortunately, WooCommerce abandoned cart plugins may assist in recovering lost revenue by urging customers to finish their transactions. 
In this post, we'll look at the top free WooCommerce abandoned cart plugin and examine its features. Whether you run a small or large e-commerce site, using a plugin to establish an abandoned cart recovery plan may make a major impact on your sales and earnings.
The Problem of Abandoned Carts in WooCommerce
If you're an eCommerce store owner who uses WooCommerce to power your sales, you know that abandoned carts are a huge problem. Visitor traffic is hard-earned, and losing out on potential sales due to abandoned carts detracts not only from your bottom line but also the efficiency with which you build relationships with your customers.
Fortunately, there are now solutions that can help you reduce cart abandonment in WooCommerce, such as the ELEX WooCommerce Abandoned Cart Recovery with Dynamic Coupons plugin. This powerful plugin helps you identify and capture every potential sale lost by providing an easy way to recover those orders from customers who get distracted or simply forget. It can even generate dynamic coupon codes for each customer's cart, helping to entice them back quickly and easily. All these capabilities come completely free of charge!
ELEX WooCommerce Abandoned Cart Recovery: The Solution
Have you ever lost customers due to abandoned carts? If yes, then you need an effective tool to reduce cart abandonment and recover customers. The ELEX WooCommerce Abandoned Cart Recovery with Dynamic Coupons plugin is just the solution for you.
This plugin helps to reduce your cart abandonment rate by sending automated emails with dynamic coupons to recover abandoned carts. It sends reminder emails at well-timed intervals, convincing customers to re-activate their carts and make a purchase.
Another great feature of this plugin is that you can set up notifications for the admin to know when a cart is recovered. The plugin also allows you to send personalized and targeted messages to customers who have abandoned their carts, thus delivering a great customer experience.
With adaptive default designs, the email templates within this plugin will remain responsive no matter what device they are viewed on. This ensures that the emails are easily readable across all devices, thereby offering a seamless experience for your customers.
So if you're looking for an effective tool to reduce cart abandonment, ELEX WooCommerce Abandoned Cart Recovery is the perfect option!
Key Features of the ELEX Abandoned Cart Plugin
So why should you choose ELEX WooCommerce Abandoned Cart Recovery with Dynamic Coupons over its competitors? 
When comparing free WooCommerce abandoned cart plugins, ELEX WooCommerce Abandoned Cart Recovery with Dynamic Coupons stands out with some features that you won't find in other abandoned cart plugins. 
Automated and Scheduled Email Campaigns
Create automated email campaigns and set up the schedule to send the emails to abandoned cart customers. This will help bring back these customers and turn them into returning shoppers. You can also personalize abandoned cart emails using customer details and incentives.
Notifications
You can also opt to get notified when a customer abandons a shopping cart. This will enable you to respond quickly to recover the purchase process without any delays.
Abandoned Carts Dashboard & Reports
The plugin comes with an Abandoned Cart dashboard which shows all the vital information about your abandoned carts like the total number of abandoned orders, customer details, etc. It also helps you analyze the recovery data with reports like conversion ratio, recovery rate, etc., which help understand which campaigns are performing better than others.
Automatically Generates Coupon Codes
This plugin automatically generates coupon codes that you can customize, which means you don't have to manually do it yourself. Plus, since the codes are generated dynamically, it gives customers a more personalized experience.
User-Friendly Interface
This plugin is simple to use and understand because of its user-friendly interface. With just a few clicks, you can set up the plugin and create customized discount codes for abandoned carts within minutes.
These features make ELEX WooCommerce Abandoned Cart Recovery with Dynamic Coupons one of the most effective free WooCommerce abandoned cart plugins available today.
How to Set Up the ELEX Abandoned Cart Recovery Plugin
The ELEX WooCommerce Abandoned Cart Recovery plugin with Dynamic Coupons is easy to set up and use. You won't have to spend hours learning how it works, it's straightforward and user-friendly. Here's how you can get started with it right away.
Step 1: Install and activate the plugin
First, install the ELEX WooCommerce Abandoned Cart Recovery plugin with Dynamic Coupons from the WordPress plugin directory. Activate it, and you'll find that you can configure all its features by going to WooCommerce -> Settings -> ELEX Abandoned Carts.
Step 2: Configure the plugin settings
You can label an order as complete by selecting the WooCommerce order statuses that represent successful cart recovery, activating the Enable Abandoned Cart button, and specifying the order status to consider an order successful under General Settings.
Enable the Capture Abandoned Cart for Guest User option under Guest Users Settings if you want to track abandoned carts for guest users and just the valid email format.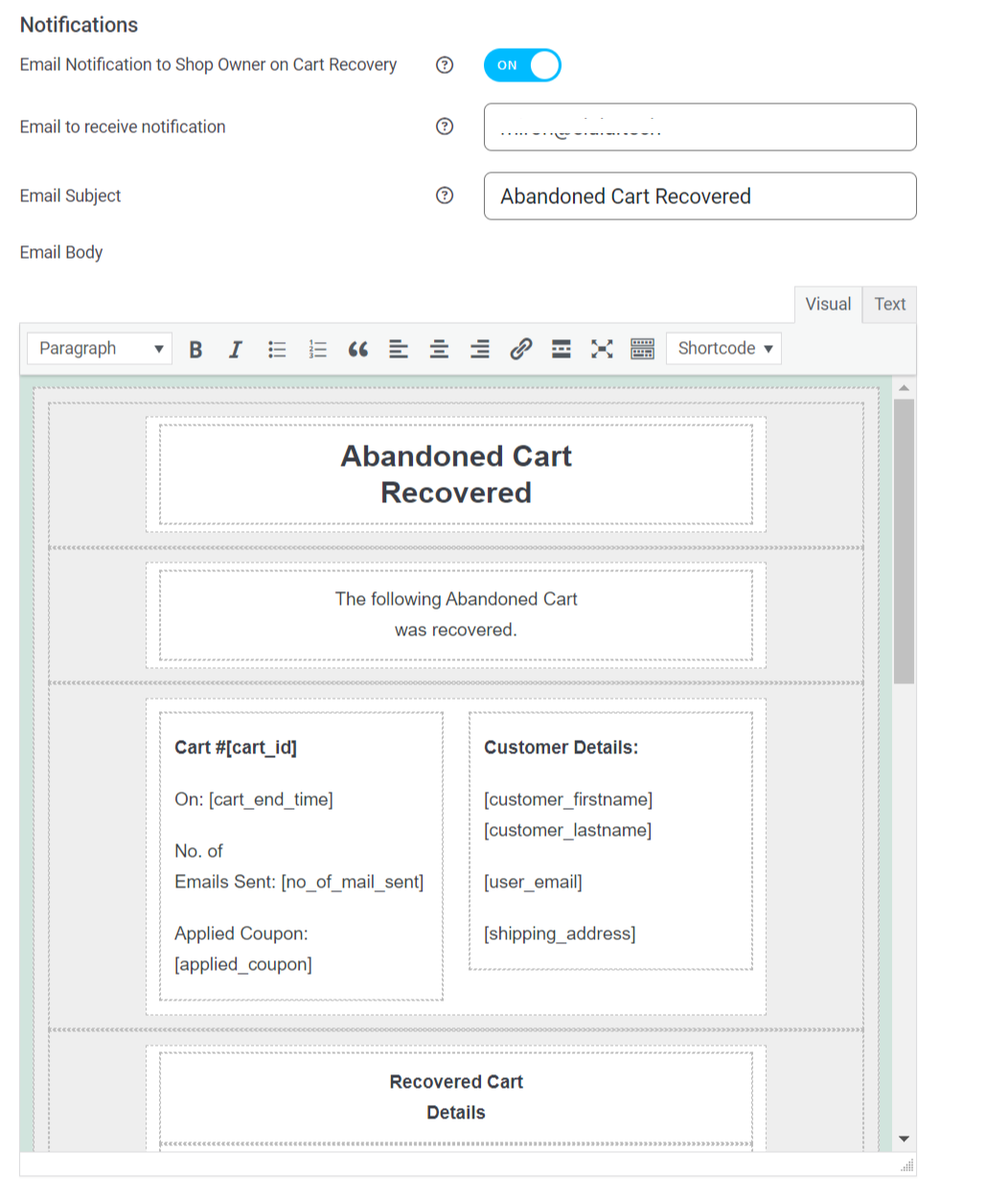 Under Notification Settings, enable the Email Notification to Shop Owner on Cart Recovery option and customize the email's text and subject as needed as well as allow the admin to be notified when a cart is recovered.
Next, navigate to the Email Settings tab.
You may use the three sub-tabs under Email Settings to customize the criteria for sending recovery emails, their templates, and the automatically generated discount coupons.
To save your changes, click Add New Rule, provide a suitable Rule Name, choose the AND/OR Rule Type, and then click Add Filter. There are various regulations that can be altered.
This part is critical to understanding this topic since it allows you to create, update, and remove email templates. If a transaction is abandoned, these email templates, together with the dynamically generated discount coupons, will be delivered to the visitor's email address.
A new email template will be produced if you select Add New Template.
You may select whether to upload a new template or alter an existing one on the Edit Email Template page, add a template name and email subject line, insert a coupon code, and more.
Select the kind of discount, the amount of the discount, and whether the coupon should be good just once or several times. Then, input the prefix of the promo code.
The discount coupon can also be linked using the abandoned cart items or the customer's email address.
Using the given shortcodes, you can alter the email content and include default values such as [customer_firstname], [customer_lastname], [cart_products], [cart_link], and [cart_unsubscribe]. 
When you've completed modifying the template, send yourself a test email to check how it appears.
You can adjust recovery email triggers under the Email Triggers tab of the email settings. Customize the email trigger time, toggle triggers on and off, or remove all triggers from this page.
Finally, you may move on to the Cart Details tab.
You may view all abandoned and recovered cart data under the Abandoned Cart Details page.
That's all! When a customer abandons their order, they will receive an email informing them of the issue and even offering an incentive. 
Conclusion
All in all, ELEX WooCommerce Abandoned Cart Recovery with Dynamic Coupons is a free yet powerful plugin that can help you reduce abandonment rates while boosting revenue. It has all the features you need and is user-friendly, so you won't have to worry about it being too complicated. 
It is easy to use, provides an abundance of features, and is free to use. In addition, its support team is dedicated to helping you out if you face any issues with the plugin. Try it out today and get the most out of your WooCommerce store. 
Additionally, if you wish to get more in-depth features such as a custom GDPR Compliance message, setting a timer for when a cart is considered permanently abandoned, and much more, check out the premium version of the plugin.
Further Reading