What is Google Merchant Center? How to add WooCommerce Product feed in Google Merchant Center?
You can upload information about your store and products to Google Merchant Center and make it available to Google shoppers. Customers can find out everything they need to know about your stores and products by searching on a Google property. Using Google Merchant Center, you may store information about products you sell online and in brick-and-mortar retail establishments. In the Merchant Center, you can also offer information about your eCommerce store, shipping, and taxes. In this article, we will discuss everything you need to know about Google Merchant Center and how to add WooCommerce Product feed in Google Merchant Center.
Here are some of the things you can accomplish using Google Merchant Center
Provide correct product data –

Merchant Center assists you in ensuring that information about your products, such as pricing and availability, is accurate when displayed to potential customers on Google.

Reach out to customers across all Google platforms –

Beyond advertising, Google Merchant Center enables customers to shop in a variety of ways. Choose to upload your information into platforms throughout Google, Shopping ads, Shopping Actions, and other Google services to show your products to shoppers across paid and unpaid channels.

Detailed insights and reports –

Learn how you're doing across all of your programs linked to Merchant Center with comprehensive reports. Pricing, merchandising, and other business strategies can be improved using actionable insights.

Sell your products worldwide –

Google Shopping is now available in more than 90 countries, allowing your products to reach a worldwide audience. Multi-country feeds can be set up in the Merchant Center so that your inventory is visible to potential buyers around the world.

Set up promotions and offers –

Google is used by 40% of global shoppers to discover the greatest offer. Set up promos for your Shopping advertising in the Merchant Center. A campaign that applies to all products on your site can be set up, or a promotion that just applies to a selection of products.

Customized campaigns to help you achieve better results –

In addition to organizing your product data, Merchant Center also helps you enhance your performance. You can learn more about strategies to improve your product data or campaigns to obtain more clicks on the Opportunities page of Merchant Center.
How to add WooCommerce Product feed in Google Merchant Center?
You'll need a feed of your products to share with Google to run Shopping ads on Google, and there are extensions like the ELEX WooCommerce Google Shopping Plugin that can help you achieve that.
You can also create the product feed manually by adding products one by one, but that will be a tedious job for any established business with a large number of products. Plus, manual maintenance and upkeep of product details can be a bigger task than you can imagine. This is where a Google Product Feed comes into play. Additionally, it helps drive more attention from potential buyers to your WordPress eCommerce store by promoting your products on Google Shopping.
An XML/CSV/TSV file is generated for your Google Merchant account when the plugin gathers the relevant information about your WooCommerce products. Properties and prices are automatically updated through the use of cron jobs that are scheduled on a daily, weekly, or monthly basis. Mapping of product categories to Google categories and attributes to products based on rules that you can set up in advance. When it comes to integrating WooCommerce with Google Shopping, the ability to specify rules and criteria while mapping the categories and attributes makes this plugin an extremely powerful tool.
Benefits of adding a Google Shopping Plugin
Creates Google Product Feeds for Google Merchant quickly and easily, allowing you to sell your products on Google Shopping.

Create as many Google Product Feeds, Feed Templates, and Cron Jobs as you want.

Ensure that all of your product variants appear in Google Shopping.

Target specific countries where you want to sell your products.

With the Schedule feature, you may automatically update the feed on a daily, weekly, or monthly basis.

Feed Performance Report with Detailed Information

Easily map WooCommerce product categories to Google categories

Products can be mapped using the Google Category

Rules and Conditions-Based Attribute Mapping and customization.
We will demonstrate how to create a Product feed using the ELEX WooCommerce Google Shopping Plugin (Google Product Feed) plugin. After installing and activating the plugin, you can begin creating your product feed. Go to the WordPress Sidebar menu > ELEX Product Feed > Create Feed to create a product feed.
Generic settings
From the WordPress admin page, you can access the plugin settings. The settings for adding the basic information for the feed can be found under the 'Create Feed' tab. Here you can give the project a name, set the country of sale, file format, and update schedule, among other things.
Map Categories
The next step is to link your product categories to Google categories. In the Google category area, you'll see all of your store's categories. If you click the box next to a product category and then start typing the name of the category in the Google categories area, recommendations will appear. You can select a relevant Google category from the list of possibilities. After you've selected all of the categories, click the Save & Continue button.
Map Product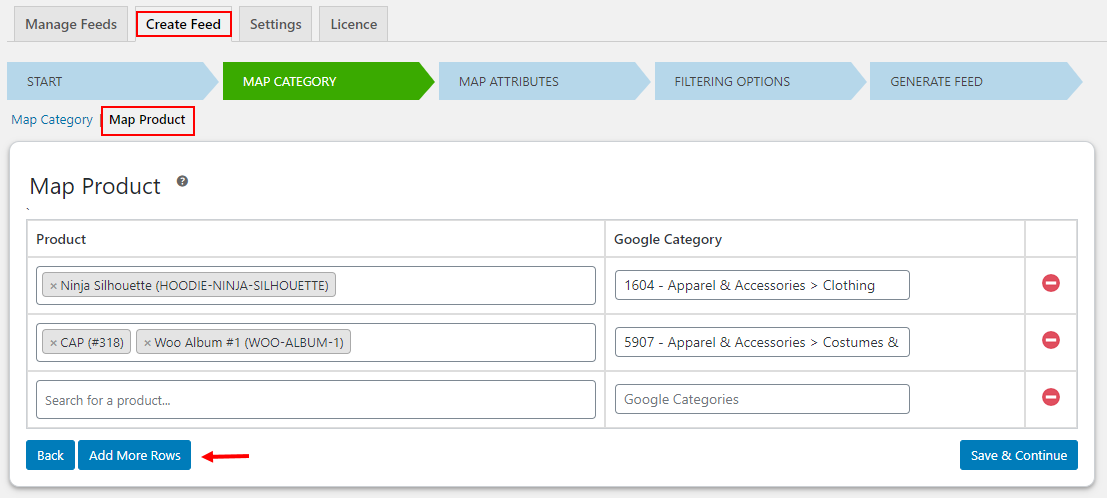 You may not want to map all products in a category with Google Categories, or you may only want to map a handful to offer on Google Shopping. Individual products can be linked to the Default Google product category using this plugin. There is no limit to the number of Google Categories you can map. Depending on your needs, you can also add new rows and delete old ones.
Map Attributes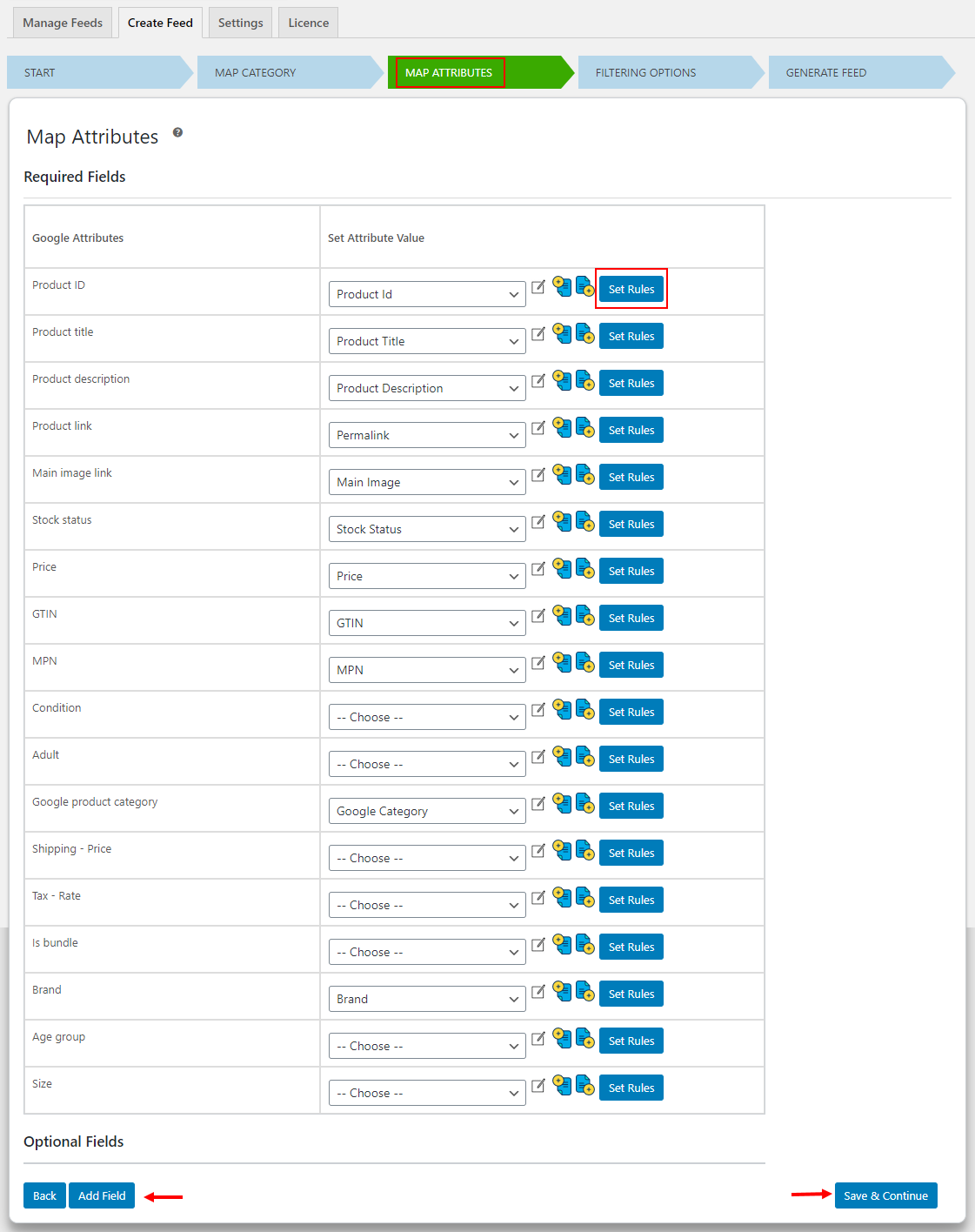 Product attributes help to organize the product feed and make it easier for customers to find your products. The plugin makes this procedure easier by providing an automatic option for adding necessary attributes. On this page, you can double-check them and make any necessary modifications. You can use the plugin to edit items, as well as to add conditions. The Add Field button can also be used to add values to optional attributes.
Filtering Options
Using this tab, you may filter products based on their current stock quantity and sold quantity. From options such as Equal to, Greater than or Equal to, and Less than or Equal to, select a condition, and then a value to go with it. If the prerequisites are met, the products will be used to create the feed if the stock quantity and sold quantity are sufficient.
Simply type in the product name to exclude specific products from the feed, and it will only show you items that contain the products you specified.
To build your product feed, click the Generate Feed button after you've customized the filtering parameters according to your needs.
Manage Feeds

Once the feed has been created, it will appear under the Manage Feed tab. A list of activities can be performed on the generated WooCommerce Google Product Feed by using the Manage Feed tab, which provides information such as feed name, URL where the WooCommerce Google Product Feed is saved, date of creation including time stamp, date of last feed modification, and a list of actions that can be performed on the generated product feed. Edit, Copy, Pause, Regenerate, Download, View, Show Report, and Delete are some of the choices available.
Uploading the Google Product Feed file to Google Merchant Center
You'll need to register a Google Merchant Center account now that your feed is ready to use. Let's have a look at how to set up a Google Merchant Center account.
Creating a Google Merchant Center account
Accounts.google.com email addresses are required to join up for the Merchant Center.
After that, go to merchants.google.com and log in. You must enter your page details and other essential information after logging in.
Shopping advertising, shopping actions, and platforms across Google are just a few of the Google Merchant Center services that you can choose from depending on your business needs. More information on Google Merchant Center Programs can be found here.
When you sign into Google Merchant Center, you'll see the following:
Overview: This section contains a summary of your programs as well as a quick look at Google Merchant Center's announcements.
Products: From here, you can manage your feeds, evaluate them, and browse all of your products in one place.
Google Merchant Center: Adding Product Feeds
To add a Google Merchant Center feed, click the "+" sign. You will be redirected to a new page where you must provide the basic information like Country of Sales, Language, and Destinations.
Upload Product Feeds to Google Merchant Center
The Google Product Feed can be uploaded and input in a variety of ways like Google Sheet, Scheduled Fetch, Upload, and Content API. Schedule Fetch is used to guarantee that the refresh schedules are maintained. After that, the feed will be uploaded and shown in the Feeds section.
You must fill in the following information:
Create a Fetch schedule using the feed name. Make sure the name you enter matches the file name exactly.

Set a fetch frequency, such as daily, weekly, or monthly, and a time for the fetch.

To fetch the feed, provide the file URL.
After the feed has been uploaded, it will appear in the list of feeds that have been uploaded.
That's it! Just like that your WooCommerce Product feed will be added to the Google Merchant Center. For a detailed, step-by-step guide on how to set up ELEX WooCommerce Google Product Feed Plugin click here.
Check out ELEX WooCommerce Google Product Feed Plugin for more information about the plugin.
We hope you have a good idea about the Google Merchant Center and how to add the WooCommerce Product feed in Google Merchant Center. If you have any questions regarding product feeds or Google Merchant Center, let us know in the comments section below.
Further reading: