New client acquisition might cost up to seven times more than retaining existing customers. Loyal customers are also five times more likely to buy again and more likely to refer others. In comparison, 95% of customers will tell others about a negative experience, while 87% will share a positive experience.
All of this goes to illustrate the importance of customer service to a business's survival.  If customers are forced to wait for days or exchange emails and phone calls to get an issue answered, they will not hesitate to give a negative review or criticize a business on social media.
To seek support in the past, a customer had to go to a real help desk.  Fortunately, this isn't the case any longer.  In today's world, helpdesk software is essential for offering excellent customer service. Customers can now contact your customer service team via live chat, social media, email, and a ticketing assistance system over the phone. It also streamlines customer service by automatically generating support tickets, pre-writing answers to frequent concerns, and ensuring that requests are routed to the customer service agents who can best handle them.
What is a helpdesk ticketing system, and what does it do?
All of your customer support requests from various channels are collected, organized, and tracked by a helpdesk ticketing system, which allows you to manage them all in one spot. By optimizing processes, organizing information, and simplifying interactions, helpdesks ensure that important requests do not slip through the net.
Companies of all sizes can reap the benefits of implementing their helpdesk plugin. Using a virtual helpdesk, your internal IT team may troubleshoot problems with hardware or software for employees. It's a flexible solution for companies of all sizes, whether they're selling products or services. 
We evaluated the Best Help Desk Ticketing Systems for small businesses based on affordability, the convenience of use, automatic ticket creation and sorting, and connectivity with third-party marketing.

WSDesk is a professional WordPress Helpdesk Plugin & Customer Assistance Ticket System that comes packed with features to provide the best possible customer support. With this plugin, you'll get tickets for all of your customers' inquiries, complaints, and suggestions.
You can have an infinite number of tickets assigned to you and an unlimited number of agents. To keep your tickets structured, you can assign agents, statuses (unsolved, pending, solved), and tags. 
WSDesk also has built-in support features to make your life easier. Enable options for email notifications, automatic ticket closure following inactivity, department assignment, and more. You can include pre-written responses for your agents. Examine your team's performance using the agent ratings and ticket reports. You may also create tickets automatically from unopened emails using IMAP or Google OAuth.
The best feature of this plugin is that it directly integrates with your WooCommerce Website. Other features include supervisor profiles, automatic ticket tagging, and auto-ticket assignment as well as custom ticket submission forms. There is also email filtering and email blocking as well as triggers and automation as well as quick reply templates.
Instead of storing your data in the cloud-like other SaaS-based plugins, WSDesk stores it locally. 
Zendesk is a popular help desk software that includes several products that work together to improve the quality of your customer service. Its simple UI and responsive design make it simple to integrate the system into your operations. Email, live chat, social media, phone, and SMS are all supported. You'll also be able to collaborate effectively, allowing your agents to solve problems faster and be more productive.
You can use the software to automate a wide range of processes. For example, if you have repeated customer inquiries, your agents can create standard responses by creating their macros. In addition, users can see a customized view of their queue based on conditions such as the ticket status, group, and assignee.  A knowledge base (KB), a customer portal, a support center, and an online community are just a few of the self-service options available to your customers and agents.
The WooCommerce Helpdesk, Live Chat, and CRM plugin offer a one-stop-shop for customer service. Richpanel's powerful customer management features and analytics may now be combined with WooCommerce's popular WooCommerce extension thanks to this plugin.
Richpanel makes it easier to manage customer requirements, support inquiries, and sales metrics. The software develops consumer profiles so you can monitor their buying habits and predict their needs, resulting in higher conversion rates.
Richpanel has options for live chat support. This enables you to provide immediate assistance to consumers who require it. The live chat function is easy to implement into your website and is mobile-friendly.
JitBit Helpdesk is a software that is available in both a hosted and on-premise version for small and developing organizations. As a cloud-hosted solution, it's easy to set up and ready to go in minutes. There is an if this then that (IFTTT) engine included in the ticketing system that allows you to automate activities with Automation Rules. You can use it to send automated responses, set due dates, assign tickets to technicians, and send HTTP queries to third-party services, among other things. All of this frees up time for your team to concentrate on providing excellent customer service. 
It also features integrations, a team inbox for collaboration, preset responses, and a knowledge base. Plans for JitBit Helpdesk's two implementation models, which cater to freelancers, startups, and small enterprises, are priced based on the total amount of monthly payments, rather than per user. It is also scalable, as it caters to the requirements of major corporations and businesses.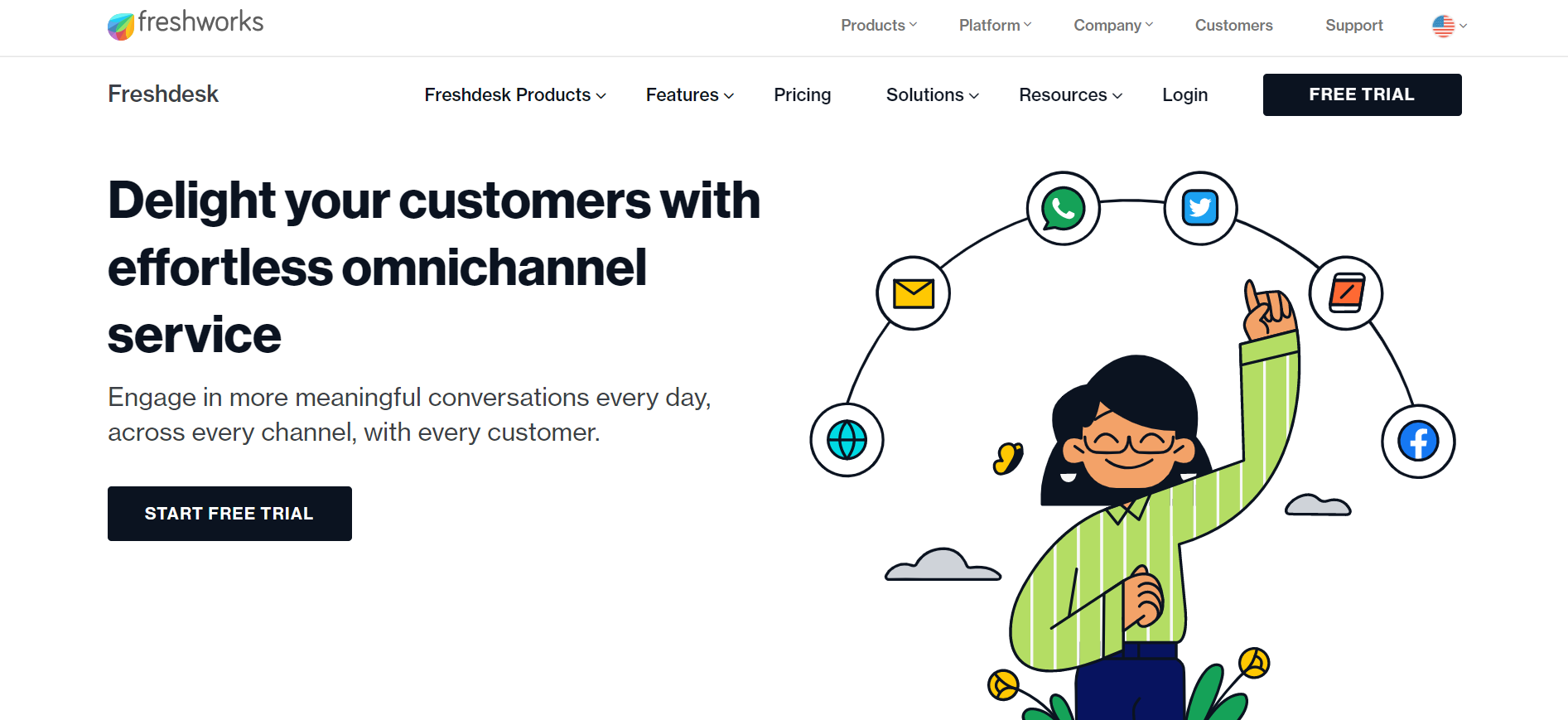 The flagship feature of Freshdesk is a shared inbox, which allows teams to easily sort, allocate, and collaborate on problems. Incoming emails, voicemails, and even Twitter and Facebook support requests are instantly converted into tickets, which are prioritized and assigned to the employees. 
Freshdesk also employs automation to assist you in eliminating repetitive processes and focusing on tickets that require more attention. Customers can receive automatic email notifications based on their ticket status, conduct multiple actions on a ticket with a single click, and set tickets to progress to the next stage based on time and event triggers. It has a feature called agent collision detection that prevents many agents from working on the same ticket at the same time, as well as gamification features that encourage them to meet their goals.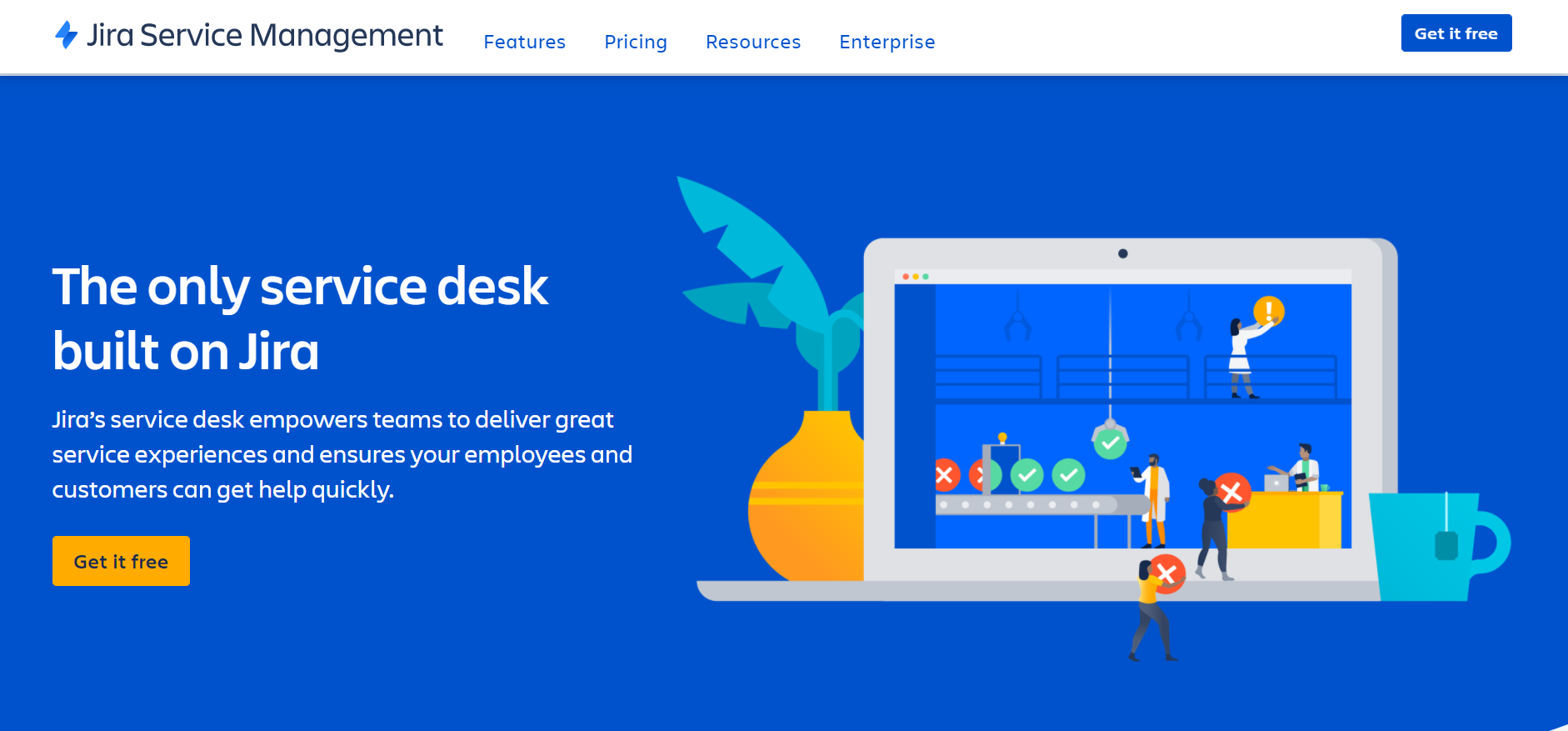 Another helpdesk system for ITSM and internal assistance is Jira Service Desk. They are, however, designed for larger businesses.  When it comes time to expand your firm, they're a great option to consider.  Jira Service Desk can be used for both internal and external help, while the platform's internal support functions are its main focus.
Your employees can use Jira Service Desk to request services and support for anything. Jira Service Desk software can handle up to 5,000 staff as well as an unlimited number of customers. For practically every use case you can think of, Jira Service Desk interacts with more than 1,000 different apps. You can fully tailor Jira Service Desk to meet your and your team's needs, from Zoom to Splunk, G Suite, Slack, and more.
Zoho Desk offers multichannel assistance, allowing customers to reach out to agents via email, live chat, a web form, or social networking sites such as Facebook and Twitter. Voicemail, call routing, and automatic ticket creation from phone calls are all included in telephonic support. As well as providing agents with an overview of tickets, Zoho Desk also provides managers with a separate dashboard for tracking and analyzing agent performance.
An easy-to-use mobile app allows you to modify and view reports as well as respond to tickets. Zoho Desk has powerful automation that automatically allocates tickets to the appropriate agents, issue alerts when ticket status changes, escalate SLA breaches and allow you to develop custom workflows, which are common in similar help desk platforms.
To Conclude:
Which is the Best Help Desk Ticketing Systems available today? In general, there is no "optimal" solution for everyone. There are numerous feasible options for unique business requirements. This guide will help you find exactly what you need, regardless of your company's size, industry, or helpdesk requirements.
Further reading