In terms of customer service and ensuring that your users have a positive experience with your organization, the very best way to do it is online.  More customers are turning to the internet and technology for assistance rather than calling the company. Users go to Google and your online website to find answers to their questions, regardless of what they are searching for. Some people may find it easier and perhaps more comfortable to communicate via chat than speaking on the phone. With our guide, you will discover the Best Free Live Chat Plugins for WordPress for improving customer service.
However, online assistance comes in a variety of formats, including forums, FAQs, and even product manuals. As a result, many people turn to online chats or social networking sites to get their questions answered. Incorporating a live chat option into your WordPress sites may be beneficial for both the website owner and the users.
Why Should You Include A WordPress Live Chat Option On Your Website?
There is no doubt that if you provide excellent service, you will earn more devoted customers and followers. But why is adding Live Chat important when you already provide excellent customer service and support? Let's have a look at some of the most significant benefits:
Quick Response –

Customers want immediate assistance with everything from shipping to answers about your products and services. Live conversations, whether online or offline, are the quickest way to answer and resolve any pertinent issues.

Real-time:

When it comes to online chats, multitasking is a lot easier to do. Furthermore, some plugins offer live screen sharing or streaming, making the task considerably easier.

Ease of use:

While making phone calls, you need to be in a good location with a good network. It's so much easier to type it out, whether it's for work or for personal reasons.

Efficient Customer support:

The majority of Live Chat services allow for multiple conversations. 

This means that instead of dealing with one inquiry at a time, you can handle numerous at once. As a result, time and resources are effectively utilized.

User Tracking:

With live chats, website administrators are likely to be able to monitor the active users on their site. This makes it easy to keep track of things, and it also makes it easier to launch marketing campaigns and promotions.

Multilingual support:

The majority of plugins support several languages, which aids and automatically translates your conversations with international users.
You can easily add live chat to your website with the WSChat plugin for WordPress, making it easier for your customers to contact you. While other Live Chat plugins rely on external API calls, our plugin works entirely within WordPress. A dedicated server is recommended. It also includes Pusher WebSockets APIs as an alternative, allowing the plugin to run on any server. Agents can easily reply, assist, and resume a chat conversation if a customer requires assistance in the future because all interactions are stored in the same chat thread. Agents can use live chat to assist several consumers at the same time. They may start chats from their user-friendly dashboard and respond to consumers with the appropriate solutions. The possibility to attach and send files for both clients and agents is included in the live chat support service to make it more accurate.
Website owners may communicate with their users more easily using Tidio Live Chat's fully responsive and retina-ready WordPress live-chat plugin. This plugin is extremely easy to edit and is completely free to use. Even the setup is less difficult than one may assume. Color schemes, border-radius, and even location may all be changed to suit your needs. You can also utilize their specific program for smaller devices such as mobile phones, tablets, and desktop computers. In addition, the widget supports 183 languages, making it easier for you to communicate with foreign users. You can also save offline communications and send a notification to your users. You can also choose from two alternative styles for the ease of the users, so you can pick the one you want.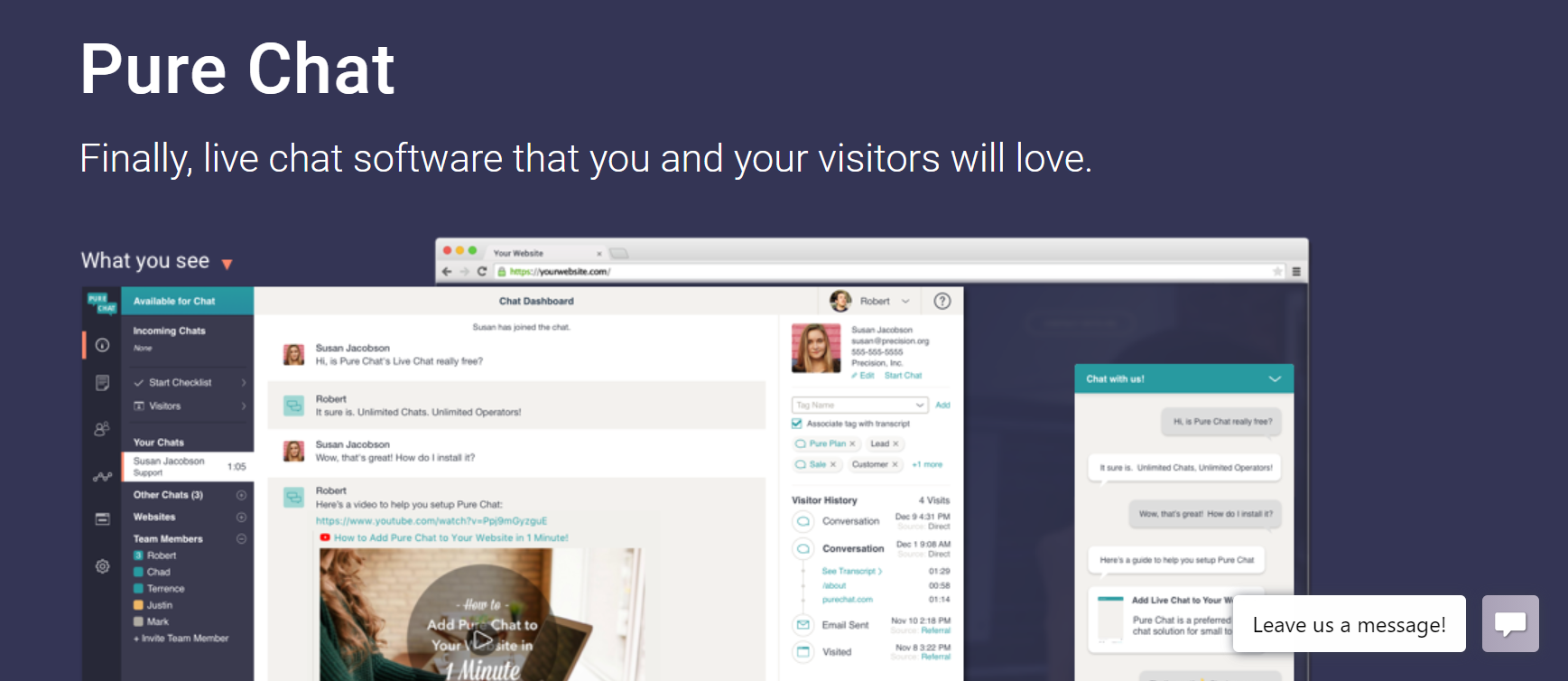 Pure Chat is yet another fantastic responsive WordPress live chat plugin that we recommend to our customers. It has an unlimited chat option that makes managing and responding to consumer inquiries a breeze. It's easy to use, well-coded, and fully customizable. You can also look through the transcript history to keep track of your chats. 
You can chat with your website visitors using live chat software, and learn more about them with real-time visitor stats and contact history. These complementing technologies work together to provide you with information on traffic patterns, user experience, marketing campaign effectiveness, and more. You can use this information to identify promising leads, and then use the visitor alerts feature and trigger-based chat capability to capitalize on your most qualified prospects, resulting in greater sales.
WP Live Chat Support is a fantastic free WordPress Live-chat plugin that is perfect for small and large enterprises alike. In spite of the fact that it's aimed at small enterprises, the premium-like features it has are definitely worth a try! It comes with 6 pre-designed live chatbox themes from which to select. There is also the option of having an unlimited number of simultaneous live conversations. It is possible to save the offline messages, and you can also view the history of the live conversations in a few clicks, making it handier. You may also include gif files, animations, surveys, and polls in your chats, which is a major plus. You may also activate new message notifications, change your device support options, and collect the emails and names of any new users to make it even more efficient.
Formilla is a free WordPress live chat plugin bundle that allows users to engage with their customers in the most effective way possible. It offers a free version and premium add-ons and features that you may use to make your life easier. When it comes to the free services, it provides a variety of handy alternatives for customization as well as real-time communication with your customers. It can handle numerous live chats at once and monitors visitors in real-time. Using this feature, you can get an in-depth look into your active users and communicate with them in real-time. Because it is cross-browser compatible, you will have no trouble using it regardless of whatever browser you choose. This plugin also supports a wide range of international languages, ensuring that none of your users are left out.
LiveChat is yet another wonderful addition to our list of free WordPress live chat plugins. This plugin is powerful and complex since it allows users to communicate instantly with on-site users and customers. This template, which is designed to improve your online visibility and sales performance, comes with a huge list of fantastic features. A proactive chat invitation, as well as several live chat sessions, are included. Another advantage of this plugin is that it connects effortlessly with a variety of third-party apps and services. It also has an integrated ticketing system that makes it simple to manage all of your users' issues. This plugin is fully responsive and retina-ready, and it adjusts to any device's screen size automatically.
JivoChat is a WordPress-optimized all-in-one business messenger that allows teams to communicate with clients via live chat, phone, email, and social media. JivoChat enables you to provide prompt customer service to your customers, increasing conversion and sales. Get the most out of it by reflecting your style and strategy by customizing and configuring it freely. It is the most popular live chat system on the market, with over 290,000 users. It runs perfectly on all devices! Create a chat widget with JivoChat for your WordPress website, place it wherever, edit and configure it as you choose, demonstrate your value effectively and resolve client issues swiftly.
Tawk.To Live Chat is another fantastic WordPress live-chat plugin that we recommend. Despite being free, this template has all of the features that will make it easier for users to track and handle your visitors' inquiries. This plugin may be adjusted to complement your theme style because it is incredibly flexible and adjustable. It comes with an advanced widget scheduler for scheduling and managing your Live Chat choices. Not only that, but it's also responsive, retina-ready, and cross-browser compatible. It can accommodate an unlimited number of agents and live chats at the same time. It also includes translation plugins, ensuring that you have no problems communicating with an international clientele.
Using a real-time chat function, Wise Chat is a social network plugin that aims to improve user engagement through social networks.  You can have numerous chats running, as well as multiple chat rooms. There are three easy themes to choose from to design your chat, as well as a lot of settings to customize the plugin to your liking. It is up to the reader to decide whether they want to remain anonymous or use their own name.  They have the option of changing their name or turning off the messages' sounds. 
Conclusion
With our guide, we hope you've discovered the best free Live Chat Plugins for WordPress for improving customer service. For your convenience, we've listed all of the free plugins that have premium-like functionality. And now that we've shown you what a live chat plugin can accomplish for your website, we hope you'll add one to your own. Feel free to share your thoughts about the plugins on our list in the comments section below.
Further reading: