The most effective inventory management systems are built on the foundation of inventory management software. It's frequently made with a certain target audience in mind. This implies that the ideal software for your company is determined by your specific requirements.
Inventory management comes in a variety of forms and sizes, making it difficult to choose the right one for your needs. That's why we've put up this guide to assist you in finding the ideal one for your company.
Inventory Management Software
Inventory can refer to a variety of things. To put it another way, inventory is something that a company needs to produce sales and be successful. Whatever inventory the company is selling, it must sell to make a profit.
Inventory management software is a tool for tracking sales, increasing productivity, saving time and money, and providing useful insights that can aid overall business success. It collects essential data on items as they transit from vendors to warehouses, between warehouses, and lastly to end consumers or other enterprises.
All incoming and exiting supplies and items will be accurately tracked with the best inventory control. You must have a good inventory management system in place regardless of the type of business you run.
Top 7 Inventory Management Software
An efficient inventory management system guarantees that you have enough inventory to satisfy demand while also revealing which products are the most popular. Let's look at some of the top inventory management tools on the market right now.
Magestore, which has been around since 2009, was one of the first companies to lay the groundwork for the best Magento POS system. Magestore was created for Magento inventory management, so it integrates smoothly with the website backend, offering you even greater business connectivity. Click to read more about this number 1 POS provider for Magento.
Magento's inventory solution allows you to establish a single product catalog for all channels and seamlessly sync product data to eliminate any potential errors and better manage your multi-warehouse inventory.
Magestore also has a large number of add-on plugins that you may purchase. The upside, like with all Magento goods, is that the code is open-source, allowing you to design custom solutions if you have a talented developer on your team.
You can keep track of your profits, identify your best-selling products, and adjust your UI/UX design to set yourself apart from the competition. You can also link to external platforms and systems via the inventory API.
Start your search for the perfect inventory tracking with Zoho Inventory if you want a high level of control, including the ability to arrange products to automatically re-order from your suppliers when your inventory goes below your chosen threshold.
Zoho delivers some tools for small businesses and frequently appears on our best-of lists due to its excellent value for money. Multiple warehouses, e-commerce, and purchase orders are all possible with Zoho Inventory. The system provides powerful bundling and has tools for merging various SKUs, is adaptable to a variety of enterprises and use cases, and has a user-friendly interface.
Apps in the Zoho suite are intimately connected with Zoho Inventory. This program can be used to track inventories as well as create sales orders and invoices. It works with a variety of platforms, such as Shopify and Amazon. This helps you to sync data across sales channels, making stock levels and inventory expenses easier to monitor. Zoho Inventory also includes a WooCommerce integration.
Zoho offers a free plan with a monthly limit of 20 shipping labels. You can also pick from three premium plans, ranging from $39 to $249 per organization every month (if paid annually) and $49 to $249 per organization every month (if paid monthly) (pay monthly).
Odoo's inventory management system is available as standalone software, making it one of the most popular options for a free inventory management system. This program includes real-time and historical inventory tracking, reporting, and low stock notifications, among other features to aid inventory processing.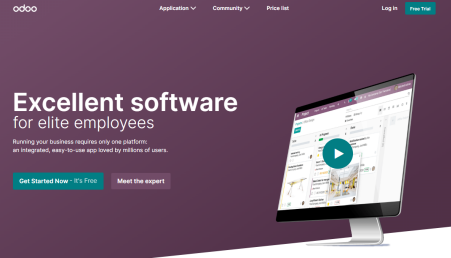 Customer relationship management (CRM), POS, human resources, project management, and company management tools are all included in Odoo. It also comes with a customer site where your customers can log in and check the status of their orders.
For speedier order fulfillment, you can also manage numerous warehouses, perform material resource planning, and route products straight from your supplier to your customer. You may also track an unlimited number of locations, people, and products.
Although Square is better known for its point-of-sale tools and payment processing than for cloud-based inventory control, it has a lot to offer. This inventory management software is completely free to use, and it comes with a fast back-end environment that makes it easy to sort orders.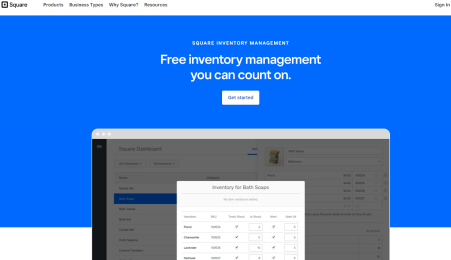 Square, unlike other cloud-based inventory tracking, functions offline and can even accept payments, allowing your firm to continue working even if the internet is down. Managers and business owners can quickly process discounts and manage refunds using Square POS. It accomplishes this by providing inventory management capabilities such as product name storage, quantity recording, and pricing.
Veeqo is another popular inventory management solution for retailers and wholesalers who need to sell across several channels. The software promotes itself as a platform for inventory and shipping. It has a simple and easy platform, similar to Zoho Inventory, that brings together each sales channel into a centralized location so you can quickly keep track of and manage everything.
Inventory, inventory control, and shipping fulfillment are all covered by Veeqo's feature set. It's built to handle your whole back end, from purchase orders to customer orders that have been dispatched and fulfilled.
You can go from an inventory analysis report to tracing a set of SKUs in one of your warehouses in a matter of seconds. Veeqo provides today's merchants with everything they need to manage sales across multiple channels, from e-commerce to marketplaces and other distribution channels.
Lightspeed is a fantastic cloud inventory management platform that is simple to use and apply. Restaurants and apparel companies looking to expand frequently use this product. The POS system has several inventory management tools to look at, such as batch tracking and cataloging.
Lightspeed is a web-based inventory control application that caters to both brick-and-mortar and e-commerce inventory requirements. It focuses on both industry-specific and in-store purchases.
It has fantastic inventory tools and interacts seamlessly with SkuVault, a warehouse management system, for greater functionality. You can split your inventory by size, material, and color, bundle merchandise to sell as a package, or set up seasonal promotions to move inventory faster.
Negative inventory warnings, reorder point notifications, and other data are provided by the service to help you make better decisions. You may also utilize Lightspeed to analyze your daily, weekly, monthly, and annual sales figures and adjust your stock accordingly.
For small enterprises on a budget, the InFlow Inventory system is a popular choice. The inFlow system is designed for small businesses that want to improve their inventory control and efficiency. To make inventory tracking easier, InFlow combines inventories with an order management system. This is a simple, straightforward platform that includes a central inventory database as well as B2B showrooms where customers may see your products.
InFlow breaks down silos to consolidate inventory, warehousing, shipping, accounting, finances, and more for successful inventory management techniques. The inFlow solution is for small firms that want to improve their inventory management and operational efficiencies.
Conclusion
As your business expands and reordering becomes more complex, you'll need a centralized application to manage your many vendors and orders. Look for a system that lets you create repeat buy orders, change amounts quickly, track inventory shipments, and connect with vendors easily.
Further reading