Most of the eCommerce store owners make use of the shipping software to reduce costly shipping errors to ensure they have a streamlined process of shipping and order fulfillment. Encountering shipping errors and dealing with them day-by-day is indeed a frustrating thing, which none of the eCommerce vendors enjoy. The best part of using shipping software is that it reduces costly shipping errors and saves your day
Shipping software helps to automate various processes in the shipping and order fulfillment process with its unique features. There are several benefits when it comes to using the shipping software, like discounted rates, live shipping rates on the Checkout page, and much more. 
Let's take a look at a few benefits of using shipping software and ways shipping software reduces costly shipping errors.
1.Verify address before shipping
If you are using address verification software it will help to automate the process of verification and validation of addresses and ensures that accurate deliveries happen.  According to Loqate, almost 74% of failed deliveries are due to incorrect addresses.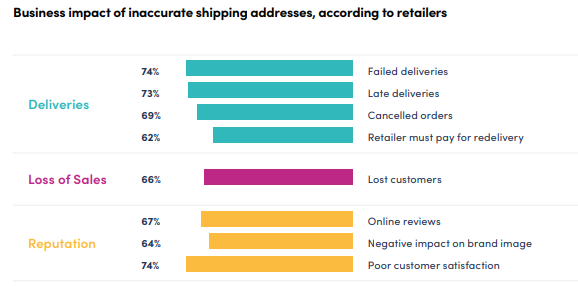 As you can see from the data listed above, the business impact due to inaccurate shipping addresses is huge. It is said that there is a huge poor quality address data and lack of address verification which is subsequently causing business loss.  Even though there are several internal options to go for address verification, it never seems to lessen the burden or provide accurate data in terms of addresses especially when it comes to the larger expanse.  However, depending on third-party software is an ideal solution when it comes to address verification for various locations.
Learn about the features of the address validation plugin  ELEX WooCommerce Address Validation & Address Autocomplete Plugin.
2. Automate the Shipping processes
The automation of the shipping process does ease and streamline many processes that make your store work efficiently. You can find several shipping plugins that will surely work together to connect the loose ends and make the shipping process go easy and smooth.
The shipping plugins can automate processes like:
Getting shipment-specific reduced rates from shipping carriers.

Select shipping services for each order.

Delivering post-purchase notifications as well as other email updates as required.

Inventory tracking and real-time updates on the products.

Auto-generation of bulk shipping labels.
Automation of several processes included in the shipping process makes the job easy. You can find several shipping plugins that are multi-faceted and do reduce the burdens associated with the eCommerce shipping processes.
3. Real-Time Inventory Avoid Stockouts
When you are in an eCommerce business, you need to worry about the inventory a lot. It is important to keep in mind how much quantity you have to sell. No customer likes the "out of stock" message when they are about to purchase their favorite items in the shop. The best way to manage is by keeping an eye on the inventory. You can make use of the inventory management software to keep a check on the quantity and then ensure you don't send back the customer disappointed, causing loss in business.  Making use of the quote request plugin also comes in handy in such instances, wherein the customer can place a quote request on items and send a request to the store owner. In that way, your customer will not be disappointed and will not know whether you have a little quantity of that item in the inventory.  Also updating the WooCommerce product quantity accurately is important when it comes to avoiding stockouts. You can always hide the items, which are out of stock using proper mechanisms.
4. Right Size of the Packages
Package size does impact your business cost. Either you go for flat rate packaging or go for more economical ones depending on the item you are shipping. Even though there are several shipping services that offer cheaper shipping supplies or you can obtain from various other resources, you can only fit in a definite size or a certain weight limit in it, to ship. With the right shipping software, you get to know the exact charges for shipping the item. This helps in a great way. As most of the shipping plugins have some algorithm working in the background to analyze and calculate the package requirement and then decide upon the cost of shipping. Hence you get accurate shipping rates for shipping any item. And you will know exactly when the shipping rate is higher or low depending on the weight and size of the packages.
Right size packaging saves you a lot of money when it comes to shipping. For example, if you are trying to ship items that exceed the maximum size/weight limit per service then the shipping carrier will charge you extra for the package. Also if your packaging is not right, you might end up delivering damaged goods, which is indeed not the right approach to uplift customer happiness. Get your packaging right with the appropriate mechanisms. 
Choose the right shipping software to reap the benefits and earn better sales
With the right inclusion of shipping software, you can easily enhance the sales of your store and bring in happy customers. Save time, money and increase your brand popularity with efficient automation. Improve the sales, lower the shipping cost and avoid any hiccups in shipping items both domestically and internationally with popular shipping carriers in the right way.
Further Reading: