SKUs are important to help eCommerce store owners manage the inventory. Let's get to know how to manage and create a good SKU system and tips to optimize it.
Managing an inventory is quite vital for the eCommerce industry. When your business is growing and your stocks are flying off the shelves, you need to reorder and refill the stock with the rising demands. With the growing stock, you find it difficult to manage the inventory manually. In order to maintain your inventory, it is always advisable to use a coding system. This is where SKU comes into the picture. 
What Are SKU Numbers?
SKUs or the stock-keeping unit number is mostly a string of numbers and letters (alphanumeric) used to represent each individual product. These codes help the vendor or anyone working at the eCommerce store to identify the product easily. These codes make inventory management easier and avoid any out-of-stock issues. They may represent unique product characteristics, such as its model, size, brand, color, item location.
How Does an SKU Work?
SKU generator methods may not be the same for all vendors. It varies with eCommerce businesses. A retailer assigns an SKU code to ensure they can identify and distinguish the goods correctly based on the brand, category, subcategory, size, color, among other features.
Most of the time, the information that is contained in an SKU number includes important features, especially the ones that help to distinguish the product from others. For example, you may sell red and blue T-shirts, but in order to keep the SKUs different you can go with a difference of one letter like R for red T-shirts and B for blue T-shirts that might denote the color variation in the SKU number.
Why Are They Important to eCommerce?
SKUs help to keep track of the items and are beneficial for online retailers, order fulfillment centers, and even warehouse managers. SKU number helps to keep track and trace of the inventory levels and then accordingly replenish the shelves as and when necessary. So ultimately with the SKU, it becomes easy to manage and organize the inventory. Hence SKUs make it easy to:
Look up product information in the store.

Find products quickly.

Smoothen the third-party logistics working process.

Identify and organize products.

Improve business decision-making.
SKU vs UPC and What is UPC
UPS or Universal Product Code is similar to SKU. Both these codes contain the necessary information that comes in handy for the manufacturers and retailers to keep track of the products in the store. Even though they serve the same purpose, they have slight differences to differentiate them.
Length:

An SKU can be any length as established by the store owner, while UPCs are always 12 digits

Creation:

Retailers or store owners create and assign SKUs; The Global Standard Organization (GS-1) creates and assigns UPCs in collaboration with manufacturers.

Composition

: SKUs are alphanumeric codes comprising numbers and letters; UPCs are numeric codes only and contain no letters.

Extend of use:

SKUs are unique to individual retailers and are used mostly for internal purposes within a company for stock-keeping purposes or to track inventory; UPCs are universal and consistent across all retailers and remain the same throughout the products life cycle. They are extensively used externally to keep track of products throughout the supply chain.

Information contained:

SKU contains essential information related to Retailers' Company and their products; UPC consists of information that identifies manufacturers and producers selling the product.
How to Create a Good SKU System?
The best and the coolest mantra to create a good SKU is – 'Keep it simple.' 
There are no standardized methods when it comes to creating SKUs. Hence you can make an SKU as per your choice. But make sure the SKU is easily understandable by you as well as your employees and vendors. Also, ensure what SKU code is used to identify your product. Hence always use a systematic SKU generation method for creating SKUs and then tag them to the products for which it is used in your store. 
There are two ways of creating SKU numbers:
You can create them yourself.

You can use your Inventory Management System (IMS) to generate them automatically.
Some guidelines to follow while you create an SKU.
Generate SKU codes that can be easily distinguished: Avoid using symbols like  $,%, &,!, /, in your SKU as they can mislead and result in formatting or human errors which happens quite commonly.
Never start your SKU number with zero. Some software disregards it and starts with the next number.

Have a unique SKU formula set or pattern that can accommodate the specific needs and features of your business to help you generate efficient and memorable SKU numbers.

Start SKU numbers with top-level identifiers. Always use the first two or three characters in your SKU number to denote the top-level identifier such as a department, the store category, or the supplier, or even store location if you run multiple stores.

Middle numbers should represent unique identifiers. It is always a best practice to use the middle characters of your SKU numbers to assign unique features like subcategory, item type, size, color, or style so that it makes sense of the product you sell.

Finish your SKU number with a sequential number, to make it easy to set up and identify the newer and older items in a product line. It is good to use sequential numbering such as 001,002, 003–for the last part of your SKU number.
Here is a perfect SKU example based on the above criteria:
Description of the product: Purple sportswear for Women
SKU Number: W-S-P-0012
Here M stands for Women, S for sports, P for Purple and the 0012 is the item code.
8 Ways To Use Optimized SKUs To Improve Your Business Performance
When you are following a defined and organized SKU format, you can easily manage your store efficiently. Here are some ways that optimized SKUs can improve your business performance.
        1.Track and improve sales
SKUs make it easy to distinguish which products are popular and in-demand in the store. In that way, it becomes easy to track the items that are popular and less popular. Knowing that you can easily replenish the items that are in popularity and on sale all the time.
Improving merchant-vendor communications
SKUs are easy to identify, which makes the usage more obvious when communicating with businesses. It becomes easy to communicate with SKUs to other businesses for forecasting sales and setting expectations for proposed products in demand. You can gauge the future of the products' demand and then manage trends in specific categories to also reduce the likelihood of shipment delays. 
Avoid out of stock situations and boost customer satisfaction
With a clear tracking of the items using the SKUs, you can identify when the products are going to be out of stock and refill them at the right time. Hence you need not leave your customer unsatisfied with an "out-of-stock" message and boost customer satisfaction with timely actions.
Speeding up inventory tracking
With SKUs, the inventory is mostly organized, which makes the management easier. This way you can reduce several challenges associated with managing the inventory or even running the warehouse's logistics manually. The SKUs give the accurate number of items left in the stock and avoid stock-outs.
Improved search for your e-store
Since SKUs are unique, it becomes easy to filter the items on your store via search. With SKU as the search criteria, you can narrow down the results and then later on work with other characteristics to filter again.
Reduced risk of errors, theft, or damage
Using the SKUs efficiently you can keep track of the items that are arriving and leaving, hence you don't miss out on any items or get misplaced. Hence, with a proper input of SKU into the system, you can efficiently manage or track the items that are newly added to your stock or even leaving the store. This will reduce the risk of loss, damage, or theft when these items leave the store for delivery. 
Easier marketing and remarketing
Whenever your customers look for products using the SKU, you can keep track of the popular products in demand. Also, use the data to upsell the product whenever required. Moreover, these codes come in handy when you want to conduct target marketing.
Improved third-party fulfillment
With the SKU, you can manage the movement of the product to various order fulfillment centers across locations. In that way, you can use your SKUs to provide your automatic inventory sync, order and shipment tracking, real-time inventory counts, reordering point, and other in-depth analytics.
How to bulk edit the SKUs of items in your store?
Now that you know the benefits of using the SKU and you decide to edit the SKU on your store, you might find it difficult to bulk edit it right away, especially when you have a huge number of products. Let's make it simple by using a bulk edit plugin like ELEX WooCommerce Advanced Bulk Edit Products, Prices & Attributes you can easily filter the items. With the plugin, you can filter the products for which you want to edit the SKU.
Once done, you get to see the preview of the items that you filtered. You can also use the product name, description, category, or even other attributes as per your choice here. You can also exclude certain ones. Once you select the products from the preview, you can choose to update the SKU on the next page.
Here, you can either change the SKU or append, set new, prepend, or replace the provided regular expression pattern with the entered replacement value.

For example, you want to replace the letter "A" in the product SKU "A201" with "B". This will result in the following change as shown in the image below: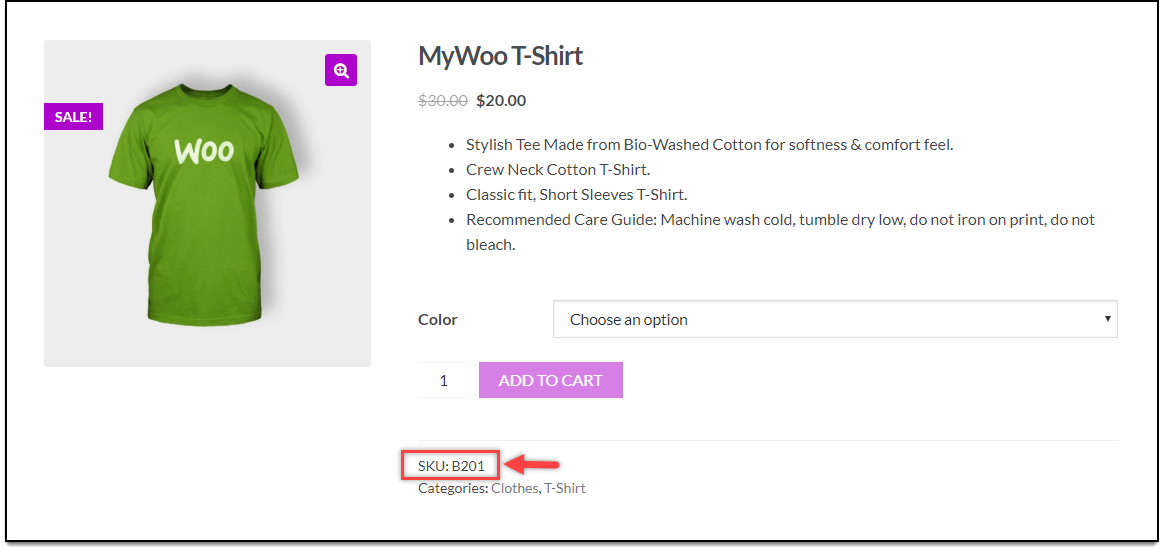 Conclusion
If you look closely, there are multiple benefits of using an optimized SKU code in the store. Though adding and creating these SKUs seems quite a task, you always have a good reason to use them in your store. In short, SKUs allow more streamlined processes.
Further Reading: