To succeed in today's competitive eCommerce market, companies need systems in place to quickly and easily process orders and send products to customers. ShipStation has long been a prominent player in the field, offering a comprehensive platform to streamline shipping operations. However, as the demands of online retail continue to evolve, so do the solutions that cater to these needs.
In this article, we will explore the top ShipStation alternatives and competitors that have emerged as formidable contenders in the realm of order fulfillment and shipping logistics. Whether you're a small startup seeking budget-friendly options, a growing enterprise with specific requirements, or an international seller aiming to conquer cross-border complexities, this comprehensive guide will shed light on a range of alternatives that could potentially optimize the way you manage your eCommerce shipping.
We'll dive deep into each alternative, providing detailed descriptions, key features, and an unbiased analysis of the pros and cons as compared to ShipStation. By the end of this exploration, you'll be equipped with a wealth of knowledge to make an informed decision that aligns with your business's unique goals and aspirations.
Let's get started!
All About ShipStation
ShipStation is a leading cloud-based shipping platform that has become a cornerstone in the world of e-commerce shipping and fulfillment. Founded in 2011, ShipStation offers a comprehensive suite of features, including multi-carrier integration, order management, automated label printing, and real-time tracking.
With its user-friendly interface and seamless connections to over 100 carriers and marketplaces, ShipStation enables businesses to streamline their shipping processes and manage orders from multiple sales channels. Its efficient automation, customizable shipping rules, and reporting capabilities make it an attractive choice for businesses of all sizes seeking to optimize their shipping operations and deliver exceptional customer experiences.
Key Features
Multi-Carrier Integration:

ShipStation seamlessly connects with over 100 carriers, including USPS, FedEx, UPS, DHL, and more. This extensive network enables businesses to choose the most cost-effective and efficient shipping options.

Order Management:

The platform centralizes order processing, allowing businesses to import, organize, and manage orders from multiple sales channels and marketplaces.

Automated Label Printing:

ShipStation simplifies label creation by automatically generating shipping labels, reducing manual efforts, and minimizing the risk of errors.

Batch Processing:

Bulk processing streamlines the fulfillment process, enabling businesses to generate labels and packing slips for multiple orders simultaneously.

Customized Shipping Rules:

Users can create rules to automate shipping methods, packaging choices, and order routing based on predefined criteria.

Real-time Tracking:

ShipStation provides real-time tracking and status updates, keeping both businesses and customers informed about shipment progress.
Comparison and Alternatives for ShipStation
Each of these alternatives brings its own unique strengths to the table, catering to different aspects of eCommerce shipping and order fulfillment. Depending on your business's specific needs and priorities, you can choose the one that aligns best with your operations and goals.
Shippo is a widely recognized shipping platform known for its simplicity and efficiency. With a user-friendly interface, it streamlines label printing and tracking processes. Its integration with numerous carriers and marketplaces ensures a diverse range of shipping options. Real-time shipping rates and delivery estimates empower businesses to make informed decisions. Its extensive carrier network and real-time tracking capabilities make it a powerful alternative to ShipStation.
Key Features
User-friendly interface for label printing and order tracking.

Wide range of carrier integrations for domestic and international shipping.

Real-time shipping rates and delivery estimates.

Batch processing for efficient label creation.

Returns management and tracking.
Pros
Scalable pricing options that may suit businesses of any size.

Strong carrier network, including USPS, FedEx, UPS, and DHL.

Easy integration with leading eCommerce platforms.

Multi-carrier shipping options.
Cons
Some users may find the interface less intuitive compared to ShipStation.
ReachShip offers an end-to-end solution for shipping and fulfillment, catering to businesses of all sizes. Its multi-carrier shipping capabilities and rate comparisons enable users to choose the best shipping option for each order. Batch order processing and label printing enhance efficiency, while inventory tracking and management keep tight control of stock levels. The platform's shipment management features streamline the often complex process of eCommerce shipments in bulk. 
Key Features
Multi-Carrier Shipping enables you to compare rates and choose the best shipping options from multiple carriers.

Process and fulfill orders in bulk, saving time and effort.

Efficiently manage inventory across multiple channels to prevent overselling.

Seamlessly optimize shipping and maintain customer satisfaction.
Pros
Offers a complete suite for order processing, inventory control, and shipping.

Prevents stock discrepancies and improves order accuracy.

Suitable for businesses with varied shipping needs and sizes.

Multi-carrier options ensure cost-effective shipping.
Cons
Users might need time to adapt to the platform's features.
If you're looking for an affordable ShipStation alternative, ShippingEasy is a great option. Like ShipStation, ShippingEasy is a web-based shipping solution that allows you to easily print labels, track shipments, and manage orders across multiple sales channels. However, ShippingEasy offers lower monthly subscription fees and may be better suited for small to mid-sized eCommerce businesses on a budget.
ShippingEasy integrates with major carriers like USPS, UPS, DHL, and FedEx, so you can compare rates and print shipping labels for all your orders in one place. It connects with many of the same sales channels as ShipStation, such as WooCommerce, Shopify, BigCommerce, and eBay. Once connected, ShippingEasy automatically imports your orders and customer details, so you can focus on fulfillment.
key features
ShippingEasy is very user-friendly. The interface is clean and intuitive, making it easy to navigate and learn. 

The fact that ShippingEasy is cost-effective for companies of all sizes is one of its strongest features. 

The subscription plans come with features like address verification, package insurance, and round-the-clock customer service. 

ShippingEasy provides lower rates and discounts with well-known carriers like UPS and USPS, allowing you to give customers the lowest price.

With a few clicks, you can easily compare shipping costs from several carriers, print shipping labels, create personalized tracking pages, and notify clients through email. 
Pros
The plans and services offered are at a reasonable price.

The platform is easy to use.

Suitable for various business types and sizes.
Cons
Discounts are not provided for all the carriers.
Ordoro distinguishes itself as a multi-channel order and inventory management platform. It centralizes order and inventory management, integrating seamlessly with various sales channels and marketplaces. The platform's batch order processing and label creation simplify shipping operations. It offers strong inventory management features, including inventory syncing to prevent overselling. Its customizability and automation rules make it a valuable alternative for businesses seeking centralized control over their operations.
Key Features
Centralized order and inventory management.

Integration with multiple sales channels and marketplaces.

Batch order processing and label creation.

Inventory syncing to prevent overselling.

Analytics and reporting to monitor sales performance.
Pros
Strong inventory management capabilities.

Customizable automation rules.

Integrations with popular eCommerce platforms.

Affordable plans are suitable for small businesses.
Cons
The interface may require a learning curve.

Limited carrier options compared to ShipStation.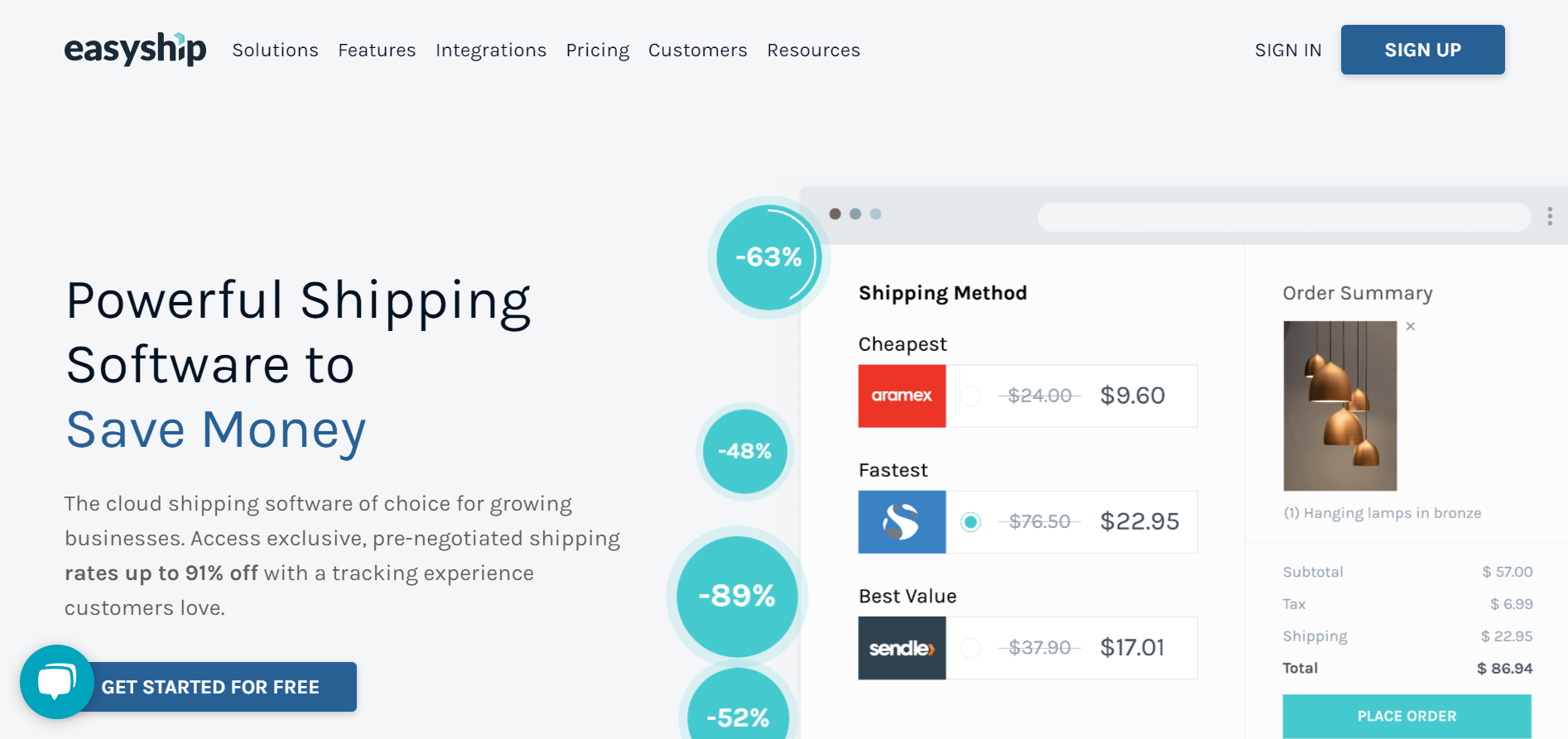 Easyship specializes in simplifying cross-border eCommerce through transparent international shipping options. It stands out with its clear cost breakdown, including taxes and duties. Integration with multiple carriers and couriers ensures a global network of shipping options. The platform's automated order import and label printing streamline shipping processes. Its user-friendly interface is ideal for beginners, and it excels at making international shipping accessible and manageable.
Key Features
Transparent international shipping rates with taxes and duties included.

Integration with multiple carriers and couriers.

Automated order importing and label printing.

Real-time tracking and delivery updates.

Returns management and options.
Pros
Clear cost breakdown for international shipping.

An extensive global network of carriers.

User-friendly interface for beginners.

Local courier options in various countries.
Cons
The pricing structure might be complex for some users.

Limited advanced features compared to ShipStation.
ShipBob distinguishes itself with a holistic approach to fulfillment services. Beyond shipping, it offers inventory storage, order picking, and packing services. Integration with popular eCommerce platforms streamlines operations, and two-day shipping options contribute to exceptional customer experiences. Real-time order and inventory tracking ensure transparency, while returns processing and management complete the fulfillment cycle. ShipBob's comprehensive solution is well-suited for businesses with growing order volumes and a focus on enhancing customer satisfaction.
Key Features
Inventory storage, order picking, and packing services.

Integration with popular eCommerce platforms.

Two-day shipping options to enhance the customer experience.

Real-time order and inventory tracking.
Pros
Complete fulfillment solution, ideal for businesses with growing order volumes.

Quick and reliable shipping options.

Advanced analytics for order and inventory insights.

Dedicated support for customer inquiries.
Cons
Higher costs associated with fulfillment services.

Limited control over shipping carriers and rates.

May not be suitable for small businesses with lower shipping volumes.
The ELEX EasyPost Shipping & Label Printing Plugin for WooCommerce is a tailored shipping solution seamlessly integrated with the WooCommerce platform. It provides a user-friendly interface for businesses to efficiently manage their shipping and order fulfillment processes. With support for multiple carriers and real-time shipping rates, EasyPost ensures accurate cost calculations and reliable delivery options. Its strength lies in its seamless integration with WooCommerce, allowing businesses to effortlessly synchronize their online store with shipping operations. 
Key Features
Get accurate shipping rates from various carriers based on your product details and customer location.

Shipping labels may be created and printed without leaving the WooCommerce admin area.

Connect with major carriers such as USPS, FedEx, UPS, and DHL for diverse shipping options.

Prevent shipping errors with address validation tools.

Configure and customize shipping methods, rates, and rules to align with your business requirements.
Pros
Seamless WooCommerce Integration specifically tailored for WooCommerce stores.

Accurate Shipping Calculations with real-time rates ensure precise cost calculations.

Simplifies label creation and reduces manual tasks.

Access to major carriers for shipping flexibility.
Cons
Primarily suitable for WooCommerce-powered stores only.
Conclusion
While ShipStation remains a powerful shipping and order fulfillment solution, it's important for eCommerce businesses to explore alternatives and competitors that might better align with their specific needs. The platforms mentioned above offer a range of features, benefits, and drawbacks that cater to different business sizes and requirements.
By carefully assessing each option's strengths and limitations, businesses can make an informed decision to optimize their shipping and fulfillment processes. Remember, the choice between ShipStation and its alternatives depends on factors such as business size, shipping volume, budget, and desired features. Make sure to evaluate each option comprehensively before making a decision.
If you have any questions regarding ShipStation or any of its alternatives, please let us know in the comments section below.
Further Reading