The Best WooCommerce Authorize.Net Plugin
One of the most important concerns in a WooCommerce business is choosing a secured payment gateway. Since nowadays everyone prefers online payment rather than cash on delivery for ensuring safety it is necessary to choose the best payment gateway plugin for your store. For purchasing the product as well as refund transactions should be done through these payment gateways. It should be secured, fast, and provide multiple payment methods. Most of the shop owners choose a payment gateway that supports different payment methods as each customer prefers their favorite payment method for payments. This will make the customers comfortable and trust your online store. While choosing a payment gateway plugin for your WooCommerce store, you have to check all the features it offers and whether it will satisfy your requirements as well as your customers. You can choose one free or premium payment gateway plugins from the array of plugins. If you need advanced features, it is better to go for a premium plugin.
ELEX WooCommerce Authorize.net Plugin is a top-notch freemium payment gateway plugin to integrate your online store with Authorize.net and offers several advanced features to make your payment transactions fast and secure. In this article let us discuss this best WooCommerce Authorize.net plugin by ELEX.
Why You Should Choose ELEX WooCommerce Authorize.Net Plugin?
Authorize.Net is a US-based payment gateway service provider helps merchants to accept credit card and electronic check payments through their website over an IP (Intenet Protocol) connection. It allows customers to enter their credit card and shipping information directly onto the web page. So here, if you are a WooCommerce store owner and you want to integrate your store with Authorize.Net, you can choose ELEX WooCommerce Authorize.Net Plugin. It makes sure that your potential customers will stay at your online store even after the checkout by redirecting to another page of your store rather than landing to a third-party page. It offers more features such as:
Supports multiple payment methods and eCheck payments
Easily process partial and full refunds
Supporting WooCommerce subscriptions
Security
Overview of transactions
Customization
Let us go through the features one by one.
Read more: How to create an Authorize.net Merchant account? A Step by Step Guide
Supports Multiple Payment Methods and eCheck Payments
ELEX WooCommerce Authorize.Net Plugin supports major credit card and debit card payment methods. Its user-friendly interface helps you to choose the preferred cards to be displayed on the checkout page.
Here, you can enable the 'Authorize.Net Card' for accepting payments through the card to your online store. And you can enable 'Authorize.Net Overview' for enabling the overview page. You can capture and, fully or partially refund the payments on this page. You can also enter a title and the order button text to be shown on the checkout page. You can simply choose the required cards for your customers. It supports major cards like MasterCard, Visa, American Express, Discover, JCB, and Diners Club. The logo of all the selected cards will be displayed on the checkout page. So the customers can easily understand the cards you are accepting.
Besides these card payments, it supports eCheck payments. eCheck is used to accept and process payments from bank accounts directly through the website or the Authorize.Net Virtual Terminal.
Here you can enable 'Authorize.Net eCheck' for accepting payments through eCheck on your WooCommerce store. And enable 'Authorize.Net Overview' for capturing and process all partial and full refund payments. You can also give a title and order button text to be displayed on the checkout page.
Using this plugin, customers can save their card details which will make their next payment faster. And also you have an option to enable CVV number for Credit Card while the customers checkout from the store.
Easily Process Partial and Full Refunds
Refunds are very common in a WooCommerce business. Customers may need to return the products if they found some issues with it or they changed their minds after the payment. ELEX WooCommerce Authorize.Net Plugin helps to process the refund as soon as possible in simple clicks. You can initiate a partial or full refund from the WooCommerce order admin page as well as the Authorize.net Payment Overview page.

You can go to the individual order page and click the refund option and enter the amount to be refunded and the reason for the refund if required. The admin can capture the refund and proceed with the half or full refund safely and securely through Authorize.Net using the plugin. After the refund has successful, it will show as: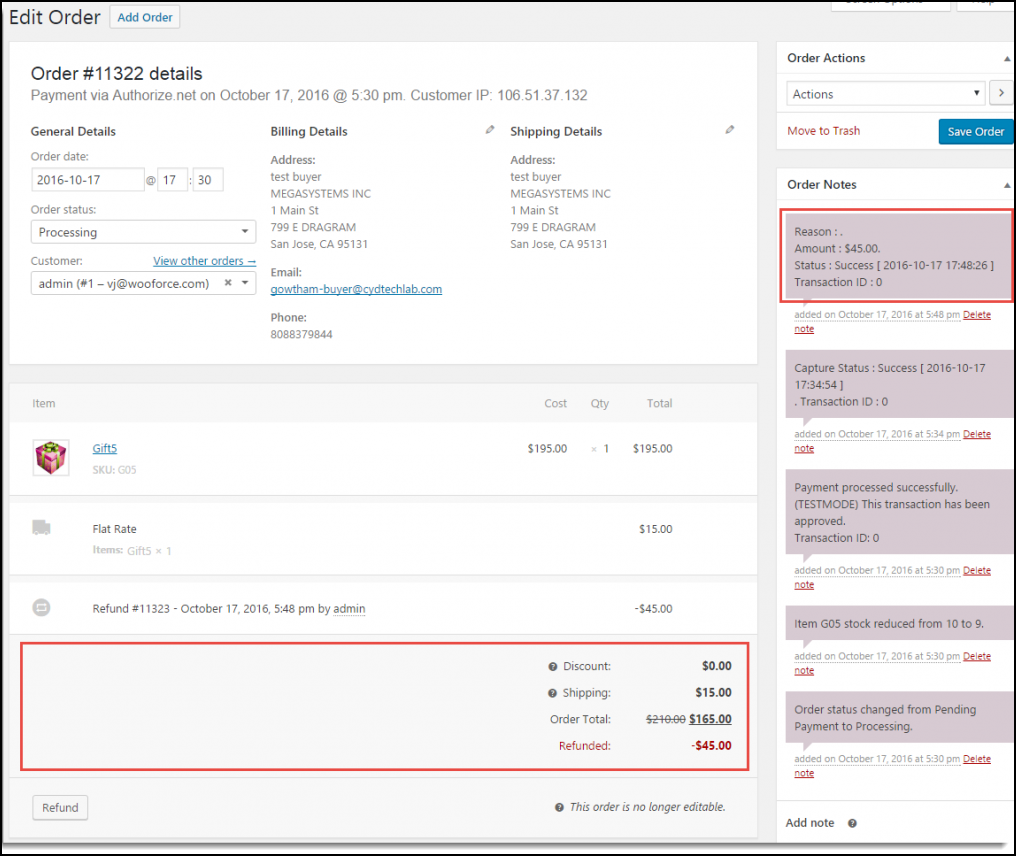 You can see the refund status under order notes.
Supporting WooCommerce Subscriptions
ELEX WooCommerce Authorize.Net Plugin supports to schedule the payments for subscription-based products in your WooCommerce store as well as it is compatible with WooCommerce Subscription plugin. If your store sells subscription-based products and needs to process the recurring payments, you can configure that accordingly with this plugin.
It supports with the subscription plugin:
You can go to the subscription tab of your WooCommerce dashboard and you can filter all the payments made using Authorize.Net Card and Authorize.Net eCheck.

Security
Since it deals with thousands of customers, it is necessary to ensure the security of their account & card details and safe transactions without any error. ELEX WooCommerce Authorize.Net Plugin supports the latest API with TLS 1.2. This will ensure, your customers will not encounter any errors during the transactions as well as it does not store any customers' details.
Overview of Transactions
You can check all transactions done through Authorize.Net and capture the entire transactions and refunds in a single click. Also in the overview, you can see the total captured, uncaptured, and refunds with a graph for the selected time period.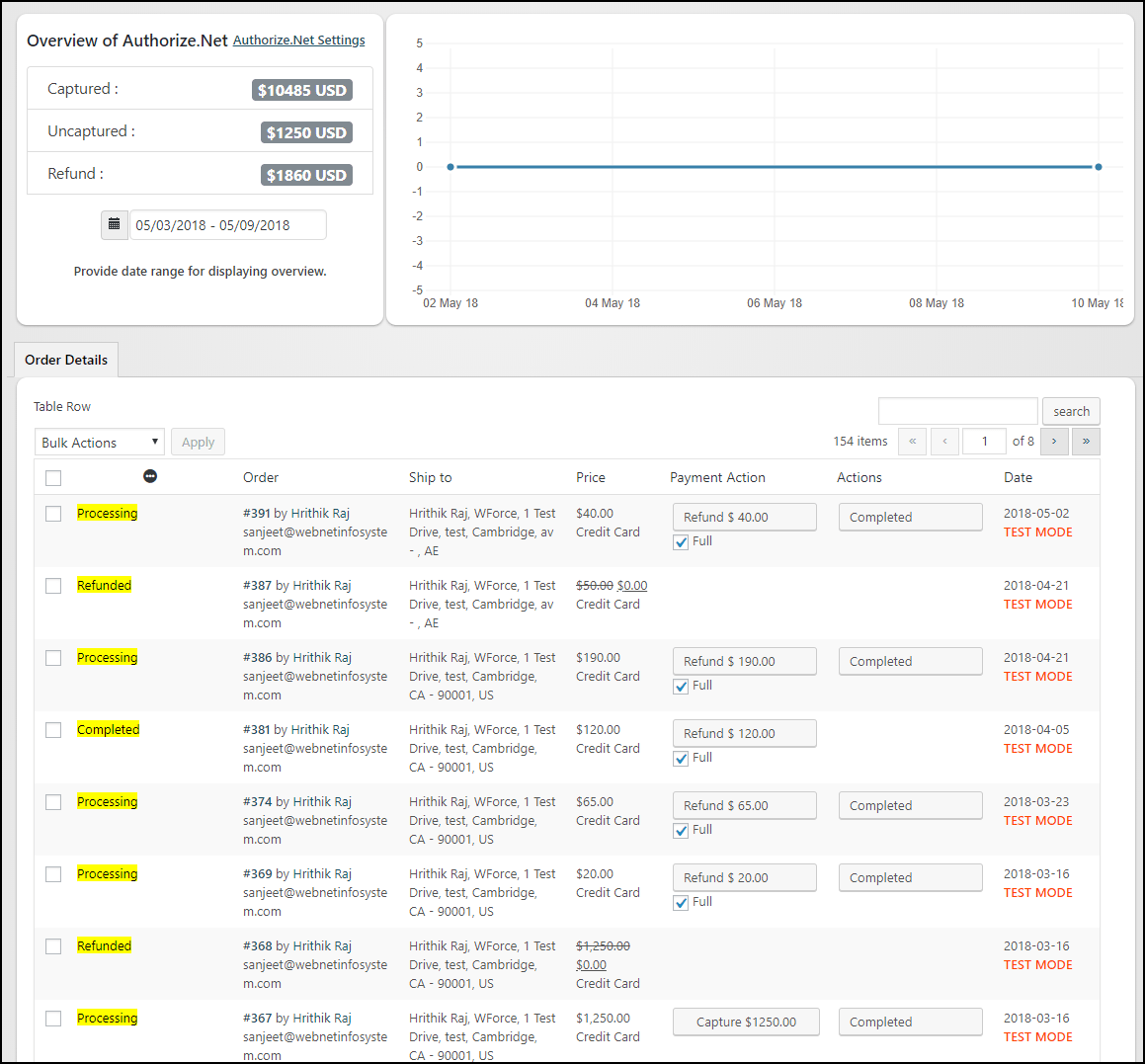 It shows the transactions and the details in rows and you can use the search option filter specific transactions. It shows the status, order ID, name and email Id of the customers, shipping address, price, payment action, actions, and date.
Besides this overall payment capture, this plugin also allows you to either only authorize the payment and capture the payment later.

Customization
You can easily customize the text for the WooCommerce payment method title, order button text, and custom transaction messages. This customization feature of this plugin will help you to offer a better checkout experience for your customers.
And one more customization feature available for you is, you can enter a page URL to which the customers should be redirected after the successful payment from the checkout page. This is one of the advantages available in this plugin as the customer will not be redirected to a third-party site after the payment. You can redirect them to a page on your WooCommerce site itself. This will improve the conversion rate and may lead to more purchases from the customers. The more time they spend on your online store will also help you with a better ranking of your store on Google SERP.
Conclusion
If you do not want to spend on the payment gateway, you can try its free version which is also very efficient for getting some basic payment features. It supports major credit cards as well as debit cards like Visa, MasterCard, American Express, Discover, JCB, and Diner's Club as same as its premium version. You can also authorize and capture the payments overview and you can also give a custom link to which your customers to be redirected after their checkout. If you need more advanced features as described above, you can go for its premium version. If you are searching for the best Authorize.Net payment gateway plugin for your WooCommerce store, you can go for this ELEX WooCommerce Authorize.Net Plugin.