Offers and discounts are interesting and attractive to choose a shop over other similar stores. When it comes to online stores, customers expect more discounts than physical stores. Some customers visit physical stores and check the prices with the online store prices. This happens because customers trust there will be better prices in online stores.
Customers will also do a price comparison on different eCommerce stores and pick the product from the store which offers the highest price drop and other offers. Hence, it is important to provide offers and discounts to your store in order to make your existing customers happy and attract new customers to your store.
If you are a WooCommerce store owner, you can easily apply discounts using third-party plugins. There are free plugins and premium plugins with advanced options to improve the offers. You can choose free or paid ones by checking their feature set and your requirements.
In this article, let us discuss how to offer discounts on a WooCommerce site using a free plugin.
Choosing a free plugin to apply the discount on your WooCommerce store
There can be many reasons to choose a free plugin for your WooCommerce store. If you are new to selling your products through the eCommerce platform, you can begin with a free one. Because usually free plugins have limited discount rules and a comparatively simple interface to apply the discounts. So there are lesser chances to make mistakes if you are a beginner. Since you have to deal with all products in your store, each offer and discount updates must be done carefully because the products and their prices will be live on your site at the same time.
You can also choose a free plugin as a budget-friendly plan. If you do not want to spend much on your WooCommerce store for applying discounts and you are planning to upgrade to a premium one later, you can go for a free plugin. Or, you can also choose a free plugin to check a trial to opt for its premium one later.
If your store contains simple products and limited categories you can choose a free plugin. Free version plugins can be used to apply basic percentage, flat or fixed price discount seamlessly. But, if you want to apply some advanced discounts like combinational discounts and Buy and Get Free Offer (BOGO), you need to integrate a premium version plugin.
Which is the best free plugin to offer discounts on a WooCommerce site?
ELEX WooCommerce Dynamic Pricing and Discounts Free plugin is one of the best free version plugins to apply offers and discounts in your WooCommerce store. There are 2 types of discounts you can apply with this plugin and a number of additional features. To unlock more features, you can upgrade to its premium version plugin.
To know more about the premium version plugin and the available discount rules in the plugin, refer to the article – Everything You Need to Know About WooCommerce Dynamic Pricing.
Let us get back to the free version plugin. The 2 discount rules available in this plugin are as follows:
Product Rules

Category Rules
Product Rules
The product rule is used to apply a percentage, fixed, or flat price discount to individual products; all products that come under a single category; or all products in the customer's shopping cart. You can apply the discount based on their quantity, price, and weight range.
In product rules, you can apply discounts to all products under a single category only. If you want to apply discounts to multiple product categories together, you can choose Category Rules. When you choose the discount to be applied to individual products, you can enter the first few letters of the products' names and choose multiple products from the list.
Let us check an example. Before that, for installing and activating the plugin in your store, refer to its documentation.
You can either download it from its product page or from the WordPress repository.
In the above example, I have chosen a product – Happy Ninja Hoodie and applied a 50% discount if a customer purchases 1 – 3 products from the store.
All rules will be listed in a table after saving it. You can delete and edit the rule from the table. Check the screenshot below:
After saving the rule, the Cart page will be as in the below screenshot when a customer purchases 1 – 3 Happy Ninja hoodies.
When a customer added 2 Happy Ninja hoodies into the cart a 50% discount was applied only to that product.
Other features available for the Product Rules are an option to set the access of the offer to selected user roles, as well as an option to set the date and time of the commencement and expiry of the offer. You can add the details like in the screenshot below:
Here, I have chosen the user roles Administrator, Editor, Author, and Customer. All the users who come under these categories will be eligible for the offer. And, you can find the valid date and commencement date of the offer as well.
Now, let us move on to Category Rules.
Category Rules
Category Rules can be used to apply a percentage, fixed, or flat price discount to multiple product categories. You can set the discount based on the range of the number of items, weight, price, and total units.
Check an example in the screenshot below:

According to the above screenshot, when a customer purchases any products in the chosen categories that worth $10 – $50, will be eligible for a flat $5 discount.
After saving the rule, the Cart page will look as in the below screenshot: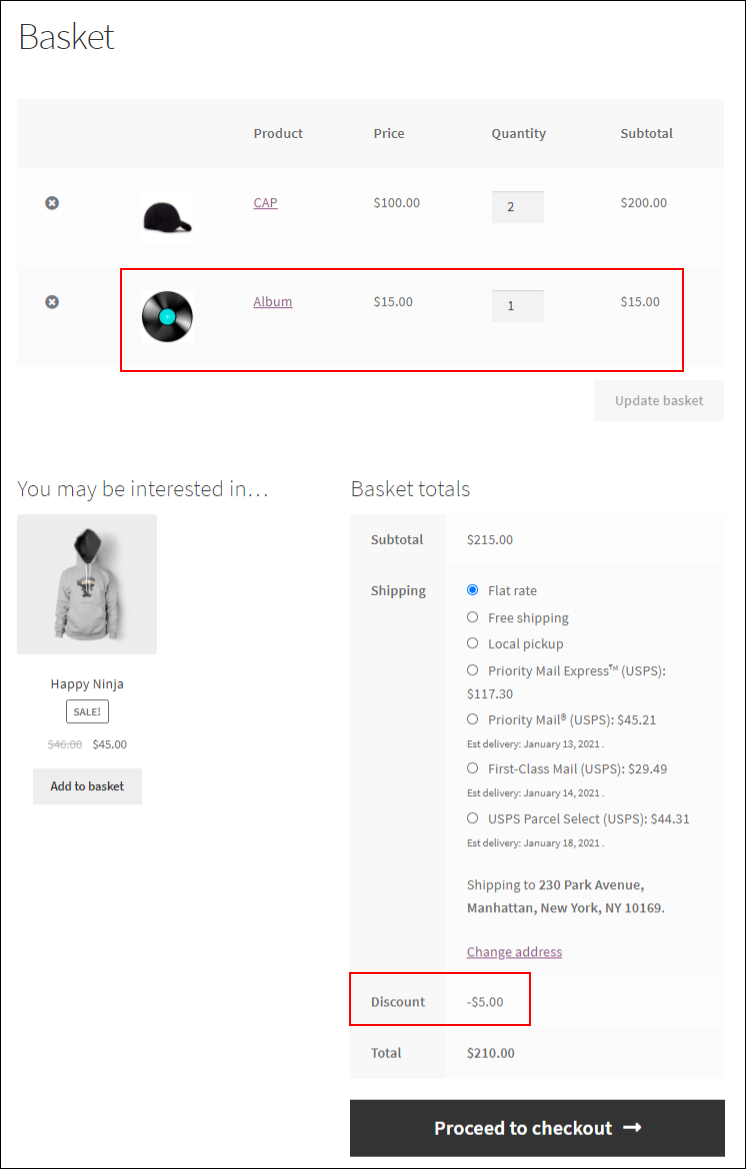 Here, the customer has added a product that comes under the Albums category within the price range. Hence a $5 flat price discount has been applied for the customer.
You can set the execution order of these 2 rules that need to be applied to a product if it is eligible for both rules. You can use the Up and Down button to reorder them.

You can even disable the rules by moving it to the left box using the arrow buttons.
Another option available in the free version is to choose the calculation mode of the plugin.

Best Discount: This option will calculate all discounts available and apply the best one, which is the lowest price. By default, this calculation method is applicable even if you do not set up any calculation mode.
First Match Rule: This rule will check the order you have set in the execution order. From that list, the first available discount will be applied to the products.
All Matched Rules: All matching rules will be applied to the products with this rule.
Well, that is all about this free version plugin. For more advanced rules and unlocking advanced features, have a look at its premium version plugin – ELEX WooCommerce Dynamic Pricing and Discounts plugin.
To sum up,
If you are a beginner in the WooCommerce environment or you want to apply simple discounts and offers, this basic version plugin will be the right choice!