What can we help you with?
Why ELEX's WooCommerce Australia Post Shipping plugin is the Best in the Market?
When you want the best plugin for your shipping needs and you are based in Australia, what can be better than ELEX's WooCommerce Australia Post Shipping plugin with Print Label and Tracking? There are few other Australia Post Shipping plugins with various names but all of them fall short by one feature or the other.
Let's see why do your precious business needs the best Australia Post shipping plugin. If you are still a beginner, refer to Australia Post Beginner Guide. So let's start and find out the features that make it the best Australia Post Shipping Plugin in the market. We'll consider the top features in the fields of:-
Transparency
With ELEX, what you see is what you get. We have incorporated the best Documentation and opened up the plugin for our customers. So even before you upgrade to the premium version, you know what you are going to get. Along with this, we provide our customers with video guides hosted on youtube for enhanced interactions. You don't find so many details in any other third-party plugin's documentation.
And WooCommerce Australia Post Shipping Plugin is no exception to this. You'll get a Detailed Documentation which contains sections like:
Getting started– Descriptive Setup Guide
Code Snippets– Codes for Customizations in features of the plugin
Business Cases– Special cases by our customers and our solutions to them
FAQ's– All frequently asked question regarding Australia Post and the plugin
Knowledge Base– Miscellaneous information
So you are recommended to visit each of these sections and get a clear idea if our premium plugin is worth your precious business or not. And even if you find out that the plugin is not for you, feel protected by our 30-Day Money Back Guarantee.
Live Demo Site
Followed by the detailed documentation, we present to you, our very unique Live Demo site. This mini WooCommerce site has WooCommerce Australia Post Shipping Plugin installed on it with a sample shop. So you get to experience the plugin and its features live on this demo site. You can log into this site with the credentials:
username- demo
password- demo
Other plugins with Live Demo Site of Australia Post Integrations– Not available
Australia Post eParcel Account Support for Discounted Rates
WooCommerce Australia Post Shipping Plugin is one of the two plugins that offer the addition of your eParcel Australia Post account. With the plugin, you can enter your eParcel Account credentials and start using the discounted shipping rates from within WooCommerce. Discounted rates are offered to customers who have high volume usage of postage from Australia Post. If you want to check the functionality of the plugin, there is a test mode too. You are recommended to test the plugin before you move to live mode.
As you know that you can send your order to Australia Post for getting shipping labels and pay for them. But as you install WooCommerce Australia Post Shipping plugin you don't require to send orders to Australia Post. You just need to enter your API credentials that fetch live shipping rates from Australia Post.
Other plugins- There is only one plugin other than WooCommerce Australia Post Shipping Plugin which integrates your Contracted Australia Post Account. It is WooCommerce Australia Post eParcel plugin by Extension works. The plugin obtains real-time contracted rates only and does not create a shipping label.
Packing
Packing of products plays a major role in shipping. As parcel packing impacts the shipping rates to a large extent, a careful choice of packing options can reduce your shipping expenditure to half. To meet most of your packing needs, our plugin offers three packing options.
Pack Item Individually– Shipping rates are calculated based on the weight and dimension of the product but it packed individually. Each product goes to a different package and has a different shipping rate. For instance, two televisions sets will be packed into two packages and will return rates for two boxes. You should avoid this option in case of products that you can pack in a group.
Pack into boxes with weight and dimension– This is the recommended packing option. You can customize 'n' number of boxes and if more than one item fits in a box, it shows only one shipping rate.
Shipping rates based on total weight of the order– This packing option has an option where you set the maximum weight that there will be in the box you will ship. So if you assign a maximum of 15kg, the plugin chooses the next box when the previous box is filled with 15kg of products. This option proves handy in case of raw materials.
Other Plugins- Most of the other plugins are restricted to box packing. Some offer weight based packing. Apart from Australia Post Extension by WooCommerce, no other plugin seems to have multiple packing options.
Australia Post Shipping Label
Shipping Labels are the most important features of a shipping plugin. And our plugin is one of the two plugins in the market that can help you generate Australia Post Shipping labels. The other one is Australia Post Shipping for WooCommerce by AppJetty.
The type of labels is different for domestic and international shipping. The name of different services used to create the shipment appears on the labels. By default, the service chosen by the customer is used to print the label, but you have the choice to change the service while creating the labels in the order overview page. The shipper address on the label will be the address you put in the shipper address.
The only file type of downloading the label is in PDF. This ensures the quality of the label created. The units for weight and dimensions are metric.
Manifest- In our plugin, you also get an option to print the order summary. This is called the manifest. Make sure you print the labels first and then download the manifest, otherwise the created label is no more available after you create the manifest.
Shipping Dangerous Items
If you are shipping dangerous items like alcohol or batteries made from lithium or any other explosive material, you require to maintain a label that explains the contents of the package. Our plugin is the only such plugin. You can include a custom text explaining the content of the package.  You can also type the instruction of delivery of such items through this box. The image above shows the field where you can enter these details manually.
You also have an option where you can enable or disable the inclusion of Australia Post logo from the labels.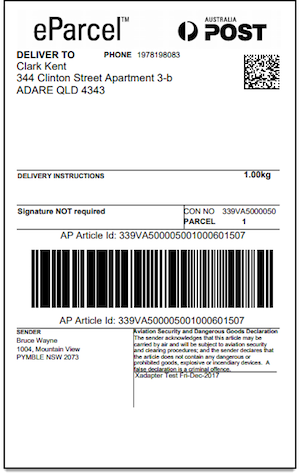 Pre-Paid Australia Post Satchel and Envelopes
Even the option of Australia Post satchel is not common among all the premium Australia Post Integrations. With our plugin, you get all the satchels available with Australia Post. Few of  them are:
Prepaid Satchels for Domestic Shipping– Available in two categories, namely Express Post Satchels(Next Day) and Parcel Post Satchels (2+ Business Days)
Prepaid Satchels for Overseas Shipping– Also available in two categories, namely International Express(2-4  Business Days) and International Standard (6+ Business Days).
Prepaid Domestic Envelopes- Available in three categories based on the estimated time of delivery.
Prepaid International Envelopes- Available in three categories based on the estimated time of delivery.
You can get these Flat Rate satchels in a pack of 10 or more. These come in three sizes and their rates consist of satchels price and postage equivalent to what the satchel can carry. Small Satchel can carry a max weight of 500g, Medium Satchels are for a 3kg package and the Large one can carry a maximum of 5kg.
You can print labels and paste them on these flat rate satchels. In the context of the WooCommerce Australia Post Shipping Plugin, you can get rates of any of these flat rate satchels and print labels for them from within WooCommerce. With flat rate satchels, you can also offer the available optional extra services like insurance cover and signature on delivery.
Customer Address Type
As you saw, there is a shipper address option with our plugin. In a similar fashion, we also offer the Australia Post trademark customer address type. This feature is incorporated in correspondence of multiple delivery locations from Australia Post. It offers three types of destinations for the customers.  They are:
Normal Delivery Address- These are the address entered by the customers and may refer to a household or a commercial location. So customers can choose to deliver the package in these address.
Australia Post Parcel Locker- In case, there is no residential address available for now, customers can choose to have Australia Post Parcel Locker as the destination. So once the package is delivered to these parcel locker, the receiver can collect them in a given number of days.
Australia Post Parcel Collection Locker- These are Australia Post authorized location, where the parcels can be stored for a maximum of 48 hours.  It means if any customer wants to keep the package in a nearby collection locker, he can do it while the package is still on the way. And finally, the customer needs to collect the package within 48 hours.
This feature is helpful when your customers want to change the delivery location. With Australia Post, customers can change the delivery location even when the parcels are on the way. So to enable store owners to act accordingly, this option is used to redirect the parcel from within your WooCommerce store.
Support and Updates
When you purchase the plugin for the first time, the price is $69.00. As a premium customer, you receive a year-long premium service along with all the updates in that time period. Once your one year ends, you can renew your subscription for updates and premium support at 50% Discount. If you don't find a suitable or want to have any pre-sales queries contact our Online Support.
Conclusion…
WooCommerce Australia Post Shipping plugin with Print Label and Tracking
Costs you $69.00
Live Domestic and International Shipping  Rates
Smart Packing
Label Printing
Automatic Tracking
A whole lot of Additional Services
30-Day Money Back Guarantee
As you can notice that ELEX's WooCommerce Australia Post Shipping Plugin with print Label and Tracking has its presence across all the features of any other Australia Post shipping plugins. No other plugin mentioned in the article matches the flexibility of our plugin. We offer the printing of labels, that can be customized by entering Content details and putting Australia Post Logo. Any label printed with our plugin is fully compliant for shipping dangerous items too, which is offered by no other plugin.
A live demo site, integration of contracted account, and packing of parcel add flair to the plugin. In addition to these, our documentation has all the answers you need before and after the installation of the plugin. If you want to explore more about ELEX's WooCommerce Australia Post Shipping plugin, visit our product page. For any queries, you can leave a comment below or use our online support. Happy Selling!
---
To explore more details about the plugins, go check out ELEX WooCommerce Australia Post Shipping Plugin with Print Label & Tracking.
Read the product setting up article to understand the plugin, in detail. Or check out the product documentation section for more related articles.
You can also check out other WooCommerce and WordPress plugins in ELEX.