What can we help you with?
Creating Bulk Shipments with ELEX Australia Post Shipping Plugin [With Video Guide]
In this article, we'll see how easy it is to create bulk shipments with ELEX WooCommerce Australia Post Shipping Plugin with Print Label and Tracking. Australia Post has been the perfect partner in both guiding new businesses and in providing a robust shipping infrastructure for them. It has helped businesses grow and reach international markets with its effective international shipping services. It offers discounted shipping rates for businesses helping high volume shippers get reasonable pricing from Australia Post.
Getting back to bulk shipment creation, it can be really tedious to create shipments for each order individually. To make shipment creation a bit easier, we introduced bulk shipment creation feature to our Australia Post integration in a recent update. This is going to help users to select multiple orders at a time and create shipments for them in one go. Users can also have a default service set for orders which don't have one.
Since this is a new feature we'll guide you through the entire process through the article and the video.
Prerequisites
You will require:
Creating Bulk Australia Post Shipments with ELEX WooCommerce Australia Post Shipping Plugin with Print Label & Tracking
If you have ELEX WooCommerce Australia Post Shipping Plugin with Print Label & Tracking installed on your WooCommerce store, you can ahead and create bulk shipments. You can find the Bulk Shipment option in the 'Bulk Actions' menu on the Orders Page. If you don't already have the plugin, purchase the premium plugin to start printing Australia Post shipping labels from within WooCommmerce.
You can select all the orders for which you want to create shipments in one go. The services selected by your customers on the cart and checkout pages are used for shipments. For instance, if one order has National Full Rate selected and the other order has Express National Full Rate, the shipments will be created based on the selected services automatically.
So to start creating bulk Australia Post shipments:
Go to your WooCommerce Orders
Select multiple orders by checking the boxes on the left. 
Click on Bulk Actions.
Select 'Create Australia Post Shipment' from the drop-down.
And, hit the Apply button.
This will be followed by confirmation messages. These confirmation messages may take some time, which depends on the number of orders selected. You'll be notified about already created shipments, successfully created shipments, and the failed shipment creation messages. You'll not be able to create bulk shipments for orders where there is no shipment service set for them. For instance, in the case of a flat rate your customers may not get to select a shipment service. So, you'll need to set a default shipment service for such orders.
It is recommended not to refresh the page until you get the confirmation messages.
These shipments are created as per the Australia Post services selected by the customers in the cart and checkout pages. You can start printing labels for those orders as soon as the shipments are created.
Setting Default Services for Bulk Shipments
As mentioned earlier, the default service is used in case there is no Australia Post service available. So to avoid any inconvenience, select the available service from the drop-down menu (screenshot below). To make it more useful, we have included a separate Australia Post service menu for Domestic and International shipments.
To get to the Bulk Shipment option, click on your WordPress dashboard and follow the string. WooCommerce> Settings> Shipping Settings> Australia Post.  And since we are setting up a bulk shipment option, move to the Label & Tracking tab. Now, scroll down to Bulk shipment and select the default services for domestic and international shipments respectively. Finally, click on Save Changes to apply the services for creating bulk shipments.
The default services available for domestic shipments are:
EXPRESS NATIONAL FULL RATE
NATIONAL FULL RATE
EXPRESS POST + SIGNATURE
PARCEL POST + SIGNATURE
The default services available for international services are:
INTL ECONOMY W SOD/REGD POST
INTL STANDARD/PACK & TRACK
INTL EXPRESS MERCH/ECI MERCH
INTL ECONOMY/AIRMAIL PARCELS
Placing Order and Printing Labels for Created Australia Post Shipments
Once you have created bulk shipments and checked the default services, you can go for placing an Australia Post Order for the shipment and start generating shipping labels. To do so, click on the order number in the Order page to go to the edit order page. Scroll down to the Australia Post section, to find the Create Order and the Generate Label button.
Clicking on the 'Create Order' button will create the Order Summary Report and the 'Generate Label' button will help you generate Australia Post shipping labels instantly. In the next step, you can download the order summary report and the label by clicking on the buttons respectively.
Deleting Shipment
In case you make a mistake while creating the shipment, you can delete an already created shipment with the Delete Shipment button available (screenshot above). After deleting a shipment, you can create a shipment for a particular order again by using the bulk shipment feature or you can do it separately. While recreating the shipment individually you get to select the service you want to use for creating the shipment. You can also edit the box dimensions and the weight of the box here and if the entries look fine, click the Create Shipment button.
Tracking Message
Now let's see the ways you can send the shipment tracking message to your customers. You can choose to send automatic tracking emails or send them manually after you place a successful shipping order with Australia Post. Automatic e-mail tracking saves a lot of manual effort when your orders are in huge numbers.
Automatic Tracking Message
You can enable automatic tracking messages by checking the 'Email Tracking' option in the Label & Tracking tab (screenshot below). Once you enable this, Australia Post tracking emails will be sent to your customers automatically. You can also go for a custom shipment message by changing the default message.
Manual Tracking Message
If you have not selected the e-mail tracking option, you can still send tracking messages to your customers by copy-pasting the message you get by clicking the Save/Show Tracking Info. Add a tracking message in the order notes section, select 'Note to Customer' and send the message as an Order action.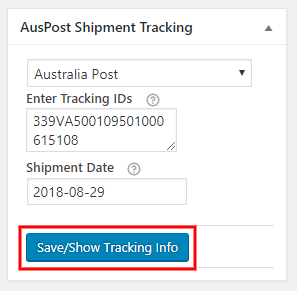 Relevant Screenshots
Order Summary Report
Label Generated
Bottom Line
With ELEX WooCommerce Australia Post Shipping Plugin with Print Label & Tracking, you get a complete shipping solution for your WooCommerce store. A Business account with Australia Post will help you get a contracted rate account with Australia Post and the eParcel account will allow you to print shipping labels from within your WooCommerce dashboard. With a lot more existing features, the addition of the bulk shipments features makes the plugin more useful than ever.
A small list of features of ELEX WooCommerce Australia Post Shipping Plugin with Print Label & Tracking:
Contracted Rate Support.
Print Label from your WooCocommerce Dashboard.
Offer Insurance.
Offer Multiple Address type
Includes Australia Post Satchels
Dangerous Items declaration
Lesser paperwork.
If you don't already have our WooCommerce Australia Post Shipping Plugin with Print Label & Tracking, get it today at ELEXtensions.com. And if you are already one of our 40 thousand+ valuable customers, get the updated version as a part of your subscriptions, and start creating bulk Australia Post shipments with this awesome plugin now. You can also generate shipping labels in bulk and download them as a single PDF file with our Australia Post Bulk Label Printing Add-On. This saves you a significant amount of time compared to printing labels one at a time.
For any pre-sales queries, you can fill this presales form. You can also leave your comments and queries in the comment section below.