If your website is powered by WooCommerce, there are tons of ways to identify and act on abandoned carts. This issue is fairly common and requires constant attention, which can eventually become tiring.
In this post, we'll start by looking at what exactly an abandoned cart is and why it matters as well as show you how to view abandoned carts in WooCommerce. Additionally, we will also look at a plugin that can help recover those abandoned carts.
Why Abandoned Carts Are Important to Monitor
If you have an online store, you know how important it is to monitor your abandoned carts. After all, an abandoned cart means a lost sale. To make sure you're not missing out on potential revenue, it's essential that you are able to view your abandoned carts and determine why customers are leaving them behind.
Since there are so many reasons why a cart might be abandoned in WooCommerce, it's important to have the right tools and strategies in place to monitor these carts and understand why they are being abandoned. This will help you identify obstacles that are preventing customers from completing their purchases, allowing you to make improvements and boost your conversions.
To view the abandoned carts in WooCommerce, you'll need to access your WordPress Dashboard and navigate to Orders. From here, you can see a list of all of the different orders and their status such as completed, on-hold, etc. The Pending Payment status indicates that an order that has been created but no payment has been initiated; this is an abandoned order that, if left unattended for too long, would change to On-Hold and eventually Canceled.
To get better analytics, you may go to your WordPress Dashboard > Analytics > Orders and select the Advanced Filters option from the Show drop-down menu. Now click Add Filter > Order Status and choose the specific order status. This will give an insight into the various orders placed on your website.
Additionally, you may go ahead and install a plugin that can automate the entire process and give you better analytics and reports.
Automating Abandoned Cart Recovery in WooCommerce
If you are looking to automate the abandoned cart recovery process for WooCommerce, the ELEX WooCommerce Abandoned Cart Recovery with Dynamic Coupons plugin is the way to go. With its powerful features, you can easily set up automated emails along with discounts that will be sent out when a customer leaves their cart without completing their purchase.
To configure your abandoned cart settings in WooCommerce, head over to the admin area of your website and navigate to WooCommerce > ELEX Abandoned Carts > Settings once the plugin is activated. Here, you will need to start by customizing the plugin settings.
General Settings
To identify an order as complete, choose the WooCommerce order statuses that indicate successful cart recovery, activate the Enable Abandoned Cart button, and set the order status to consider an order successful under General Settings.
You may also decide when the cart will be declared expired and will no longer get recovery emails.
Enable the Capture Abandoned Cart for Guest User option under Guest Users Settings if you want to track abandoned carts for guest users.
Enabling the Email Notification to Shop Owner on Cart Recovery option in Notification Settings allows you to edit the email body and inform the admin when a cart is recovered.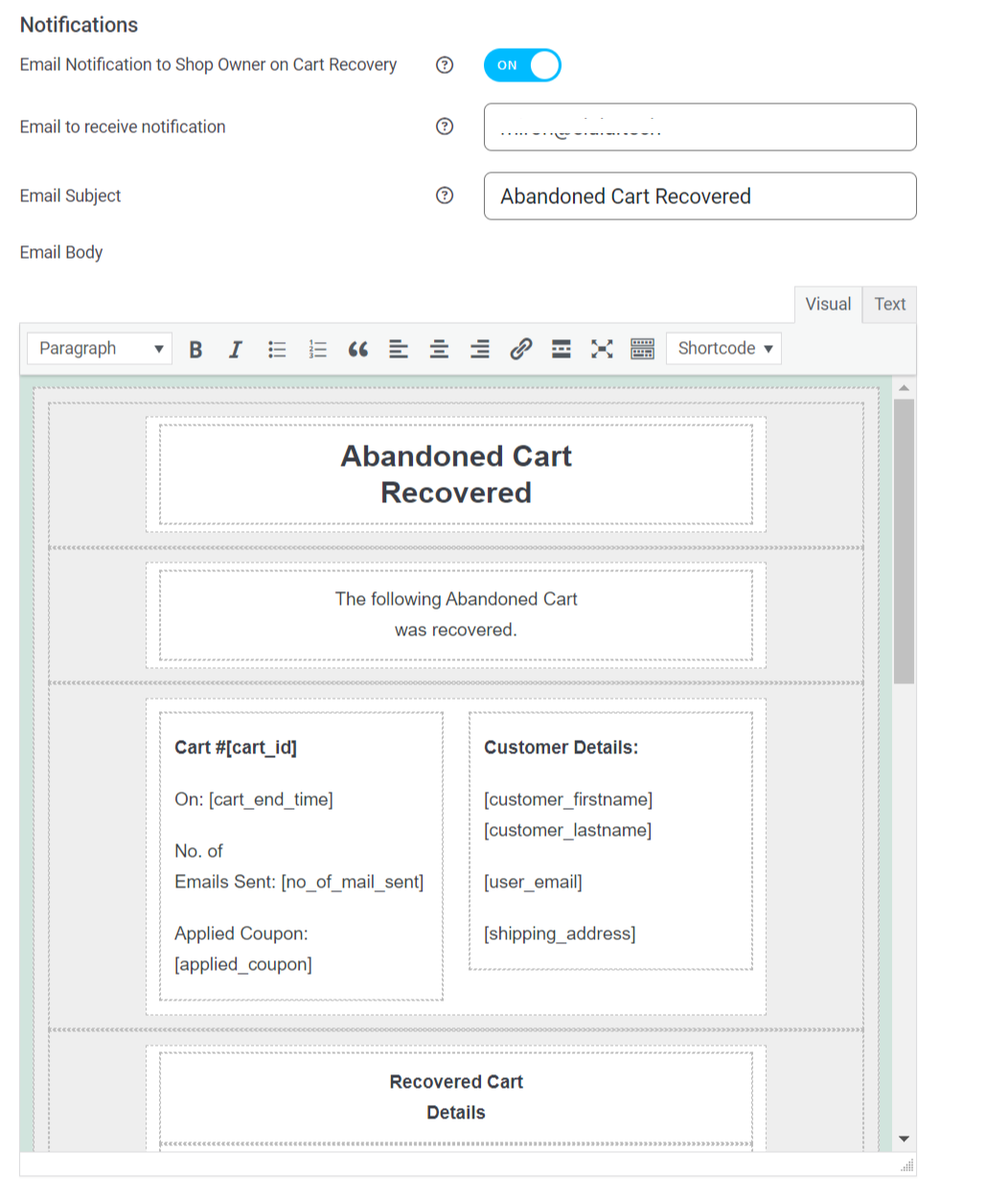 Under the GDPR Message Configuration settings, go ahead and enter a message allowing customers to know that your store is GDPR compliant along with the page on which it should be visible.
Let's go to the Email Settings tab now.
Email Settings
Using the three sub-tabs under Email Settings, you may change the rules for sending recovery emails, as well as their templates, and add the automatically generated discount coupons.
To save your modifications, click Add New Rule, provide a suitable Rule Name, choose the AND/OR Rule Type, and then click Add Filter. There are a number of limits that may be tailored.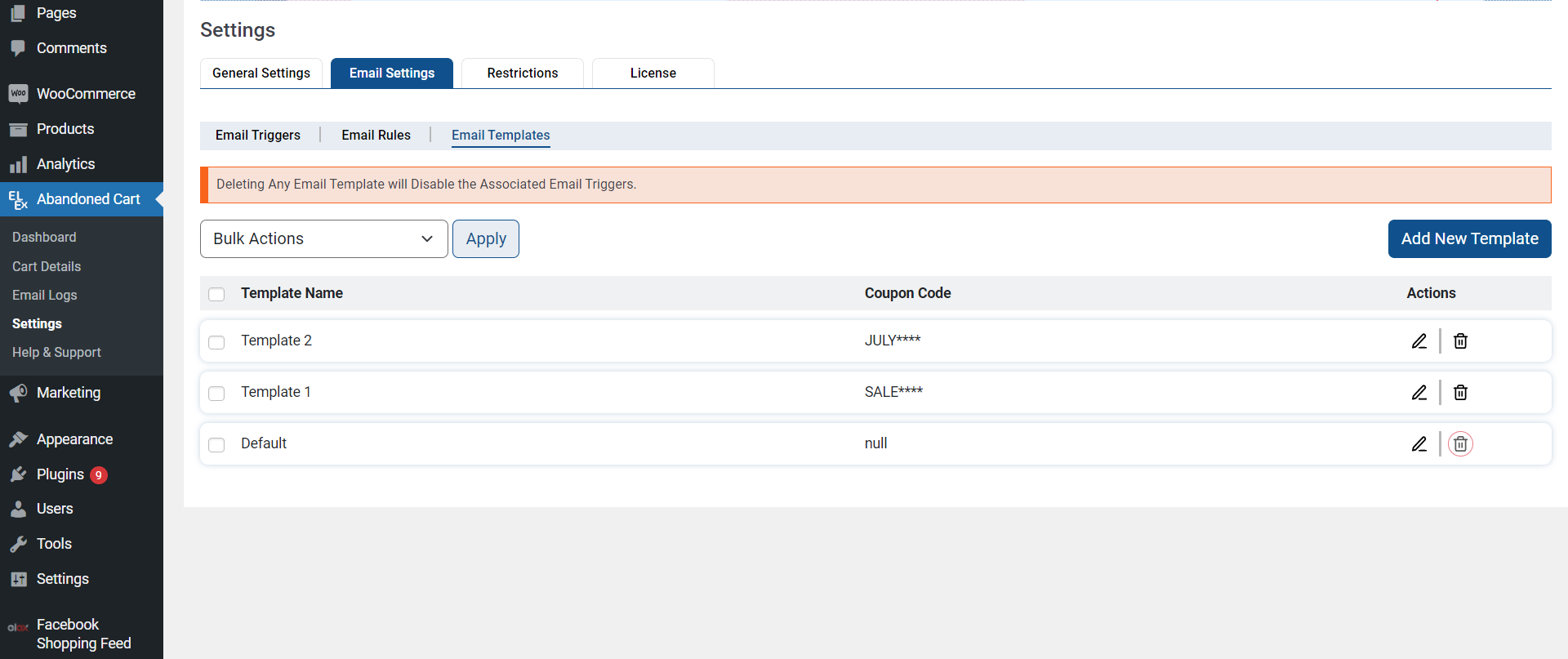 You may create, update, and remove email templates in this section. If an order is abandoned, these email templates, together with the dynamically generated discount coupons, will be delivered to the visitor's email address.
A new email template will be produced if you select Add New Template.
You may select whether to upload a new template or alter an existing one, add a template name and email subject line, input a coupon code, and more on the Edit Email Template page.
Choose the type of discount, the amount of the discount, and whether or not the coupon is good just once. Then enter the prefix of the promo code.
The discount code can also be attached to the abandoned cart products or the customer's email address.
Using the given shortcodes, you can edit the email text and enter default values such as [customer_firstname], [customer_lastname], [cart_products], [cart_link], and [cart_unsubscribe]. 
Send yourself a test email when you've completed tweaking the template to check how it appears.
You may alter recovery email triggers under the Email Triggers tab of the email settings. Switch triggers on and off, or remove all triggers from this page.
Finally, navigate to the Cart Details section.
Cart Details
You may access all information about abandoned and recovered cart data under the Abandoned Cart Details page.
Just like that, we have automated the abandoned cart recovery process for our WooCommerce store!
Best Practices for Reducing Abandoned Carts
If you want to reduce abandoned carts and maximize conversions, there are some practices to consider.
Email Campaigns
It's always a good idea to set up email campaigns for your customers in case they forget about their shopping carts or need a reminder. Automated email campaigns can be set up using the ELEXtensions plugin and allow for personalized messages that may encourage customers to purchase what was left in the cart. You can also use emails as an opportunity to provide discounts or coupons to make the purchase more appealing.
Regular Maintenance
Regular maintenance of your WooCommerce store is necessary if you want it to run efficiently and without any errors. Keeping an eye on all abandoned carts can help you identify any slow page loading times or broken links, both of which can turn potential customers away before they can even checkout. It's also important that you're making sure all information is updated.
Checkout Process
Making sure that the checkout process isn't too complicated is key when it comes to boosting conversions on your store. The fewer steps required for checkout, the better! Provide clear payment options and don't require too much personal information from customers. If you choose an appropriate payment gateway, transactions should be completed quickly with little effort from customers, which results in fewer abandoned carts.
Conclusion
In conclusion, cart abandonment is a common issue in the eCommerce world, even before we can start to recover these abandoned carts, it is important to view and understand why and how these carts are being abandoned.
Remember to keep an eye on your analytics and act accordingly to improve the chances of cart recovery. By following these steps and using tools like the ELEX WooCommerce Abandoned Cart Recovery with Dynamic Coupons plugin, you should be able to successfully boost your conversions and revenue.
We hope this post has given you an insight into abandoned cart data and recovery!
Further Reading