In this article, we are going to compare the two best ground shipping services, FedEx Ground vs. UPS Ground. Earlier we did a comparative study on UPS Vs FedEx too.
What is Ground Shipping?
Ground shipping refers to a shipping model, where the packages are shipped via ground. To deliver across locations, these services use vans and delivery trucks. Here we are comparing two popular ground shipping services – FedEx Ground and UPS Ground.
Before we go ahead, here are a few things to keep in mind while using ground shipping:
UPS Ground and FedEx Ground can be used to ship all kinds of items, be it small or large. The only thing you are not allowed to ship is freight, for which you need to make use of specialized freight services. 

Using Ground shipping, you are not allowed to ship hazardous items to certain locations. For example, you are not allowed to ship hazardous items to and from Alaska and Hawaii. The charges are higher for shipping hazardous or restricted items. You can always go for FedEx Express or any such services that can deliver you the items overnight in a secured manner, but the shipping and handling charges will be higher.

This service is ideal for small to medium-sized businesses and will be cost-effective if they use their own packaging options. You can also go for

weight-based packaging options

, which do minimize the cost to a greater extent.
What is FedEx Ground?
FedEx Ground offers quick ground shipping options throughout the US. This was established in 1985 as a small package delivery company called Roadway Package System. Later it was acquired by the FDX Corporation in 1998 and was rebranded as FedEx Ground in 2000. Now it offers the best quick and affordable delivery option for numerous customers throughout the US locations using ground services.
FedEx Ground Services
Let us get to know some of the features of FedEx Ground service. Here are some of them:
Estimated delivery time ranges from 1-5 business days in the US and 3-7 days for Hawaii and Alaska.

The service is available from Monday to Friday.

Sadly no weekend deliveries.

Deliveries are available in 50 US states.

The weight limit is 150 pounds whereas length must be 108 inches and girth must be 10 inches.

The service offers guaranteed delivery.

Do not offer P.O Box deliveries.

Offers better tracking options.

Offer up to $100 guaranteed insurance.

You also get a scheduled delivery option.

The service offers paid package pickup.

It offers a maximum of three delivery attempts.

Offer paid pick-up for packages.

The import taxes can be made payable by sender and receiver.
What is UPS Ground?
The UPS Ground is yet another reliable ground shipping option available. It is the most economic option, which helps you ship items to anywhere in the US within a few days.
UPS Ground Service Details
UPS Ground services also have some specific features that you need to know about:
Estimated delivery is about 1-6 days in the US.

The maximum weight limit is 150 pounds.

The delivery is available all over 50 states.

Delivery is available from Monday to Friday.

They do not offer weekend deliveries.

Offer guaranteed delivery.

The P.O Box deliveries are not available.

You get $100 worth of insurance.

Offer a maximum of three delivery attempts when not available at the desired address.

Do not offer to pick up services or scheduled delivery options.

No handling of import taxes.
Is FedEx Ground Cheaper Than UPS Ground?
It is hard to compare both these services, and their rates, as the rates purely depend on the weight and dimensions of the package as well as the destination. You can make use of the shipping calculator to find out the shipping rates between different regions with popular shipping carriers. This will help you find what best suits you.
Is UPS Ground or FedEx Ground Faster?
If you are comparing the speed of delivery, then you should know the expanse of the area to which they deliver. If you see, FedEx does provide an online virtual map, which shows the estimated delivery time and area of the shipments. The map is quite beneficial when it comes to finding out the number of days it takes to deliver in an area.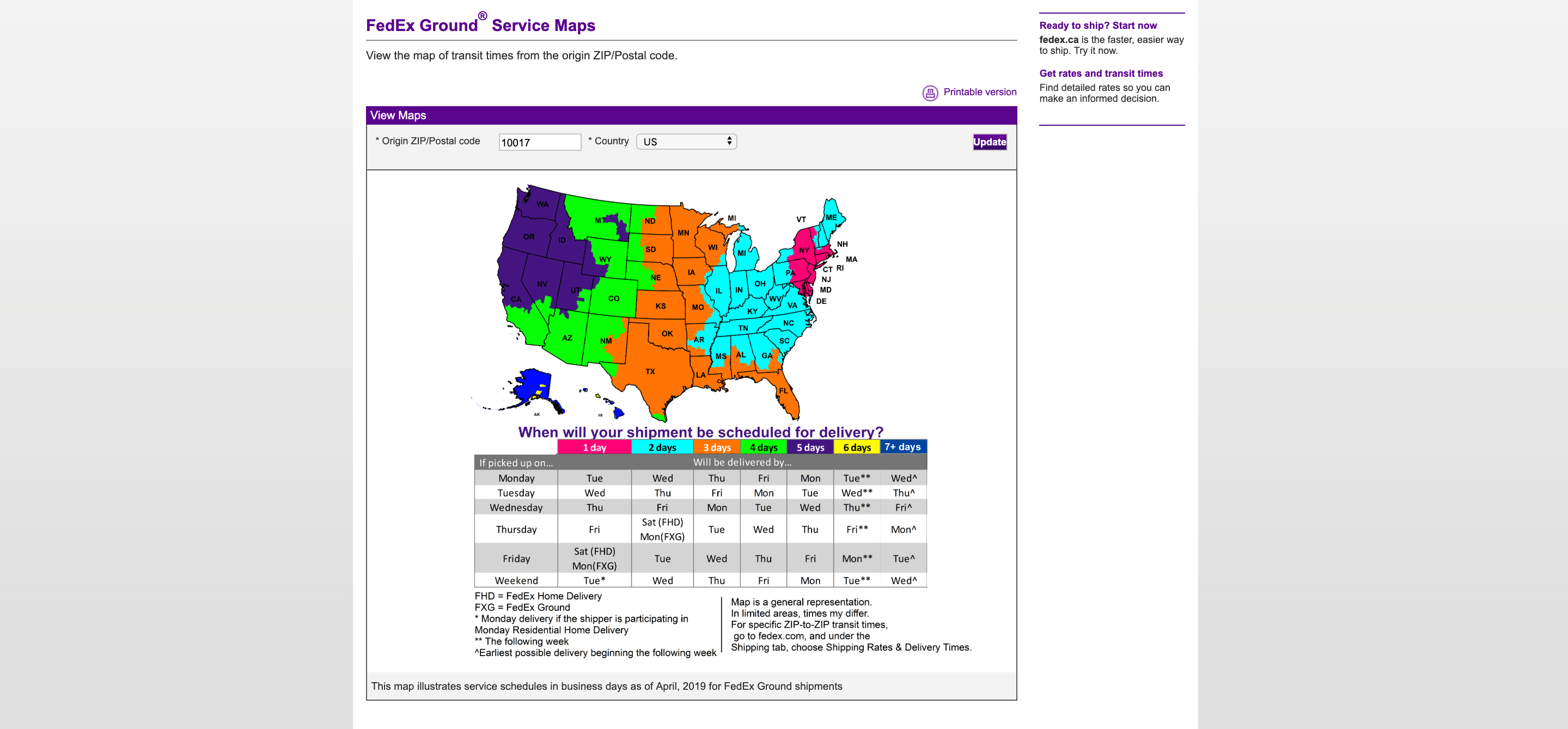 UPS also has an option for its customers to know the estimated time of delivery in the US locations. All you need to do is enter the date of shipping and the zip code. It will show the time transit map for UPS Ground shipping.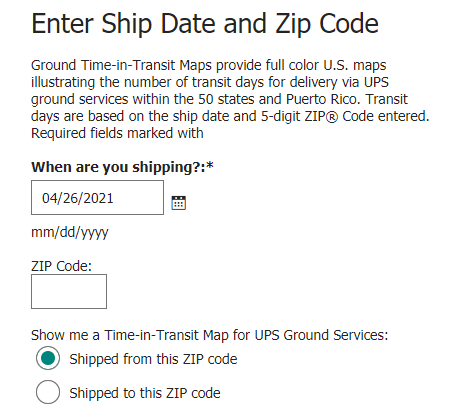 The map gives complete details regarding the transit time from one zip code to another.
Does WooCommerce allow shipping using FedEx Ground and UPS Ground?
Directly WooCommerce does not allow shipping with FedEx Ground and UPS Ground, but yes you can make use of external shipping plugins that will help you integrate these shipping options on your WooCommerce store. WooCommerce shipping features can be extended with the help of premium shipping plugins.
Here to include FedEX Ground and UPS Ground shipping, we can make use of ELEX EasyPost (FedEx, UPS, Canada Post & USPS) Shipping & Label Printing Plugin for WooCommerce.
The plugin lets you include these shipping services on your WooCommerce store. You can fetch live shipping rates on your store easily. Moreover, you can also print shipping labels and also track the shipment easily right from the store. The plugin also lets you list out other services offered by FedEx and UPS and then choose what suits you the best.
Learn more about the shipping plugin on their product page.
FedEx Ground vs UPS Ground: Choose the Shipping Solution That Works for You
If you are looking for affordable ground shipping options, then FedEx Ground and UPS Ground are two popular shipping options for you. The main advantage of FedEx Ground over UPS Ground is that it has a superior tracking system, which makes it an ideal choice for many eCommerce companies. FedEx Ground also offers pickup options and scheduled delivery options. However, for time-sensitive delivery, UPS is a better option.
Further Reading: