Running an eCommerce store can feel like a very tricky situation. You not only want your customers to have a smooth payment experience, but you also want a secure and reliable payment gateway to ensure that your store is safe from fraud. The good news is that there are several payment gateways to select from in the USA, but determining which one is best for you might be difficult.
That is why we have compiled a list of the 11 top payment gateways accessible in the USA, so you can make an educated selection for your business's needs. 
We'll go through some of their features and more so you can have a better understanding of what each payment gateway has to offer and how they all compare. Whether you're just getting started or searching for a new solution, this list of the finest payment gateways in the USA offers everything you need to know.
When it comes to payment gateways, there's one name that stands out above the rest – PayPal. It's been around since 1998 and is now considered the most popular and trusted payment gateway in the US.
Using PayPal for payments is easy – all customers have to do is log into their existing accounts or create one at checkout and they're ready to pay. Plus, with full PCI compliance, buyers can rest assured that their data is safe.
When it comes to features, PayPal offers the following and more:
Payments may be completed fast and conveniently using instant payments.

Advanced fraud prevention guarantees that organizations do not incur unexpected losses as a result of fraudulent transactions.

PayPal's flexible pricing structure allows you to select multiple payment plans based on your preferences.

Customers may complete transactions in their preferred currency without incurring currency conversion fees or other costs thanks to multi-currency support.
These qualities make PayPal an excellent alternative for any company seeking a safe and dependable payment gateway.
Stripe is an all-in-one payment platform that enables users to rapidly and conveniently take payments from clients. It's an excellent choice for companies that need to process payments, retain client data, and prevent fraud. Furthermore, Stripe provides excellent rates and assistance, ranking it in the top 11 best payment gateways in the USA.
When it comes to features, Stripe offers the following and more:
To begin, Stripe is super simple to set up; you'll be up and running in no time. When your website is ready to go online, you will be able to receive payments from customers immediately. 

Stripe also provides a range of payment management capabilities, such as automated invoicing and automatic recurring billing. 

Stripe's fraud protection features are industry-leading, protecting both merchants and customers.

On top of all this, Stripe offers competitive fees, as low as 2.9% +$0.30 per transaction. 
And with 24/7 customer support available via email or live chat, you can rest assured that your business will be well taken care of if any issues arise. All in all, Stripe is a great choice for businesses looking for an easy-to-use and secure payment gateway to accept payments from customers in the USA.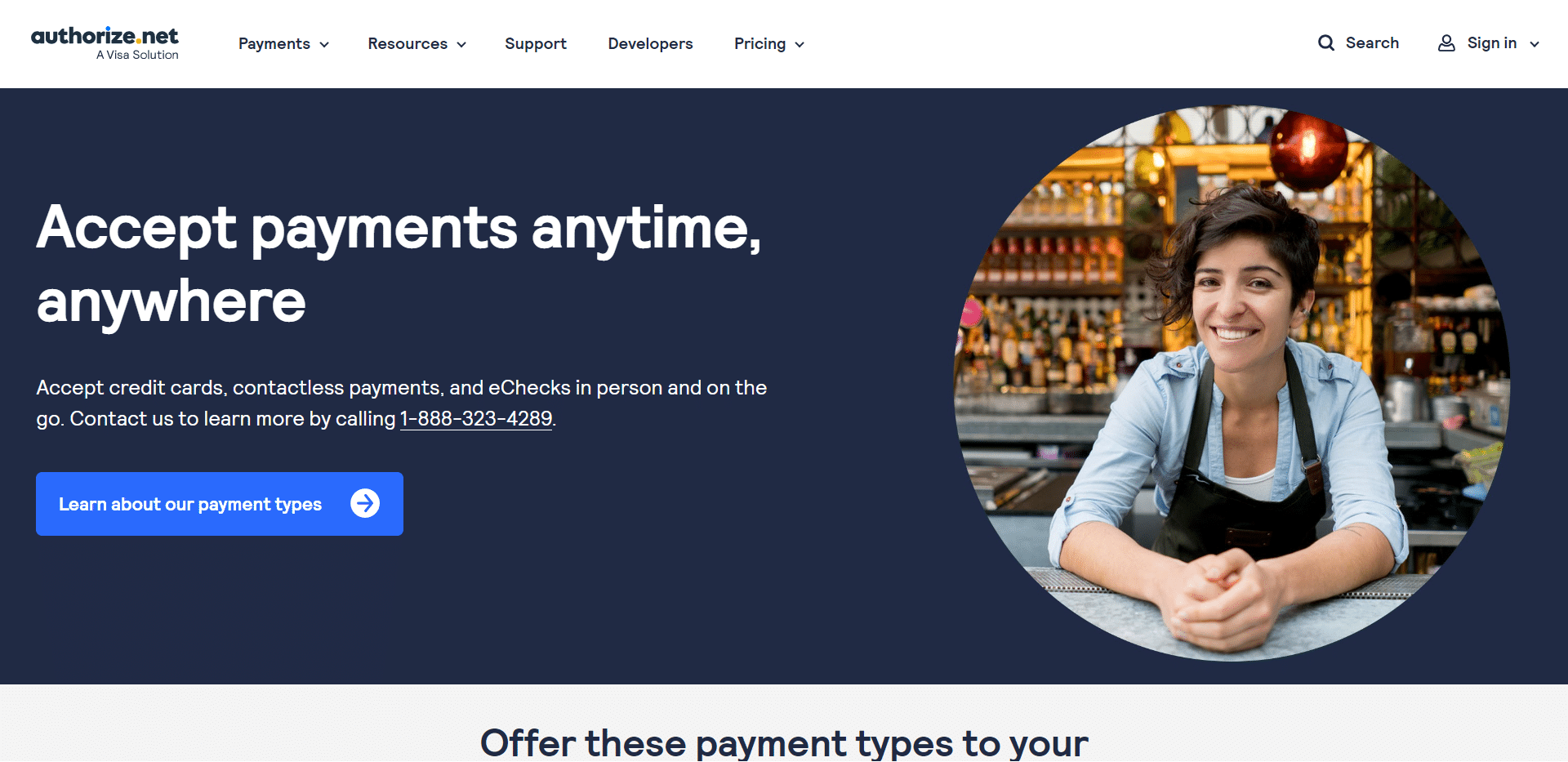 There's a reason why Authorize.Net is trusted by millions of merchants in the USA, it's a powerful and reliable payment gateway for eCommerce stores. It's been around since 1996 and is part of the Visa network, which means your business has access to one of the largest payment processing networks in the world.
Plus, it's easy to use and integrate with popular eCommerce platforms. Additionally, you don't have to worry about security or compliance with Authorize.Net; it offers both fraud protection services and is PCI-compliant, so you can rest assured that your customer's data will be kept secure.
When it comes to features, Authorize.Net offers the following and more:
Online invoicing reduces the burden of manual creation.

Recurring billing allows the company and the client to set up a payment schedule without having to worry about missed payments or deadlines.

Payments in many currencies enable the platform to integrate worldwide consumer support and accept payments from a variety of nations.

Responsive mobile checkout/designs make it simple for businesses to deal with clients who use mobile devices to buy services/products.
Furthermore, opening an account is free, and you only pay transaction fees when you make payments; it's a terrific alternative for those on a tight budget!
Now that we've given you some of the top payment gateways out there, let's take a closer look at Braintree, which is now part of PayPal. If you're looking for a gateway that's totally secure, yet still offers great flexibility and customization for your eCommerce store, then it might be worth taking a closer look at what Braintree can offer.
Whether you're processing domestic or foreign payments, with Braintree your fees will stay low. You'll pay just 2.9% + $0.30 per transaction with no hidden costs or long-term contracts. Plus, if you process more than $50k in sales per month, you may qualify for custom pricing.
When it comes to features, Braintree offers the following and more:
It integrates with many popular shopping carts and online marketplace platforms such as Shopify and WooCommerce. Plus, you'll get an array of tools like real-time fraud prevention.

Not only does Braintree use powerful encryption technology to keep your customers' data safe during the payment process, but it also helps keep you compliant with PCI requirements.

They even provide their merchants with secure tokenization solutions to protect customer payment information from unwanted access.
If security and convenience are your top priority when it comes to choosing a payment gateway for your eCommerce store, then definitely consider checking out what Braintree has to offer!
When it comes to payment gateways, Amazon Pay is unmatched. It gives you access to the Amazon ecosystem's capabilities, and clients may pay with their current Amazon account. It is also an excellent choice for foreign clients, as it accepts payments from over 20 different countries.
When it comes to features, Amazon Pay offers the following and more:
All transactions are conducted on Amazon's secure servers, ensuring that your customers' information is always safe.

Amazon Pay integration is simple; simply copy and paste the code into your store's checkout page and you're ready to go.

Customers can pay using a variety of options, including PayPal and credit cards.

When utilizing Amazon Pay, there are no additional transaction fees, so retailers may save money on processing charges.
Overall, if you're searching for a safe and trustworthy payment gateway that's simple to use for both you and your clients, Amazon Pay should be at the top of your list.
Google Pay makes it simple to accept payments from customers, and you can process payments fast and securely using Google's secure payments technology. In minutes, you can create an account with the Google Payments Platform and have a feature-rich payment gateway ready to go.
When it comes to features, Google Pay offers the following and more:
Easy integration with well-known eCommerce platforms such as Shopify and WooCommerce.

Strong security features that safeguard your clients' financial information.

All major credit and debit cards are accepted.

When needed, customer service is available 24 hours a day, seven days a week.
The bottom line is that by connecting your eCommerce site with the Google Payments Platform, your customers will be able to pay with simplicity and confidence, and you will have the assurance that their data is safe.
QuickBooks Payments is an excellent choice for organizations who currently use QuickBooks and want to make the switch to a payment gateway as smoothly as possible. It's straightforward to set up and use, and their rates are comparable to those of other gateways. 
Furthermore, comprehensive capabilities such as personalized invoicing, multiple payment methods, and real-time interaction with your QuickBooks account are available.
When it comes to features, QuickBooks Payments offers the following and more:
You will be able to set up your account in no time.

Their competent customer service team can swiftly resolve any concerns or queries you may have.

Accepts Visa, Mastercard, American Express, and Discover Card as well as other major credit cards.

Provides fraud prevention, so you don't have to worry about fake orders.

There is no need to worry about compatibility difficulties with the Shopify and WooCommerce systems.
Whether you're already using QuickBooks for accounting or simply looking for an easy-to-use payment gateway for your eCommerce store, QuickBooks Payments is worth considering.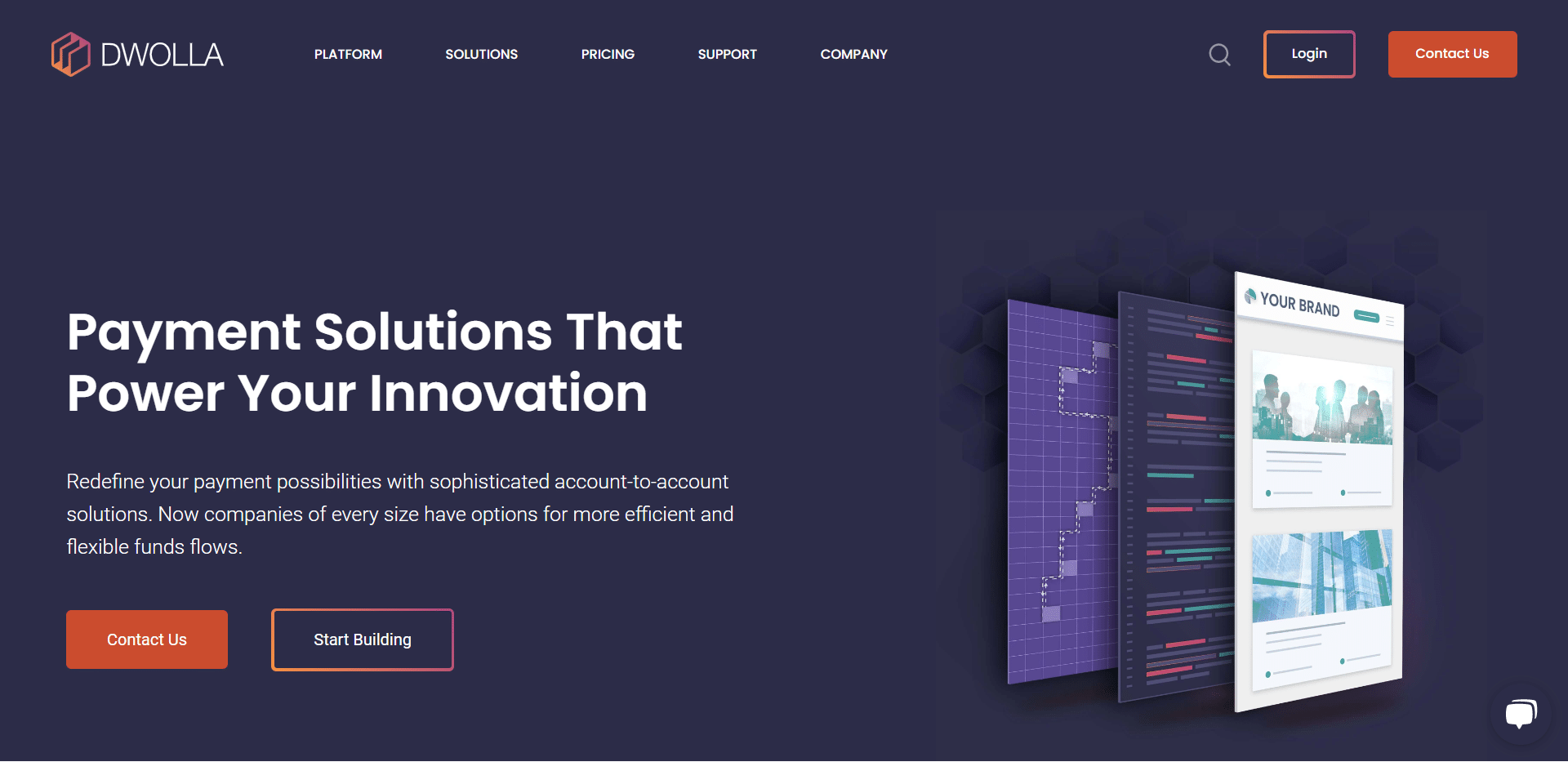 One of the best payment gateways for businesses in the USA is Dwolla. It offers one of the lowest transaction fees out there, you might end up saving money on transactions when you use Dwolla.
When it comes to features, Dwolla offers the following and more:
With Dwolla, you can access the ACH Network (National Automated Clearing House), meaning that funds are transferred directly from the customer's bank account to yours. You'll pay 25 cents for any transaction over $10 and a maximum fee of $5 per transaction.

Dwolla works with several coding languages allowing your business to integrate Dwolla into almost any web store or application, making it easier than ever to accept payments from customers.
Last but not least, if security is top of mind for your business, rest assured that Dwolla utilizes the latest security protocols and tools when it comes to protecting sensitive data and preventing fraud, giving you added peace of mind when accepting payments online.
If you're just starting out with your eCommerce store, do not worry! Square is one of the best payment gateways in the USA for new stores. It offers competitive processing fees and a streamlined setup process that lets you get your store up and running quickly.
The great thing about Square is that there are no long-term contracts or difficult setup procedures. It has one of the lowest rates accessible, with a fixed fee of 2.9% + 30 cents for each transaction. You may also take payments from all major credit card networks, such as Visa, Mastercard, American Express, Discover, and others. 
Additionally, if your yearly sales income exceeds $250k, you may be eligible for special pricing.
When it comes to features, Square offers the following and more:
A user-friendly dashboard for tracking purchases.

Integration with popular point-of-sale (POS) systems.

A virtual terminal for manual transactions.

The ability to add tips to invoices.

Automated customer notifications on new orders.

Fraud protection options for extra security measures.

Access to analytics to monitor sales performance.
Overall, if you're just starting out with your eCommerce business and don't need a lot of complications, then Square is definitely worth considering as it'll help you get started quickly and easily at an affordable cost.
When it comes to sending money abroad, Skrill is one of the best payment gateways in the USA. It offers an easy and secure way to transfer funds to anyone in over 131 countries and 40 different currencies.
Using Skrill is relatively straightforward. All you have to do is register your account, link your bank account or credit card, and you'll be ready to send money worldwide. 
When it comes to features, Skrill offers the following and more:
You can send payments right from their website or their mobile app, which makes it even easier for on-the-go transactions.

You can save time by creating profiles for merchants you regularly send money; this allows you to quickly select the same recipient each time you make a transaction. 

Skrill's low fees and competitive exchange rates make it a great choice for international money transfers.
Overall, if you're looking for an easy way to transfer funds overseas quickly and securely, Skrill definitely is the way to go!
Payline Data is the service for you if you're seeking a payment gateway provider that provides tailored solutions for demanding demands.
Payline Data provides a solution that is suited to your individual needs, no matter how complex they may be. With their cutting-edge technology, you have access to the most recent security features and fraud-fighting capabilities. You will also get control over the consumer experience, allowing you to design more seamless payment experiences.
When it comes to features, Payline Data offers the following and more:
All major credit cards and payment methods are enabled for comprehensive and secure payments.

Comprehensive fraud prevention platform.

A wide range of integrations with popular eCommerce platforms like Shopify, Magento, and WooCommerce

24/7 customer support handled by a knowledgeable team.

Fully-customizable payment processing options with no monthly fees or setup costs

A secure hosted checkout page for easy integration into any website or mobile app

Real-time data tracking for quick insights into payment performance
With all these features, Payline Data helps ensure that your customers have a safe, secure, and successful checkout process every time they visit your store!
Conclusion
Payment gateways play an important role in the success of any eCommerce store. They provide secure and reliable payment processing for customers, and they make it easy for store owners to get paid. But with so many payment gateways to choose from, it can be overwhelming trying to select the right one for your business.
You can select the best payment gateways for your eCommerce store by evaluating the features and services provided. You'll have the certainty of secure payments, superior customer service, and the ease of automated procedures with the correct payment gateway in place. Take the time to research your alternatives and select the finest payment gateway for your needs.
We hope this post has given you some insight into the leading payment gateways in the USA!
Further Reading