Are you ready to get your products in front of more customers? Selling your products on Facebook and Instagram can be a great way to increase sales and reach a larger audience. But how do you connect your WooCommerce account to these popular platforms?
It's not as complicated as it may sound. In this article, we'll explain exactly what you need to do to get started on connecting Facebook and Instagram with WooCommerce. We'll go through all the important questions one might have, such as, What are the benefits of selling on these platforms? What are the different accounts needed? And, most importantly, how to set everything up?
By the end of this guide, you'll be an expert at integrating WooCommerce with Facebook and Instagram! Let's get started.
Why Connect WooCommerce to Facebook and Instagram?
By connecting your WooCommerce store to Facebook and Instagram, you open up a world of potential, especially when it comes to increasing sales and reach. Here are just a few of the benefits that connecting your store brings:
Reach new customers on the world's largest social networks. With over 2.8 billion active users on Facebook and 1 billion on Instagram, these platforms give you access to an enormous base of potential buyers.

Turn shoppers into customers. Once shoppers find out about your brand, they can easily buy products without even leaving the platform.

Take advantage of insights about potential customers. These platforms offer advanced analytics to help you learn more about who's visiting your store and what kind of content resonates best with them.

Easily promote regular or special offers right on your timeline or story. This is great for advertising seasonal discounts, limited-time deals, or other promotions quickly and conveniently.
In short, connecting WooCommerce to Facebook and Instagram gives you a powerful edge when it comes to driving sales, as well as getting valuable insights into the people who visit your shop!
Setting Up Your Facebook Shop
Ready to get started? Before you can begin selling your products directly on Facebook and Instagram, it's important to create a Facebook Shop. Here's how:
Log into your Meta Business Suite and select All Tools on the left-hand side menu.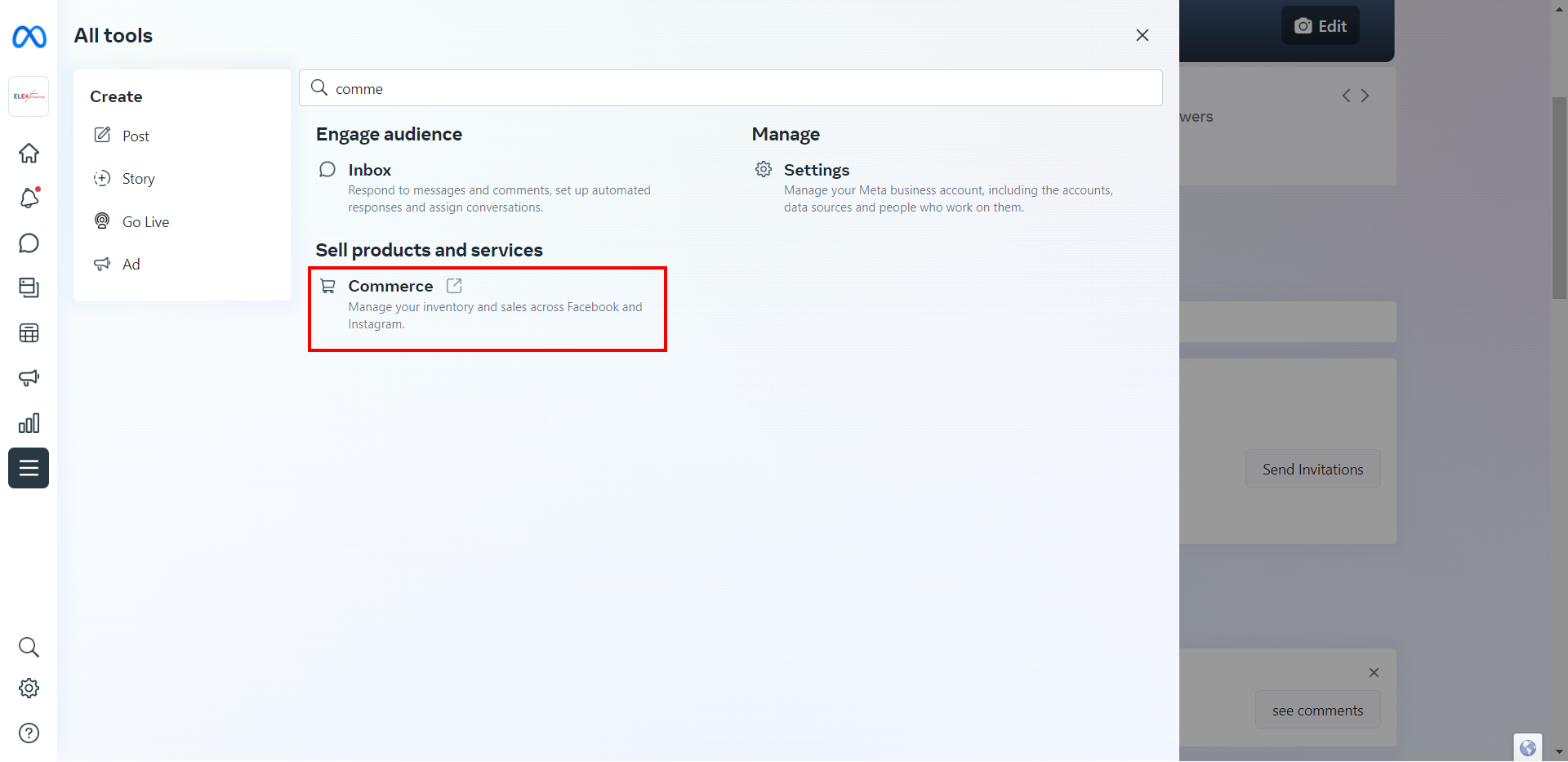 Select Commerce Manager and click on Add Account under Assets. This will allow you to add a customized shop.
Choose the currency and payment methods you want to use in your shop

Fill out the necessary information about your business, including contact information and address

Configure any special policies and shipping/returns details

Agree to Facebook's terms of service

Click 'Create Shop' to finish!
Once your shop is set up, you can start connecting your WooCommerce store, uploading products from there, managing them directly through either platform, and running campaigns and promotions on Facebook and Instagram!
Connecting Your WooCommerce Store to Facebook
Connecting your WooCommerce store to Facebook is super easy and can be done in a few steps! Before you get started, you'll need to have created a Facebook business account (Meta Business Suite), have admin access to it, and have a WooCommerce account.
Once you are done creating the required accounts, you may either integrate these platforms directly or by using a plugin. The latter is easier to do since it automates the majority of the process and isn't as tiresome.
To keep your WooCommerce store in sync with your Facebook and Instagram platforms, use the ELEX WooCommerce Catalog Feed for Facebook & Instagram plugin. 

This plugin generates an up-to-date catalog feed of your whole WooCommerce store and keeps it updated in real-time on Facebook and Instagram.
The best part is that you may advertise your products immediately by generating unique advertising and campaigns on both platforms using this catalog feed. This plugin makes it simple to create professional-looking product catalogs.
Here's how you can customize and set up the plugin:
Step 1: Activate and Access the Plugin
You may install and activate this plugin just like you would with any other WordPress plugin. Once the plugin is activated, you may access it by going to your WordPress Dashboard > ELEX Facebook Shopping Feed.
Step 2: Connect to Facebook
On the Settings tab, you may change the language used for Google Product Categories and link your business to Facebook.
The Google Product Category Language by default is English but can be changed to any other language based on your requirements. 
Your Facebook and Instagram profiles will be linked to your WooCommerce store when you click Connect FB. 
Step 3: Configure the Plugin Settings
To begin changing the plugin's default settings, navigate to the Create Feed tab in the Start menu.
You must give your project a suitable name, offer a brief project description, and, most importantly, enable the Sync to Facebook option.
After you've enabled Facebook auto sync, you can choose a refresh schedule and time to control how frequently the selected catalog feed is updated. (every day, weekly, or monthly). 
You may also provide the country of sale and the product feed file type. You may also select Include variations if you want to include product variants (sizes, colors, etc.) in the product feed. 
You may then choose a default category, designate particular countries of sale, and customize currency conversion and currency code under Advanced Settings. 
Now move on to the Map Category tab.
You must connect your items to Google's default category if you want them to appear when buyers search for them in the Facebook or Instagram marketplace. Start entering the desired category into the Google Categories textbox and choose it from the list of auto-suggestions that appear.
By heading to the Map Category page and choosing the Map Product sub-tab, you may map single products if you don't want to map whole product categories. You may quickly link the product names to the proper Google categories by providing the product names.
Under the Map Attributes tab, the next step is to map the product's attributes.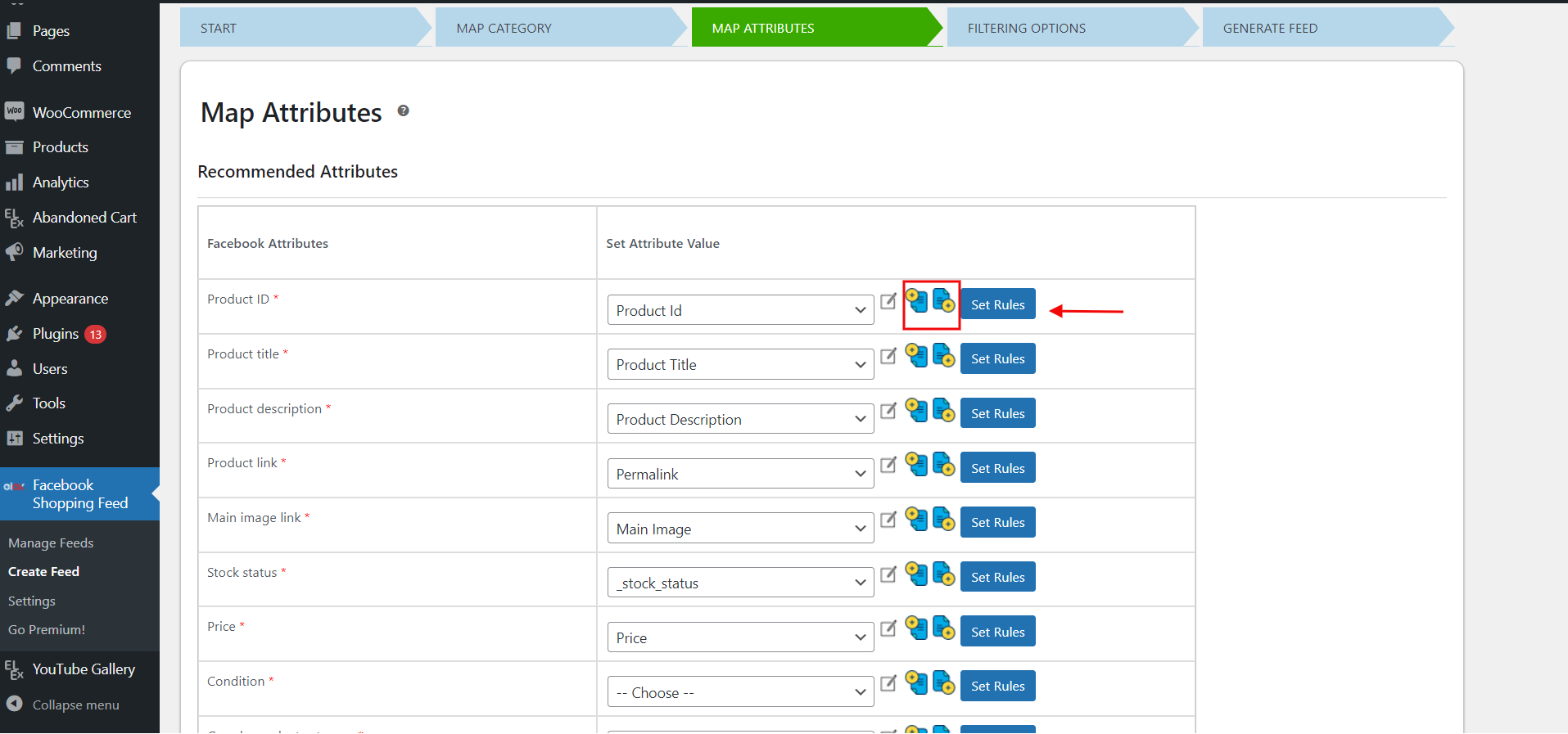 You may connect the attributes of your products to the list of Facebook attributes. Some of the main attributes will be automatically mapped by the plugin. You may manually adjust the mapping to obtain more precise results by adding or removing data and defining criteria. 
Finally, navigate to the Filtering Options tab.
On this page, filter out the stock and sold amounts of the goods needed in your product feed.
By filtering things based on their Stock Quantity and Sold Quantity, you may create feeds that only contain specific products. Custom feeds with Featured Products can also be created while omitting specific products from the feed. 
After you've finished specifying the parameters, click the Sync Products button. This will take you to the Generate Feed tab.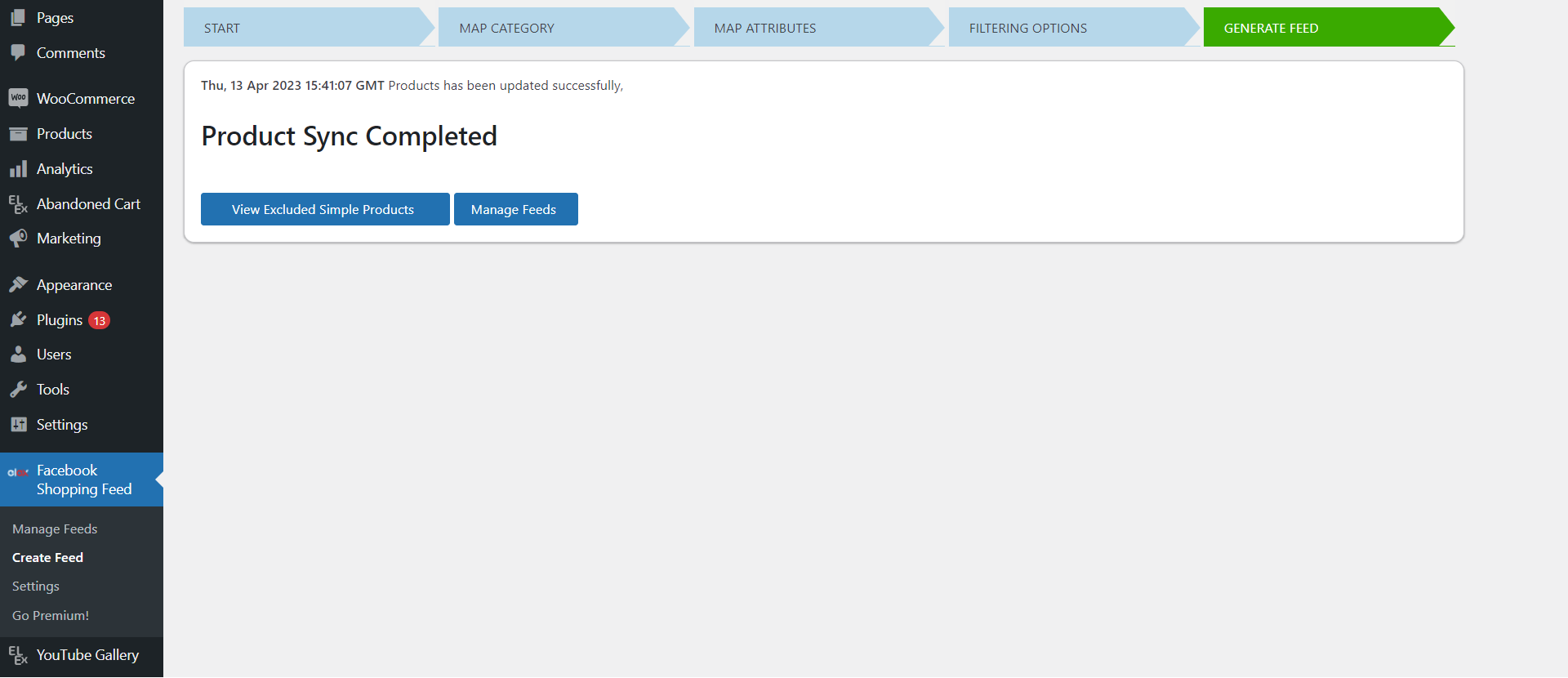 Syncing Your Product Catalog to Facebook and Instagram
Now that we have completed connecting your WooCommerce store to Facebook along with creating a product catalog, it is time to sync that product catalog with Facebook and Instagram.
Utilize the Commerce Manager to control your Facebook and Instagram product catalogs and sales. You must upload the product feed file to the Commerce Manager, which contains data on all the products in your product catalog. 
Enter your Commerce Manager and select

Get Started

.
Click

Create A Catalog

to start building your catalog.
Decide on a catalog type. E-commerce is a great option for businesses. 
You may add product information by selecting

Upload Product Info

, entering a catalog name, and clicking

Create

. 
To view the catalog, click

View Catalog

. The Catalogue tab will have a

Data Source

option on the left of it, go ahead and select it.

Under the Add Items box, select

Data Feed

.
There are three different ways to submit product information to Facebook and Instagram. You have the option of utilizing Google Sheets, inputting a URL, or uploading from your computer in the subsequent tab.

Once you click

Upload

after choosing your product feed file, the process is finished.

You must connect your Instagram account to the Commerce Manager after the product feed has been added. This will sync the same and any future catalogs with Instagram.
There you go! It's that easy to connect your WooCommerce store to Facebook and Instagram and start selling on these platforms.
Tips For Promoting Your Products on Facebook And Instagram
Promoting your products is the key to really taking advantage of the platform and increasing your sales. Here are some tips to keep in mind while promoting your products:
Post Regularly
Regularly post on your Facebook Shop page to ensure that your followers are kept up-to-date on what's new and upcoming. You can also promote certain products or events to give them a special focus.
Leverage UGC
User-generated content (UGC) is a powerful tool for driving traffic to your Facebook Shop page. Encourage customers to share photos, videos, stories, and experiences of using and enjoying your products. They can be leveraged for paid promotions as well as organic posts.
Use Paid Ads
Leveraging paid advertising options such as boosting posts, creating targeted ads, and running special deals/events are all great ways to get more customers interested in what you have to offer. Plus, they help you reach new potential customers who may not already follow you on social media.
Taking advantage of all these strategies will help you connect with more people in more ways while driving up sales for your WooCommerce store through Facebook and Instagram!
Conclusion
In conclusion, connecting WooCommerce to Facebook and Instagram can have a huge impact on your sales. It makes it easy to find new customers, reach out to existing customers, and create targeted promotions that generate more sales.
It's simple to get started, all you need to do is have the necessary accounts and utilize the ELEXtensions plugin to automate the process. With the right setup and strategies, connecting WooCommerce to Facebook and Instagram can be a great way to boost your sales and connect with new customers. 
We hope this post has helped you connect your WooCommerce store with Facebook and Instagram!
Further Reading