There is no denying that there are several advantages to purchasing online. It allows clients to compare costs without having to leave their homes, saves them time by eliminating the need to walk from store to store, and helps them avoid long queues at the checkout.
However, as handy as internet buying is, it does have a disadvantage. Most of the time, your consumers have little influence over when their things are delivered. Customers who are upset by the lack of definite delivery date are more likely to abandon their order.
The good news is that allowing your consumers to select their own delivery date will improve their experience. We'll go over the advantages of doing so in this article, as well as how to implement it on your WooCommerce website.
Overview
Advantages of Letting Customers Select Their Delivery Date

Allowing Custom Delivery Dates Using a Plugin
Advantages of Letting Customers Select Their Delivery Date
Allowing clients to select a delivery date during the checkout process offers various advantages for your business, such as:
1. Improved Customer Satisfaction
As previously said, most consumers prefer internet shopping since it eliminates the need to stand in lines or physically visit several businesses.
However, because you have little to no control over delivery times, your clients may cancel the order and leave unhappy. This results in a negative client experience while also harming your brand's reputation.
Offering clients the option to select their delivery date is a smart method to get around this challenge. They can then choose a day that is convenient for both their personal and work schedules.
2. Lowers Your Operating Costs
Each delivery effort adds to your overall costs. You must pay for the delivery driver's time as well as the cost of the distance traveled.
You run the danger of having to go out many times to deliver a shipment if your consumers can't specify a time and day for delivery. Multiple tries can easily pile up and raise your overhead over time. However, if you know your client will be home when the delivery is made, you will only have to make that delivery once, resulting in no additional costs.
3. More Likelihood of Repeat Deliveries
You are responsible for delivering your customer's packages if they make a purchase. You have no way of knowing whether your customer or someone they trust will be home without a prearranged time.
Allowing your clients to pick the precise time and day of their delivery when it is most convenient for them.
4. Establish Brand Credibility
Another advantage of having multiple delivery options is that it helps your clients trust your brand. Consumers will be more inclined to become repeat customers and return to your business for future purchases if they trust you and your brand.
5. Gift deliveries can be scheduled by customers
Because few online stores provide flexible delivery choices, online consumers must order their gifts far ahead of time to ensure that they arrive on time.
Customers can be certain that their present will arrive at the correct time and date without creating stress or spoiling the surprise when you make it simple for them to pick the exact time and date of delivery.
Allowing Custom Delivery Dates Using a Plugin
Integrating the ELEX WooCommerce Choose Your Delivery Date Plugin in your WooCommerce store is the ideal way to allow your customers to choose a delivery date that takes into account your business days, holidays, and the minimum days it takes to deliver goods.
Below, we have listed the prominent features of the plugin:
Customers can select their preferred delivery date.

Allow certain days to be mitigated as a delivery date.

Keep your customers informed about your upcoming holidays.

Add helpful notes for customers.
Start by installing and activating the plugin. To do so, download the zip. File and go to your WordPress Dashboard > Plugins > Add New > Upload Plugin and click Install.
Once the plugin is installed, click Activate Plugin.
Now in order to access the plugin, go to the Dashboard > WooCommerce > Settings > ELEX Choose Delivery Date.
To configure the settings, it is important to understand what all functions are available on the plugin's dashboard. Let us take a look at the functions.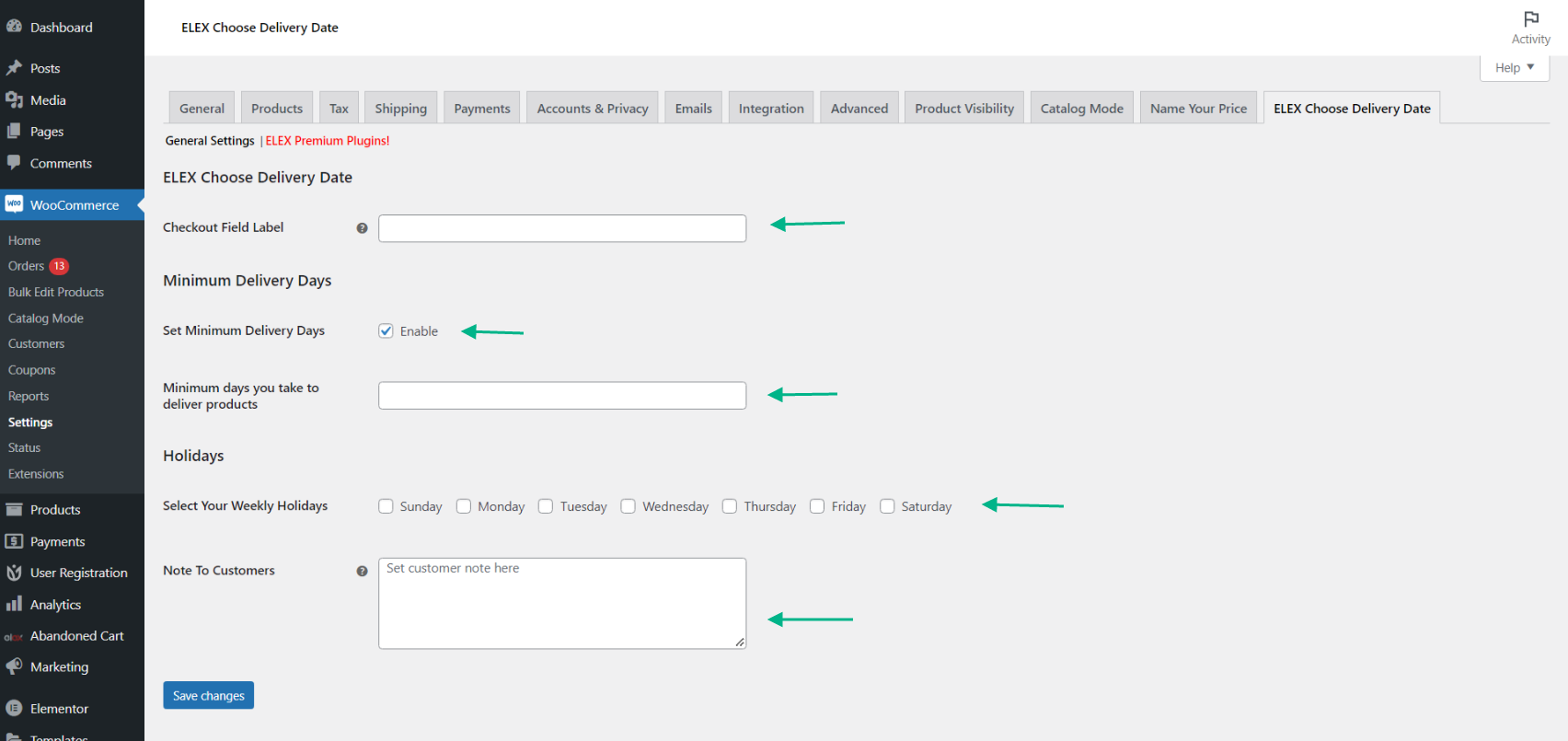 Checkout Field Label:

You may write custom text to appear on the checkout page to inform your consumers about the delivery date selection option

Set Minimum Delivery Days:

Check this box to specify a minimum number of days for delivering the merchandise. If you activate this option, a new box will appear where you can specify the minimum number of days you want consumers to wait for.

Minimum days you take to deliver products:

After the order is completed, enter the number of days to be blocked starting the next day. 

Select Your Weekly Holidays:

Each week's days will be accessible as checkboxes. You may check the days you won't be delivering things from this row. You may set up special holidays a week ahead of time. As a result, remember to uncheck special holidays from the dashboard once the day has passed.

Note to Customers:

Include a personalized note for customers to provide further information about your holidays.
Now that you have understood what each field is for. You can add the relevant information and customize the plugin to your preference.
For the sake of demonstration, we will select Monday and Tuesday as holidays and set the minimum number of days for dispatch to 2. We will also add a checkout field label stating "Select Your Delivery Date" and add a note to the customer stating "Thank you for Ordering ".
Below, you can see a screenshot of the frontend view with the plugin in action.
Conclusion
Allowing consumers to pick a convenient day and time for delivery offers various advantages for your business. With the aid of ELEX WooCommerce Choose Your Delivery Date plugin, you may increase your customer service, brand image, and revenue. 
Further Reading