What can we help you with?
How to complete the Checkout process on ELEXtensions.com?
If you are having trouble purchasing our ELEX plugins, follow the instructions explained in this article.
Steps to process Checkout on ELEXtensions:
1. Select the desired plugin from our plugin archive to proceed to its product page. On the right side of the page, you can see the license (or the number of site subscription) options. Select the desired subscription and click on Add to cart button.
A sample screenshot is shown below.
2. Next, you'll be taken to the cart page from where you can proceed to the Checkout page for payment.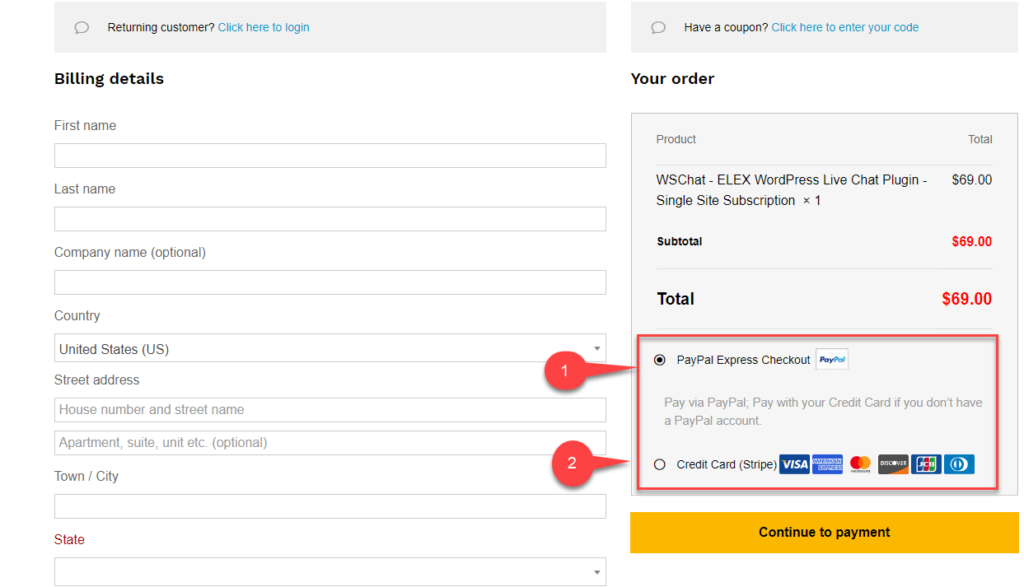 We accept payments with PayPal Express Checkout payment gateway and Stripe. For India, we also accept RazorPay payment option.
Method 1: Payment using Paypal
Here we have two options
Using an existing PayPal account
Pay with Debit or Credit Card (without using PayPal account)
Enter your billing details, email address, and password (if you have not logged in to ELEX) and click on Continue to payment button to proceed further.
Pay using PayPal
You'll be redirected to the PayPal website for payment. If you are using an existing PayPal account enter your login credentials and proceed with the payment.
 Payment using Paypal (Pay with Debit or Credit Card (without using PayPal account)
If you do not have PayPal Account, and if you want to use a Debit or Credit card, click on the respective button to proceed further, as shown in the screenshot below.
In the next step, enter your card details, confirm your billing address, and click on the Pay Now button.
Once the payment is successful, you'll see a confirmation message on the ELEX screen.
Method 2: Checkout using Stripe
Apart from PayPal Express Checkout payment gateway we also accept payments using Stripe.
Here you can provide the card details and then proceed with the checkout.
Method 3: Checkout using Razor Pay
Apart from Stripe and Paypal, we also accept payments via RazorPay.
Here you can provide the credit card details with the card security code and then proceed to checkout. This is recommended for Indian WooCommerce store owners who can pay securely using Credit or Debit card or even Internet banking through Razorpay. Once done, you will get the confirmation message on your ELEX Screen.
For free plugins, you can read the Obtaining the free ELEX plugin section of our another blog article.
What next?
To download, install, and activate your ELEX plugin, read our article for step-by-step instructions.
To know how to set up the plugins, read the respective product documentation from our documentation section.
---
You can also check out our blog section for more informative articles.
You can also check out WooCommerce and WordPress plugins in ELEX.