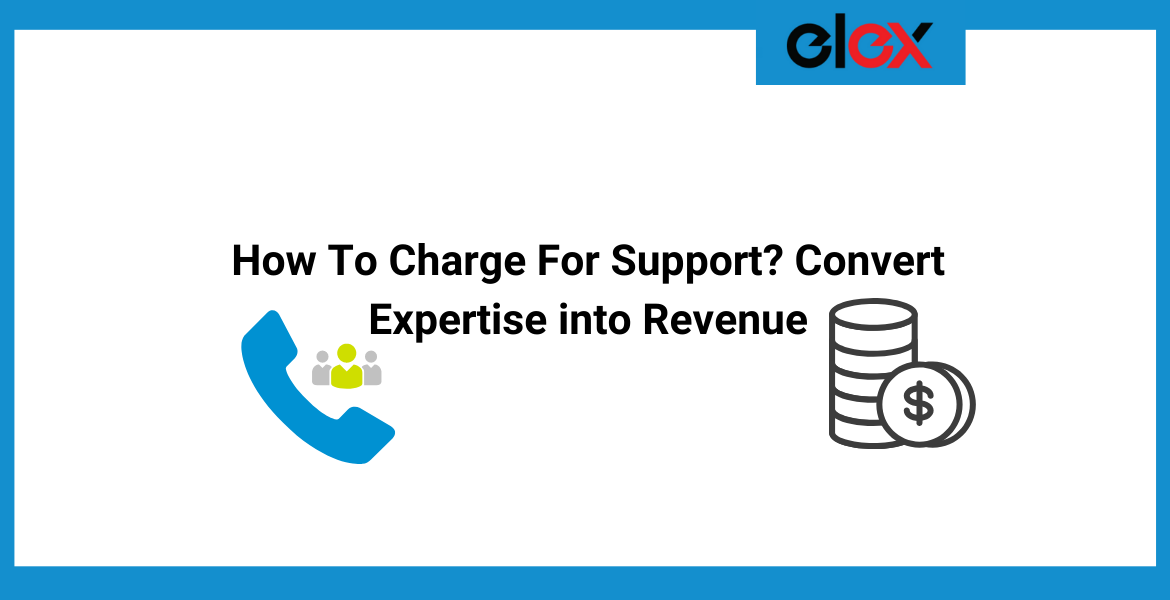 How To Charge For Support? Convert Expertise Into Revenue
Offering support to your customer after purchasing your products or services is vital. If you are offering a service or products, you must be an expert in the domain of your business. You can convert expertise into revenue by offering support after the purchase.
Charging for support can be your major source of revenue if you make a correct flow of the procedure. In the real world, you can see that doctors and lawyers are charging for one sitting. They are experts in their field, so they can convert their expertise into revenue from their clients.
If your business deals with products, virtual products or services, such as software products or some other services, you can charge for the support you are offering after the sale. Now, the question is how can you implement this pay for support in your business?
Before getting into that let us discuss why you should charge for support.
Why You Should Charge For Support?
Almost all the service providers are offering basic free assistance and support through their website or application. It could be in the form of FAQs, Support forums, or documentations, etc. But what if your customers need immediate support or assistance or support that they could not solve using these free sources? In these cases, they may contact you through email, chat, phone call or any other medium through which they can contact you. In such cases, you will provide the solution to them directly or you may recruit a person to solve these customer issues. You may provide these support for free, so the customers can seek help from you whenever they want.
Especially when it comes to a new software product or some machines, it will take time for the customers to get used to the product. They will need assistance and support from you till they get into the track! Nowadays, almost all the service providers switched the support services into paid support. That is, apart from some free sources, they will provide premium subscriptions for immediate responses. If you are not entered into it, this article will help you to set up this for your business.
You can offer this support service as a compliment for the first few months or the first few queries from your customers. After crossing the time limit and query limit, you can charge for it. Or if you are an expert in some domains such as counseling or certain subjects, you can simply develop a website or mobile application platform and provide answers and solutions for the queries and doubts by the customers and charge for it. So we can get into the point that this is a powerful channel of revenue. You can earn more income from the domain you are sharp and excellent at.
How Can You Implement Charge For Support In Your Business?
There are many ways to implement this charge for support in your business as you can do each and everything conventionally, that is you have to set up a payment gateway system to charge for each and every assistance. But it will not be practical to implement if you get many queries in a day. Instead of doing this, there are many software and plugins available for making this process smooth and in a systematic manner.
These plugins or add-ons will help you to set up the subscription plans and offer certain credit points according to the plan chosen by the customer. In each solution or a fixed number of solutions, a fixed amount of credits will be deducted from the user account. Or else you can set it as a monthly subscription as you the user can ask a fixed number of queries in a month based on the plan. While the plan exceeds, the users have to choose the subscription plan again. Likewise, you can increase your revenue by offering support.
Another thing we should take into consideration is, there will be different types of queries from the customers. It can be a normal enquiry to your business or a query for support. These are often called "tickets". So you should clearly distinguish the queries whether it is an enquiry, suggestion or any issues.
Now, in this article let us take one top-notch add-on for setting up charge for support in your business: Pay For Support Add-On for WSDesk WordPress Support Ticket System.
Set Up Charge For Support Using ELEX Pay For Support Add-On
ELEX Pay For Support is basically an Add-On that works with WSDesk – ELEX WordPress Helpdesk & Customer Support Ticket System Plugin. WSDesk is a premium help desk and customer support ticketing system that will help you to make your customer experience easy. Using this plugin you can receive the tickets from your customers and you can get back to them according to the tickets. This plugin will help you to do the process and make the flow of the process immaculately with its advanced features.
Now when we get back to the Pay for Support Add-On, it works only if you have purchased the WSDesk plugin in your WooCommerce store. Using this Add-On you can charge for your support and consultation based on the premium subscription plans. That is, if the ticket raised by the customer is an issue, you can get back to them using the WSDesk plugin and charge from them using this Add-On. As we have discussed, in this plugin, they are using a credit system. That is, users can purchase a subscription plan for the credits. It can be a one-time payment plan or recurring subscription that can be paid by your customer using a WooCommerce payment method.
According to this plugin, the services you are offering are virtual products. So as a shop owner, when a user purchases the subscription from you, you can add a certain amount of credits to his or her account automatically using this Add-On. And also you can set how much credit amount should be deducted automatically when the user raises a ticket. In case, if the issue of the customer is not solved in that ticket, but the credits automatically deducted from his or her account, in such cases you can manually add credits to their account.
Now let us move to how to set up this in your WooCommerce store.
After installing WSDesk and Pay For Support Add-On, go to "Create Rule" and enter the relevant details to set up a rule for subscription.
Credit Rule Name: You can enter a rule name for your subscription.
Product Identification: Here you have to enter the ID of the individual product or subscription based product.
Set Price: If the price of your product is $100, and you are planning to provide 10 credits for each $25, you can enter 25 in this text box. So if a user purchases the product of $100, then he or she will get a credit of 10 * 100/25 = 40 credits.
Set Credits: Here you can enter the number of credits you are planning to give for the amount in "Set Price". Hence it is, 10.
Then you can click Create!
You can see the rules you have created in Manage Rules. There you can review, edit and you can delete any rule if needed.

The next step is to set up triggers for deducting the credits when a user raises a ticket. For that choose "Triggers".
Here, you can associate your WSDesk ticket statuses to the credits. In this, you can see the statuses are Unsolved, Solved and Pending.
Here I have set to deduct 1 credit for unsolved tickets. Likewise, you can set for Solved and Pending.
If you want to edit the credit deduction and the ticket status, you can go to the edit option in the already created one and update it. Have a look.
Now you can apply the credit rules to your users. You can simply select your user and select the credit rule you have created to be applied to him or her according to their subscription plan. You can directly apply the rules here for the selected customers, therefore it will be very useful for you to apply the credit rules to your old customers. And also it is very useful if that customer paid you offline for their subscription!
If you want to track and view all the credit transactions on your site, you can go to the "History" tab. There you can see the date, user email ID, request (that is WSDesk ticket number), credit status, credits deducted from their account and the credit balance in their account. You can also download it for future reference.
If you want to analyze the performance, status of new requests, status of agent requests, and status of new and unsolved requests.
Using this you can track the status of the last seven days.
If you go to the "My Account" tab, you can add your company logo there. You can enter the logo URL in the text box.
Then if you want to see the credit details in the WSDesk ticket page, you can go to the History tab and click the request number. You will be redirected to the respective ticket page. You can see the credit details, credit balance and subscription plan in the tab.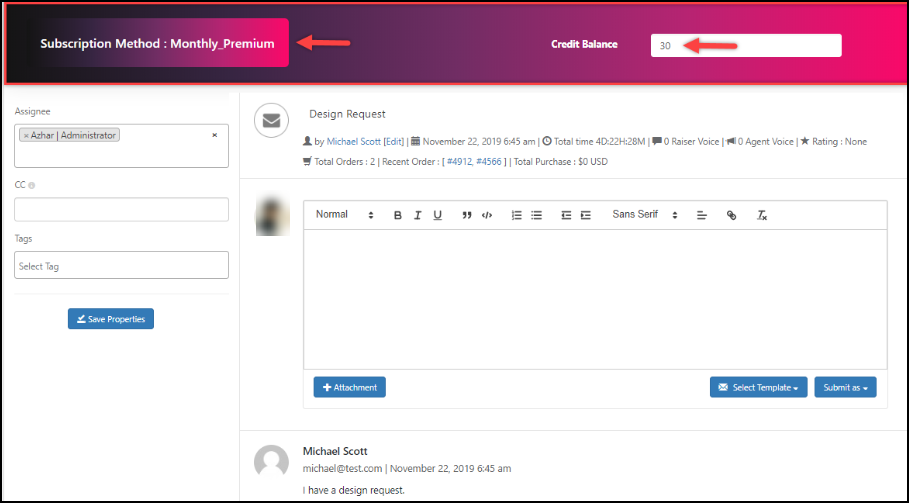 If you want to see your users credit balance and the details, you can go to his or her user profile page. There you can see the subscription plan and credit balance. In addition to that, if you want to update the credit balance manually, you can update it there.
Also, if you want to see the timeline of the credit transactions of a particular user, you can check the credit history. Have a look,
You can see the date and time, status, request number, credit deducted and credit balance of each transaction.
It is easy, right?
Now, let us wrap up.
Wrap Up
Converting your expertise into revenue is not a tedious task with robust plugins and Add-Ons. You only need to plan some subscription plans based on your business, and you can simply create the subscriptions and the amount needs to be deducted in each transaction. After setting up these things, you can track it and take the report as well as you can do some manual edits on credits of your users' accounts.