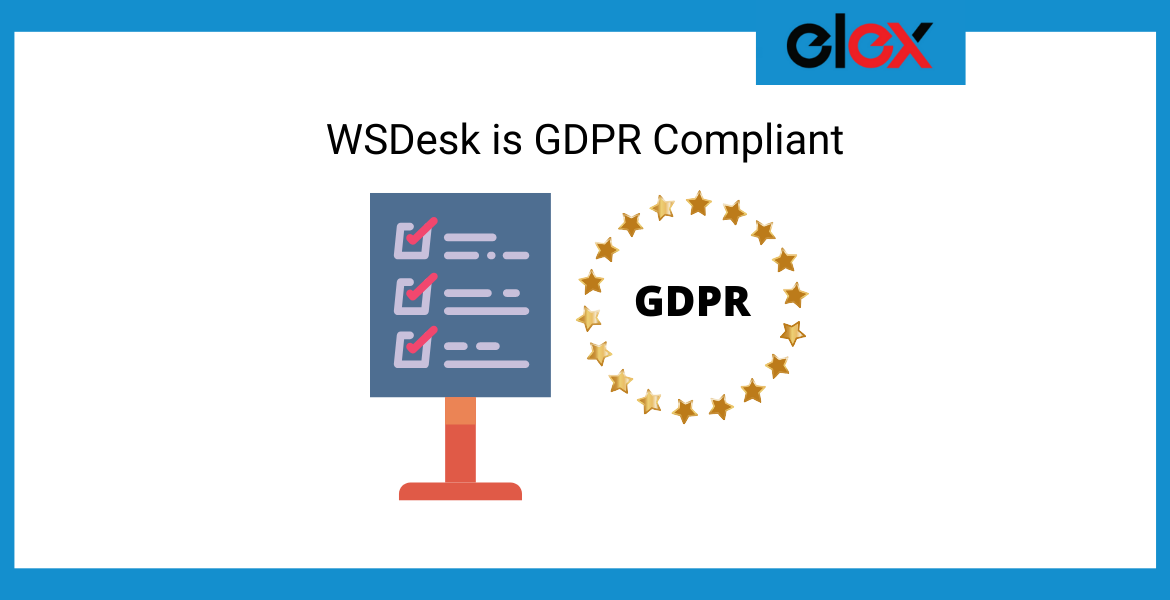 WSDesk is GDPR Compliant
Keeping the GDPR compliance in mind, we have prepared our privacy policy as an information manual for how we, at WSDesk collects, maintains, uses and discloses information gathered from users. This article will also shed light on how you can access your data and decide to remove them. Further, we shall also mention a few points on behalf of the WSDesk users covering the data handling part of WSDesk plugin.
What information do we collect?
When someone visits our site, WSDesk doesn't store any personally identifiable data. In order to get a clear idea of our visitors and customers, we put our trust in the data presented by Google Analytics. So, our visitor's data collection and analysis are under the protection of Google's Privacy Policy.
When you signup though as a new registration, we just collect your email id as a subscriber. This information is collected and stored in our site's database and the email ids are used only when we have to convey some news related to WSDesk. A user can choose to delete their account and remove their email id by directly writing to us. Thus, as a subscriber, you are protected by WordPress.org's Privacy Policy
As an e-commerce platform, we use WooCommerce. Thus, when you make a purchase through our site, you become our customer and we collect the following information – username, email id, Billing Address, Shipping Address, and Phone no.
Why we collect the information?
We retain the order related information even after the order has been refunded or canceled, in order to keep track of the refund and cancellation rate. If a customer wants us to remove the data, they have the right to directly mail us to do accordingly.
For customers who are using our product, it might not be a good idea to remove the user data from our site as that would interfere with them receiving the updated versions. Again, customer reserves the right the ask us to delete their data.
At this point, you might also want to check out WooCommerce's own Privacy Policy.
Our payments are handled by 3rd party services like PayPal and Stripe. Both PayPal and Stripe would handle your payment related information and thus, you are protected by PayPal's Privacy Policy and Stripe's Privacy Policy. When a payment is made to us, we collect the following data – payment ID, transaction ID. A customer holds the right to ask us to remove these data from our database provided that doesn't impact the functioning of the plugin.
Now, coming to WSDesk, when a customer raises a ticket through WSDesk, we store the usual information like username, email id, order id. The conversation history remains in our company's database. Retaining the conversation history is substantial for a number of reasons. The conversation history serves as a basis of how effectively we are able to provide support to our customers and also holds as a database for some of the solutions we have provided to our customers. But, on a valid customer request, we can delete a conversation history and not retain any part of it.
The conversation history is available to the respective customer, support agents, WSDesk Supervisor, and admins and we do not disclose the conversation to anyone outside the company.
Sometimes, if we solve an interesting business case for a customer, we write an article on the same. We take due permission from the customer before doing so.
In cases, when we are not able to resolve a customer end issue remotely, we ask for the website credentials. These website credentials are safe with us. But, we usually ask the customer to revoke the access after the issue has been resolved.
How accessible is the data we collect?
WSDesk stores all the data in the website's database and at any point in time, when any customer requests to access their data, it can be easily done so. Thus, any data is easily accessible. Using the 'search' feature in the ticket dashboard, one can make a search based on any identifier like usernames, email ids, order no., ticket no., subject etc.
What about data deletion?
When a data is deleted from WSDesk, it's not recoverable and is deleted forever. There's no way to recover a deleted data unless you have already done a backup prior to the deletion. WSDesk provides a very easy way to backup all your settings and tickets.
Thus, we declare our site to be GDPR compliant.
WSDesk plugin is GDPR Compliant
Once you install and activate WSDesk on your site, you become the sole owner of the plugin and your customer data is stored in your site's database. We do not have any access to your customer data.
WSDesk has an easy import/export options for tickets. Tickets and settings are easily transferable from one system to another. So, if you are a little worried about keeping all the ticket conversation in the dashboard, you can export the complete ticketing history and delete them from the dashboard. WSDesk gives you the option to bulk delete your tickets.
Your agents, supervisors, admins have access to the tickets. At any point in time, you can remove them from the WordPress users or even change their user roles. Please, note that a user role or a user once deleted cannot be restored.
Similar to WooCommerce, you have the right to delete any customer from the WordPress user section. Please note that deleting the customer won't delete his/her ticket conversation. You would have to separately delete the ticket conversation too.
Hope this answers all your queries. If you still have some questions, you can submit a support ticket.
---
Explore our blog section for more articles.
You can also check out WordPress and WooCommerce plugins in ELEX.